Can Font Portland brings Catalan cuisine to the Pacific Northwest and launches an all day happy hour on Mondays.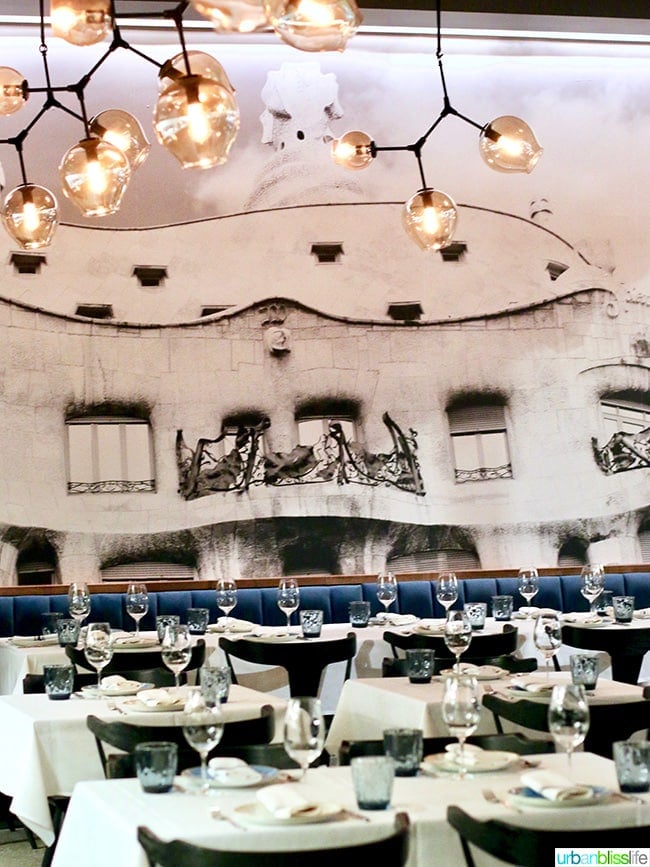 In a world where fast casual dining and crazy cuisine (I'm looking at you, Unicorn-themed food) seem to be taking over our Instagram-obsessed world of dining, a restaurant like Can Font Portland is a delicious breath of fresh air.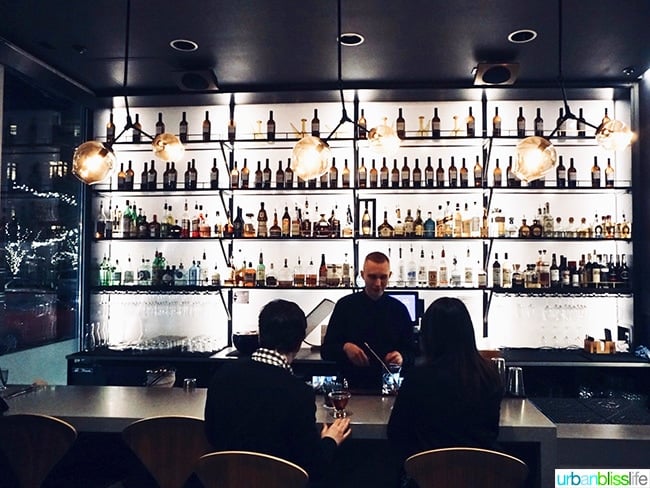 There is a beautifully-styled bar area in the front where you can grab a drink or two with friends, but it's the main restaurant where Can Font shines.
With white tablecloths and impeccable, attentive service, the Portland, Oregon outpost of Chef Josep Vidal's original Barcelona restaurant is a reminder that it's important to stop doing five things at once, sit for a while, and truly enjoy the food in front of you and the company you are with. Meals here are unhurried, made to order, fresh and flavorful.
So go ahead and order a cocktail or Spanish wine when you order your dinner, sit back, and enjoy the experience!
Jump to:
Can Font restaurant
Chef Josep Vidal came to Portland and fell in love with the freshness of available seafood and produce. On a visit in 2014, he met Vladimir Zaharchook-Williams and they decided to start the Portland location. Starting a business here was not his intent on visiting, but after considering the option, he couldn't resist. While still a resident of Spain, he comes for extended stays - managing both locations' kitchens.
Chef Vidal and Co-Owner Zaharchook-Williams opened Can Font Portland at the end of May of 2017. The restaurant is reportedly about half the size of Can Font Barcelona, but it is still rather large compared to many Portland restaurants.
Catalan Cuisine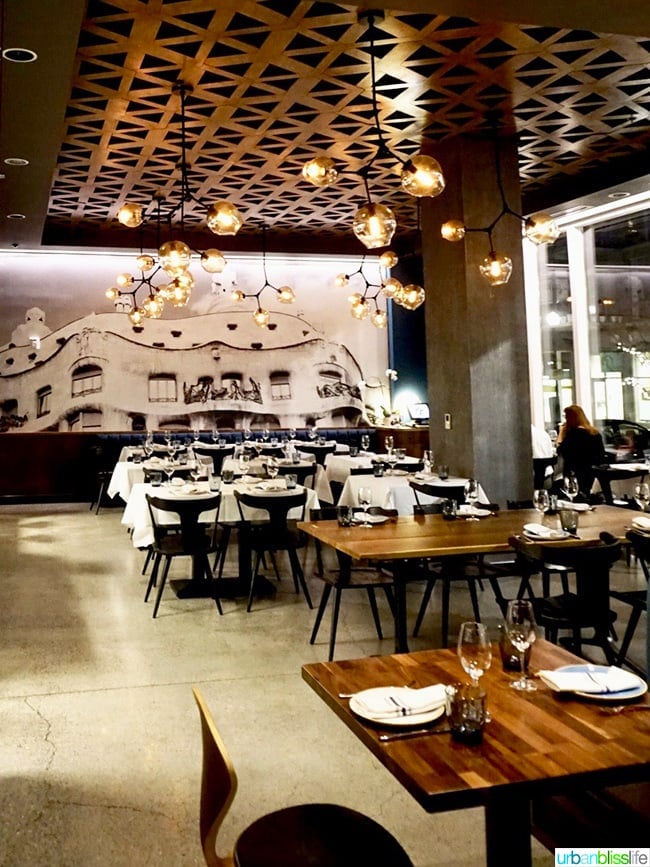 The restaurant focuses on classic Spanish flavors and ingredients – such as saffron, sherry vinegar, wild fish – and combining them with local meats and the best seasonal produce for fresh, healthy meals.
Recently, the restaurant launched All Day Happy Hour on Mondays Only, from 5pm - 10pm with a special menu. You can also get the happy hour menu Tuesday-Thursday and Sunday from 5-6pm and 9-10pm.
I had the opportunity to try the cuisine for both their regular menu and some of the special happy hour menu items at Can Font during a media dinner. Here's a look at some of my favorite dishes.
Menu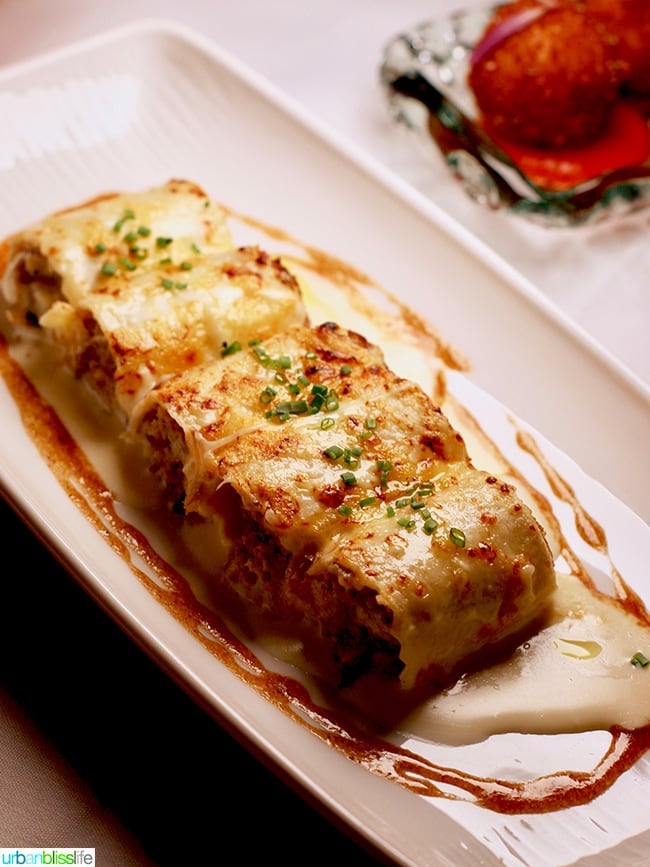 One of my favorite dishes of the night was the Catalones Trufats. These are stuffed pasta rolls packed with tender beef, pork, foie gras, black truffle, parmesan and Ementhal cheese.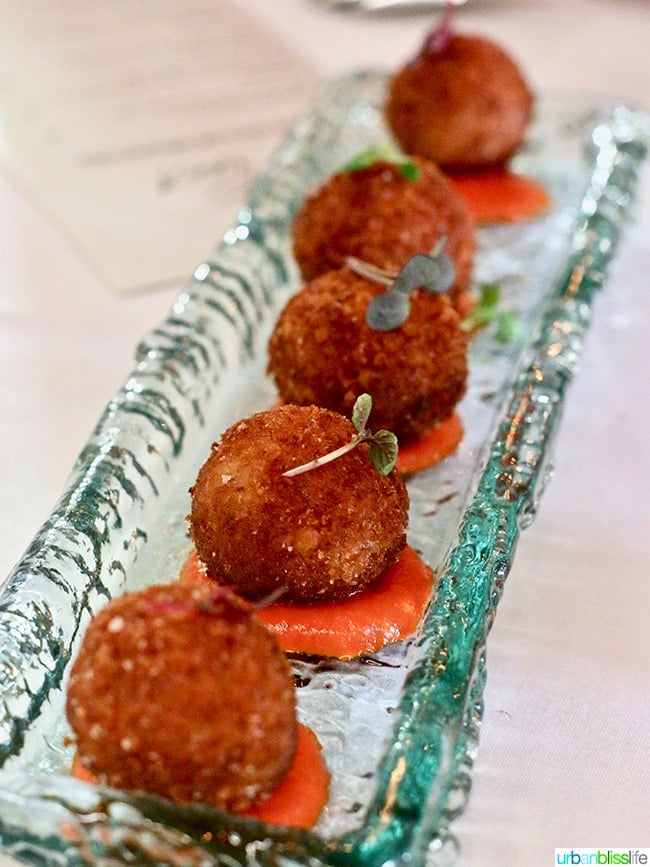 I also really enjoyed the Croquetes de Pernil Ibèric. These Spanish fritters of Iberico Ham were delightfully crispy with just enough crunch on the outside and the sweet/smoky notes of the Piquillo Sauce created a beautiful balance.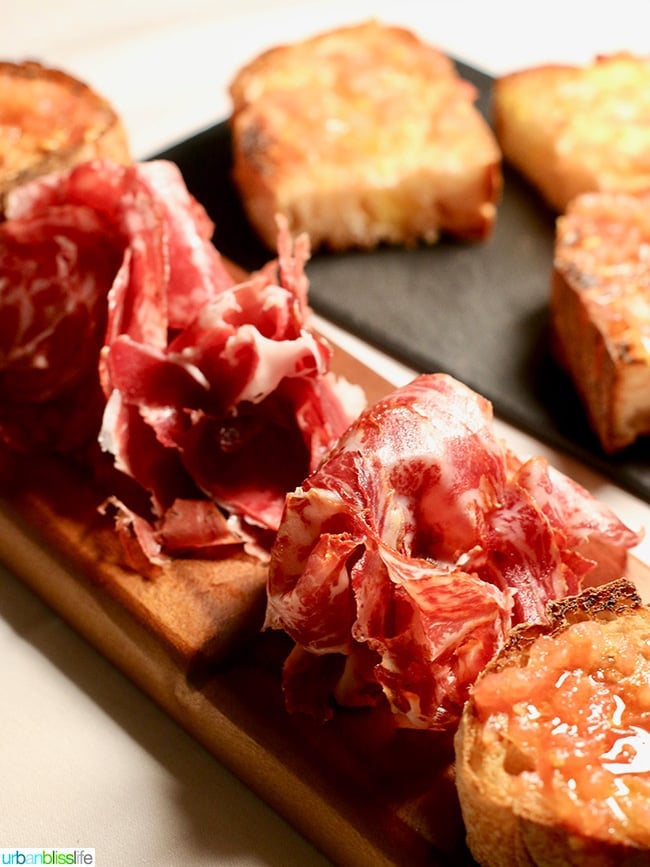 The Assortiment d' Ibèrics i Pa amb Tomàquet - assorted Iberico Hams and grilled Catalan bread with a tomato spread - was a nice appetizer to get the meal moving. This would also be an excellent dish to order if you are here for after-work drinks with friends.
The three items above are all available in Happy Hour portions on the Monday All Day Happy Hour menu (as well as during regular happy hour times Tuesday through Thursday and Sunday).
Paella
Of course, no Spanish restaurant is complete without paella. At Can Font, you can choose from one of FOUR different paella styles.
I had the opportunity to try two paellas here: a classic saffron paella and a black squid ink paella.
The classic Paella de Peix consists of the fish of the day (pictured here, it was Monk Fish), clams, mussels, shrimp, and picada.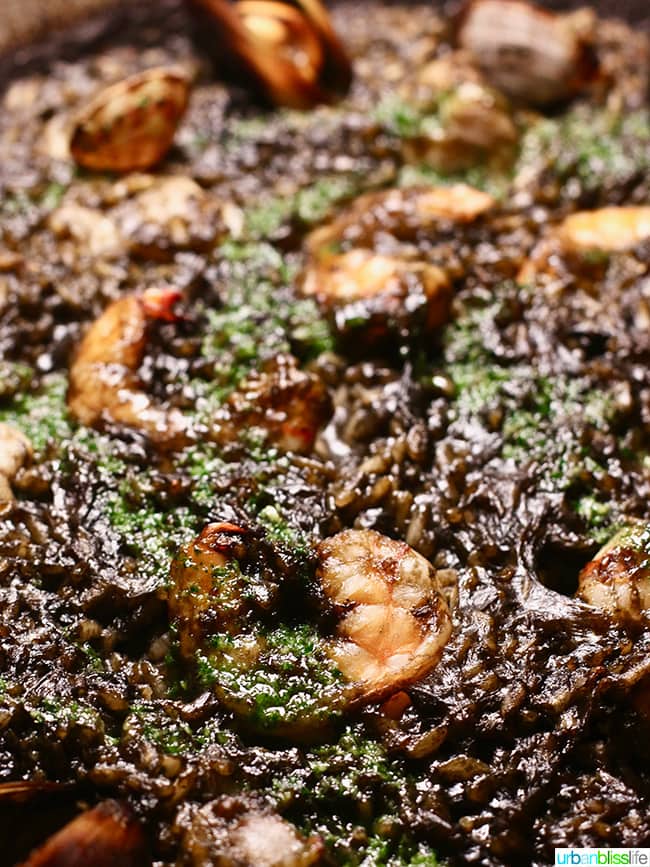 The Arròs Negre paella pictured here gets its color from squid ink, and also includes a fish of the day (again, here it is Monk Fish), clams, mussels, shrimp, picada, and this one also has garlic aioli.
Of the two, my favorite is the classic paella, but many of my dining companions favored the squid ink paella. You'll have to dine here and try both to decide for yourself!
There is also a pork paella, as well as a vegetarian paella, that you can order at Can Font.
Dessert
I feel like dessert is such a lost after thought at many restaurants these days, which is a real shame. But, not here at Can Font. Their desserts shine, and I would actually return here just for their dessert and some delicious Spanish wines.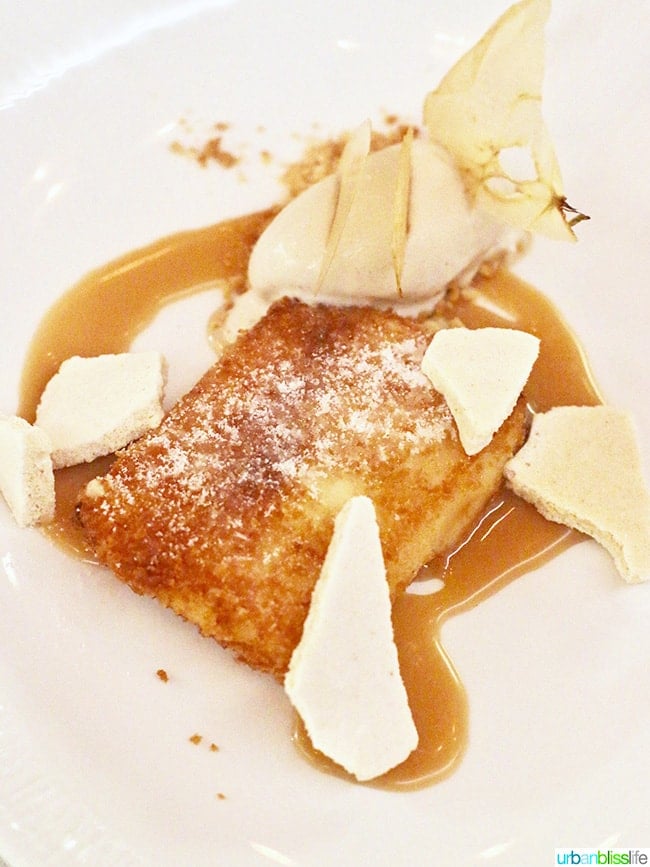 My favorite dessert was the Leche Frida - Dulce de Leche caramel with coffee marscarpone ice cream, and pear. Friends, this dessert was like buttah - such a wonderful blend of flavors and textures. Pair it with a coffee and you've got a yummy way to end the day.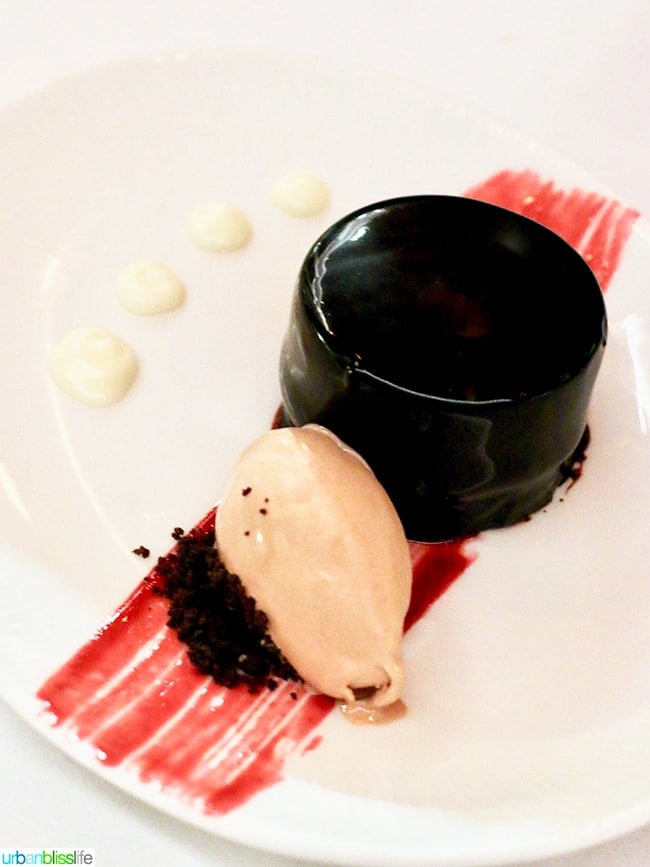 I also enjoyed the Chocofont. This was a dessert made with Madeira ganache, chocolate hazelnut praline, a silky chocolate Mousse, and sangria gastrique.
Visit
What sets Can Font apart is the attentive service you receive from the moment you step through the doors to the moment you leave. Good service means everything to me while dining; it can make a good experience great, whereas bad service can turn a wonderful meal into a sour memory.
At Can Font, you'll get a delicious Spanish meal with amazing service. It was a great experience, and I look forward to returning to try more dishes!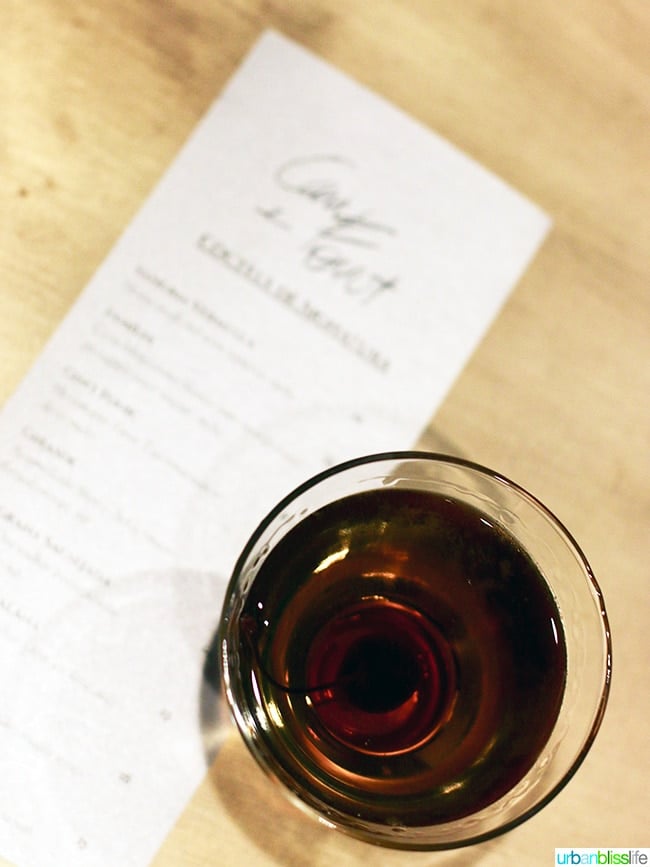 1015 NW Northrup St.
Portland, OR 97209
503.224.3911
Hours:
Tuesday - Sunday 5pm to 10pm dinner
HAPPY HOUR: Monday 5-10pm, Tues-Thurs and Sunday 5-6pm and 9-10pm
If you visit Can Font, be sure to snap a pic and hashtag #UrbanBlissLife on Instagram and tag
@UrbanBlissLife
so I can see how you enjoyed your experience!
More Oregon dining ideas
---
I enjoyed all of the food & drinks seen in this post as part of a complimentary media dinner, with no obligation to post. All opinions and photos are, as always, my own.