This restaurant is unfortunately now closed. If you are interested in more Portland restaurants, please visit our
Portland, Oregon Restaurant Guide.
Roe restaurant in Portland, Oregon offers a unique, intimate seafood-focused dining experience in which each detail is delicately and beautifully executed from start to finish.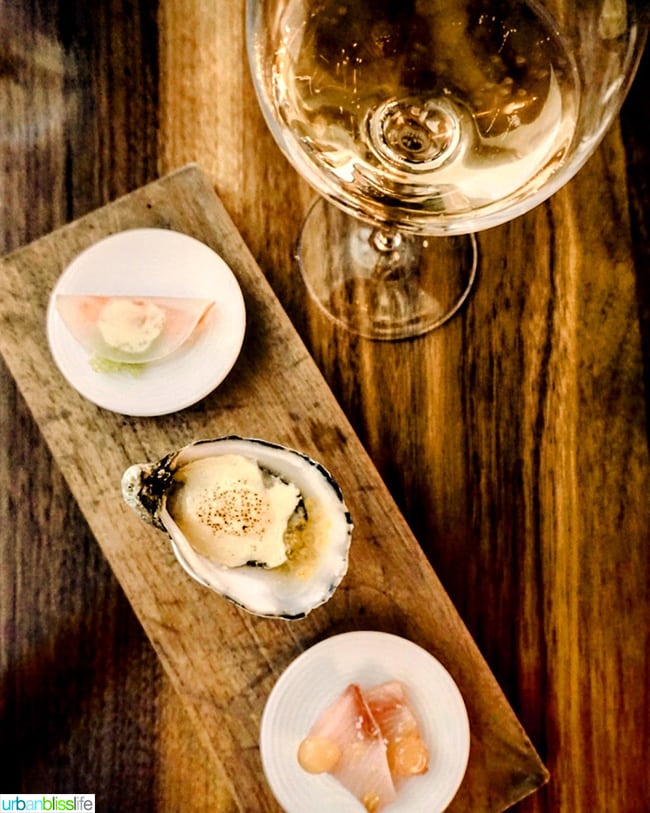 "Oh, I know where that is. It's in my old (work) building!"
"Okay, but I was told it's a little tricky to find. Look for this sign!" (I show my husband my friend's pic from Instagram).
After wandering around the ground floor of the Morgan building in downtown Portland, Oregon for a couple of minutes, I deduced that our destination must be up the stairs in front of us.
And it was.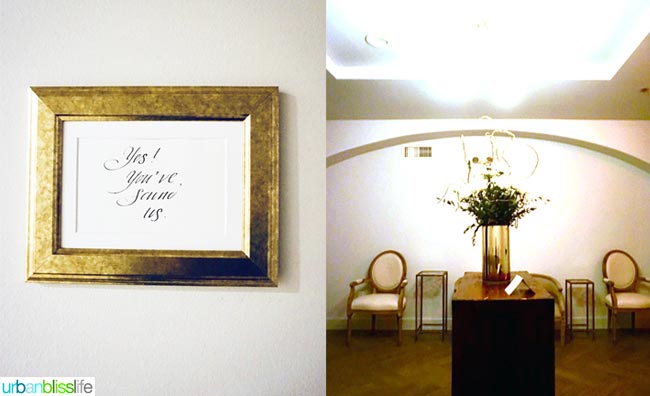 Behind the non-descript door was a darkened waiting room with a few chairs and a single welcoming armoire. It was very dark; I bumped up the light drastically in the photo above.
My husband and I looked around the empty sepia tone room with secretive curtains, then looked quizzingly at each other.
What sort of restaurant was this? We were intrigued.
And also: hungry for more.
Jump to:
Roe Restaurant
Roe's resurgence in downtown Portland has been much-anticipated.
The dark, mysterious entry and waiting room in its new location is a nod to its former "hidden" location at the back of the (now closed) Block & Tackle restaurant.
After being offered a warm towel and some dashi, we were brought into the main dining room, which was more open (one side overlooks the ground floor) and well-lit, with intimate seating and a nice amount of privacy space between tables.
Chef Trent Pierce opened the new location for Roe this past December.
The three times James Beard nominee for Best Chef Northwest and fifth-generation pacific northwest restauranteur returns to offer diners two nightly prix fixe menus of what he calls New American Seafood.
Experience menus and wine pairings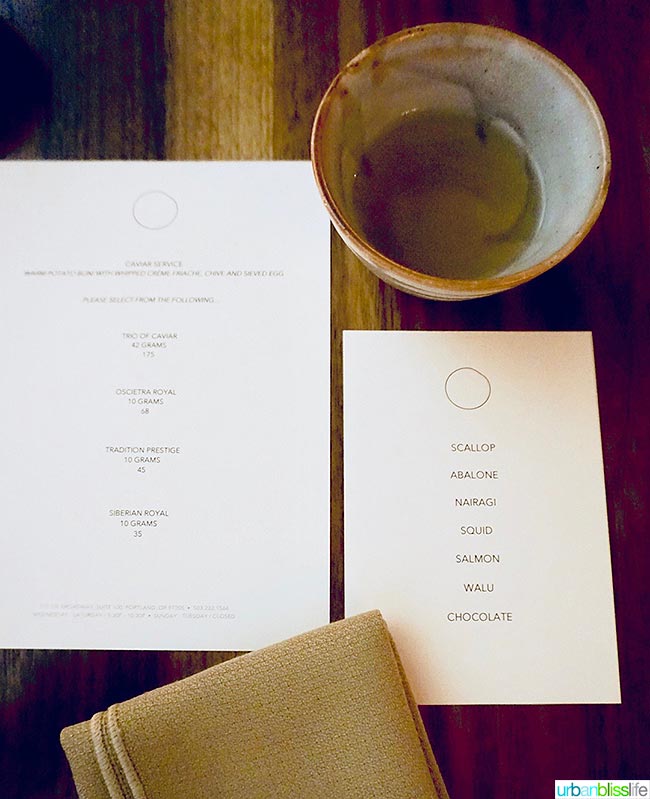 Roe offers two experiences nightly during the week and one on Saturday. Reservations are required.
Wednesday through Friday Roe offers a Four Course Experience, a prix fixe menu with choices for $80, from 5:30pm to 6:30pm. Or, you may choose Roe's Weekday Roe Experience Menu, which is a seven course seafood tasting menu for $125 that is available from 7:00pm to 9:30pm.
The Saturday Roe Restaurant Experience Menu is an elevated seven course seafood tasting menu for $155 and is available from 5:30pm to close on Saturdays.
An unparalleled dining experience

The Mister and I had an opportunity to try out the Saturday Roe Experience Menu. I can honestly say, it is an experience like no other in Portland. We added the wine pairing experience to our meals, and found all but one wine pairing to be phenomenal.
It is Chef Pierce's wizardry with seafood that truly makes this dining experience unparalleled. His vision to transform ingredients like scallops and abalone into intricate works of art that also surprise and dance on the palette is absolutely remarkable.
Instead of reviewing each dish, I'm going to simply present the photos and descriptions below. All you need to know is that almost every single bite was a delightful taste of bliss that left me even more excited about the next dish.
Our Roe experience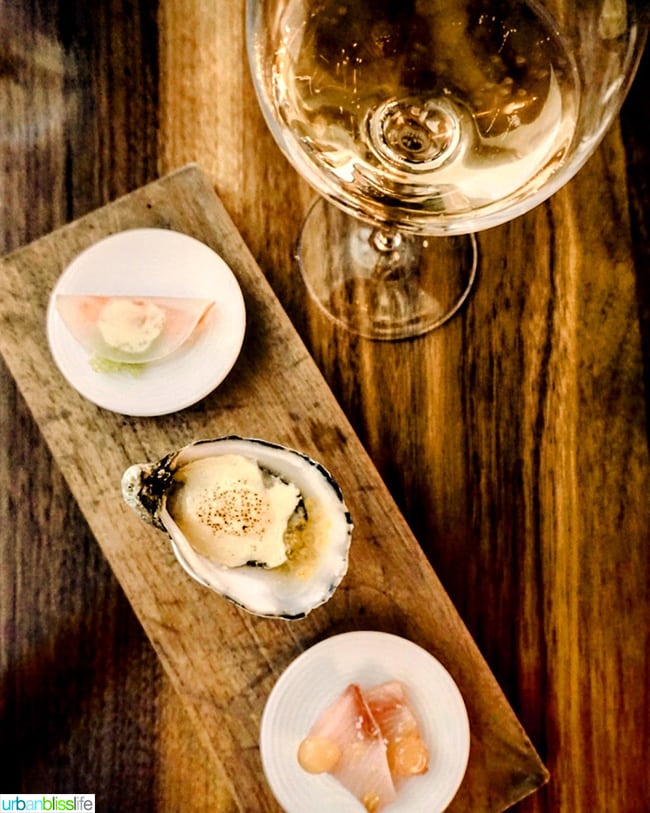 We started with the Amuse Bouche: a trio of oyster and car roe, spot prawn and wasabi, and hamachi and ponzu.
SCALLOP - tartare with lamb and cardamom
TUNA - sashimi with shaved foie gras and truffle ponzu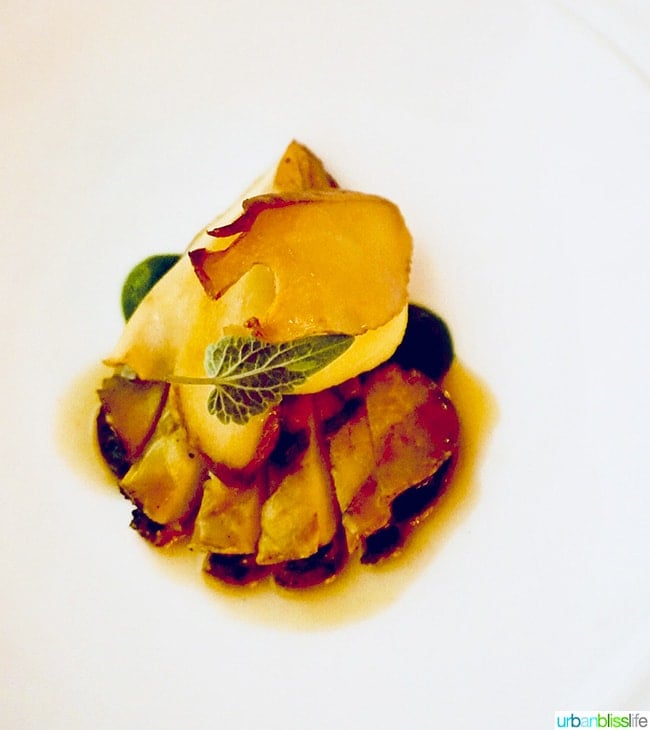 ABALONE - grilled with abalone mushroom, potato, and nuac cham
NAIRAGI - cold-smoked with clam butter, celery root, and anise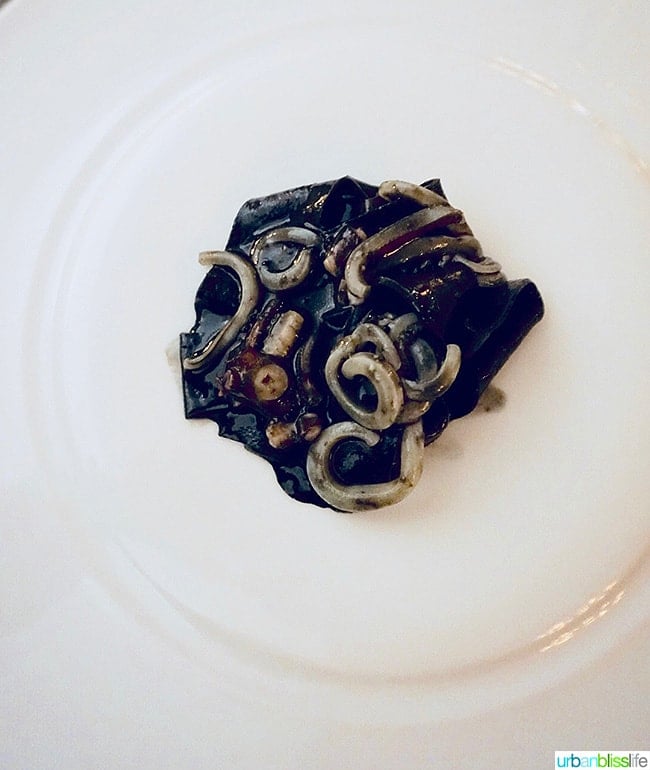 SQUID - noodles with grilled squid and octopus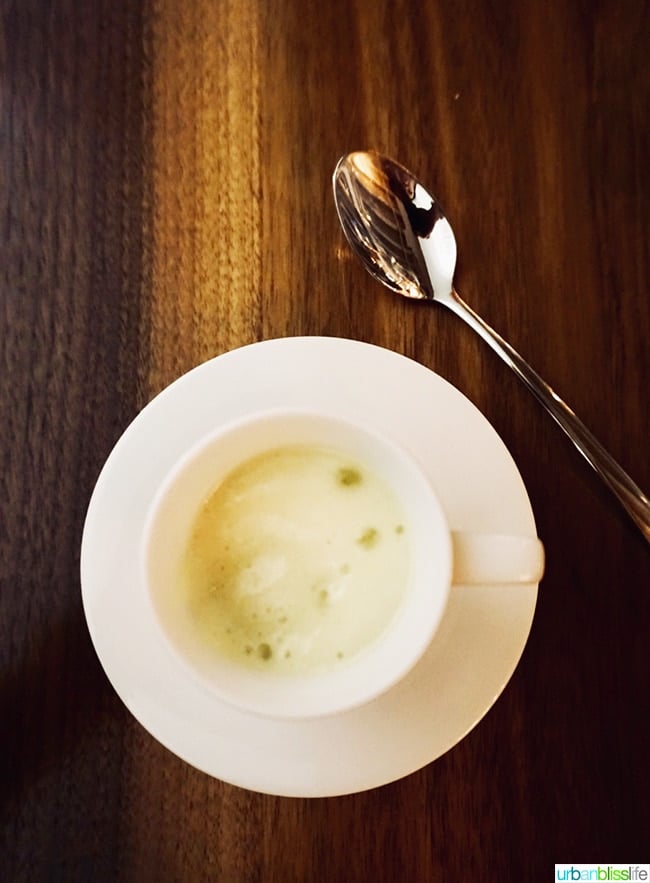 Off menu, in-between the eight courses, we were served a palate cleanser of green apple and passionfruit soda.
Divine.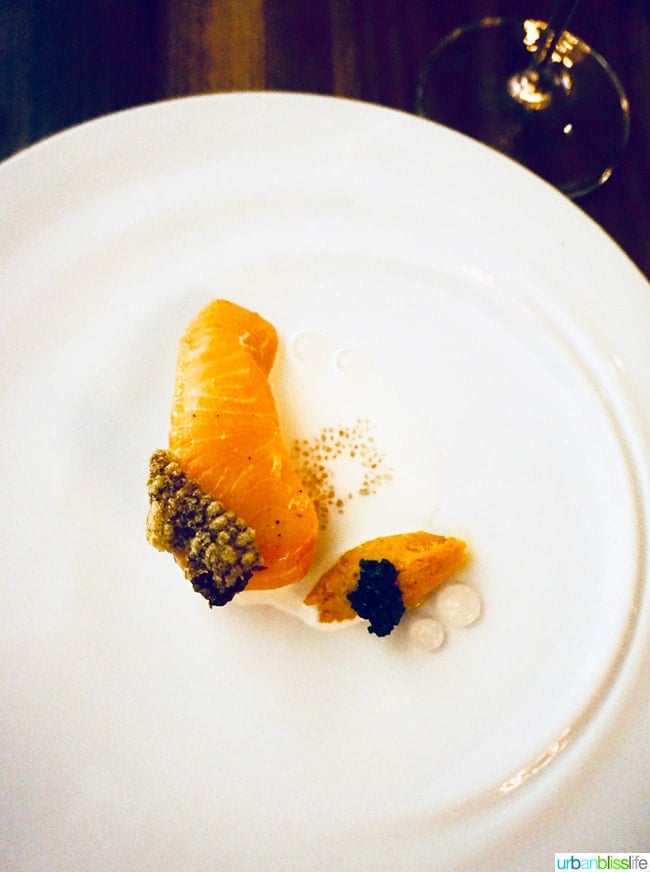 SALMON - poached and rillette with gin botanicals and tonic crème friache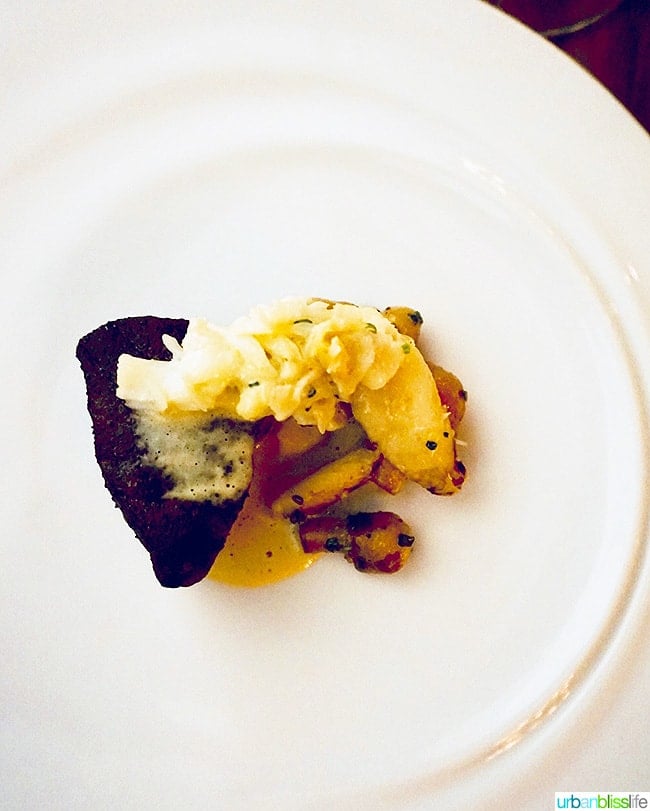 "OSCAR" - porcini-dusted walu with crab and crab konbu mornay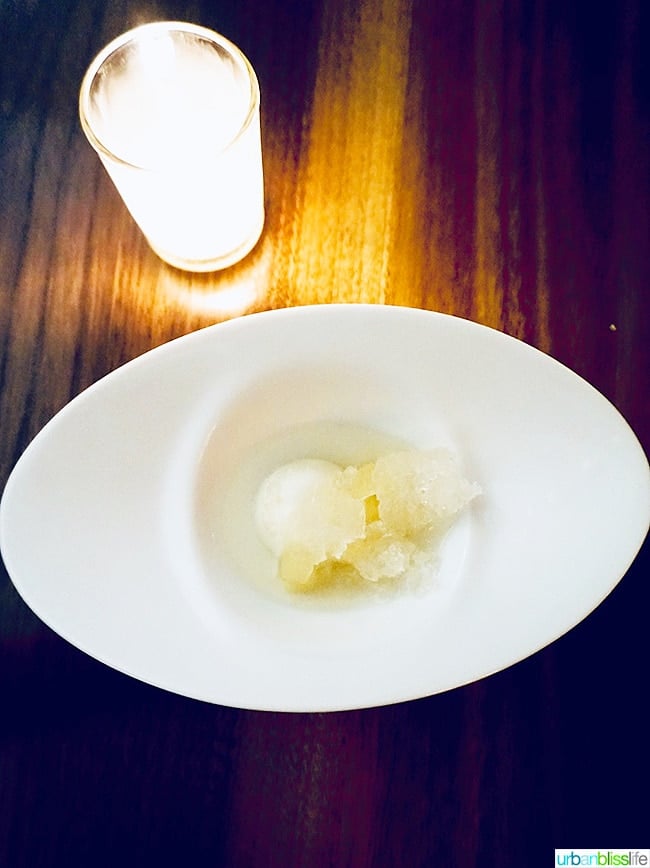 PEAR - sorbet with ginger beer and champagne granita
CHOCOLATE - namelaka with citrus and caramel
Know before you go
Attire: dressy. Yes, it's Portland, and there were diners in jeans and "dressy" athleisure wear when we were there, but for the most part, people were dressed well for the occasion. You're spending hundreds of dollars on an exquisite meal and a very special experience: suit up, people.
Kids: I'd recommend leaving the little ones at home with a sitter and going here for date night. High school kids with discerning palates might venture here for prom to impress their dates, and perhaps I'd take my kids here to celebrate graduation, but otherwise, I'd suggest this be an adults-only night out.
Cost: Prepare to spend hundreds of dollars on the FULL Roe experience. Don't skimp. Tip accordingly. And if you're doing the wine pairing experience, do what we did and make sure you Lyft or Uber your way there and back. For a special dining occasion, this one is worth every one of those hard-earned dollars.
Visit
If you are looking for an unforgettable dining experience that all five of your senses will savor and remember for years to come, dine at Roe.
This was one of my favorite meals of 2017, and will surely be one of yours in its first full year in this new downtown Portland location.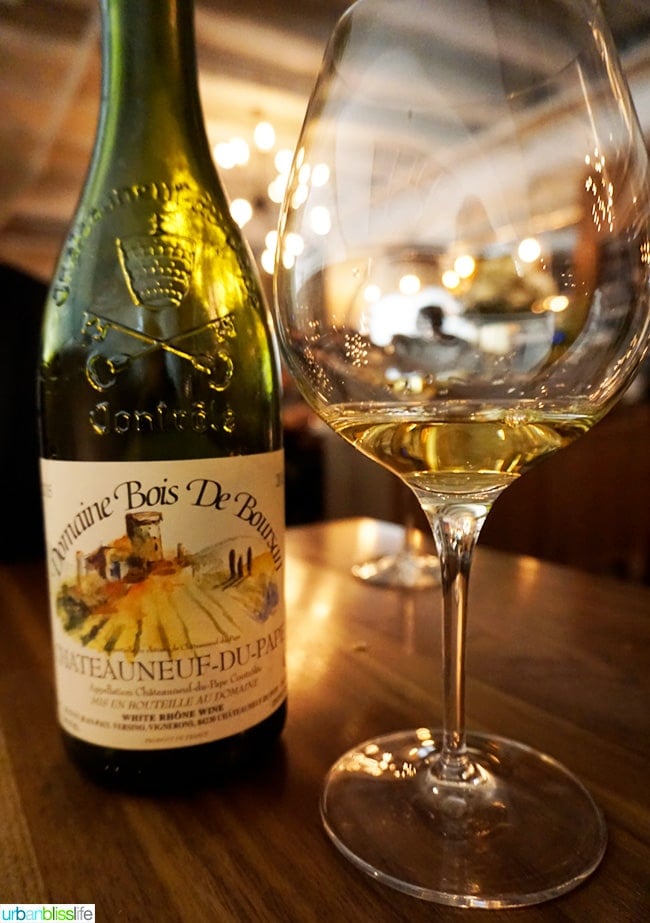 515 SW Broadway Suite 100
Portland, OR 97205
503-232-1566

Hours
Wednesday – Saturday: 5:30pm – 10pm
Sunday – Tuesday: Fishing (that's what their website says and I LOVE IT!)
I was invited to enjoy a complimentary dinner at Roe restaurant. All of the food & drinks you see here were provided free of charge. However, as you all know, I only write about positive experiences; if I didn't like it, it wouldn't be on the blog. As always, all opinions and photos are my own. I will be back here to dine on my own dime, absolutely. If you've got a special occasion coming up, or you are looking for a new fave exquisite dining experience, you MUST try Roe!