Free Thanksgiving Wine Tag Printables are perfect for hostess gifts, and to adorn your fall table wines!
Happy Wine Wednesday, friends! Today we're going to start by talking about food... (I'll get to the wine soon, pinky swear!).
Last month, I was tested for food intolerances. I've battled a lifetime of extreme eczema, and it's become increasingly painful, embarrassing, and debilitating over the past few years. I've had multiple scratch tests for hundreds of possible environmental causes. Finally, after switching doctors to an awesome new naturopath who suspected food to be the potential root of the skin flare ups, I was tested for food intolerance.
Yesterday, I received the results... and they're not as alarming as I thought they could be. However, they still require a significant adjustment to my diet. Significant. I'll be sharing the full results with you on Friday, along with a recipe that is delicious and works for many of us with typical food intolerances.
But today . . . today! . . . we celebrate WINE WEDNESDAY, and the exciting fact that I am NOT at all allergic or have any intolerance to vino.
Thank goodness. Because it would sort of be hard to be a food + wine blogger if I couldn't drink any wine . . . ;-)
AND . . . as a special bonus on this Wine Wednesday, I have a FREE Thanksgiving Wine Tag printable to share, too!
So let's get to the wine!
Columbia Crest Fall 2014 Releases
Columbia Crest is a label out of Washington state, owned by Ste. Michelle Estates. If you live in the United States, you've most likely not only heard of it, but had at least one of their wines in your lifetime. They have a wide distribution, and produce a large amount of wine. The award-winning vineyard is known for producing reliable, accessible wines at moderate prices. I love to take their top line wines to dinner parties and events as hostess gifts.
Columbia Crest 2012 Limited Release Gold Red Wine
Each year, Columbia Crest winemakers set aside a few barrels of wine that they believe to represent the "Gold" standard of the Columbia Valley. They turn this wine into a limited release Gold Red Wine.
I was particularly excited to try this wine. In my experience, limited releases are usually incredible -- above and beyond traditional annual releases. Winemakers not only take great care in creating limited release wines, but they truly seem to relish the opportunity to explore, test, and push the capabilities of their wines to develop small batches of the best of their best.
The Columbia Crest 2012 Limited Release Gold is a red wine that is made with 52% Cabernet Franc, 38% Syrah, 8% Cabernet Sauvignon, and 2% Merlot. It's a bold, spicy red that sings of sweet raspberries, dark chocolate, and hints of darker berries. This is an excellent holiday meal wine; I think it's a wonderful match for hearty main dishes like beef tenderloin. However, I think it's also an amazing wine to enjoy on its own, sitting around the fire with good friends and lots of laughs.
Columbia Crest Grand Estate Fall Releases: Reds
Columbia Crest's Grand Estate wines shared five of their main new releases with me. All of the following wines are available nationwide with a suggested retail price of $12 each.
Columbia Crest 2012 Grand Estates Cabernet Sauvignon Columbia Valley - the boldest of the Grand Estate Reds (save the Limited Edition Gold), this Cab Sauv is a hearty, rich, silky, full meal on its own. But if you must enjoy it with food, pair it with something of equal substance: a steak or braised short ribs, perhaps.
Columbia Crest 2011 Grand Estates Red Blend Columbia Valley - This blend is a light, playful red, made with 61% Merlot, 27% Syrah, 6% Cabernet Franc, 3% Cabernet Sauvignon, and 3% other (I'm honestly not sure what the "other" is, but let's go with it). It's a decent blend. Not my favorite of the bunch, but great for sharing a bottle with friends or for a quiet Saturday afternoon inside curled up with your favorite book.
Columbia Crest 2012 Grand Estates Syrah Columbia Valley - I felt like this wine was brooding at first sip. It opened up a bit to reveal a slightly peppery, deep aromatic red full of dark fruits and cedar. I enjoyed this with a chocolate dessert. Okay, maybe a few chocolate desserts...
Columbia Crest Grand Estate Fall Releases: Whites
Columbia Crest 2012 Grand Estates Chardonnay Columbia Valley - a bright, fruity aroma sparks this Chardonnay and makes it a nice companion to a light pasta dish or salad. This would also make a great cooking wine, in my opinion. And by cooking, I mean Julia Child style: a little wine for the chicken, and a little more for the cook!
Columbia Crest 2013 Grand Estates Pinot Gris Columbia Valley - a crisp, slightly nutty yet fruity wine, this Pinot Gris is lively and happy, making it a tasty companion to any seafood dish.
You can find these Columbia Crest Grand Estate Fall release wines online or at a nationwide retailer/grocery shop near you.
FREE Printable Thanksgiving Wine Tag
And now for a little extra bonus to go along with all of those delicious Columbia Crest wines you're going to pick up at the grocery store for #WineWednesday. . . a FREE printable wine tag!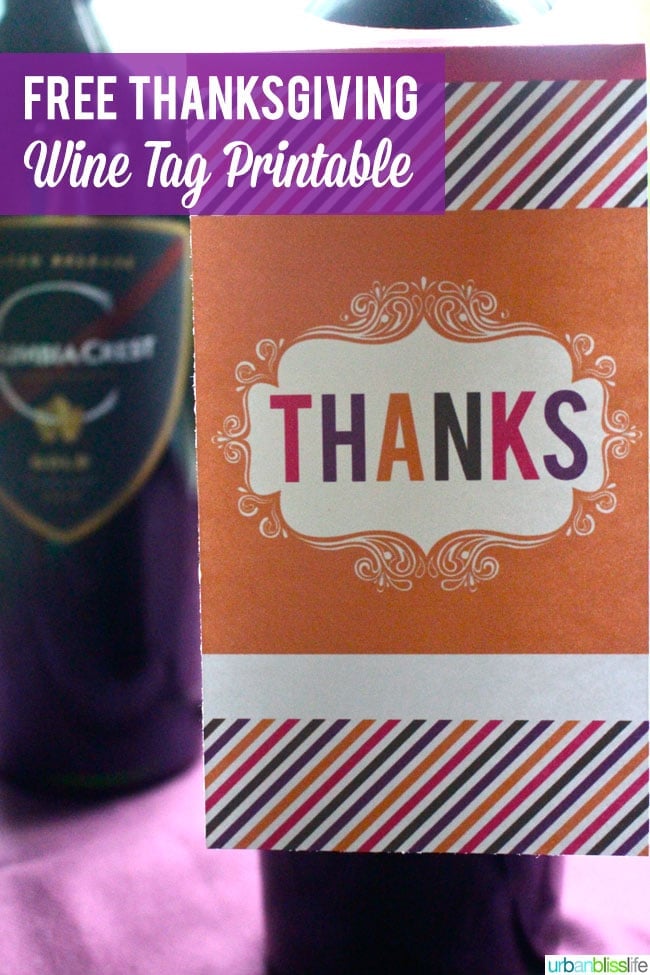 This wine tag is perfect to use all year round, although I designed it specifically to use around Thanksgiving.
It's hard to believe, but Thanksgiving is just a few weeks away, isn't it? If you are going to spend Thanksgiving dinner at someone else's home, a bottle of wine is almost always an appropriate hostess gift. And if you're hosting Thanksgiving, these free printable wine tags are a beautiful way to adorn your wine bottles for the occasion.
Each free printable is an exclusive Urban Bliss, LLC design that contains two different wine tag designs. You download the printable to your computer, print it out, cit around the edges, hole punch or cut with scissors the top hole for the wine neck, and you're done!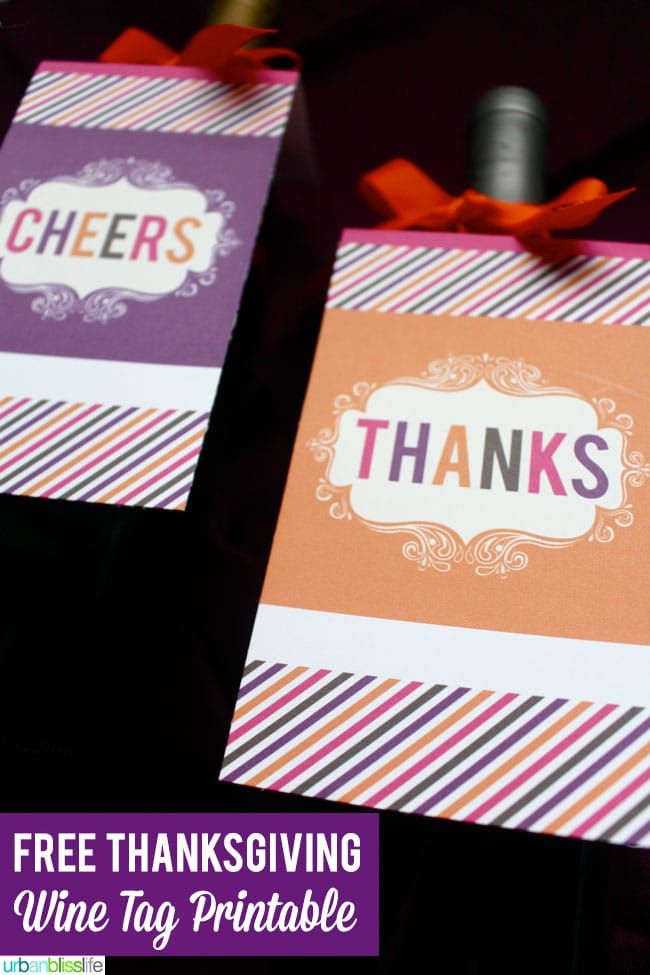 Will you be hosting Thanksgiving this year or going to someone else's house to celebrate?
More wine articles