Confession: unlike some of my fellow food bloggers, I've never wanted to go to cooking school to become a chef. I simply have a mad, crazy, deep, passionate LOVE of cooking and baking, and I love sharing it with others. I love food: making it, eating it, photographing it, talking about it, writing about it.
And eating. And eating. Did I mention how much I love eating?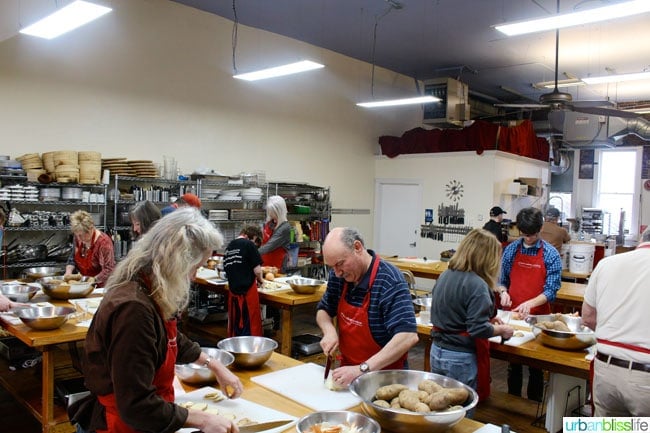 While I've never wanted to go to cooking school, I do really enjoy taking cooking classes. If I could take one each quarter, I would be so happy! I absolutely get energized by learning new things, practicing new techniques, refreshing old skills, and simply learning. Always learning. That's the key to life, I think, but also very much the key to being in the kitchen - even as a simple home cook.
As a gift this past Christmas, my husband had signed both of us up for a knife techniques class at the Portland Culinary Workshop. I was elated. Knives! YES! Oh, and cooking with knives. Of course. Yay!
Looking for the best kitchen knives? Check out our Home Kitchen Knife Guide!
Knife techniques class
On a wind-whipped gray morning, Mr. Bliss and I headed into the Portland Culinary Workshop space at 807 North Russell in Portland, Oregon. Instructor Melinda Casady - whose official bio includes the words "renegade" and "pirate," so I already know we're going to get along fabulously- greets us as we enter the room filled with fellow wannabe kitchen knife skills rebels. There are equal parts men and women between the ages of 20 and 70, and one boy who looks to be between the ages of 10 and 15 (don't ever ask me to guess boy ages in this range; not my forte).
We huddle with our coffees near the front table, where Melinda begins her presentation.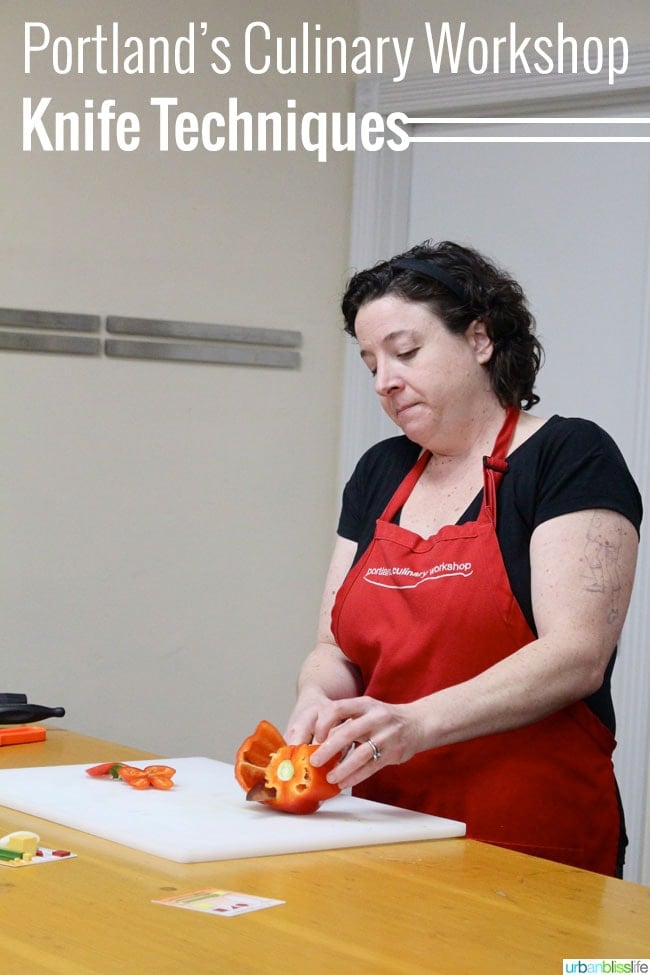 She starts by talking about various types of knives and their different uses. She goes over different knife materials, storage, sharpening, and cutting boards. Then Melinda demonstrated how to properly slice and chop food like peppers, lemongrass, garlic, onions, fennel, ginger, and herbs, and how to julienne vegetables like carrots. I took copious notes, soaking up all of her mad ninja knife knowledge.
Melinda is probably one of the best cooking instructors from whom I've had the pleasure of learning. She's full of useful information, and clearly knows her stuff - but it takes a lot more than that to be a great cooking instructor. I've taken cooking classes from chefs and cookbook authors before that were fantastic...and some that just fell flat. And that's because you need more than talent to be a great teacher: you need to an amazing listener, you need to be a skilled storyteller, and you need to have an excellent understanding of timing. Melinda had all three, and she made this class rock.
She also handed out samples of all of the food she used during her demos, including this crazy delicious candy fennel (trust me: it's like crack!). Feeding your students throughout the demonstration portion of the class is also always a good thing.
After Melinda's highly entertaining and informative knife demonstrations, it was time for us to get to work.
At Portland Culinary Workshop, there are four work stations at each table. It's always fun to get to know the other students, and the former journalist in me likes to come out and play. Many people, I learn, were given the class as a gift. Some are regulars there. Others are looking to put their cooking class skills to use in some sort of professional capacity (catering, helping out with the family business, etc). Everyone is friendly, and it feels like we're all on the same level playing field, which is really nice; cooking classes are not as fun when there are know-it-alls or show-offs in class with you.
Mr. Bliss was all business. He showed those potatoes who was boss.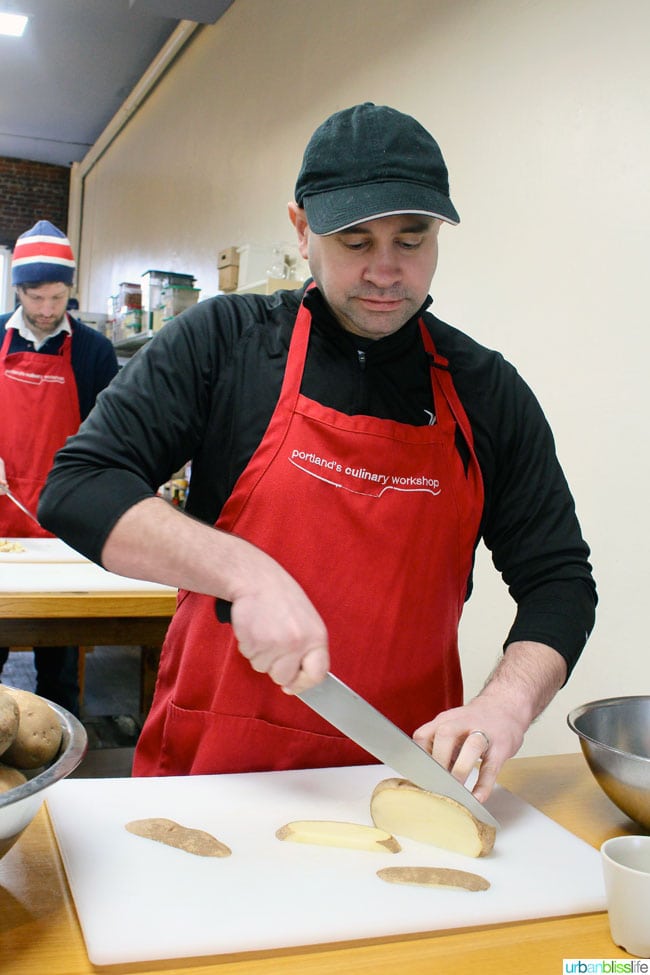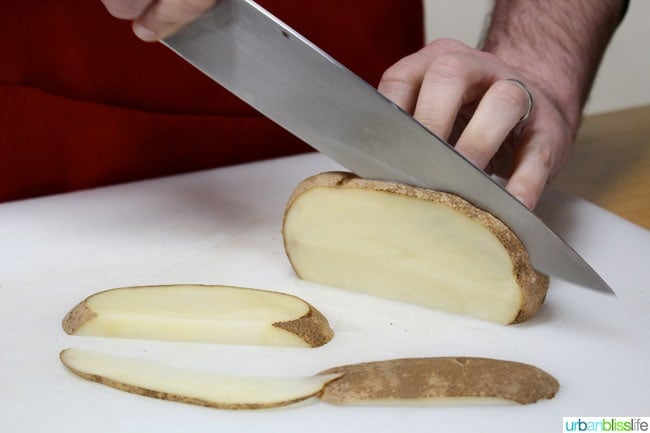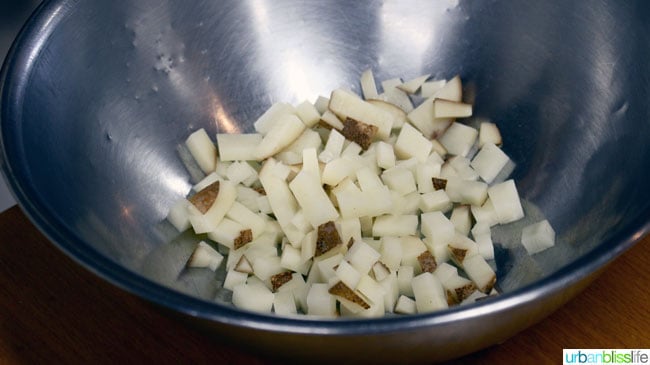 Meanwhile, I had fun with the onions...until the onions weren't so fun anymore and our eyes all started watering up.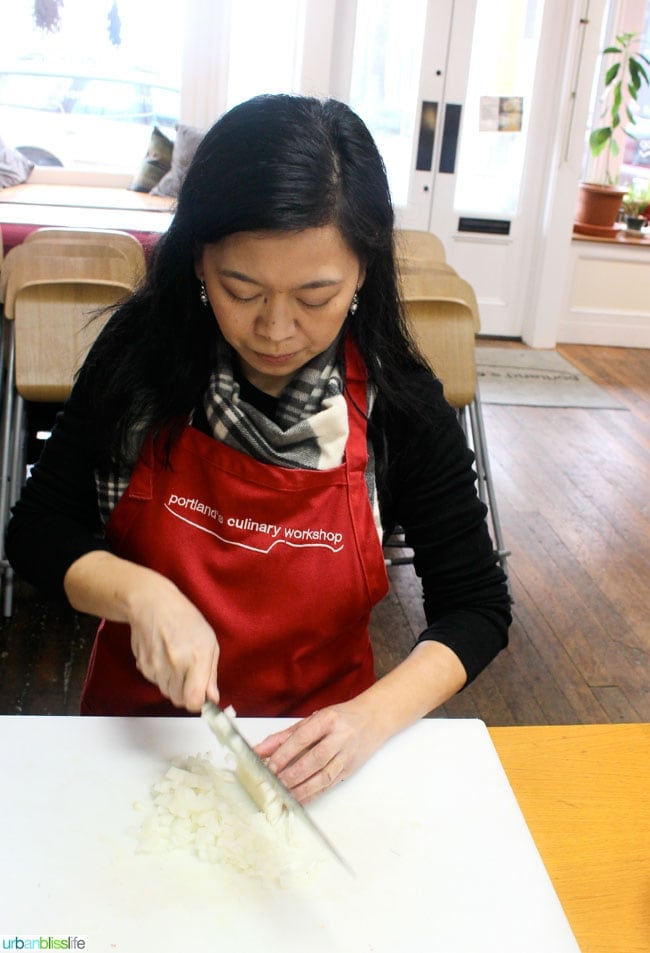 Try to tell Melinda about the time your friend told you to cut away from the onion to avoid the gasses getting into your eyes and making you cry. She'll debunk that as yet another urban legend onion myth faster than you can say "my eyes!"
I've chopped a lot of onions in my life, so this wasn't a new knife skill to me, but it is always good to practice.

Portland culinary workshop
807 North Russell
Portland, OR
www.portlandsculinaryworkshop.com
Classes are offered year-round, and generally cost between $45 and $75. You can choose from a variety of courses, such as Wines and Cuisine from Spain, Pasta From Scratch, Indian Banquet, Vegetarian, Couples Cooking, Kid Sushi, Sushi and Sake, and more. They also offer private group classes and team building workshops, as well as culinary travel trips.
I loved the Knife Techniques class we took, and I can't wait to take another cooking or baking class at Portland's Culinary Workshop!
Have you ever taken a cooking class? What kind of cooking, baking, wine/beer class would you like to take the most?