Today I'm sharing some sweet and simple Earth Day party printables. The older my kids get, the more determined I am to not spend so much or waste so much when it comes to entertaining. I think you can have a BLISSful gorgeous gathering without spending a lot or taking up too much of your time and energy.
Tomorrow is Earth Day! I've heard some people say that it's Earth Week all week, and I like the idea of stretching out celebrations. As I mentioned on the blog yesterday, we used to throw mini Earth Day playdate parties when the kids were tiny tots. While I absolutely adore throwing parties and going all out for my kids' birthdays (which is not as popular as they get older...I'll warn you now, moms of babies and toddlers), Earth Day celebrations should be super simple. After all, it's about Reduce, Reuse, Recycle, right?
Jump to: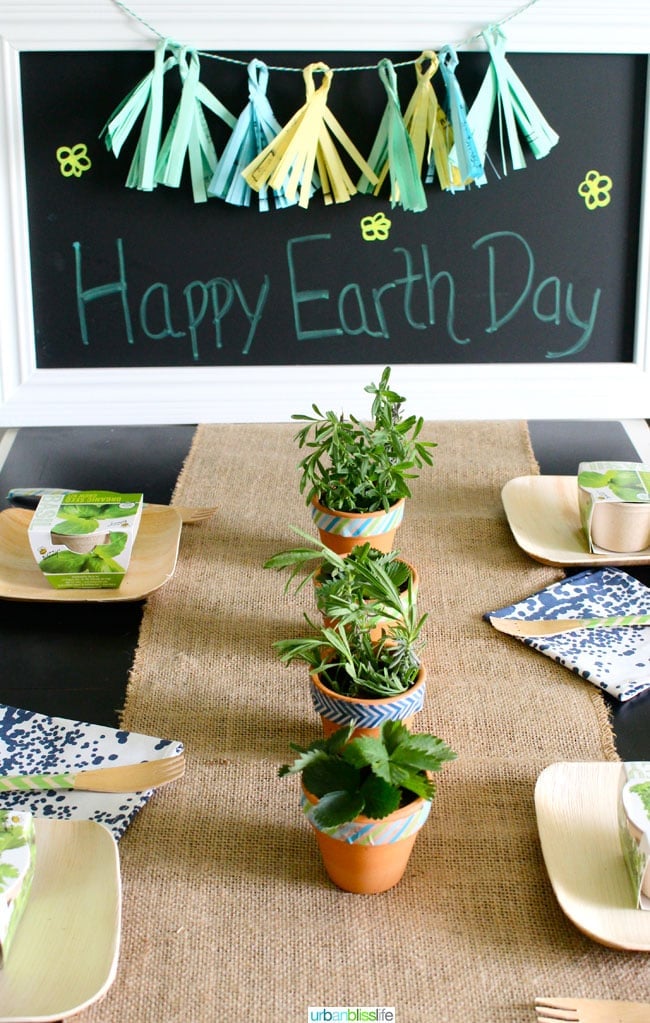 Decorations
When celebrating Earth Day, try to use items you already have on hand as much as possible, or purchase inexpensive items that your guests can reuse. For example, the DIY tassel garland seen here is made from recycled school papers that my kids brought home. Get the full DIY tutorial on the blog in yesterday's post.
The framed chalkboard is something I already had on hand at home, but you can get something similar for less than $20 and, I can attest, it is something that you can reuse for many parties for years to come.
Tablescape
A burlap table runner feels right at home at an Earth Day party, as do mini potted herbs used as a simple but elegant centerpiece. I already had the table runner, but you can also use any table runner or tablecloth you already have on hand. I like to have solid white tablecloths as well as a few different printed tablecloths in different patterns to use regularly, instead of constantly buying the cheap plastic tablecloths that only get one use out of them before they go in the trash.
Party Favors
I found these adorable mini organic seed starters at Target in The One Spot section for just $1 each. You can find similar ones on Amazon, make your own seed packets, or even use the mini potted herbs in the centerpiece as favors.
Linens and tableware
Cloth napkins are a no-brainer for an Earth Day party, and Hen House Linens has a GORGEOUS collection of patterns and colors from which to choose. The napkins I used are from their new Stardust Indigo line. I also used VerTerra dinnerware plates and forks, which I dressed up with coordinating washi tape that I already had on hand. Bamboo dinnerware and utensils are becoming more popular and can often be found in local stores and online; they're great because they are made from sustainable bamboo and are compostable!
What to serve
For a casual gathering, I suggest keeping the food and drink as simple as the decor. Aim for an organic salad with your CSA veggies, a fresh fruit tray, or a granola bar. When it comes to food, think healthy, simple, fresh, and organic.
Word Search Printable
If you've read this blog for a while, you know that my kids and their friends love word searches. Because of this, I design themed word searches to go with almost every gathering that we host. I designed a fun Earth Day Word Search Printable.
You can download it once and print as many times as you like (for personal use only; not for resale or commercial use)! Just remember to reuse and/or recycle the paper afterward! :)
More Earth Day activities
If you have kids coming over, you can do some more educational, hands-on fun Earth Day activities, such as:
Plant indoor starter seeds.
Make a bird feeder (I'll be sharing how we make our own DIY bird feeders on the blog next Monday!)
You can save the DIY Recycled Paper Tassel Garland project for the actual party and have the kids help you make one.
Many city parks and recreation departments have organized tree planting parties.
For more ideas, visit EarthDay.org.