This curry chicken salad with almonds is packed with flavor and crunch! Perfect on its own, on top of greens, or as a sandwich filling.
Spring means sunshine, sports, and outdoor adventures, which means I always need to have lots of portable snacks handy for the whole family. So I was super excited when Blue Diamond Almonds approached me to join their Blue Diamond Tastemakers group of bloggers. I already love Blue Diamond Almonds - they're my go-to brand since their almonds come in handy dandy portable canisters. Plus, they are mighty tasty.
Blue Diamond Almonds recently sent me a can of their Honey Dijon Almonds and Honey Roasted Cinnamon Almonds to try out. Honey Dijon? Hmm... I admittedly was slightly skeptical about that one.
The Honey Roasted Cinnamon Almonds I knew I would love. I mean, what baker doesn't love the honey plus cinnamon combo?
They are just as delicious as I imagined, and they're perfect for snacking on-the-go, and while at my desk blogging away! This flavor is super versatile. It's great to throw into a snack mix with pretzels and small crackers for when a group of neighborhood kids come over. And it's also just as fantastic to set out with some cheese and olives for when the moms come over.
When I tried the Bold Honey Dijon Blue Diamond Almonds, I was totally caught off guard. I loved it. So much.
Immediately, I thought of trying them in a curry dish. The honey adds just a touch of sweet to complement the subtle tang of the honey dijon mustard flavor of these almonds. I loved just snacking on these on their own as well. But let me tell you: they are DELISH in this curry chicken salad that I made! I think you're gonna love it, too!
How to make curried chicken salad with almonds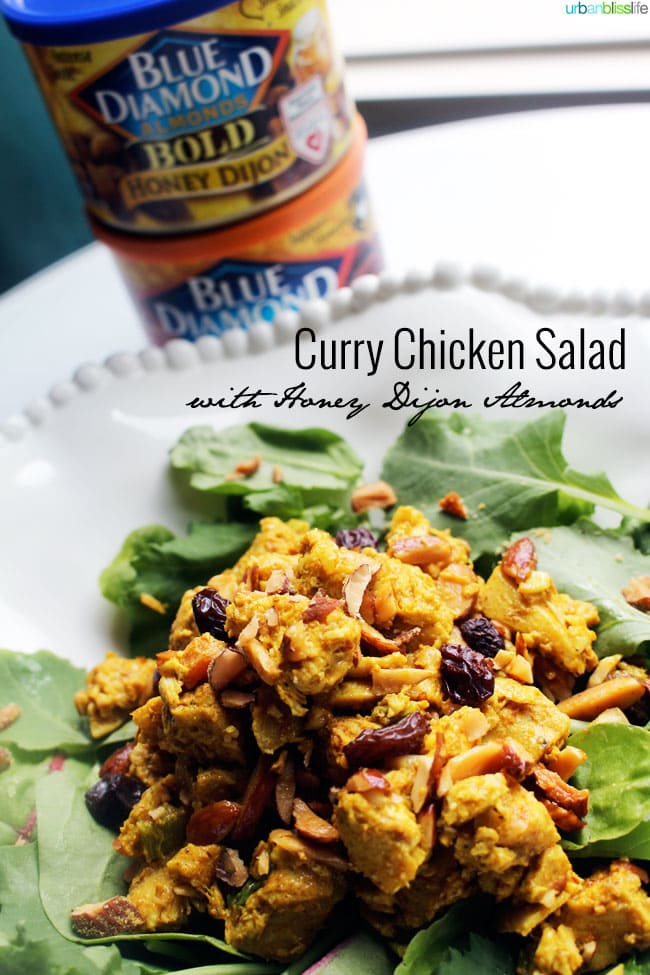 You can use skinless chicken thighs, chicken breasts, or chicken breast tenderloins for this recipe. I used chicken breast tenderloins. While the chicken is roasting in the oven, you can prepare the rest of the ingredients.
I used a knife to roughly sliver the almonds. However, you can also pulse them for just a bit in a food processor if you prefer. I happen to like the shape of slightly slivered almonds in my salads as opposed to chunky chopped almonds. It's up to you!
You can see the tangy dijon mustard powder in the almonds above. Mmmm. So good.
Mix the almonds with the remaining ingredients in a large bowl. Then once the chicken is done cooking, slice into bite-size pieces. Toss into the dressing mixture until every itty bitty little piece is well coated.
Now, I don't like my chicken salad to be drenched in any dressing, curry or otherwise. So if you find that the amounts below are too sparse for your chicken salad, feel free to mix in more mustard and mayo.
Note: I normally have a fairly strong dislike of raisins - EXCEPT when they are disguised and hidden. The raisins are nicely coated in the curry dressing here. I did save some almond pieces and raisins to top off each serving at the end, for presentation.
Serve this curry chicken salad with almonds on a bed of lettuce. In the photo above, I've got it on a bed of kale, spinach, and swiss chard. This is also delicious between two slices of your favorite bread as a sandwich. Or you can just grab a fork and dig in!
It's all good here, friends. It's all GOOD.
Ingredients
1

lb

chicken breast tenderloins

salt and freshly ground pepper

1

Tablespoon

curry powder

½

cup

mayonnaise

⅓

cup

apple juice

2

Tablespoons

dijon mustard

3

Tablespoons

curry powder

¼

cup

diced celery

1

Tablespoon

chopped green onions

2

Tablespoons

raisins

3

garlic cloves

minced

⅓

cup

roughly chopped Blue Diamond Honey Dijon Almonds
Instructions
Preheat oven to 350 degrees.

Place chicken breasts in a large bowl. Generously douse chicken in olive oil, coating all sides, then lay flat in one layer onto a baking sheet. Sprinkle evenly with salt, pepper, and 1 tablespoon curry powder.

Roast chicken in 350 degree oven until just done, about 30 minutes.

Meanwhile, prepare the dressing. In a large bowl, whisk together mayo, apple juice, mustard, curry powder, celery, green onions, raisins, garlic, and almonds.

Remove chicken from oven, let cool for 5 minutes before slicing into bite-size pieces.

Mix chicken into the dressing until fully coated.

Serve immediately over bed of lettuce or rice.
Notes
You can make the chicken curry salad up to 24 hours ahead of time and serve cold or warm. This chicken curry salad makes for an excellent sandwich filling for picnics!
Tried this recipe?
Please leave a star rating and comment! Then snap a pic of your dish and share it on social media. Tag @UrbanBlissLife and #UrbanBlissLife!
Nutrition information is a general estimate. Actual nutrition details may vary depending on the exact foods & brands you use to make this recipe. It does not take into account any substitutions, toppings, or optional ingredients.
This conversation is sponsored by Blue Diamond Almonds. All opinions, photos, and recipes are, as always, my own.