We Oregonians tend to be proud of our rich wine industry and our Oregon wine clubs. So it came as a surprise to me that there wasn't already a wine club devoted to Oregon wines...until now.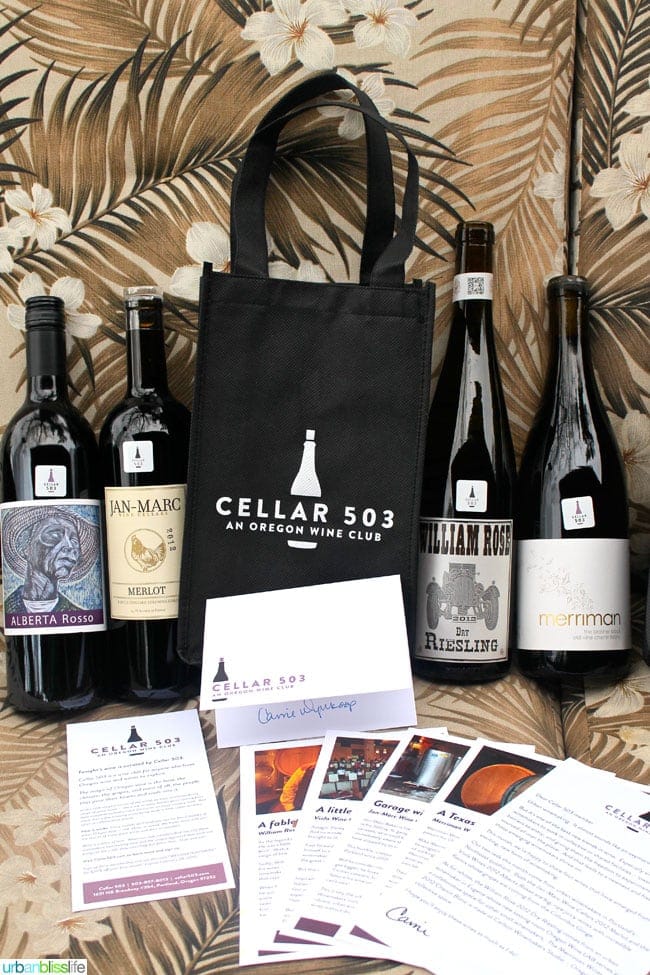 While most wine lovers know that Oregon produces world class Pinot Noir, it's not as widely known that our vast and varied terrain also produces incredible Chardonnay, Syrah, Merlot, Cabernet, Riesling, Brut, and more.
Jump to:
What is Cellar 503?
Cellar 503 is a new wine club based in Portland, Oregon that features wines from vineyards throughout the entire state. As owner Carrie Wynkoop says, it's a wine club for people who love Oregon - whether they live here, used to live here, or are interested in learning more about Oregon wines.
About the Founder
Founder Carrie Wynkoop is no stranger to entrepreneurship. As the co-founder of Mandate Media, she and her husband have spent the last 15 years growing a company that specializes in internet strategy for politicians and nonprofits. While Mandate Media has been a passion for her husband, they both knew that it wasn't "what made her heart sing" She often went wine tasting on weekends with friends, and decided to take a wine course. After taking just one class, she fell in love with it and knew that the wine industry was where her next path would lead. Eventually Wynkoop became certified through the Wine & Spirits Education Trust (WSET) , and, with her husband and friends cheering her on, began the research and planning that would lead to the business that became Cellar 503.
How This Wine Club is Different
Wynkoop launched Cellar 503 in November of last year. The first official shipment went out in January, and to date, there are approximately 65 members. Not bad for a brand new wine club that has grown by word-of-mouth.
An ardent supporter of small businesses, Wynkoop aims to feature small vineyards that produce less than 10,000 cases of wine per year; most vineyards that have already been included in shipments produce just 1,000-5,000 cases per year.
She tries to include geographic diversity to give members a full taste of the incredible wines that can be produced in Oregon. She is also focused on showcasing great wines that are affordable and approachable, so most featured wines retail for $30 or under.
Wynkoop's method to choosing vineyards is simple: taste, retaste, then contact the vineyard to see if they would like to be included in a future Cellar 503 shipment. So far, no vineyard has turned her offer down. She takes the responsibility of sharing these vineyards seriously, and each shipment includes not only tasting notes, but also a personal letter from her explaining the theme and introducing the wines, and stories about the winemakers and vineyards.
Fast Facts
Cellar 503 offers a variety of monthly and quarterly shipment options:
Two Bottles of Red Wines Only ($55)
Two Bottles of White Wines Only ($45)
One Bottle of Red + One Bottle of White ($50)
Four bottles each shipment (price then doubles)
Four wines each quarter ($110)
You can have wine shipped to you if you live in one of the 43 states Cellar 503 is allowed to ship wines, for just $19.99 per shipment. If you are in town, you can attend the monthly wine pick-up party on the third Sunday of each month. In addition to picking up your club wines, you can taste new wines that might be considered for future shipments, and enjoy a lovely night mingling with other club members.
This month's pick-up party is Sunday April 19 1-4pm at Portland Wine Storage, 306 SE Ash St, Portland, 97214.
Examples of wines included in the April shipment:

Brick House Vineyards 2013 Gamay NoirKeeler Estate Vineyard 2011 Pinot NoirJ. Christopher 2013 Croft Sauvignon BlancDion Vineyards 2012 Chardonnay
More Oregon Wine