Recently, I test drove the 2015 Mitsubishi Outlander. After test driving it for a week, I can see why it's a popular crossover vehicle among families.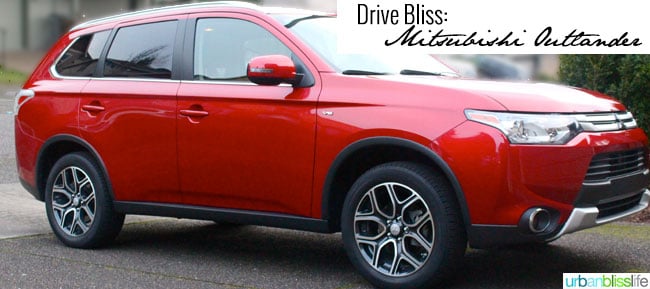 In fact, I see quite a few in my neighborhood alone.
A few months ago, we traded in our 2008 Honda Pilot for a 2012 GMC Acadia (after I test drove it and fell in love). Moving over to the Acadia has given me a different perspective when test driving cars: it is more evident to me now how children's ages and family lifestyle play a huge role in choosing the vehicle that is right for you and your family.
Jump to:
Exterior
The 2015 Mitsubishi Outlander has a sleek exterior with rounded edges and smooth, simple details all around. I loved the look of it compared to the boxy crossovers that are out on the market, and the cherry red finish made it pop without being too showy.
Interior
The interior dashboard and middle console of the Outlander are well designed. They kept it simple, without a zillion confusing buttons, and most buttons are placed logically, where you would intuitively look for them. There are two cup holders right up front within arms reach, and I like that the cup holders are not at the driver's direct side but down front.
The Outlander comes with Forward Collision Mitigation (FCM), which beeps if you are possibly about to hit something in front of you, as well as Lane Departure Warning (LDW), which beeps if the system detects you are swerving into the side lanes. Both of these can be turned off while you're driving, however, they automatically turn back on when you stop and start the car again. And, the entire week that I drove the 2015 Mitsubishi Outlander, the LDW was rarely correct. When I would start swerving to the side on purpose (when it was safe to do so with no other cars around for miles, of course), the LDW didn't go off at all. Yet when I was driving normally within the lines, the LDW would beep like crazy. My advice would be to remember to shut both the FCM and the LDW off each time you got into the car, since both systems need a little more refining for accuracy.
Space
The 2015 Mitsubishi Outlander has a third back row and seats seven. However, from my experience the back seat is fairly tight compared to other crossovers and regular SUVs; it would be a tight fit even for my kids' friends (ages 7-11) and definitely a squeeze for full size adults. However, if you have a family of four and don't need the third row on a regular basis, the Outlander is a comfortable ride with nice space in the front and middle rows to seat four people comfortably.
When the third row is folded down, the Mitsubishi Outlander offers ample trunk space. I normally take a photo of trunk space after a Costco trip so you can see how much it can hold, but alas, I didn't need a Costco trip during this test drive. You can see in the photo, however, how much room there is. There's enough room for a huge Costco grocery run, my daughter's softball gear and three folding stadium chairs, and probably our dog too.

See that large subwoofer in the back left corner? The 2015 Mitsubishi Outlander has a crazy loud sound system for a crossover. Great for tailgating!
Safety and price
The 2015 Mitsubishi Outlander has some of the highest safety ratings in its class. There are seven airbags and three-point seatbelts with head restraints for all seating. There's a rear back up camera as well as Reinforced Impact Safety Evolution (RISE) construction to deflect and transfer crash energy away from occupants in the event of a crash.
Price-wise, this crossover starts with an MSRP of $22,995, which I find to be quite wallet-friendly compared to other crossovers.
As far as the driving experience goes, I found the 2015 Mitsubishi Outlander to be a smooth ride. It handled the curves of the backroads well, and was comfortable driving throughout the city as well as out for day trips. It's a safe, stable vehicle that would be great for a couple with young children, or a couple with no children that needs cargo space.
When you're shopping for a new car, what's the most important aspect that you look for?