Sumptuous seafood dishes shine at Cabezon restaurant in Northeast Portland, Oregon.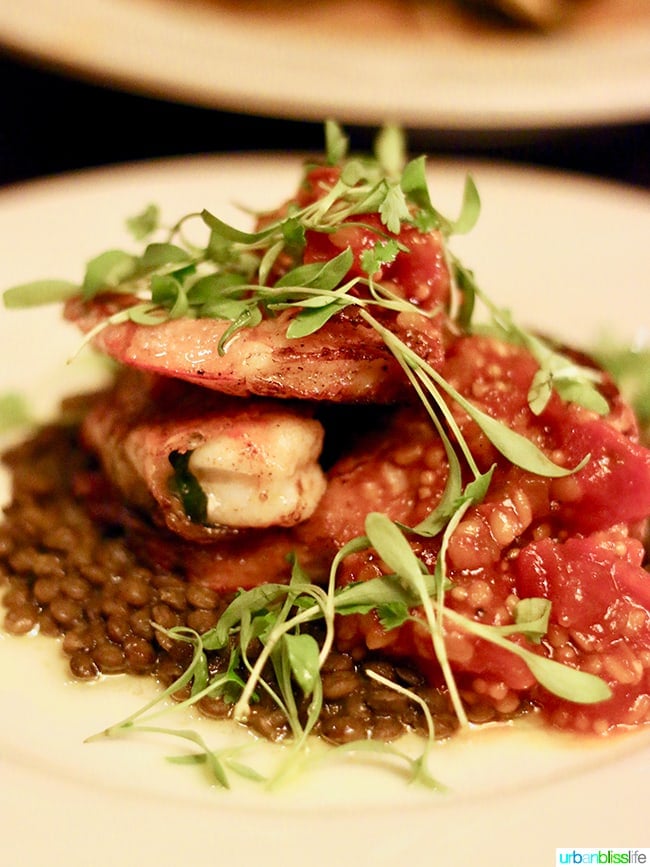 Tucked away onto a tiny side street off of Northeast Sandy Boulevard is Cabezon restaurant.
A warm, inviting space, this neighborhood bistro has been serving fresh seafood dishes since 2009. You would think that with being so close to the Pacific Ocean, wonderful seafood restaurants are a dime a dozen in this town. Yet they are frustratingly too few and far between for this seafood lover.
So when I had the opportunity to attend a media dinner helping Cabezon celebrate its 8th anniversary, I couldn't wait to dive in!
Jump to:
The restaurant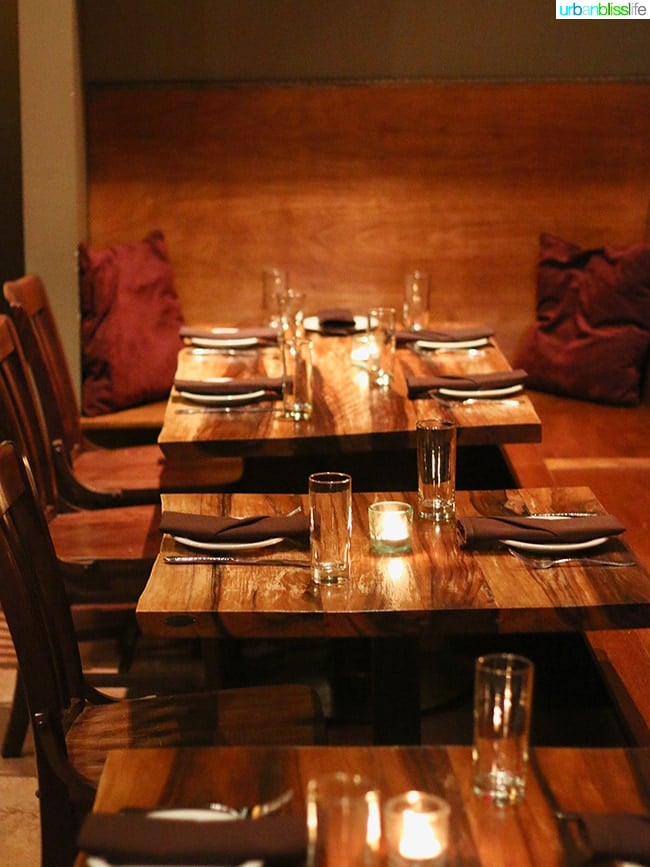 From the outside, Cabezon appears to be a small galley-style restaurant. Yet there is ample seating inside that is at once both spacious and roomy, and yet intimate and romantic. During warmer months, outside bistro tables flank the sidewalk for additional seating.
The vibrant glass-blown jellyfish lamps set the scene from above for an exciting, creative dining experience ahead.
Drinks
Cabezon has a lovely wine list, which prominently features a wide selection of Pacific Northwest and California wines, among others.
The cocktails are a mix of well done classics and intriguing new-to-me concoctions.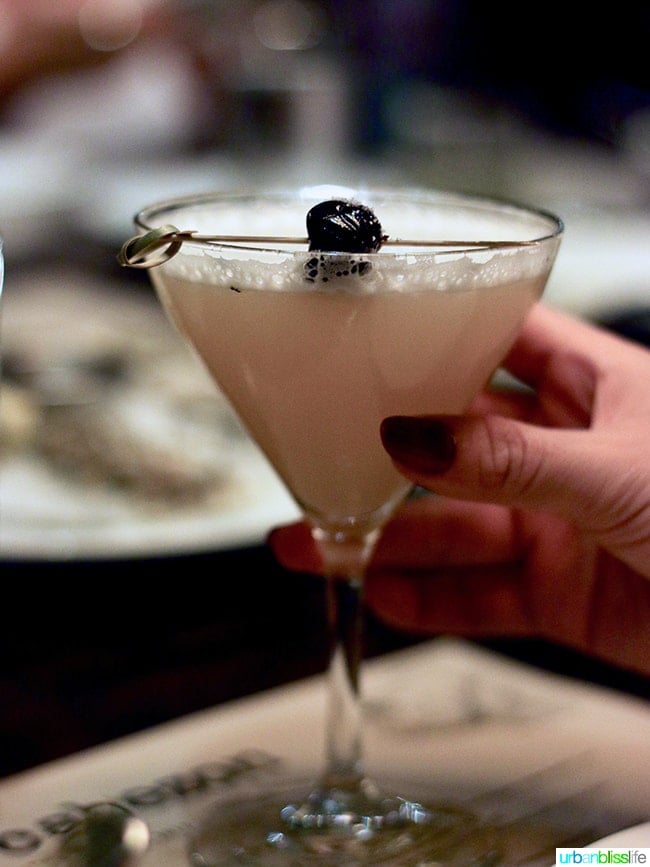 The Strega Sour ($11) is a pretty drink with Desert Juniper Gin, Strega, egg white, lemon, and lime.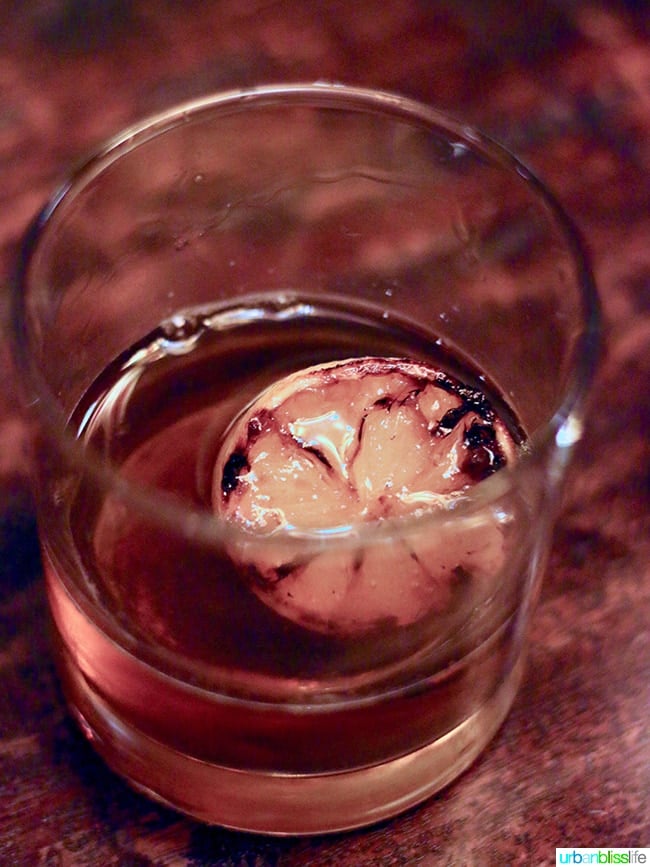 The Roosevelt ($10) was my favorite cocktail at Cabezon Portland, especially for a chilly fall/winter night. With Bulleit Rye Bourbon and Townshend Sweet Tea Liqueur, this drink is garnished with a grilled frozen lemon, which helps bring out the liqueur flavors and add brightness to each sip.
Small plates
Working closely with a variety of Pacific Northwest farmers and fishing companies, Cabezon is able to count on daily deliveries of fresh seafood that are transformed into beautiful, delicious dishes.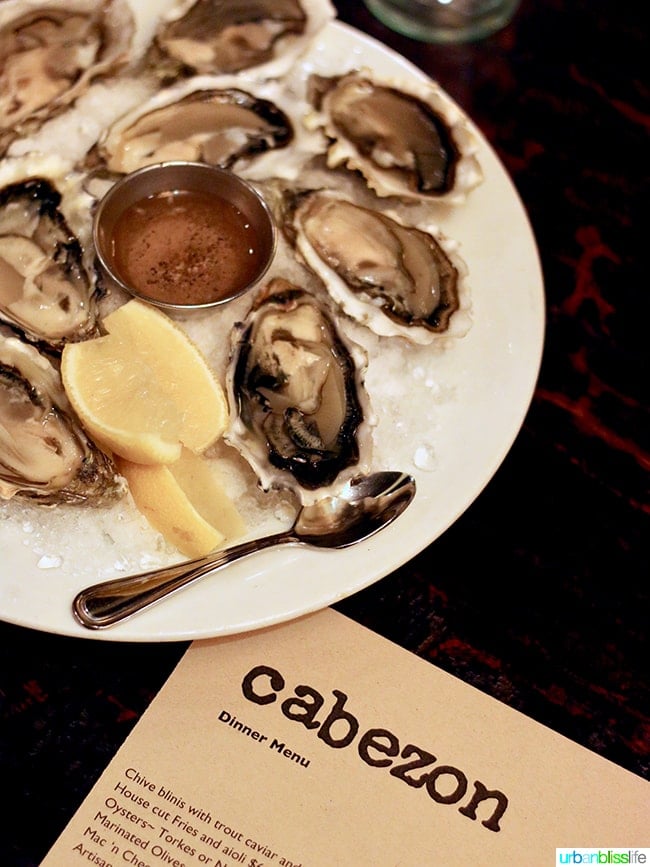 Oysters - Torkes or Netarts and Eld Inlet ($3 each) - are incredibly fresh and served on the half shell with champagne mignonette.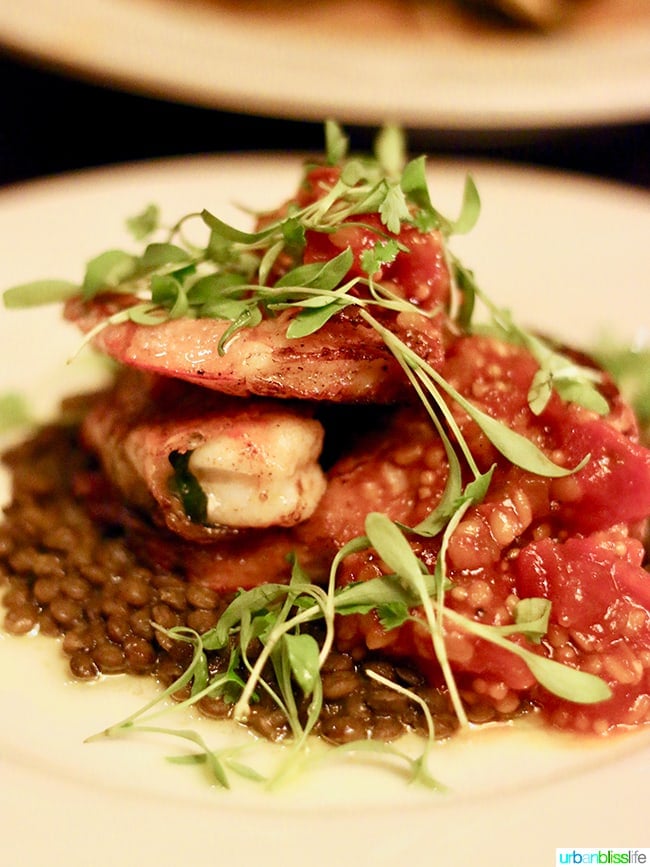 I recommend ordering the Basil Wrapped White Shrimp with curried green lentils and tomato chutney ($13.50). This dish is stunning to look at as well as a happy blend of flavors and textures.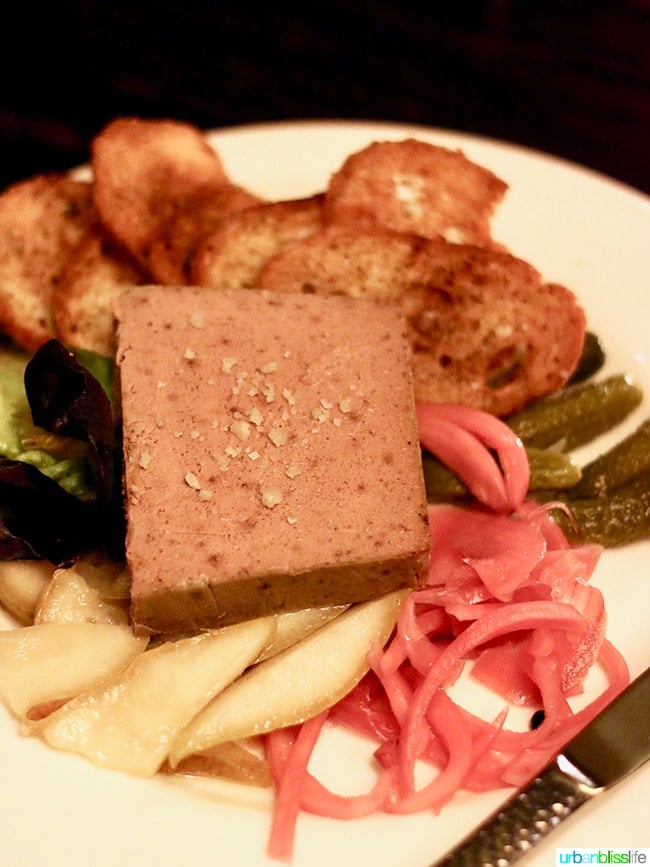 House-made Patê is a great starter to share. It comes with crostini, pickled red onions, cornichons, and pears ($9).
Entrees
Seafood lovers have a wide range of local fish and crustacean entrées from which to choose at Cabezon restaurant.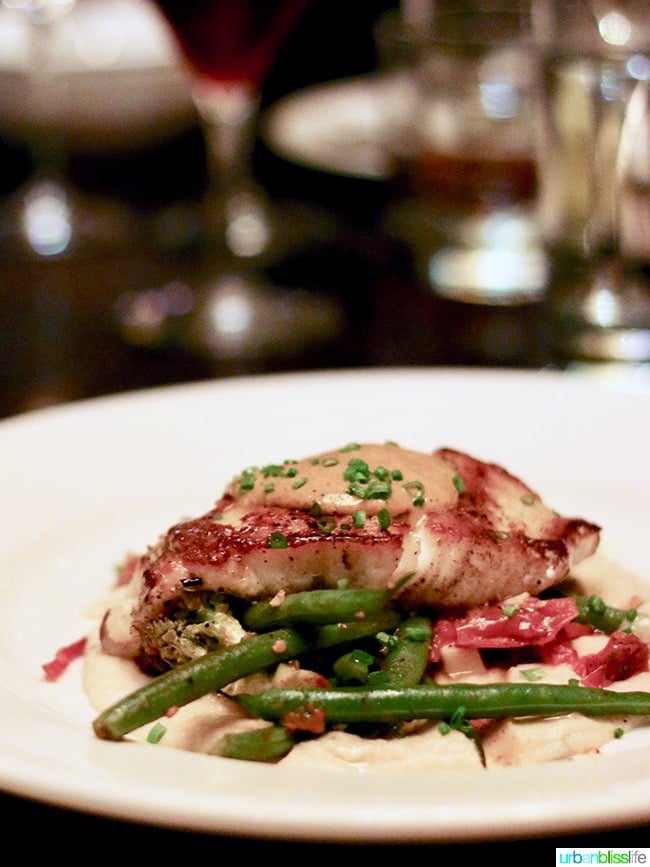 For a simple seafood dish that is elegant and satisfying, try the Local Ling Cod with cauliflower puree, romanesco, smoked tomatoes, green beans and romesco sauce ($27)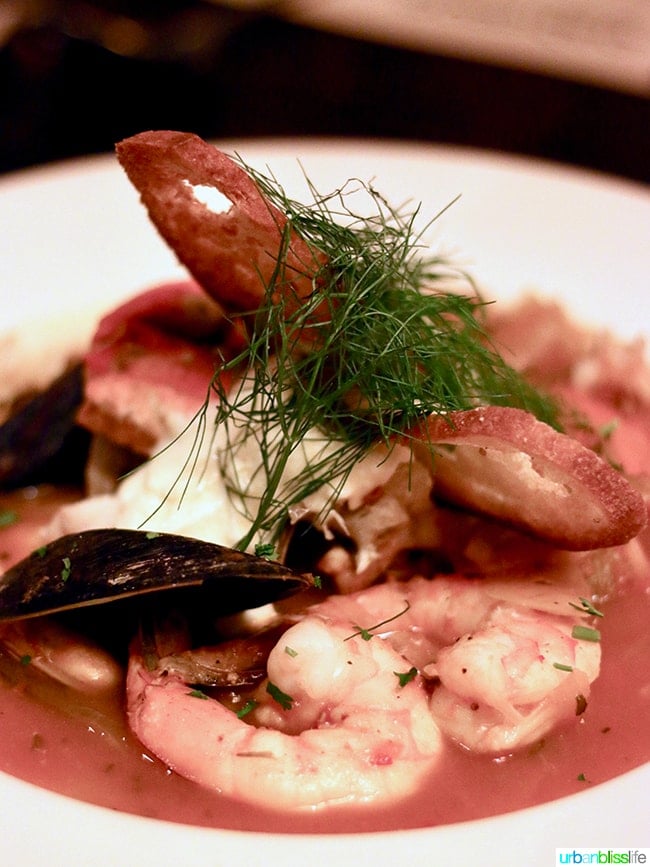 Fellow diner and food blogger Bee of The Spicy Bee stated that the Cioppino ($27.50) at Cabezon restaurant is her favorite Cioppino in town. I always trust Bee's tastebuds, and after trying the cioppino for myself, I can see why she loves this one so much!
Cabezon's Cioppino is packed with succulent wild white shrimp, fresh local fish, Manila clams, delicious Dungeness crab, calamari, and blue mussels. You definitely get your money's worth with this seafood star-studded Cioppino!
Another local seafood star that I don't see often on restaurant menus is Oregon Black Bass ($27). Cabezon serves it with perfectly fried skin, on a bed of cannellini beans, cauliflower mushrooms, cabbage, speck ham, and dill aioli.
Of course, Cabezon restaurant's menu also has you covered if you're in the mood for something from land versus the sea. During our dinner, we feasted on Reister Farms Lamb Sirloin ($28)with ricotta dumplings, chanterelles, kale, cipollinis, and madeira olive jus.
Dessert
While seafood is the star of Cabezon's menu, you would do yourself a disservice to discount dessert while dining here. The desserts are rich and bold - the ultimate indulgence.
Just one bite of this Warm Ginger Cake with Spiced Pears and Caramel ($8) and I was HOOKED. They were kind enough to share the recipe with us, and I plan on making this sometime soon.
It's moist and rich, as any cake should be, and the spiced pears and caramel take it to a whole new level of deliciousness. I LOVE THIS CAKE!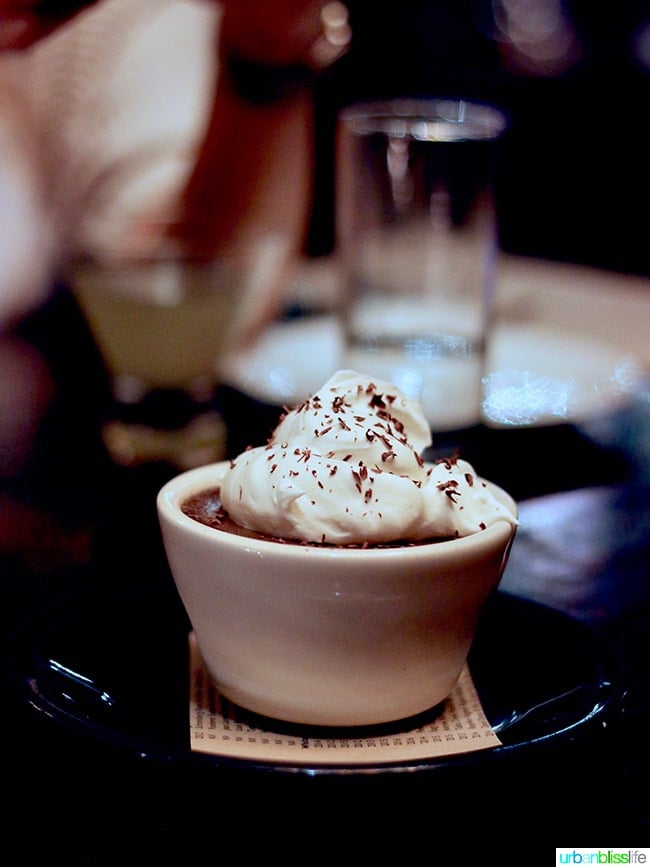 Also on the decadent scale is the Callebaut Belgian chocolate pot de creme ($8). Chocolate fans will surely be more than satisfied with this cup of divine chocolate goodness.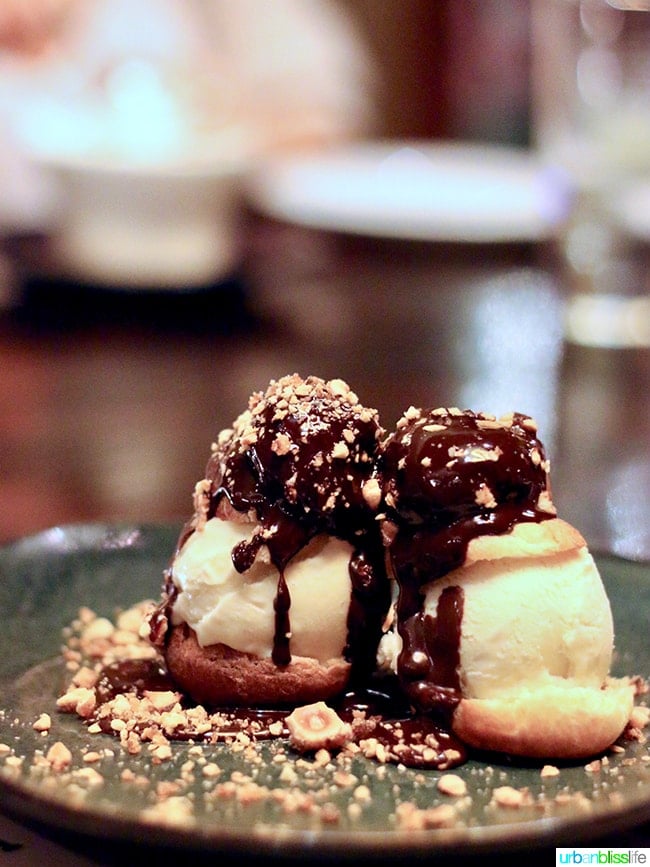 Finally, if you want a dessert that has it all - pastry, ice cream, and booze - try the Maker's Mark Whisky Ice Cream Profiteroles with chocolate sauce and candied hazelnuts ($8).
Visit
If you are a seafood lover as I am, or you have a seafood lover coming to visit, I highly recommend a visit to Cabezon restaurant in Northeast Portland. The atmosphere is casual and relaxing, yet romantic and intimate. Parking can be a challenge in this residential area, so be sure to either take public transportation or give yourself extra time to find a parking spot and time to walk to the restaurant.
5200 NE Sacramento
Portland, OR
503.284.6617
For more information or to make reservations, please visit the Cabezon website.
Are you a seafood lover? If so, what are some of your fave seafood dishes, and which dish looks most appetizing to you here?
I was invited to attend a media dinner at Cabezon restaurant, during which all food and drinks were complementary. As always, all opinions and photos are my own. I l-o-v-e seafood, and can't wait to go back to Cabezon restaurant!