Skillet S'mores Pie with Chocolate Hazelnut Spread Drizzle is a delicious, decadent dessert perfect for potlucks, parties, and holidays.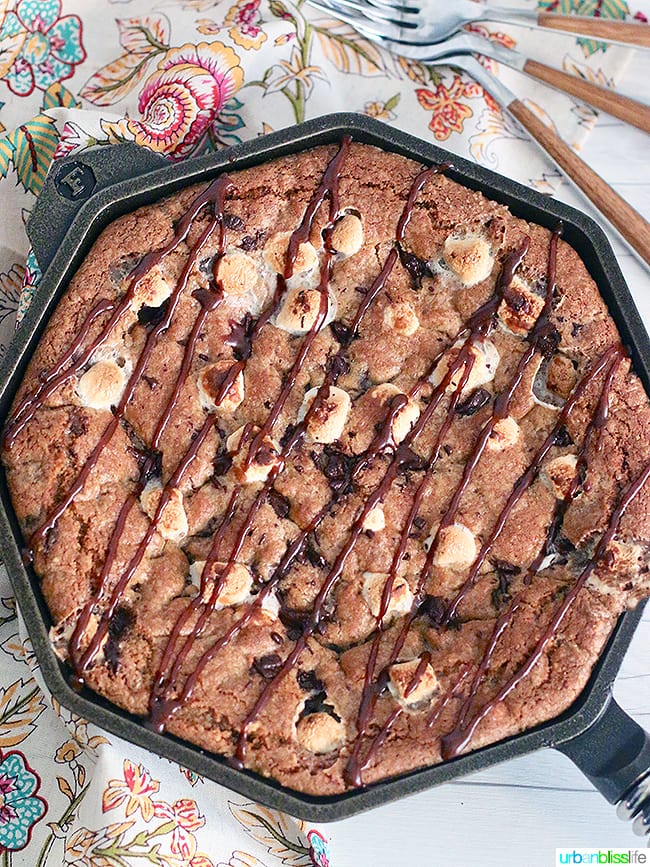 Christmas is in just FOUR days! ACK! Where did 2017 go?
At this point, all of our gifts have been purchased and wrapped. Our house is as decorated as it's going to get for the holidays. All that's left to do is to finalize the menu for the Christmas Brunch we are hosting for our family.
For those of you who also celebrate Christmas, how are you celebrating this year? Are you hosting, or going to a friend or family member's house?
Whatever your plans are, consider making this yummy Skillet S'mores Pie recipe. It's got the delicious s'mores flavor combo that both kids and adults love, and it feeds a crowd easily.
A Girl and Her Cast Iron Skillet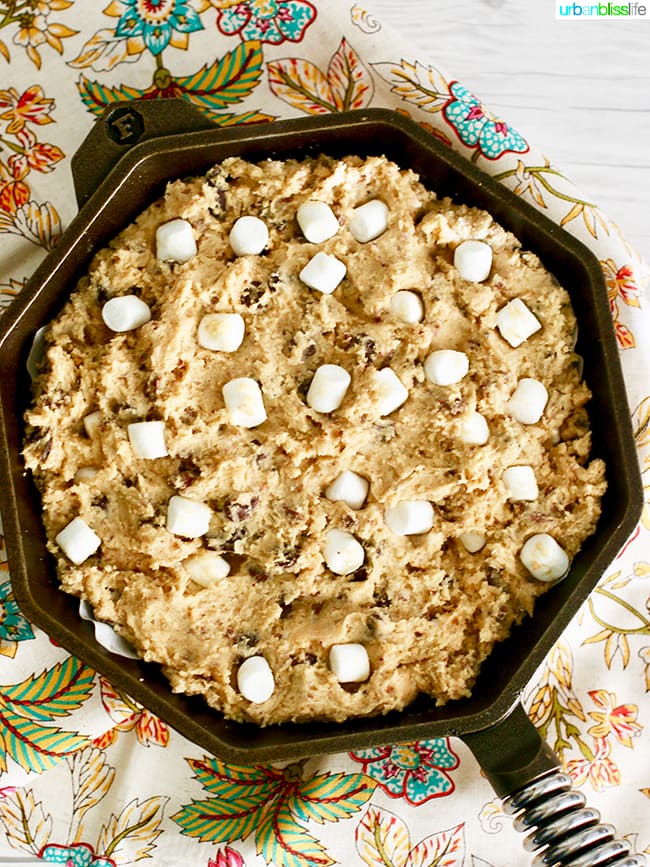 The idea for this s'mores pie recipe came when I was invited to partake in, and contribute to, a blogger's brunch with Finex Cookware, Inc.
I ADORE cast iron pans. I own a few, but there are two particular Finex cast irons that I love: my 12" octagon cast iron skillet and the brand new cast iron grill pan.
This gorgeous octagon pan shown here is lovingly used several times a week in my house. We cook with it for breakfast, lunch, and dinner. So why not dessert, right?
Skillet S'mores Pie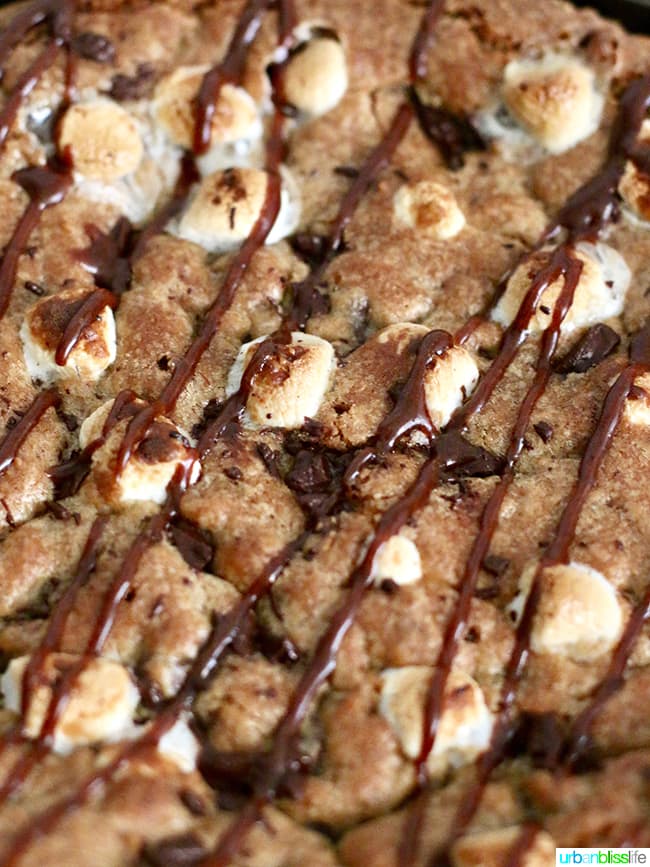 For the Finex Brunch, I knew most of the other bloggers would be creating delicious savory brunch concoctions. So, I went with my gut (which is apparently screaming CHOCOLATE EVERYTHING these days) and whipped up a skillet pie to rival all skillet pies.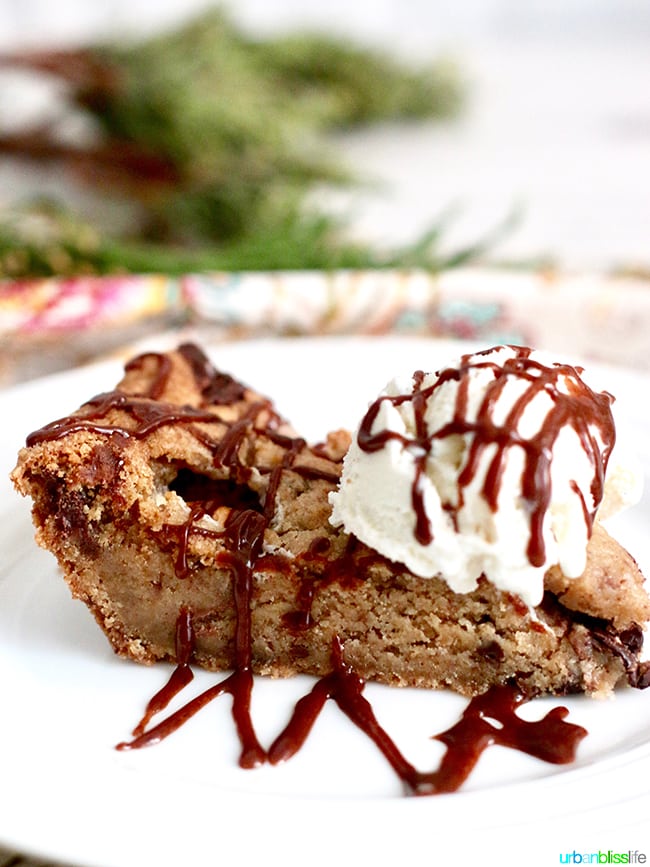 I've always loved taking the flavors of s'mores and creating dessert dishes that weren't the usual graham cracker/chocolate bar/ marshmallow sandwich.
The dough has crushed graham crackers incorporated into it. Then I added three different kinds of chocolate, because, again: CHOCOLATE EVERYTHING. And of course, I included mini marshmallows throughout to finish off the s'mores flavor combo.
The graham crackers in the dough are so subtle. And yet, all together, you get the distinct flavor of s'mores in an all-too-easy to eat pie format.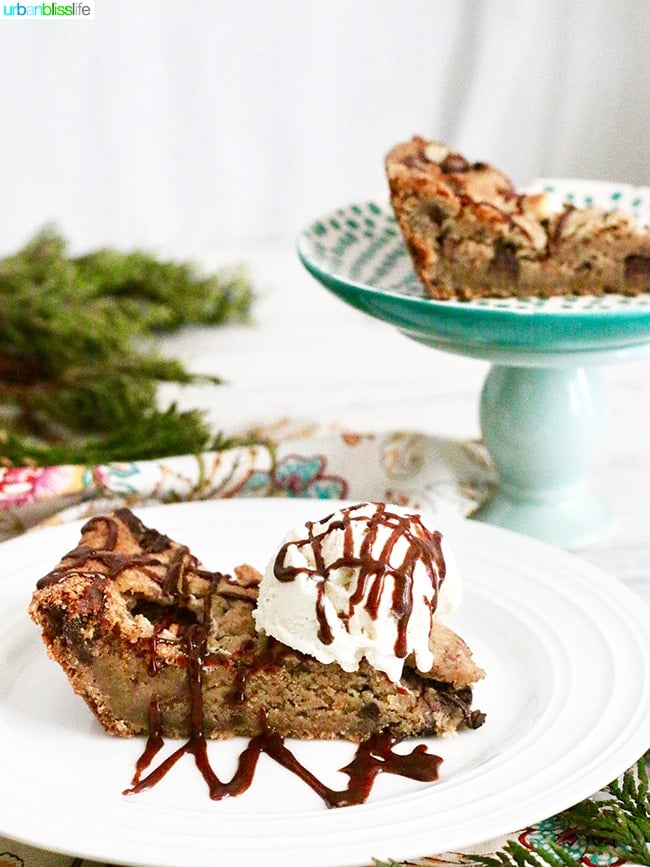 As with most of the recipes on Urban Bliss Life, the final recipe you see on the blog is one that I have finessed through trial and error.
My poor friends and family are usually my taste testing guinea pigs, although I don't think they mind much ;) (I'll also be opening up taste testing and recipe testing opportunities for members of my private Food, Wine, and Travel Bliss Facebook group too).
I made a version that I brought to a friend's holiday party that was super ooey gooey. The kind of ooey gooey richness that commands a spot on the couch, by the fire, with a glass of wine and Netflix for the whole night. It was yummy and I received great feedback on it!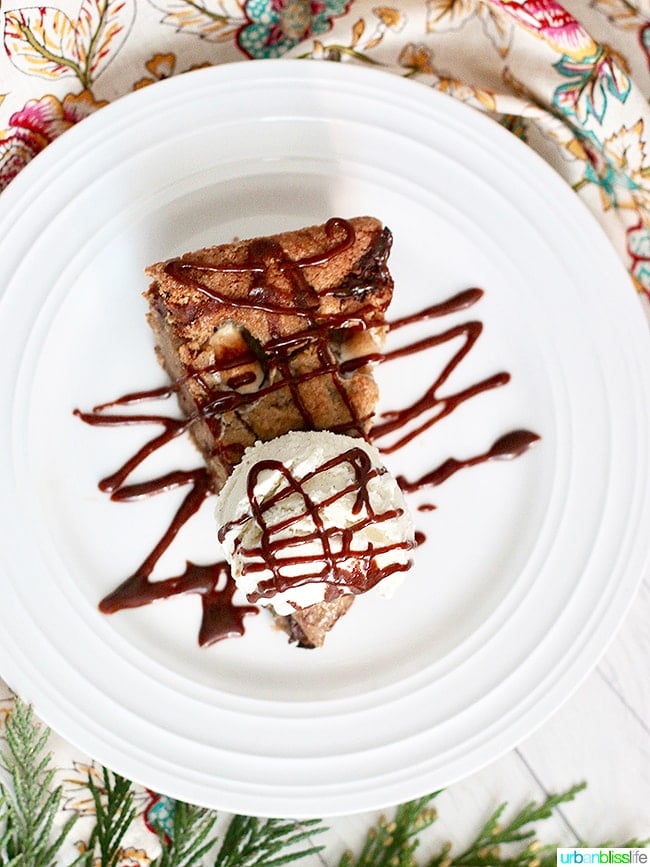 However, I wanted it to be a little more of a cakier cookie pie and less ooey gooey cookie.
So the version I brought to the #FinexBrunch had reduced butter (but there's still plenty - never fear!) and more flour, resulting in what I think is one damn delicious skillet pie.
Finex Blogger Brunch
The blogger brunch was SO much fun. I am still salivating over everyone's dishes!
PR Firm Little Green Pickle and Finex supplied the mimosas, coffee, and adorable mid-century modern Airbnb for the event.
In addition to my S'mores Skillet Pie, fellow food bloggers/stylists/photographers Mary, Lena, Amanda, and Holly each brought dishes to share.
Lena from Lena's Kitchen Blog brought Orange Cardamom Rolls that were to DIE for!
Amanda from The Happy Little Apron and Holly from The Modern Proper (her dish is pictured above) both made distinctly different yet equally mouthwatering savory skillet dishes with tender meats and perfect fried eggs.
Mary from The Kitchen Paper made a Butternut Squash, Kale, Gruyere Strata. Soooo heavenly!
Smokehouse Tavern owner and chef BJ Smith also cooked up some AMAZING eats for the group! Including Deviled Egg Hot Links (pictured above)
He also made these Biscuits with Smoked Hollandaise Sauce and Caviar, which I want to eat Every. Single. Sunday. ThankYouVeryMuch. Plus, he rounded out our hedonistic brunch ways with a well balanced, light, beautiful beet salad.
Chocolate Hazelnut Spread AKA Homemade Nutella
You could just enjoy the s'mores pie skillet on its own... but if you're going to go decadent, go big or go home, I say!
A scoop of vanilla bean ice cream and some homemade chocolate hazelnut spread drizzled over the top takes this S'mores Skillet Cookie from delicious to GRAB ME ANOTHER SLICE goodness!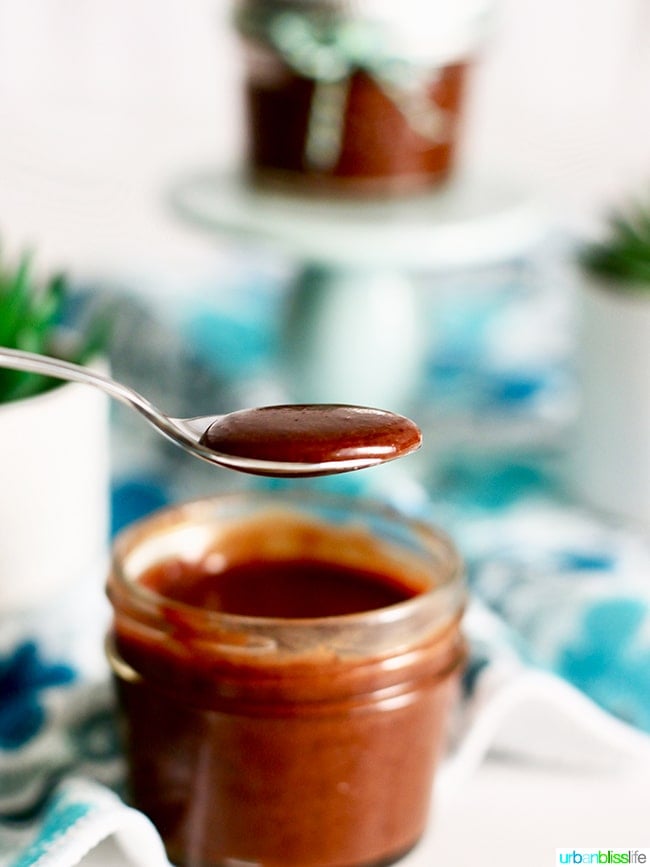 You could use a spoon to drizzle the chocolate hazelnut yumminess over each slice, but I'm not that talented to do so without making a mess. So I place the homemade Nutella into squeeze bottles and then do the chocolate hazelnut drizzle art thang.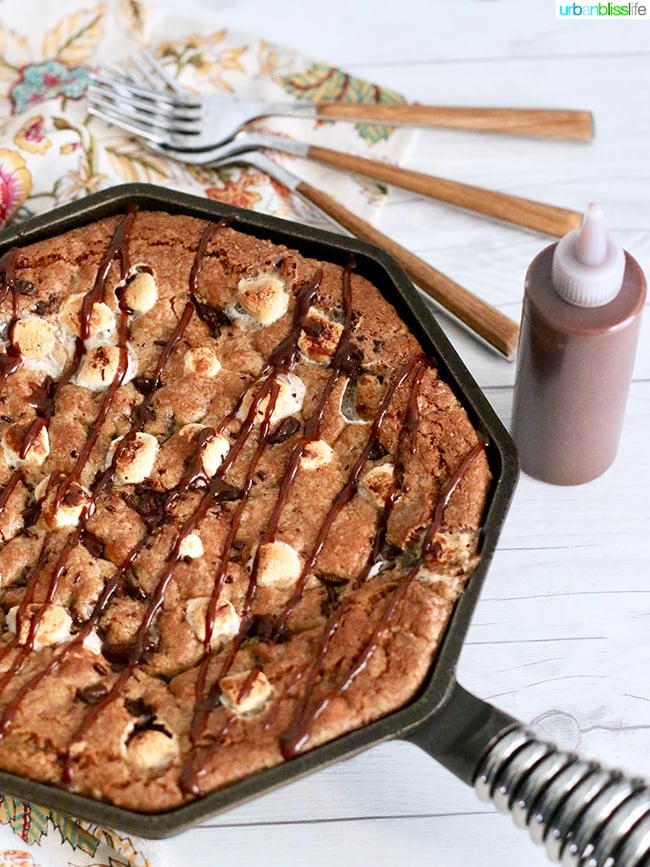 I'm typing this and really upset that this is no longer in my house. I may need to make this again very soon!
More delicious dessert recipes
S'mores Pie Recipe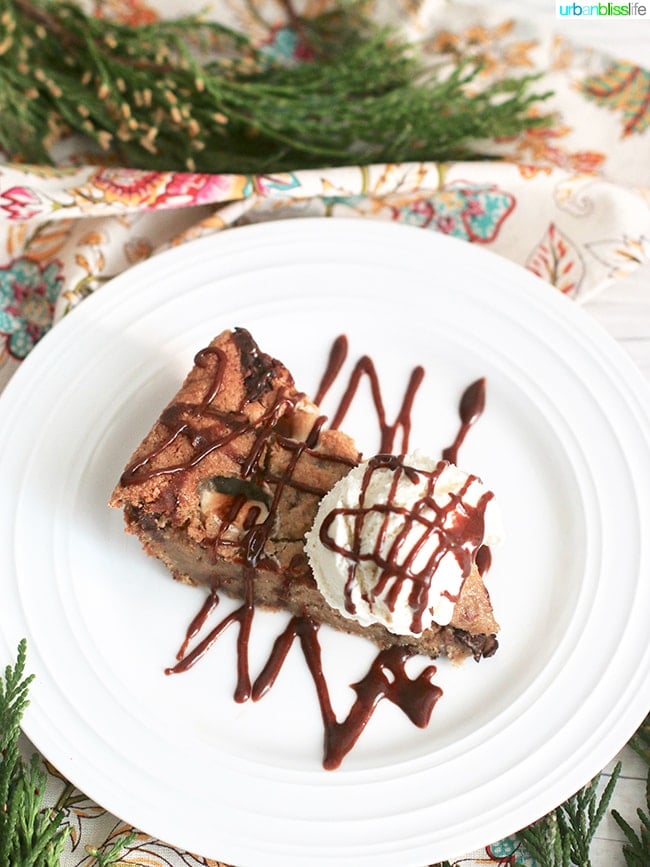 Skillet S'mores Pie with Chocolate Hazelnut Drizzle
This S'mores Skillet Cookie is decadent and delicious!
PRINT
PIN
RATE
Ingredients
6

graham cracker cookies

14

tablespoons

of butter

softened to room temperature

1

cup

granulated sugar

½

cup

packed brown sugar

2

teaspoons

vanilla extract

2

tablespoons

maple syrup

2

eggs

2 ¼

cups

all-purpose flour

½

teaspoon

salt

1

teaspoon

baking soda

½

cup

dark chocolate bar

broken or cut with a knife into small chunks

½

cup

milk chocolate bar

broken or cut with a knife into small chunks

½

cup

mini marshmallows

topped with Homemade Nutella

chocolate hazelnut spread

Optional toppings: scoop of vanilla bean ice cream
Instructions
Preheat oven to 350 degrees F.

Prep cast iron skillet with parchment paper cut to fit over the entire bottom and just slightly up the sides of the pan. Set aside.

In a food processor, pulse graham crackers into fine crumbs. Set aside.

In a stand mixer, cream together the butter and both sugars until well blended.

Add vanilla, eggs, and maple syrup to the mixer and mix until ingredients are incorporated.

In a separate large mixing bowl, add graham cracker crumbs, flour, baking soda, and salt. Whisk together.

Slowly add flour mixture to butter/sugar mixture in the stand mixer and mix on low until incorporated.

Add the dark chocolate chunks, milk chocolate chunks and the semi-sweet chocolate chips, and mix just until chips are incorporated.

Spread cookie dough into the prepared cast iron skillet. evenly covering the bottom.

Gently press mini marshmallows into the dough, spaced somewhat evenly throughout.

Cover with foil and bake at 350 degrees for 15 minutes. Uncover, and bake for an additional 15 minutes, or until a toothpick comes out clean from the center.

Allow the cookie to cool at room temperature, uncovered, for at least 30 minutes to 2 hours.

Optional: add a scoop of vanilla ice cream with each slice when serving.
Notes
Total time above does not include cooling time.
Keeps for up to one week in an airtight container.
PIN THIS: