Travel to Morioka, Japan, where noodle lovers and food adventurists alike will enjoy taking part in the Wanko Soba Challenge. How many bowls of noodles can you eat before you say "Maitta!"?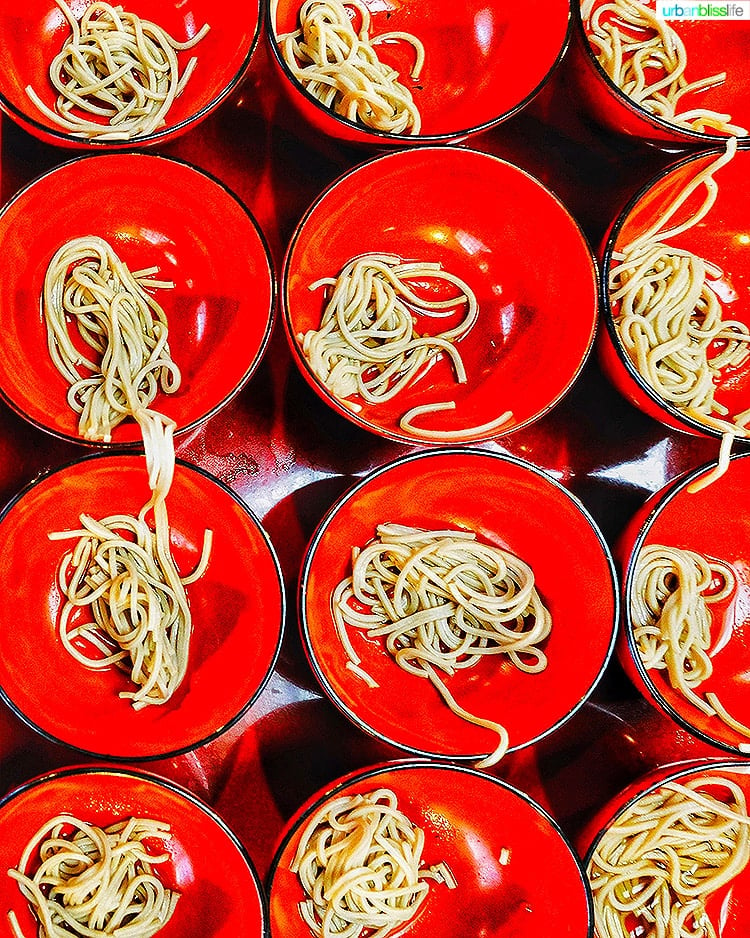 Buckwheat noodles lounge lazily in bright fire orange bowls, waiting patiently to the side as we're given our food challenge instructions.
We sit on tatami mats at low tables, with a smattering of small plates of food in front of us. Some in my group start digging into those side dishes. I watch them and think "They're going to fill up before we even begin!"
I look at the nearby tables who arrived before us. Each table is a mix of focused concentration while slurping, dumping, extending out their bowls for more, chants of encouragement, and delightful roars of laughter.
We're at the Azumaya Soba Shop in Japan's Iwate prefecture, and we're about to embark on the Wanko Soba all-you-can-eat food challenge.
It is a food travel experience like no other I have participated in so far.
And I am SO ready for it!
What is Wanko Soba?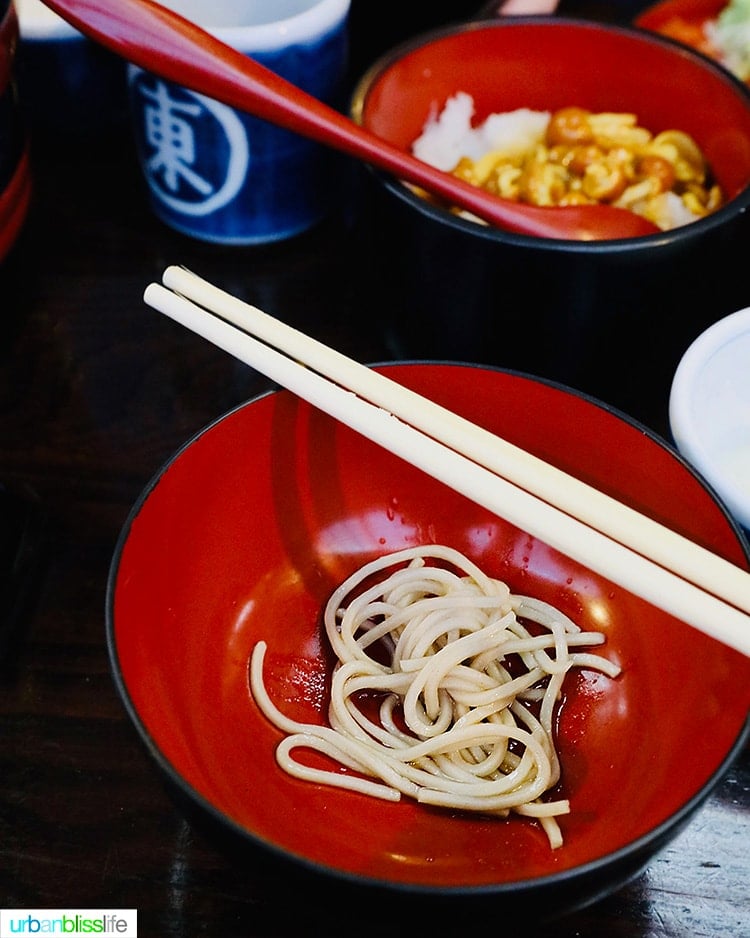 "Wan" means cup, and "ko" placed at the end of a word, means cute.
So Wanko Soba essentially means soba noodles served in cute little cups. These petite noodle bowls became popular all over Japan after World War II.
At the Azumaya Soba Shop, you can come and order off a regular menu of traditional Japanese food. Or you can order the Wanko Soba Challenge. This all-you-can-eat food challenge costs ¥3,520, or $32.81 in US dollars.
In addition to the endless bowls of soba noodles, you also get several side dishes.
The rules of the Wanko Soba food challenge
When you enter, you will be given a special apron to wear. You MUST wear this apron in order to participate.
Follow your hostess and take a seat on the tatami mat and sit at the low table you are assigned.
Servers will arrive and first offer your table several side dishes and condiments. These will consist of:
tuna sashimi
Nameko mushroom served with grated daikon radish simmered with soy sauce
cooked minced chicken
Sesame paste
sheets Nori of seaweed
pickled vegetables
grated taro potato
chopped leaks
Wasabi horseradish
grated daikon radish with red chili
and a light dessert.
Pro Tip: Do not let the smell tempt you into diving into these right away! Enjoy a small bite or two, but you do not want to fill up on these dishes. Eyes on the prize, people!
Then, they will return with trays full of bowls full of soba noodles. Once the first bowl is placed before you, this all-you-can-eat food challenge is on!
Using chopsticks, eat the noodles in the bowl.
Then pour out any remaining broth in the bowl in front of you. Do NOT eat too much of the soup - that will also fill you up and give you less room for noodles!
As soon as you pour out the remaining broth, a server will pour more noodles into your eating bowl.
She will then place the empty bowl in her hand on the table next to you. This will start the stack of bowls to count at the end to let you know how many you have eaten.
Not unlike the food challenges you see on television, the Wanko Soba challenge is a fun, and potentially boisterous event. Servers will cheer you on, chanting "Hai jan jan" or "Hai don don," encouraging you to eat more.
Repeat the process - eat noodles, dump broth, extend your bowl out for more - until you feel you can't eat anymore.
At that point, you must put the lid on the bowl when you want to stop. You can also declare "Maitta," which means "enough" or "I surrender."
Once every person in your party is done, tea will be served.
The empty bowls will be counted. You'll get a nice certificate and wood plaque that will have your name on it, as well as the number of bowls you completed.
Wanko-soba food challenge facts & tips
15 Wanko Soba bowls equals one regular-sized bowl of noodles
Pro Tip: you can eat more soba if you just swallow it, and don't chew it.
If you eat 100 bowls or more of noodles you will be awarded with a bill called "Tegata."
To date, Wanko Soba champions are a woman from Morioka who ate 570 bowls in one sitting, and a man from Osaka who ate 500 bowls in one sitting. That's a LOT of soba!!!
So how much Wanko Soba did I eat?
Fun fact to understand a bit of my history with food: at Emerson College, my friends once signed me up for the school's talent show. My talent? Eating. That's it. Just non-stop eating. Because it's what I am GOOD at, people! I may be less than five feet tall, but I can EAT!
So I sat on the stage and ate a pound of pasta in one sitting while the other acts performed in the middle of the stage.
I tied for second place.
Fast forward many years later: when I found myself at this all-you-can-eat soba noodle food challenge, I did okay.
I ate 35 bowls of soba noodles. The picture above shows you the mountain of emptied bowls that I conquered. That's not bad.
One of our guides at 110. The fellow travel writer sitting across from me ate 100.
There were ate 13 bowls and called it good. Another stopped at 66. We all stopped at different times.
I love my Wanko Soba challenge certificate and beautiful wood plaque souvenirs that I got to take home.
These are sitting in my office, reminding me of the time I sat on a tatami mat for way too long eating way too many bowls of plain soba noodles, cheering on my fellow food challenge participants and soaking up the joy around me.
It was the experience of a lifetime that I will not forget. And one that I hope you will someday be able to experience as well.
Where to participate in the Wanko Soba food challenge
There are four Azumaya Soba Shops in Morioka, Japan.
The main restaurant is at:
1-8-3 Nakanohashi-dori
Morioka, Japan 020-0871
Call ahead for reservations: 019-622-2252
PIN IT: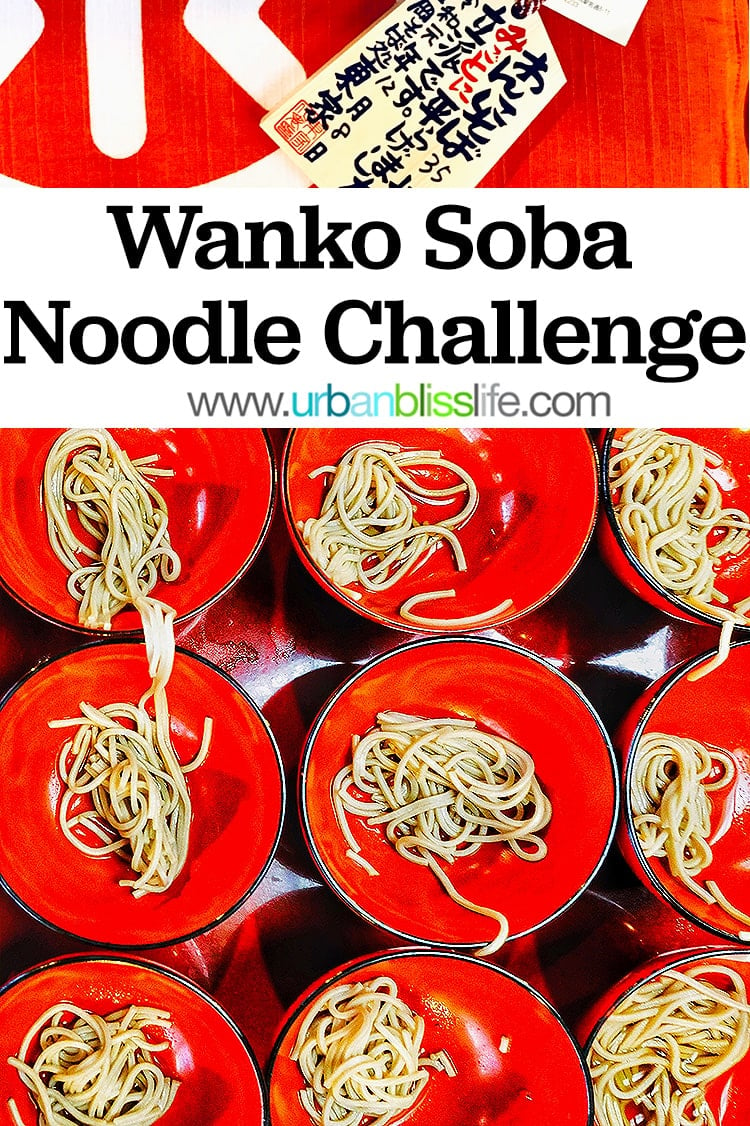 More food and travel adventures
This food travel experience was part of my press trip to the Tohoku region of Japan with the Society of American Travel Writers and Visit Japan. As always, all opinions and photos are 100% my own.