Planning a kitchen remodel or thinking about one? So excited to share with you our full Portland kitchen remodel before and after!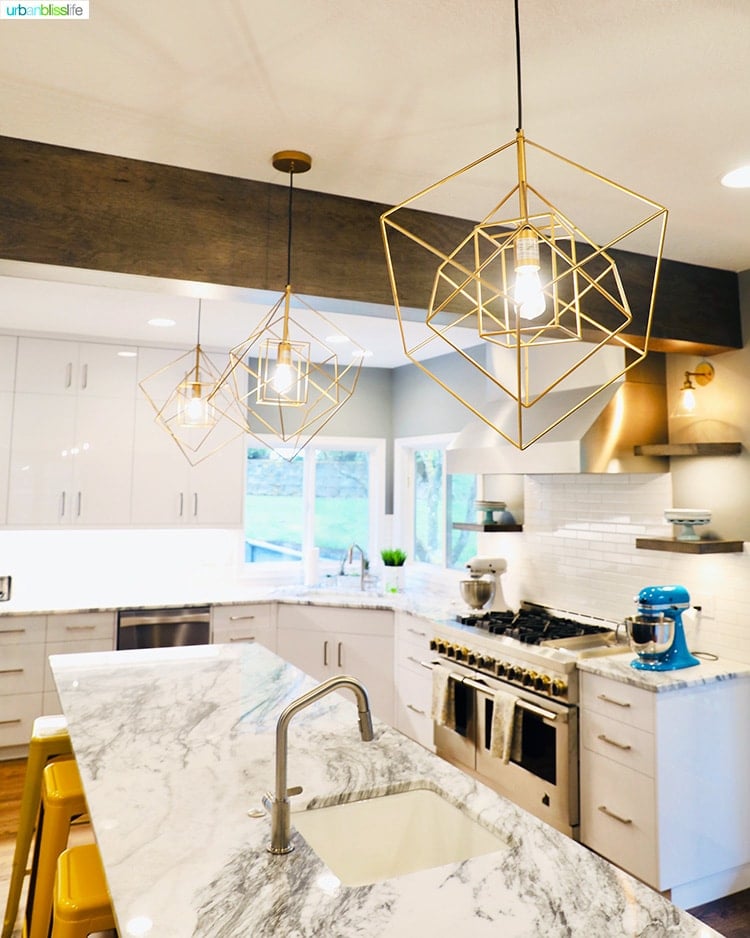 At long last, I am so excited to share with you all our NEW kitchen!!
When we moved into our new house last January, I knew that eventually, we would need to remodel the kitchen. I'm going to share tips on how to search and select the right kitchen remodel design & build team and things to think about when planning a kitchen remodel.
In this post, I thought I'd share the simple before and after.
Our kitchen remodel: the before photos
The kitchen that came with the new house looked great -- emphasis on looked. The former owners did a fine job working with the space they had to update the kitchen. It looked great.
However, in everyday life, it was not a functional kitchen. As a full-time food blogger and recipe developer, and as a mom who cooks and bakes multiple times a day for my family, the original kitchen did NOT work. It had a terrible workflow and traffic flow. With my work expanding for the blog and beyond, I knew we would need to remodel our kitchen.
Some of the things I did like about this kitchen:
The refrigerator was a large professional capacity fridge.
I loved the double wall ovens.
The corner sink area received nice light and had a nice view.
Some of the drawers had built-in dividers, which was useful.
Some of the things I did not like about this kitchen:
Poor workflow and traffic flow.
Not enough storage space.
Not enough counter space.
There was no counter space to the side of the stovetop. And there was absolutely no counter space across from the refrigerator to put groceries, ingredients for meals, etc.
When you opened the refrigerator door, it almost touched the stovetop and boxed in anyone else who was in the kitchen.
The shaker cabinets collected dirt and dust easily were a pain in the butt to keep clean.
The drawer and cabinet pulls caught on everything. Do NOT get these kinds of pulls if you cook at all in your kitchen! I cursed those pulls multiple times a day, every single day.
So here are the after photos...
Our kitchen remodel: the after photos
You can scroll down the post to watch our YouTube kitchen remodel reveal video.
I've also got YouTube Videos for our One Month Kitchen Remodel Progress, and our Two Month Kitchen Remodel Progress.
After four months of living with construction, cooking (for family and work) out of cramped temporary kitchen space, and too many dollar bills over budget than I care to share, here is our brand new kitchen! Just in time for us to enjoy it fully during this weird and wacky stay-at-home time.
What we did:
We took down the wall that separated the original kitchen from the formal dining room. This doubled our kitchen space. The wood beam you see in the photos marks where the old wall used to be.
There is now a nearly 12-foot kitchen island built in the center of that space. And there is almost 4-feet of space on either side of the island.
We replaced the awkward side door and window in the old dining room with a smaller door and drywalled the window to give us more wall space for the fridge.
In the kitchen island, we added a prep sink. We also added an extra set of pull-out trash and recycle bins.
We refinished the existing hardwood floors and replaced the carpet in the former formal living room and dining room with hardwoods.
Against the existing former dining room wall, we installed a wall of custom-built cabinets with space for a television.
We replaced the former double wall ovens and stand-alone countertop stovetop with a single double-oven range and custom-built hood.
The new wall of cabinets, where the old dining room used to be, has platter shelving as well as larger shelving for smaller appliances.
We added two refrigerator drawers that we use for drinks and kid snacks. When we host gatherings, we can also use these drawers to hold the prepped party food and drinks.
Kitchen layout
For me, and for most people who do cook regularly at home, the layout is the most important part of a kitchen remodel.
Traffic flow needs to make sense; there needs to be room for everyone to move safely about the kitchen. Appliances, sinks, specific drawers need to be placed in spots that make the most sense to the workflow of cooking and baking.
With the expanded space, there is plenty of room for me, my husband, and both teenagers to move about in the kitchen safely.
Additional storage and media center
The original kitchen did not have enough storage, although there is a walk-in galley pantry between the kitchen and the family room that we did keep as-is.
We added more storage by having custom cabinets built against the old dining room wall. Here, we store our everyday glasses, plates, as well as serving platters and baking platters. I can also stash away the small appliances like my Instant Pot and Air Fryer, so that they don't take up space on the counter.
In the center, we added a fun backsplash and television. The television is actually a great tool for me to have in the kitchen once we start hosting cooking and wine events.
In the meantime, it is nice to be able to watch the news, cooking shows, or stream recipes onto the big screen to watch while I spend hours in the new kitchen every day.
Kitchen appliances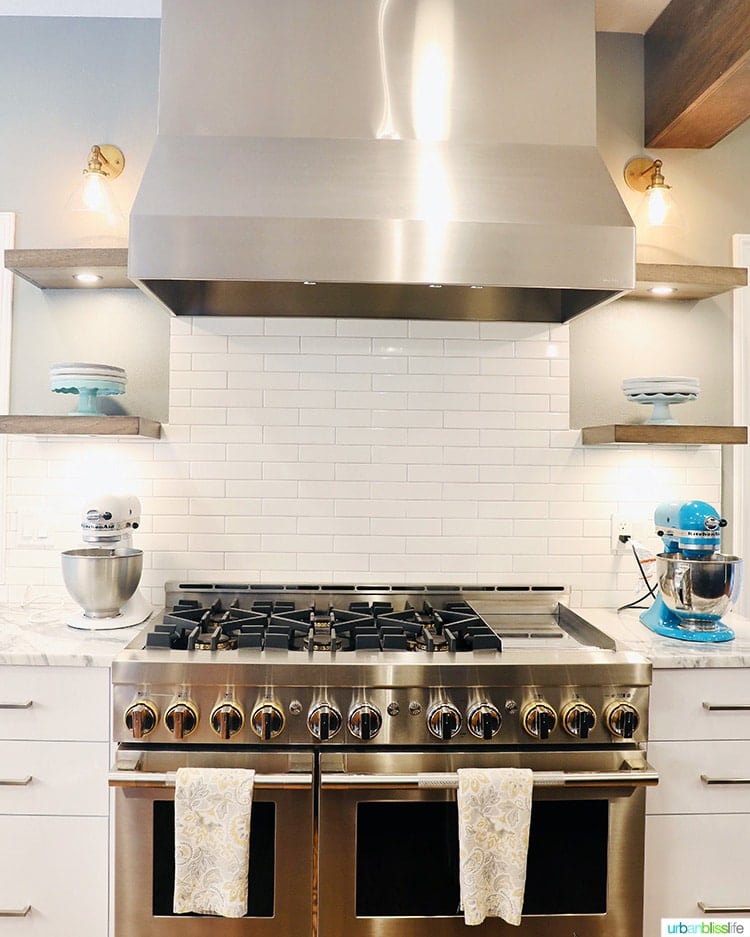 We are so happy that we got to keep the refrigerator that came with the house. We also kept the dishwasher.
The original kitchen came with a counter stovetop with retracting vent. If you cook every day, a retracting vent isn't powerful enough to do the job. And there were two double wall ovens, which I actually loved.
For our Portland kitchen remodel, we selected the JennAir Rise Professional Range. It has a six-burner stove and a griddle top. It has double ovens with convection bake and proof settings, and is wi-fi enabled, among many other features. I LOVE IT. We looked at Wolf and the JennAir professional ranges now are very competitive with what Wolf offers - at a more affordable price.
Kitchen cabinets
We knew we did NOT want shaker cabinets. Those super traditional cabinet styles are just not us at all. Plus, they are magnets for dust and dirt. We wanted something sleek, modern, and easy to clean.
These glossy White Onyx Corian cabinets are exactly what we were looking for. They are super easy to wipe clean. They also have a modern European feel to them that fits our style more.
For the cabinet & drawer pulls, we chose a simple, sleek silver pull that mimics the shape of the pulls on the refrigerator drawers and dishwasher.
Kitchen countertops
Choosing countertops was much more difficult than I anticipated. Originally, my husband and I thought we'd go with quartz. It's a popular choice these days. Quartz is non-porous and resists scratches, but is not as heat resistant as marble.
However, we kept visiting showrooms and leaving disappointed because we could NOT find a quartz countertop that fit our design vision. So we started to consider marble as an alternative. For people who love to bake, such as myself, marble is a great option because it doesn't conduct heat.
In regards to granite, I've been told that granite is OUT. To be honest, we didn't see a single granite countertop we liked.
We fell in love with the marble we choose from EleMar Oregon. The price came in just about the same as what we would have paid for a quartz countertop.
Kitchen remodel details
One of my favorite parts of the kitchen are the three ceiling pendant lights I found online. I fell in love with similar lights that I saw while touring our local Street of Dreams last summer. Unfortunately, they were pretty expensive. I found this similar style online for half the price!
I also love the wall sconces on either side of the hood. We found these at Restoration Hardware. You can find similar sconces here.
We already had two yellow bar stools so we decided to add four more as seating around the kitchen island. I love the pop of color these yellow bar stools add to the kitchen!
Kitchen remodel before and after VIDEO
Our Portland kitchen remodel before and after
So that's a quick look at our kitchen remodel!
If you have any questions about any design details I didn't cover, please post them in the comments below. I am happy to answer any questions about the process, the details, and our decisions.
Also, I'll be sharing more about other aspects of our kitchen remodel soon. Such as:
a helpful kitchen remodel checklist
how to set up a temporary working kitchen during a remodel
things I wish I knew or did differently during our kitchen remodel
PIN IT: