When your meal begins with this beauty set down in front of you, you know you're in for quite an experience!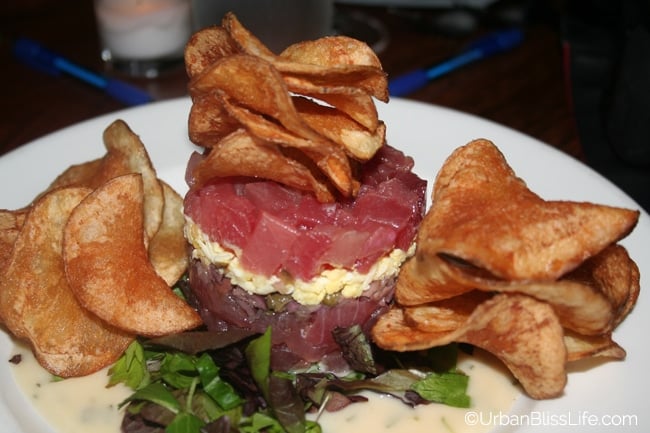 The above pictured Ahi Tuna Tartare "Nicoise" (chopped egg, capers, olives, housemade potato chips, tarragon aioli - $15) was the gorgeous opening dish I was honored to enjoy recently at a blogger dinner at
Serratto
. Owners Julie and Alex Bond and Executive Chef Tony Meyers filled our bellies with autumnal goodness as we sampled their Italian/Mediterranean fall menu and Julie shared the history of the restaurant.
If you've been in Portland for a while, you are likely at least somewhat familiar with Serratto. But have you been recently? Growing up in Portland, I have watched the space that was once Delfina's (1979-1999) morph into the "old" Serratto (1999), and I was delighted to have this chance to experience the "new" Serratto (the Bonds purchased the restaurant from Michael Cronin in 2004). It is a lovely open, warm, truly inviting space that is a welcoming neighborhood hangout, a special occasion spot, and a fabulous date night or girls night out restaurant. In fact, with their wonderful
kids' menu
, this is also a fun family dining spot!
The last time I was in this space, I was celebrating my bridesmaids brunch with dear family and friends before my wedding in 2001. When I walked back into the space for the first time in 12 years (12! How does time move so quickly?!), those warm delicious memories came rushing back. I bet you have a similar memory of this space; if you do, and you haven't been recently, then it's time to come back. If you haven't been to Serratto, then I am here to encourage you: go, enjoy!
the food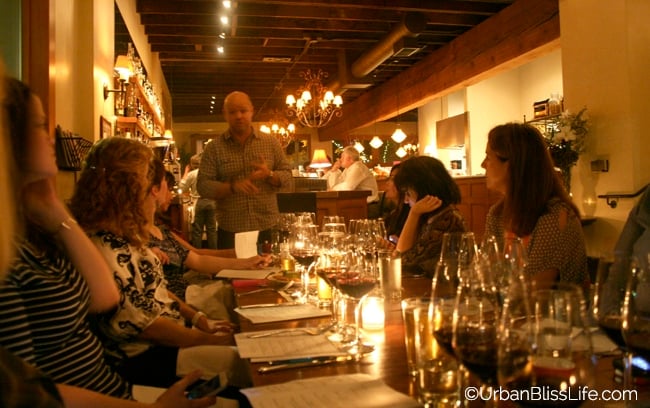 After the Ahi Tuna Tartare dish we were treated to seven incredible dishes, with various beverages to keep us hydrated throughout.
Kale Salad (pine nuts, honey crisp apple, sour cherries, Grana Padano, apple cider vinaigrette - $8). I'm a big fan of kale, but I found the combination of the apple and pine nuts to be the star of this dish -- they were a great sweet addition.
Seared Sea Scallops are easily one of my favorite dishes of all time and Serratto's version with brussel sprouts, roasted butternut squash, and apple butter was absolutely fabulous. LOVED this dish and highly recommend. Well done, Chef Myer. Please keep this dish forever on your menu. The Seared Sea Scallops are available for $30 on their dinner menu.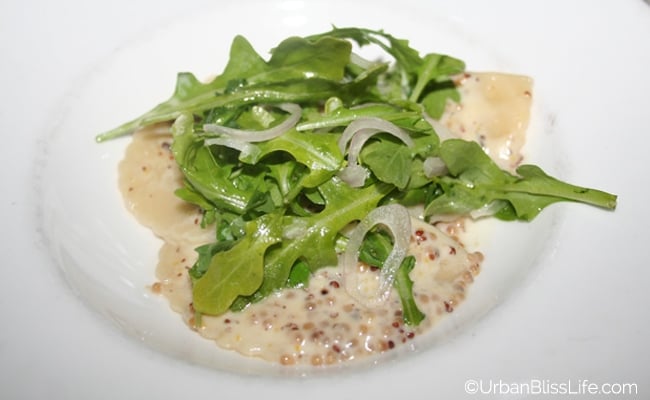 Braised Tails & Trotters Pork Shank Ravioli (
caramelized onion, baby arugula, stone-ground mustard cream sauce). The housemade ravioli itself was done well, and Serratto offers a range of pastas, including a pappardelle, spaghetti, cavatelli, rigatoni, and a ravioli dish, available for $13 for the small plate and $18 for the full plate serving.
I'm a huge pasta lover. I could eat pasta morning, noon, and night. On my next visit, I think I'll try to pappardelle with wild boar, arugula, hazelnuts, and shaved pecorino. I sometimes dream of housemade pappardelle pastas. True story. I might dream of that dish tonight, in fact.
Or, I might dream of pomme frites...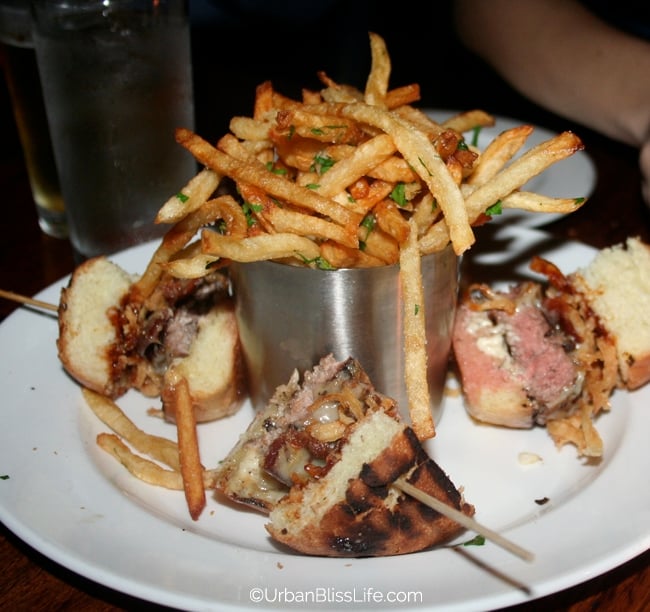 I like fries, but I LOVE pomme frites, which are typically thinner, twice fried (usually in some sort of animal fat, making them extra rich and tasty), and oh so full of flavor... mmmm pomme frites. The Painted Hills Burger at Serratto is served on a brioche bun with
white cheddar, bacon, aioli, BBQ sauce, crispy onions, and, of course, pommes frites ($14). Those pomme frites: fabulous. Just crisp enough on the outside with just the right amount of salt.
One of my favorite dishes of the night was the Muscovy Duck Confit. Duck is one of those meats that I absolutely adore but usually reserve for special occasion dinners or appetizers, and Serratto prepared their Muscovy Duck Confit wonderfully, with black lentils, kale, parsnip cream, pancetta, and a juniper demi-glace.
We finished the meal off with a solid classic: Apple Turnover served with cinnamon gelato and amaretto caramel. Oh my. I could have eaten a dozen of these. Okay, maybe just three, but it was THAT fantastic. The turnover was perfectly done with a happy harmony of sugary buttery crunch. It is was combined with a special send-off, a Spokane Speedball: a big cuppa espresso with Bailey's Irish Cream.
We were treated to various beverages throughout the evening, including a nice red wine flight including:
Mandrarossa "Bonera" Sicilia '09 Nero D'Avola/Cab/Cab Franc
Els Guiamets "Isis" Montsant '06 Carignan/Grenache/Syrah
Fidélitas "M100" Columbia Valley '11 Cabernet/Merlot/Malbec
Serratto's
wine list
consists of some excellent wines from Italy, Spain, and the US.
It was 12 years since I had been back to Serratto, and I love that this time was also a fun girls' night out! I look forward to taking the whole family here soon so the kids can enjoy their fresh, housemade pastas as well.
Serratto
www.serratto.com
2112 NW Kearney St. at NW 21st Avenue
Portland, Oregon 97210
Be sure to check out my fellow food bloggers who also attended this event. I love my foodie peeps. It's nice to enjoy a meal with other people who understand how you need to snap photos, Tweet, Instagram, Facebook, and Pin while you're chatting ;) (blogger links below the photo):
Mrs. Maki Cooks // A Well Crafted Party // PDX Food Love // Spoon and Saucer // The Spicy Bee // Salt Water Coffee // Pechluck's Food Adventures // Hummingbird High
Thanks to Serratto and HJ Consulting for this complimentary dining experience. I only write about experiences, products, and services that I believe in and support, and personally recommend to readers. As always, opinions are my own.