Ready to travel again? Whether you are planning a trip or you're looking for a staycation spot, the Canopy by Hilton Portland is a great Pearl District Portland hotel to consider.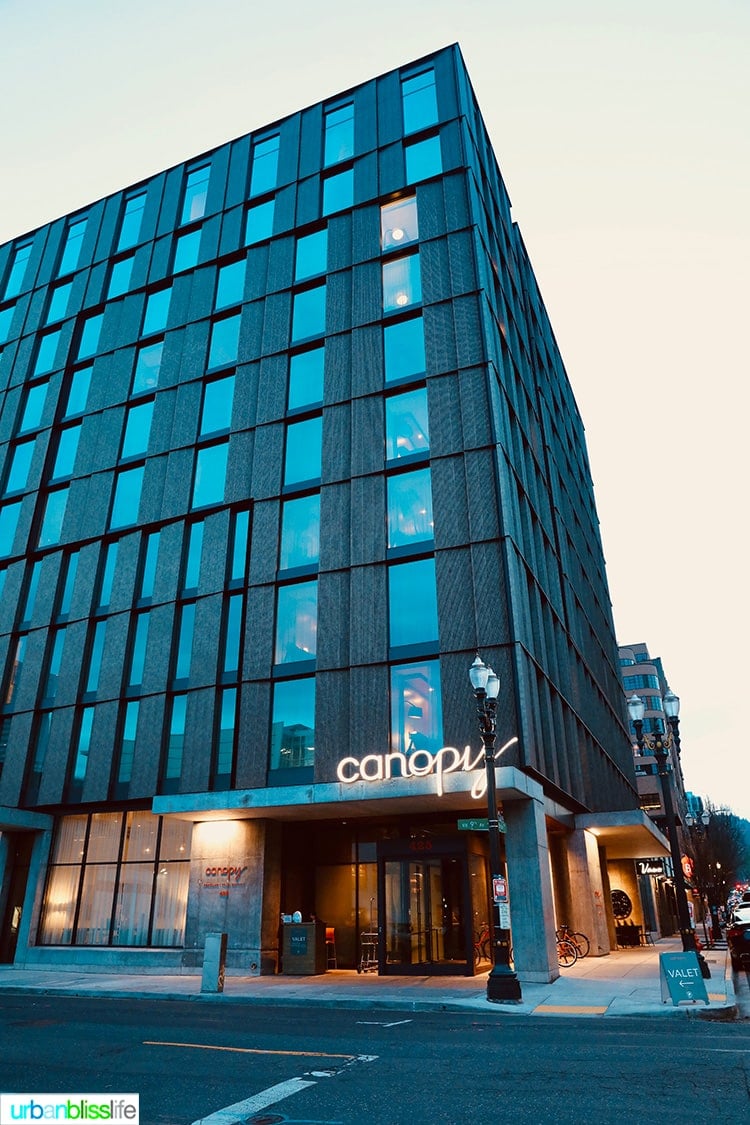 As a travel writer, the past few months have been interesting, to say the least. And now as we enter summer, prime travel season, I know many of you are starting to make travel plans again.
Maybe you're heading out to Portland for a business trip or traveling to see family. Maybe you're a local looking for a staycation getaway to ease back into travel.
Staycations are great, especially these days. You don't have to travel far, and you are likely already well aware of and used to abiding by local state, county, and city safety guidelines.
One of the last staycations my husband and I enjoyed before the world as we knew it changed, was a stay in a Pearl District Portland hotel: the Canopy by Hilton Portland.
5 reasons to stay at Canopy by Hilton Portland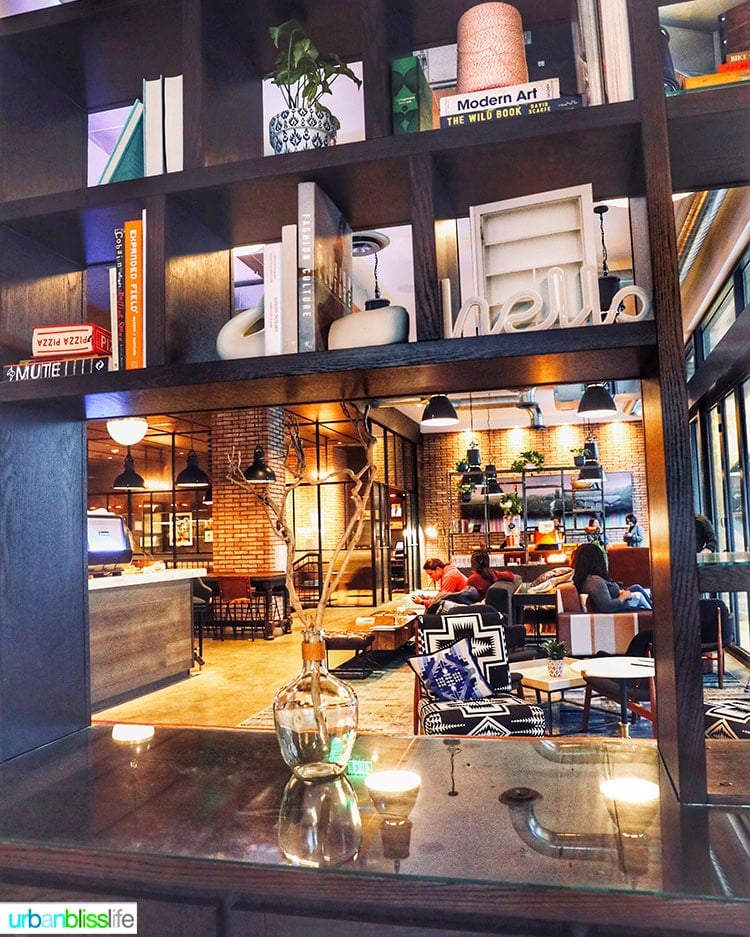 My husband and I were very impressed by our stay at the lovely Pearl District Portland hotel Canopy by Hilton Portland.
Here are five reasons this hotel is worth checking out:
1. The service was outstanding. From the moment Grayson welcomed us at the hotel lobby check-in, to the fabulous help from Ellie, the entire front desk staff is amazing. In all of my travels, they have by far exceeded the kindness and level of service I have ever experienced from any hotel.
2. Location, location, location. Whether you're visiting Portland or enjoying a Portland staycation, the Canopy by Hilton is located within walking distance to many attractions, restaurants, and shops. No car? No problem! You can walk a block to hop on the MAX light rail to get to other parts of the city, or even borrow a bike from the hotel.
3. Quiet rooms and options for privacy throughout the hotel. Our room was extremely quiet. Throughout the hotel, you'll find spots where you can work or read in peace if you want. If you're up for socializing, there's plenty of space for that, too!
4. Local everything. The Canopy brand of Hilton hotels is focused on being hyperlocal. Most of the artwork on the walls, the goods in the lobby shop, the coffee & tea, the snacks, and even some of the furniture is made by local artisans.
5. Great street views and city views. Guests have access to the 11th floor terrace. It's small but quiet, and has some stunning views of the city at night. Head up here to catch the sunrise or sunset!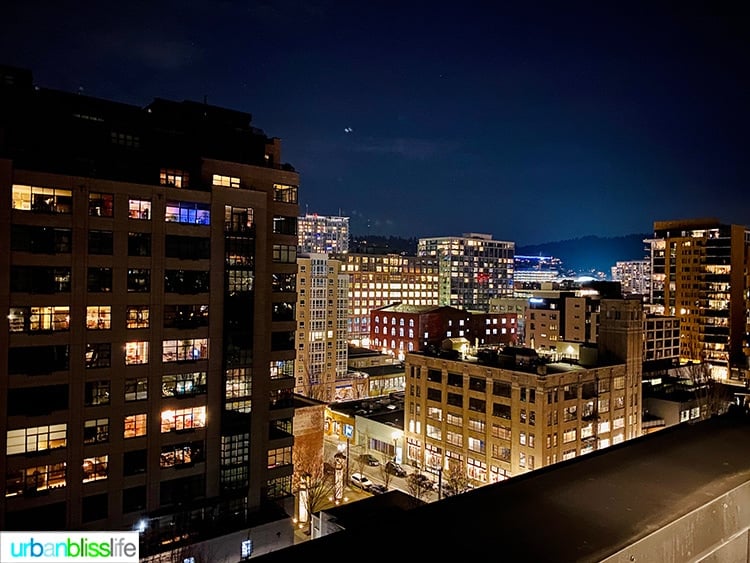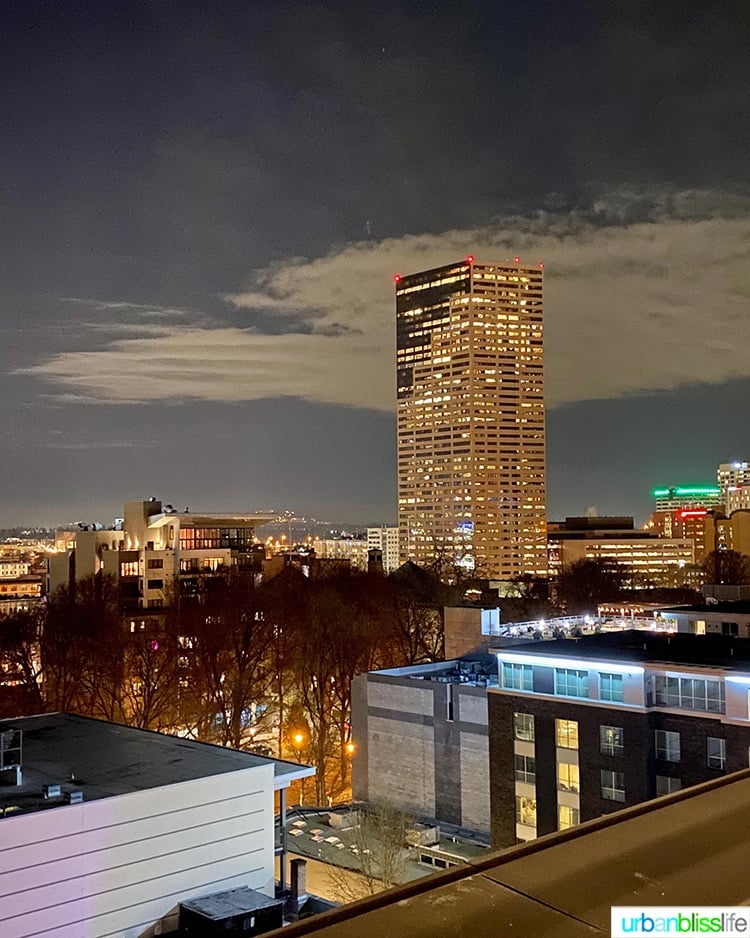 Rooms & Suites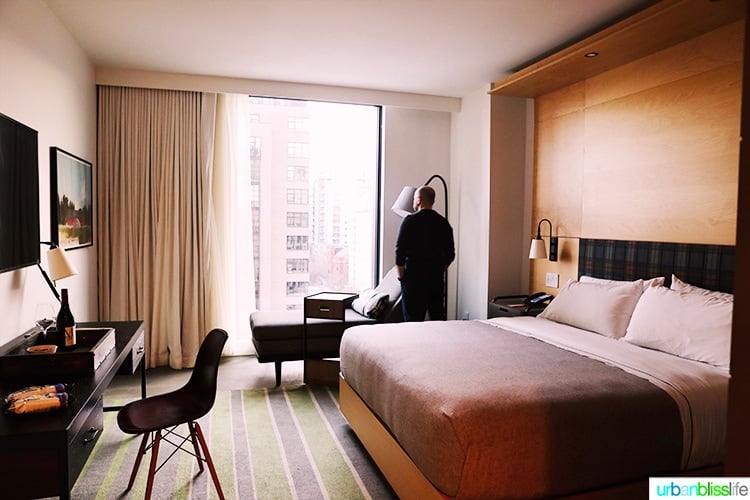 Canopy by Hilton Portland features 153 guestrooms. Hotel room rates range from approximately $165 per night to $200 per night, depending on room style, season, and availability.
Guestroom options include:
King Bed
King Bed Deluxe Room - City View
King Bed - Corner Room
2 Queen Beds
2 Queen Beds Deluxe Room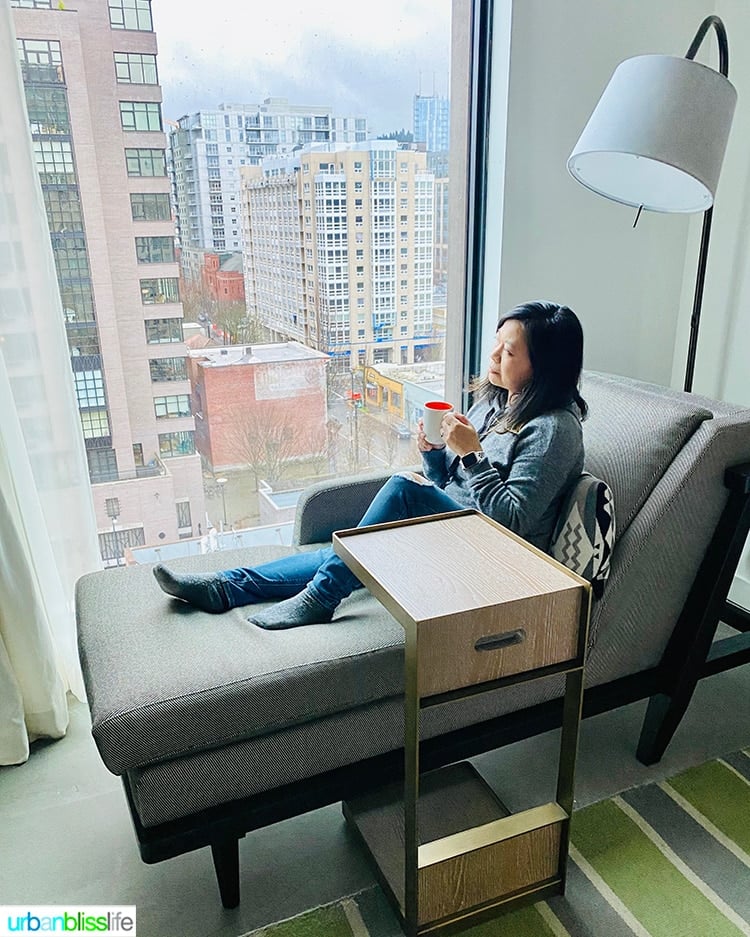 We stayed in a king bed guestroom with a city view. The view is incredible! And I love the extra large window seat. It was the perfect spot to enjoy a cup of coffee before a day of exploring Portland.
The bed was very comfortable, and the blackout shades were a nice touch. Overall I felt the room was large enough for both me and my husband to walk around and sit in different parts of the room without feeling like we were stepping over each other.
Hotel Amenities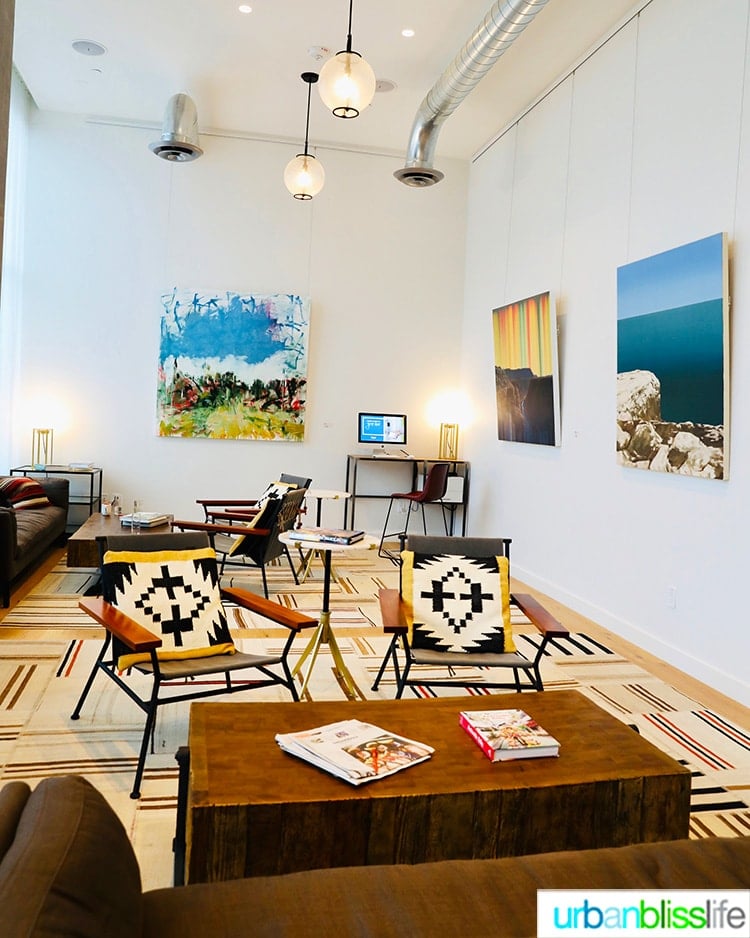 Upon check-in, you receive a tasty local snack to tide you over. This is just one of many thoughtful details you'll find if you stay at this Pearl District Portland hotel.
Other hotel amenities include:
Free WiFi
Non-smoking rooms
Pet-friendly rooms
On-site restaurant
Business Center
5 meeting rooms
1,095 SF of total event space
Fitness Center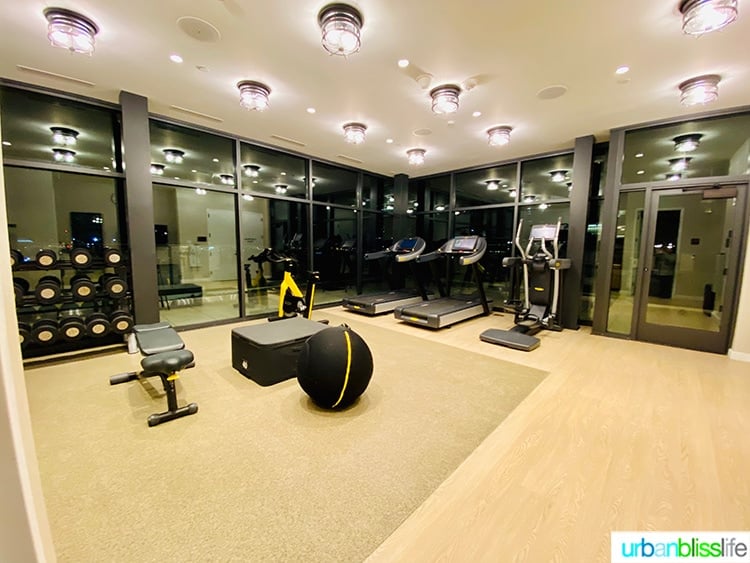 Be sure to check the hotel website before you go for the latest availability of these amenities.
Hotel Dining: Vaux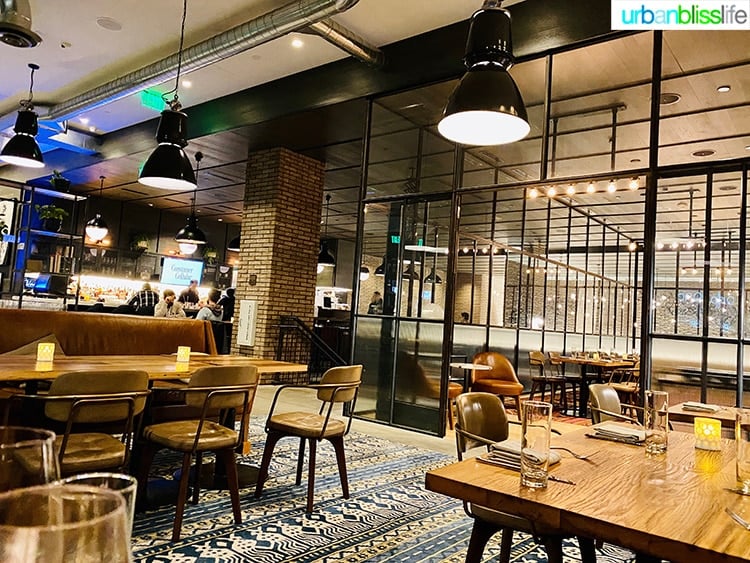 Vaux is Canopy Hilton Portland's on-site restaurant. Located on the first floor behind lobby seating, you'll find three main seating areas. There's a bar and casual high-top table area. Toward the back there is the main dining area. Then next to that space is an enclosed dining area within glass walls that is open for regular dining unless there is a private event.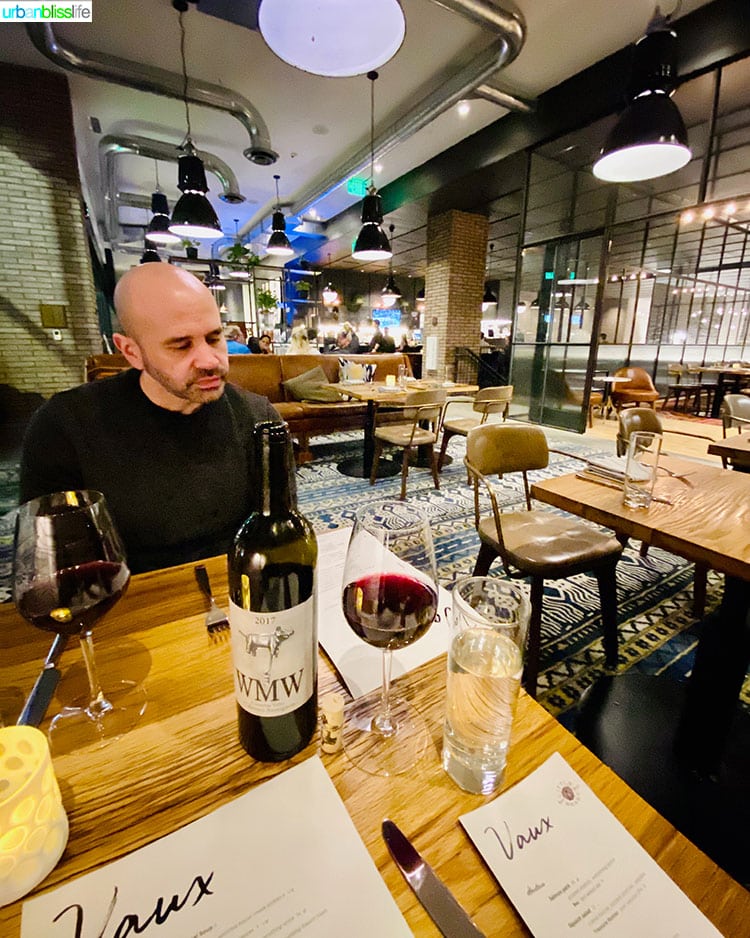 You don't have to be a guest to enjoy breakfast, lunch, dinner, and snacks at Vaux. Here are some of the delicious items my husband and I enjoyed for dinner and breakfast during our stay.
Currently, they have limited on-site seating by reservation only. You can also order curbside pick-up or delivery. You can read more about the hotel's current food and beverage services and guidelines.
Things to do nearby
The Pearl District is a fabulous, vibrant part of town to stay in if you are visiting Portland. You could do so much without leaving the Pearl District, but it's also so easy to get to downtown and even across the river to the east side from the hotel.
Some of my suggestions for things to do nearby if you are staying at this Pearl District Portland hotel:
Updated Hotel Policies and Services
Before making your reservation, be sure to read the hotel's latest policies and services. You can also learn more about Canopy by Hilton Portland's safety measures on their website. This includes issues such as contactless check-in and check-out, contactless dining delivery, how they clean guestrooms, the fitness center, and other common areas, and more.
Stay at the Canopy by Hilton Portland
425 NW 9th Avenue
Portland, OR 97209
Check in: 4 pm
Check out: 12 pm
Valet parking: $46/night
Check current room rates and make reservations to this Pearl District Portland Hotel online.
PIN IT: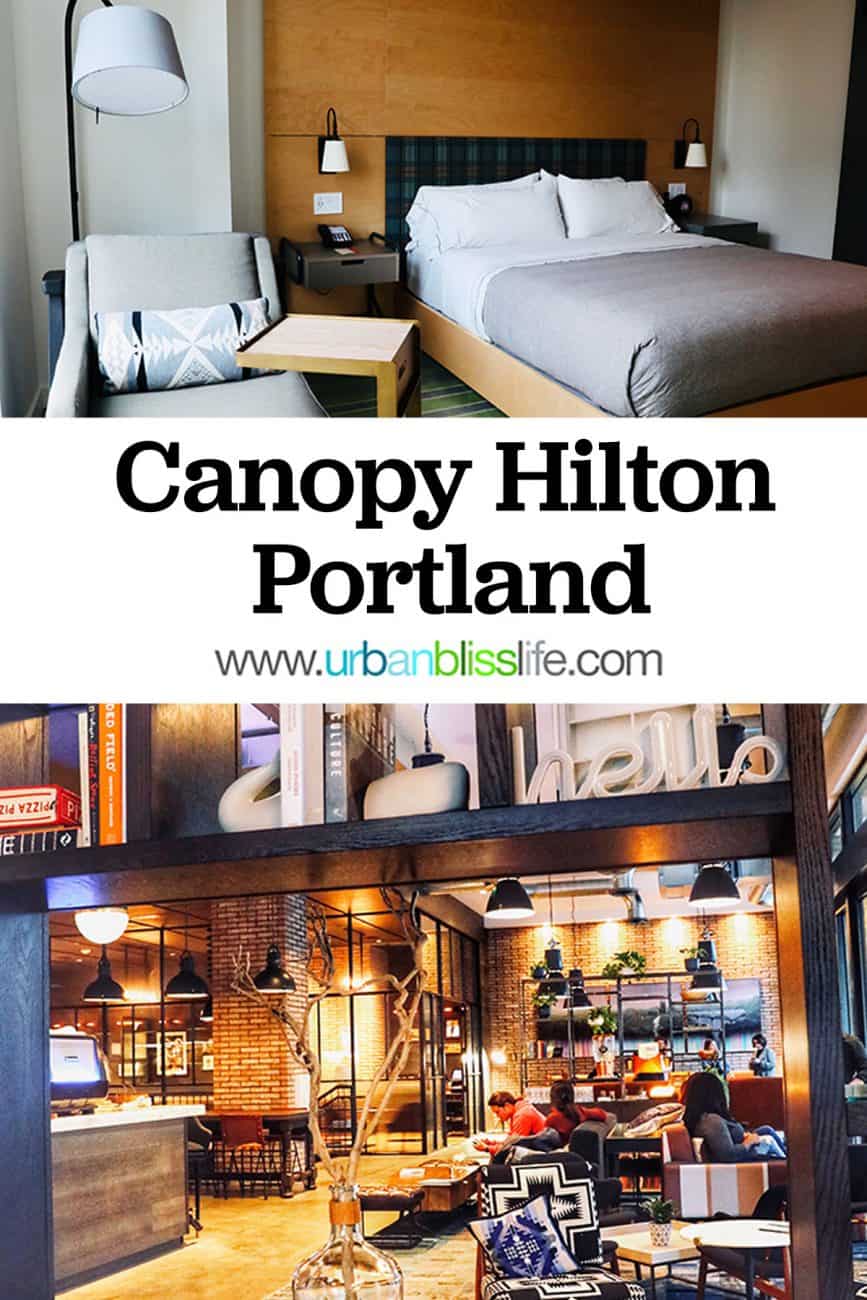 More Portland, Oregon Travel Tips
Our stay was compliments of Canopy by Hilton Portland, with no obligation to write this post. As always, all opinions and photos are 100% my own. I only write about hotels I enjoyed and believe Urban Bliss Life readers will enjoy, too!