Allora restaurant is a cozy, intimate Italian restaurant in the Pearl District of Portland, Oregon. Here you'll find a thoughtful wine list, housemade pastas, and delicious desserts.
Restaurant Vibe
Allora is a small, cozy restaurant. The main indoor dining space is divided into two areas. There are a few tables downstairs, as well as the bar. Upstairs is a loft level with more tables. There is also outside seating.
The vibe is friendly and casual. Conversations are lively and buzz through the air as diners feast on their dinner.
I've dined here in the past, but it had been several years since my last visit. We decided to enjoy dinner here as a family for our 21st wedding anniversary. Here's a look at what we enjoyed on this particular evening.
Appetizers
There are several yummy appetizers on the menu, that you could probably make a meal out of ordering several appetizers. But then you'd miss the delicious pastas and dessert, and you don't want to do that!
You'll pay $3 for a half order or $6 for a full order of focaccia bread with olive oil. The bread has some red pepper flakes so some bites have a little kick, but the bread itself was fluffy and tasted fresh.
We really like the polenta fries ($14) which are served with a spicy roasted garlic aioli.
Our family was split on our opinions of the calamari fritti ($18). I really enjoyed the calamari, although I thought the price was a bit steep. I thought the breading was light and just crunchy enough, and it was beautifully seasoned.
However our daughter, who normally LOVES calamari, wasn't a fan of this one. The calamari was also served with a spicy roasted garlic aioli.
Main Courses
Main dishes at Allora consist mostly of pastas, all made fresh in-house daily.
The Rigatoni Pomodoro e Prosciutto ($20) is absolutely delicious. This was my favorite pasta dish. Prosciutto cotto is served in a tomato cream sauce and dusted with a heavy coating of parmiggiano. Alain thought the prosciutto was haphazardly torn and thrown into the pasta, but it still tasted wonderful.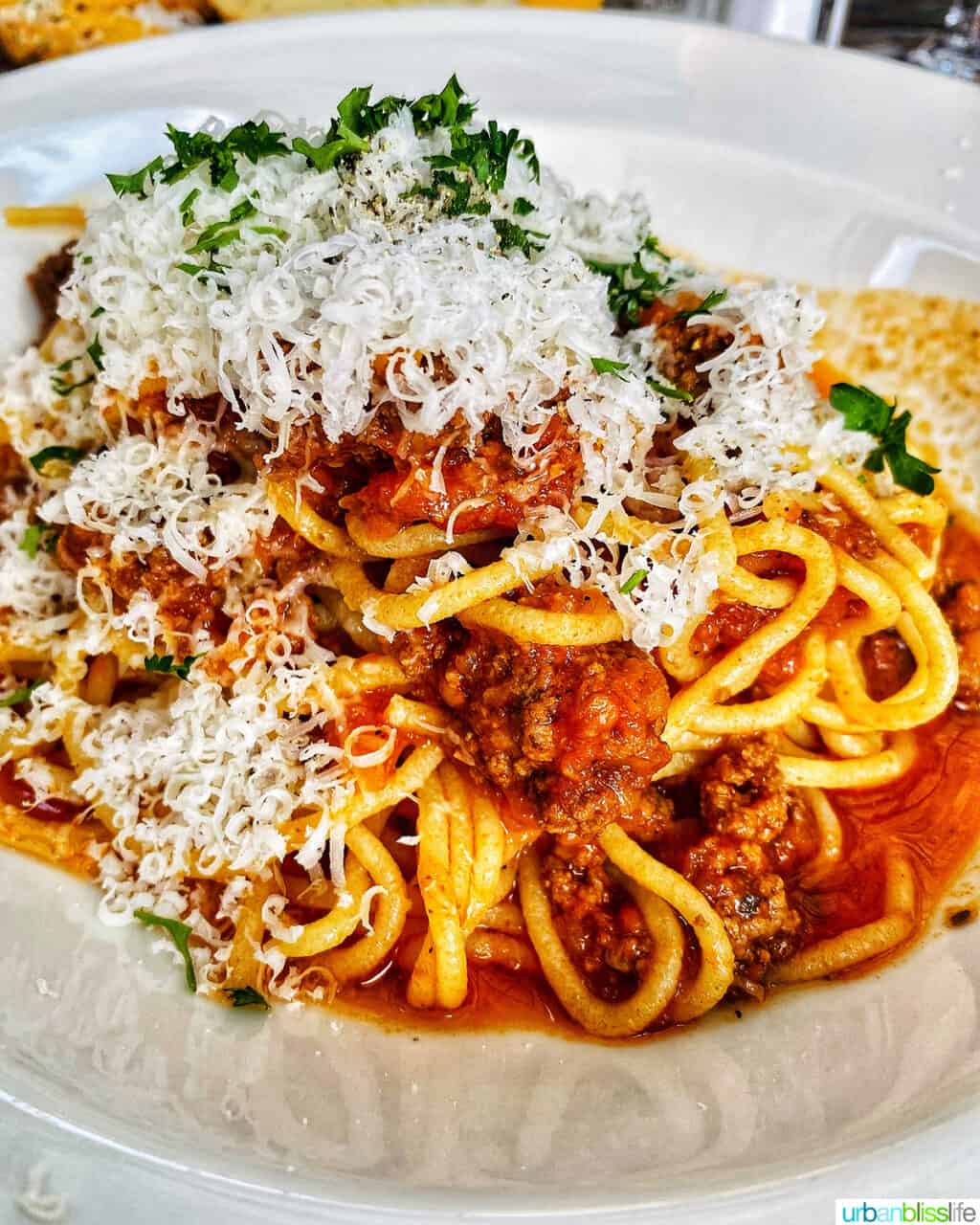 I ordered the Spaghetti al Sugo di Carne ($20). This was the only dish I was really disappointed in. The pasta was gummy and the sauce lacked flavor and seasoning. It was a fairly bland dish. It was fine, but it wasn't up to par with the other pasta dishes.
Our son ordered the Spaghetti Carbonara ($20), which is one of his favorite dishes. He really enjoyed the Spaghetti Carbonara at Allora. I had a taste, and thought it was delicious. By comparison to my spaghetti, the spaghetti in the carbonara tasted fresh, and was cooked beautifully.
The Wine
The wine list at Allora restaurant is solid. As expected, there are several Italian wines to enjoy with your meal.
My husband had a glass of Chianti and I had a glass of Nebbiolo; both were enjoyable.
Restaurant FAQs
What is the dress code for this restaurant?
Jeans and a nice top, dresses, suits - anything from business casual to dressy goes for attire here.
Is this restaurant kid-friendly?
Yes and no. We think it's great for older kids but not for babies and toddlers.
Are reservations required?
Reservations are recommended but not required.
Are there gluten-free options?
Yes. Gluten free rigatoni and gluten free ricotta gnocchi are available upon request.
Are there vegan options at this restaurant?
There are some vegetarian options but not many vegan options. You can opt for certain vegetarian salads or pastas and ask for no cheese.
Is there outdoor seating?
Yes! There is covered patio seating right outside the sidewalk.
Allora Restaurant
Overall, we enjoyed our recent dinner at Allora. I'd recommend it for a night out with friends or a fun date night. The desserts all looked amazing, but we were too stuffed to order more. Next time, I'm getting the Nutella Tiramisu!
The location is fantastic, and there's usually street parking available around the block. The MAX line is also just one street over.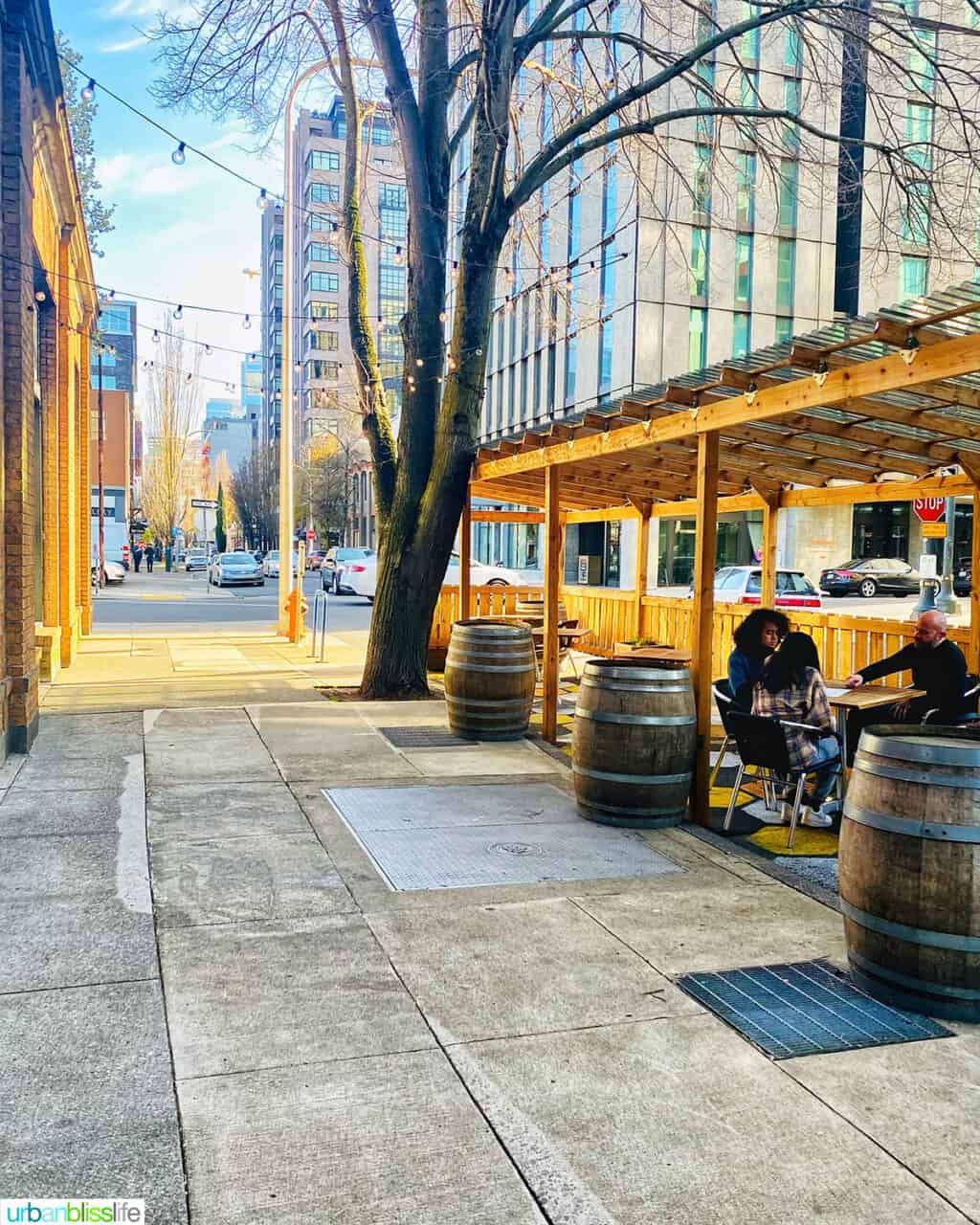 Address: 504 NW 9th Avenue, Portland, Oregon 97210
OPEN 4-10pm EVERYDAY for INDOOR DINING
TAKEOUT DELIVERY via DOORDASH
Please call us to make a RESERVATION or place a TAKE OUT ORDER 503-445-4612
For more information, please visit the Allora restaurant website.
More Pearl District restaurants
For a comprehensive look at some of our favorite Portland restaurant, check out our Portland, Oregon Restaurant Guide.
Other restaurants nearby in the Pearl District/downtown Portland:
Where to stay nearby
Pin it