The Hi-Lo Hotel is a modern boutique hotel in downtown Portland, Oregon, offering a quiet, relaxing stay in the heart of the city.
My husband and I recently celebrated our 17th anniversary. I KNOW - we got married when we were babies, y'all. ;)
Since we were leaving later that week for a spring break Oregon coast family vacation, we decided to do a weekend staycation close to home. With so many hotels in downtown Portland, which to choose?
I'm so glad we chose to stay at the Hi-Lo Hotel!
Full video review below, and also on the Urban Bliss Life YouTube Channel.
Best Portland Boutique Hotels: Hi-Lo in Downtown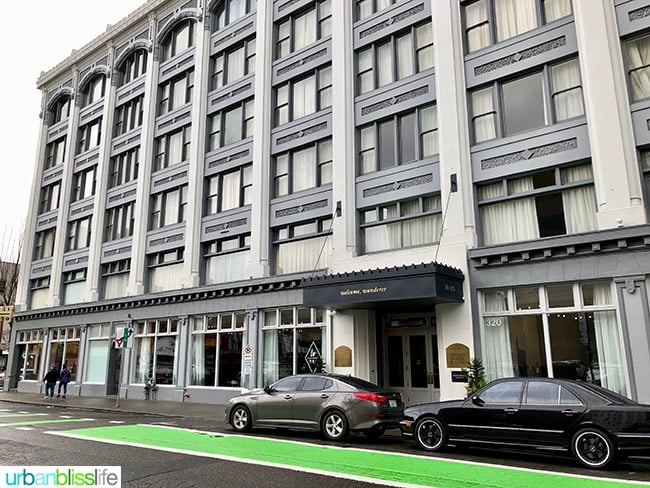 A boutique hotel that is part of Marriott's Autograph Collection, the Hi-Lo Hotel is centrally located in downtown Portland, between 3rd and 4th Avenues on Stark Street. It's next to a great food cart pod, longtime downtown brunch fave Mother's Bistro, and right next door to Portland's oldest restaurant (since 1879!): Huber's Cafe.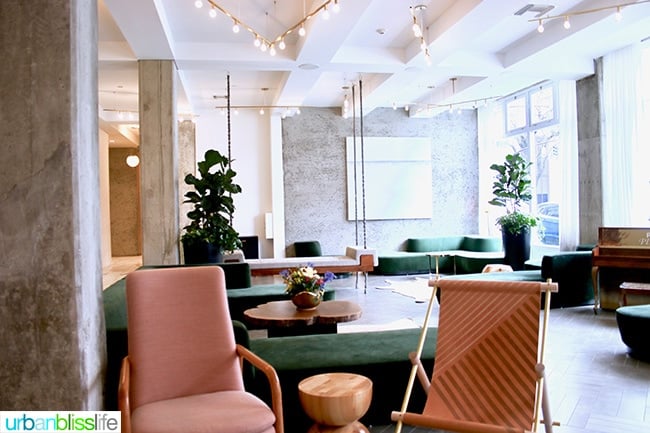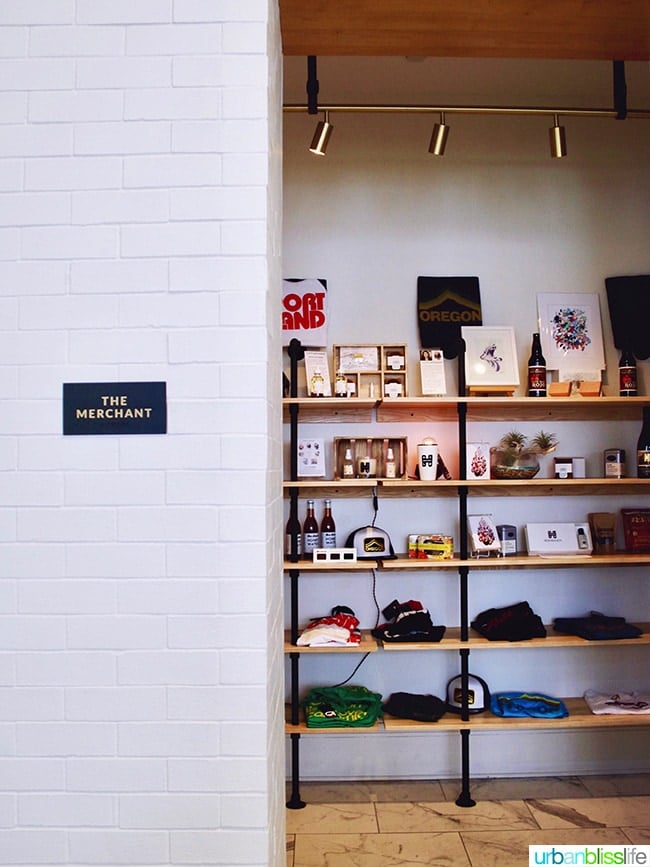 The lobby has chic industrial bones made warm and inviting with bold jewel tones mixed with muted vintage pastels. The reception desk is a simple stand alone kiosk, right next to a minimalist hotel shop. More than your average hotel gift shop, The Merchant sells an impressive offering of local tees, baseball caps, coffees, wines, teas, artisan food and beverage products, and more.
Lo Bar & Alto Bajo restaurant
When you enter the lobby, to the left you will find the Lo Bar, which connects you to Alto Bajo restaurant.
Alto Bajo is a full restaurant serving Mexican-inspired breakfast, lunch, and dinner; the Lo Bar is a great place to grab a drink and a few bites. You can see some of Alto Bajo Chef Chip Barnes' cooking in my post about Chehalem Winery and the Hi-Lo Cuvee.
I love the way the Lo Bar is designed: open, spacious, minimal, with lots of seating. In addition to the bar, there's a long communal table in the middle, a few small intimate two-seaters, and seating with four-seater and two-seater tables along the wall that connects to the hotel entrance. It's what makes it one of the best Portland boutique hotels.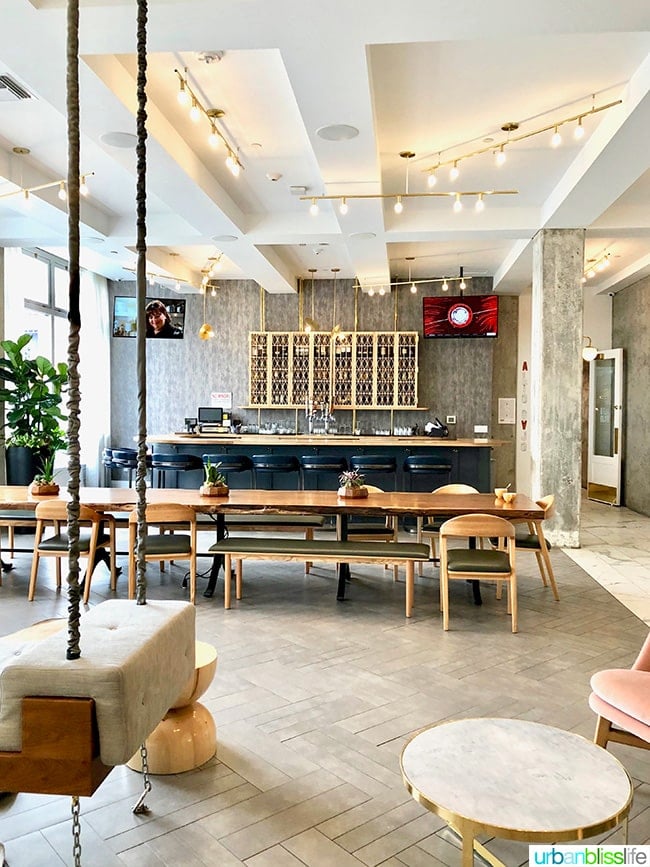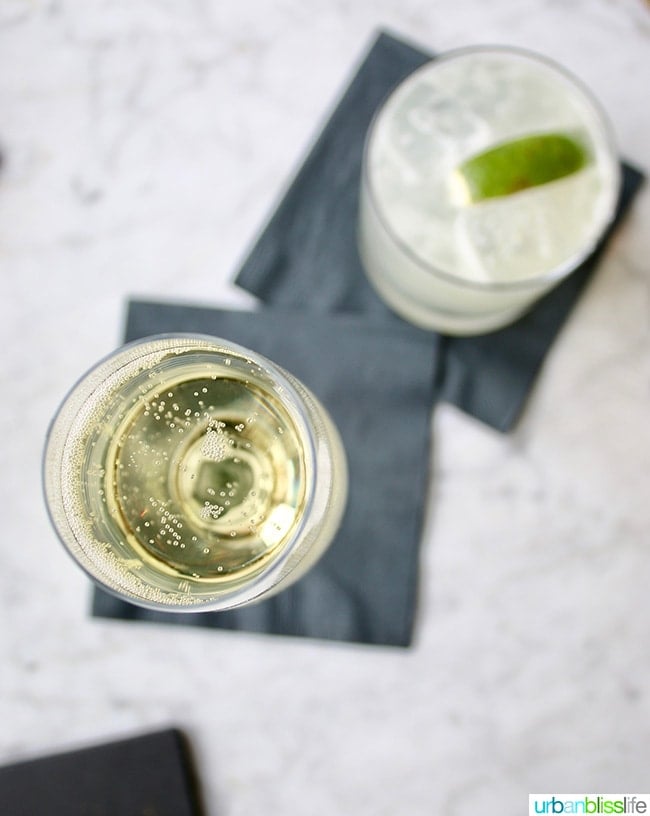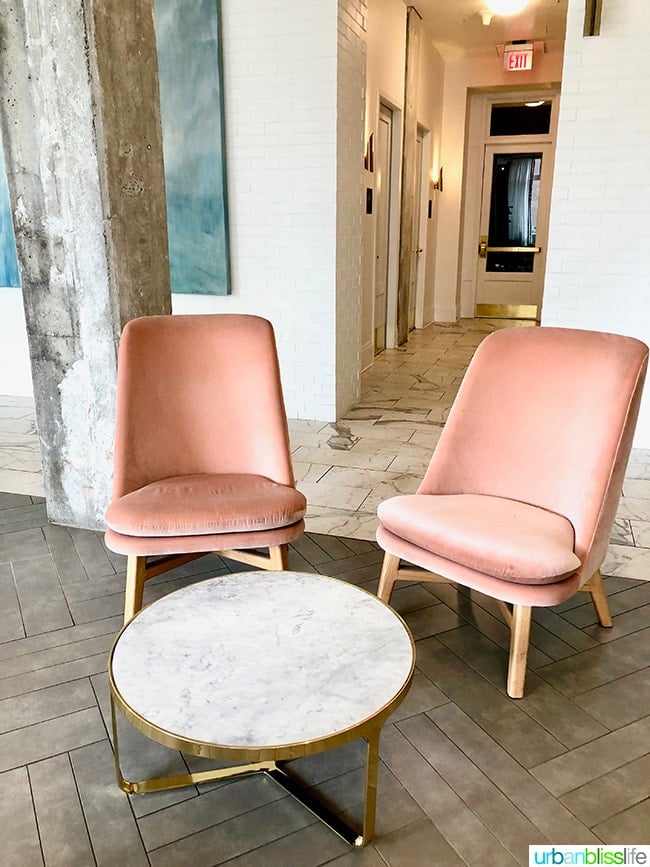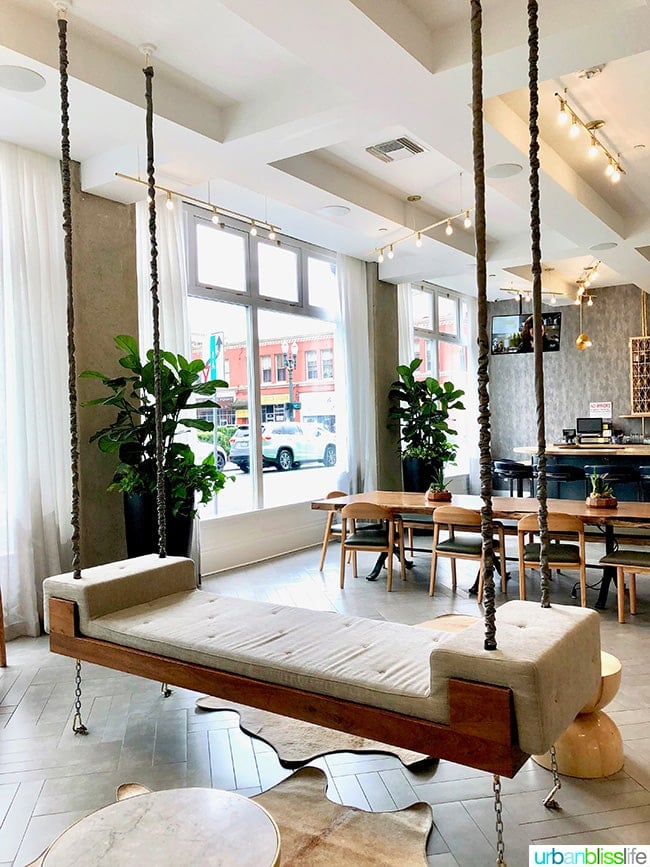 Oh, and there's a swing. In the middle of the Lo Bar. There's also one in the middle of the hotel lobby. Talk about Instagram-worthy!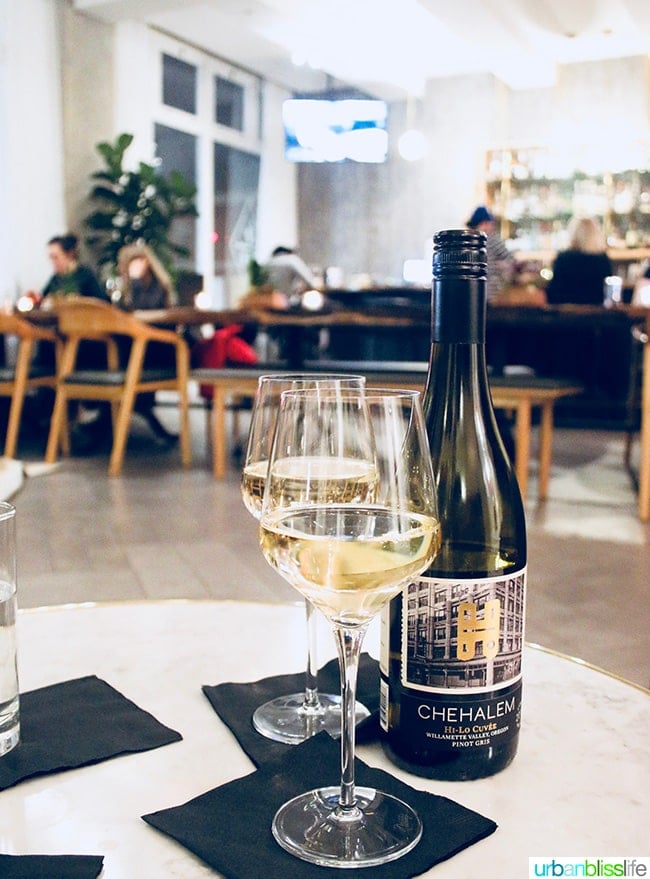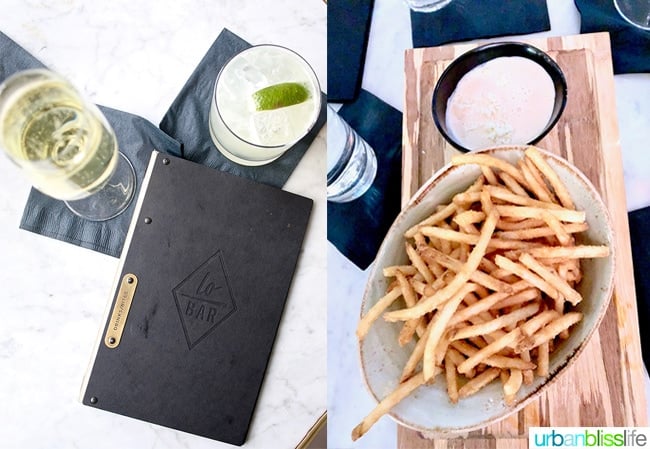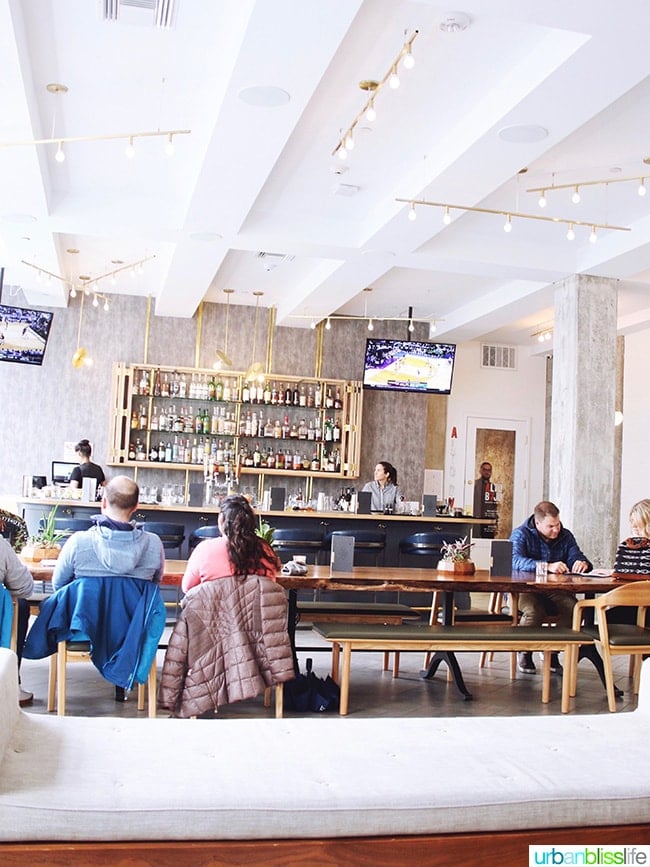 Lo Bar Hours:
Sunday - Thursday: 11:00am – 11:00pm, and Friday & Saturday: 11:00am – Midnight
Alto Bajo Hours:
Breakfast: Monday - Friday 6:30am – 10:30am
Lunch: Monday - Friday 11:00am – 2:00pm
Brunch: Saturday & Sunday: 7:00am – 2:00pm
Dinner: Monday - Thursday: 5:30pm - 9:00pm, Friday & Saturday: 5:30pm - 10:00pm, closed Sunday
Best Portland Boutique Hotels: Hi-Lo Rooms & Suites
The 120 rooms and suites at the Hi-Lo Hotel are similarly decorated in a minimal, artistic manner. We stayed in a One Bedroom Suite, which had a nice separate sitting area with large screen television, separate bedroom with king bed, closet, desk, and massive windows to let the light in during the day and blocking curtains to keep the light out at night. The bathroom was equally spacious, with a roomy shower.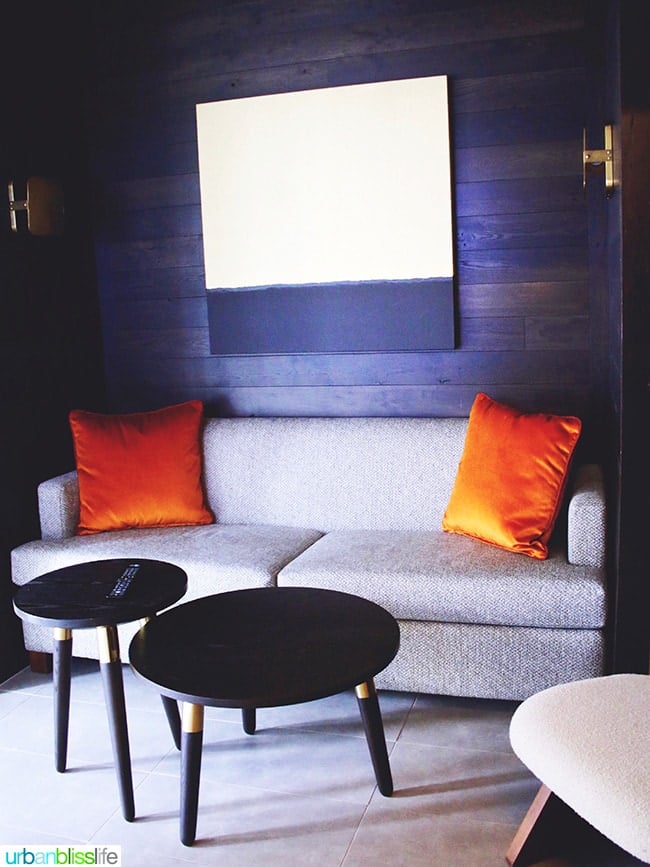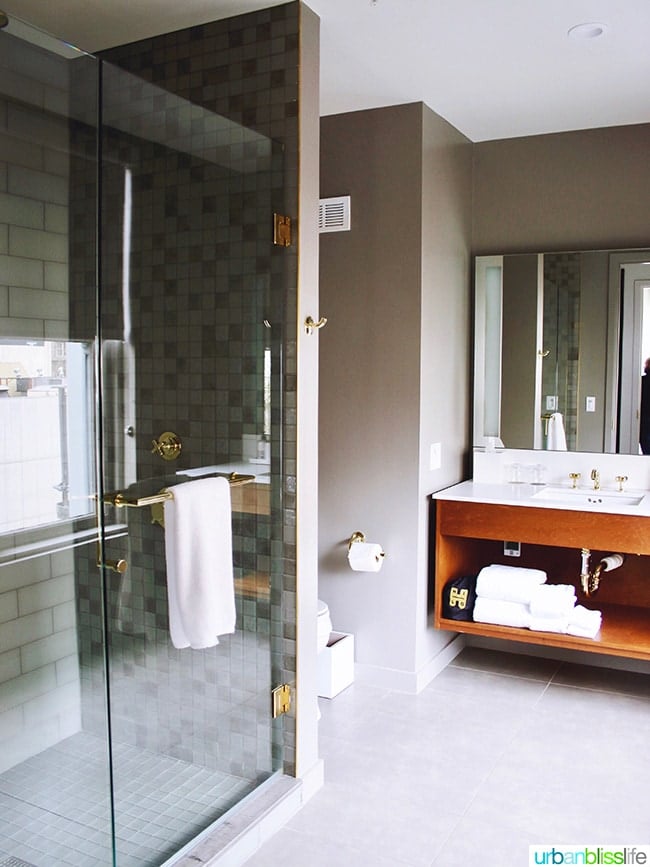 One of the fun amenities that each room offers at the Hi-Lo Hotel is the ability to turn on the heated floors. Since these are tile floors and not your typical carpeted hotel floors, the heated floors feel fantastic - especially to help you wake up to a new day!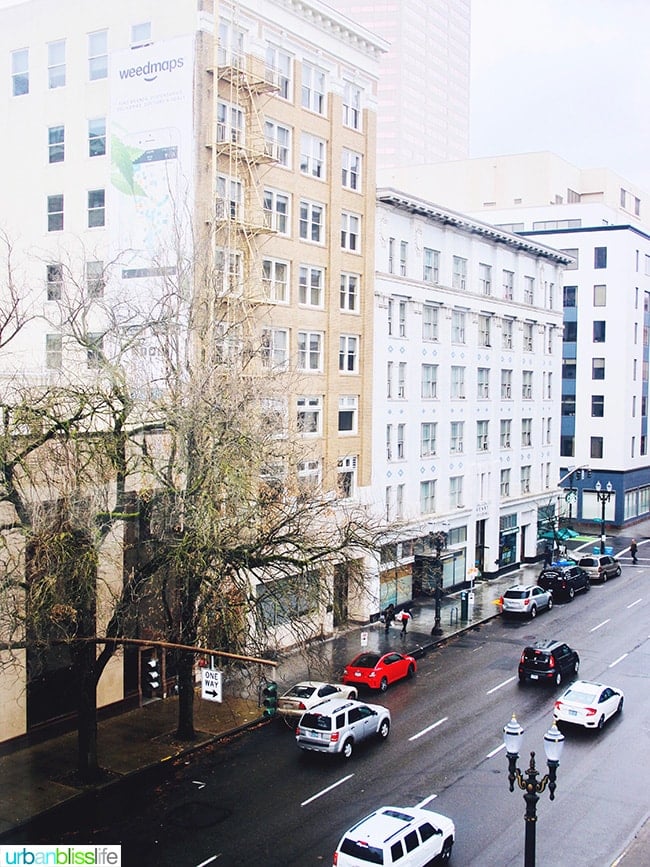 Here's the view from our 4th floor suite. Even though the Hi-Lo Hotel is right in downtown Portland, we found the room to be extremely quiet for the location.
Final Thoughts
My husband and I really enjoyed our stay at the Hi-Lo Hotel. While I fell in love with the modern decor and design, the Lo Bar, and the quiet, comfortable suite, what really made this hotel stand out was the friendly, welcoming service from every staff person we encountered during our stay. Each person was extremely helpful and so kind.
Who should stay at the Hi-Lo Hotel? It's ideal for young professionals, business travelers, and creatives. We found it to be an amazing staycation getaway as a couple. While this would be a place we would consider staying with our two kids (ages 11 and almost 14), who love more modern hotels like the Hi-Lo, I am not sure I would stay here with a baby or toddler.
If you're traveling to Portland, Oregon, or if you live here and are looking for a peaceful, relaxing getaway in town, I'd definitely recommend the Hi-Lo Hotel. It's a hip oasis in the midst of buzzing downtown.
VIDEO: The Hi-Lo Hotel
I made a little travel video of our stay at the Hi-Lo Hotel! Check it out here (and don't forget to subscribe to the Urban Bliss Life You Tube channel!)
Stay at the Hi-Lo Hotel
Hi-Lo Hotel
320 SW Stark Street
Portland, Oregon 97204
971-222-2100
info@hi-lo-hotel.com
To make your reservations and for more information, visit the Hi-Lo Hotel website.
More Portland Boutique Hotels
What feature of the Hi-Lo Hotel looks most appealing to you?
I received a complimentary media stay but as always, all opinions and photos are my own. I've recommended the Hi-Lo to several friends and think you will enjoy a stay here, too!