Newcomer Tanner Creek Tavern offers diners a warm reprieve from the cold with elevated, seasonal tavern fare.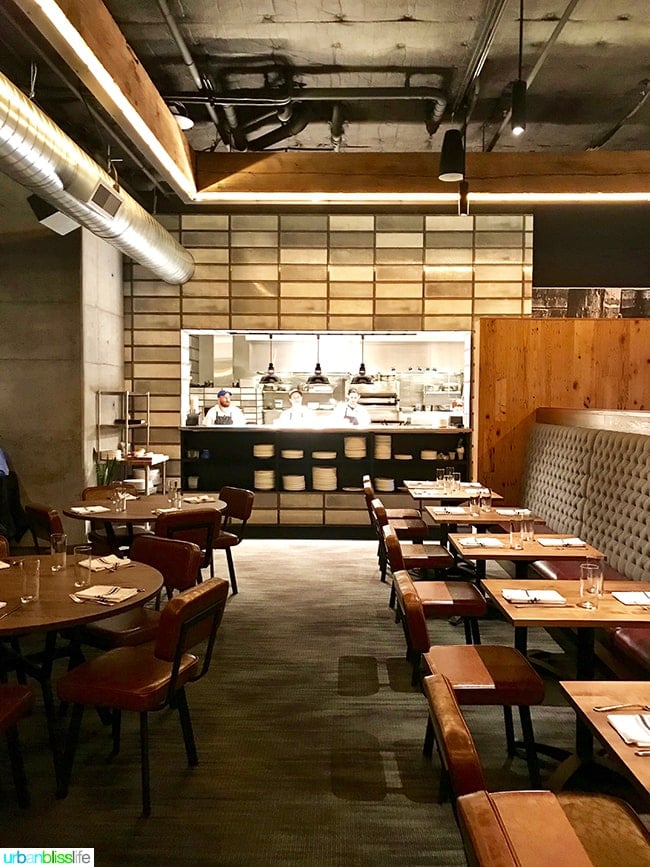 The Pearl District is like the fancier, designer-brand cousin who blew into town in the late 1990s and decided to try set up shop and out-stage its gritty, all-business, been-here-done-that cousin, Downtown Portland.
I had the pleasure of working in the Brewery Blocks, one of the first major developments in the early revival of the Pearl District, when the paint was still drying and the streets still smelled of beer from the old Henry Weinhard Brewery.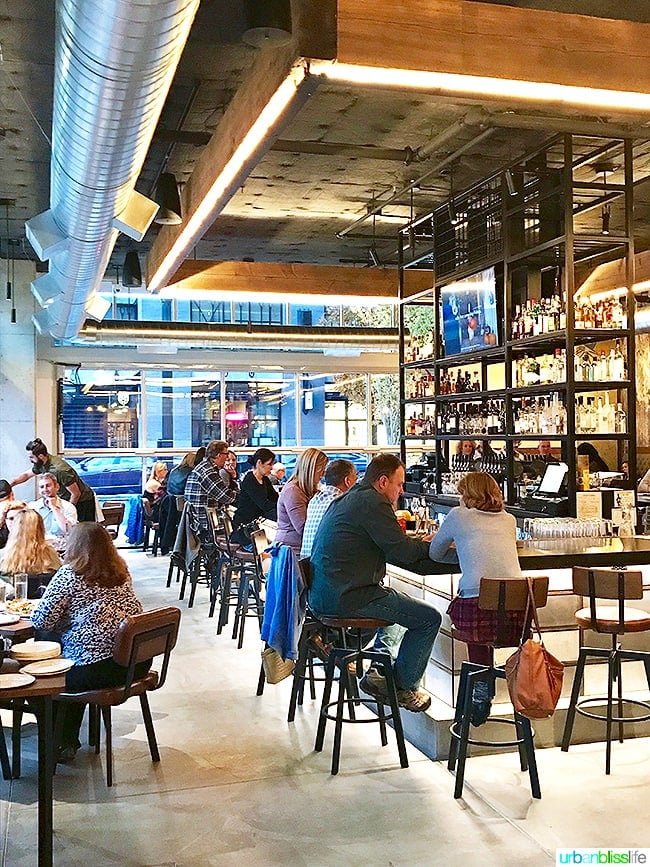 The Pearl District has come a very long way since those early revival days.
All grown up and exuding the quiet confidence that comes with age (and lots of trial & error), The Pearl District continues to experience growth, both in new housing and businesses. With the addition of hotels like the Hampton Inn Suites, there are no signs of slowed growth for this area.
The latest newcomer to this trendy neighborhood, Tanner Creek Tavern, is located on the first floor of the Hampton Inn Suites, with a large corner spot and front row view to the Pearl's bustling holiday scene.
Tanner Creek Tavern
Tanner Creek Tavern is the newest establishment Portland chef and restaurateur David Machado has added to his already impressive restaurant portfolio. It includes Nel Centro, Altabira Tavern, and Citizen Baker.
The 5,000 square foot restaurant includes a bright, spacious bar area, as well as more intimate banquette seating and group dining space. It's a very inviting and comfortable space, great for date nights, as well as small and large groups.
Drinks
Drinks here, like the ones at Nel Centro and Altabira Tavern, are thoughtful and precise. I always know I'm going to get an amazing cocktail or a stellar wine at Machado's restaurants.
Tanner Creek Tavern offers a full bar with 12 taps and bottles of Oregon craft beers, ciders, and meads. I was impressed by their wine list, created by David Holstrom, which, in addition to some stellar Oregon wines, includes up-and-coming vintages from Chile, Argentina, South Africa, Australia and New Zealand.
The bartenders can serve up beautifully executed classic dirty martinis.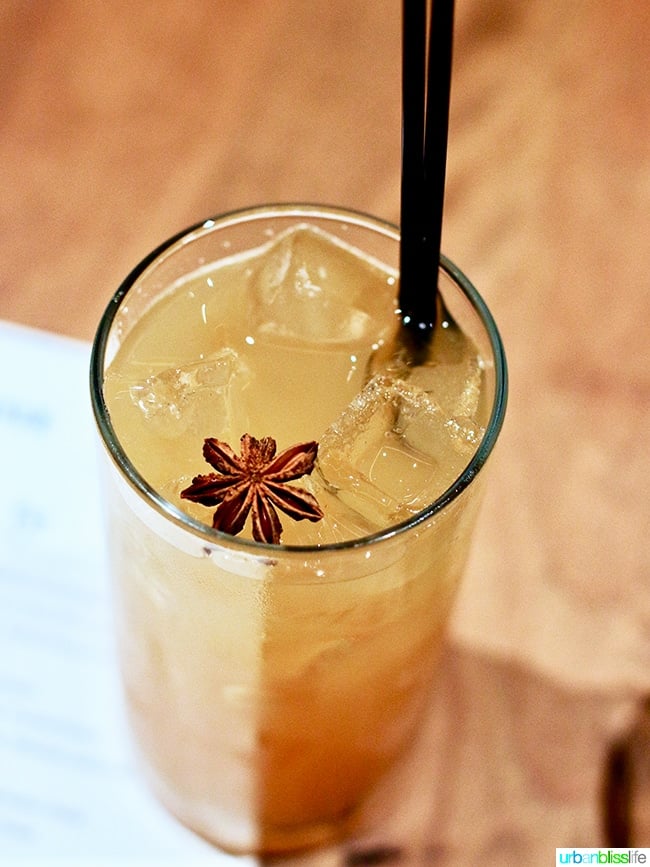 The Golden Applegate ($12) has Cruzan Aged Dark Rum, Local Apple Cider, and Lemon. An ideal fall cocktail!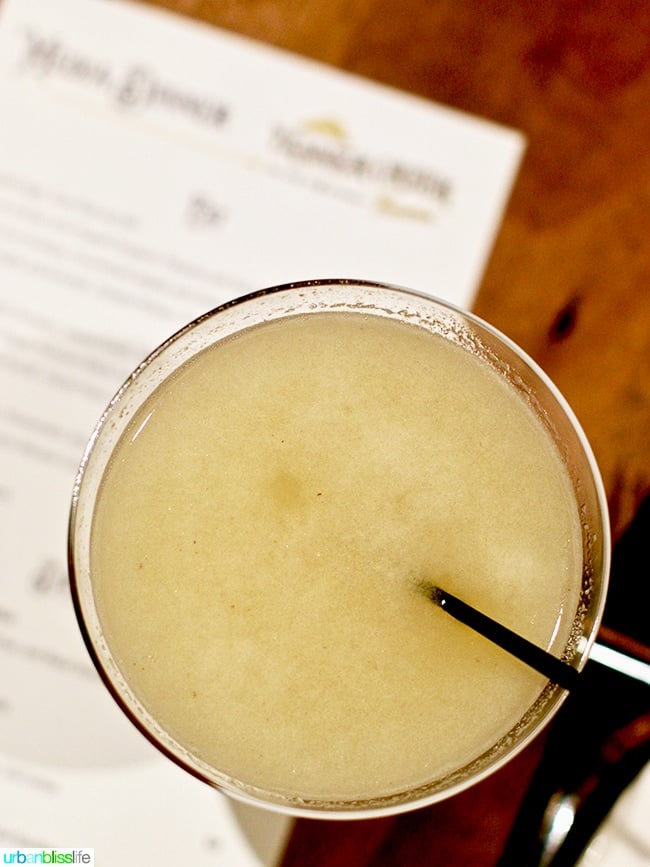 I ordered the Creekside ($11) - DL Franklin Vodka, New Deal Ginger Liqueur, and Pear.
The food
Leading the team in the kitchen is chef Trevor Payne (Olympia Provisions, Little Bird Bistro). He brings seasonal, approachable tavern fare with inspiration and flavors from around the world.
I really loved the starters at Tanner Creek Tavern.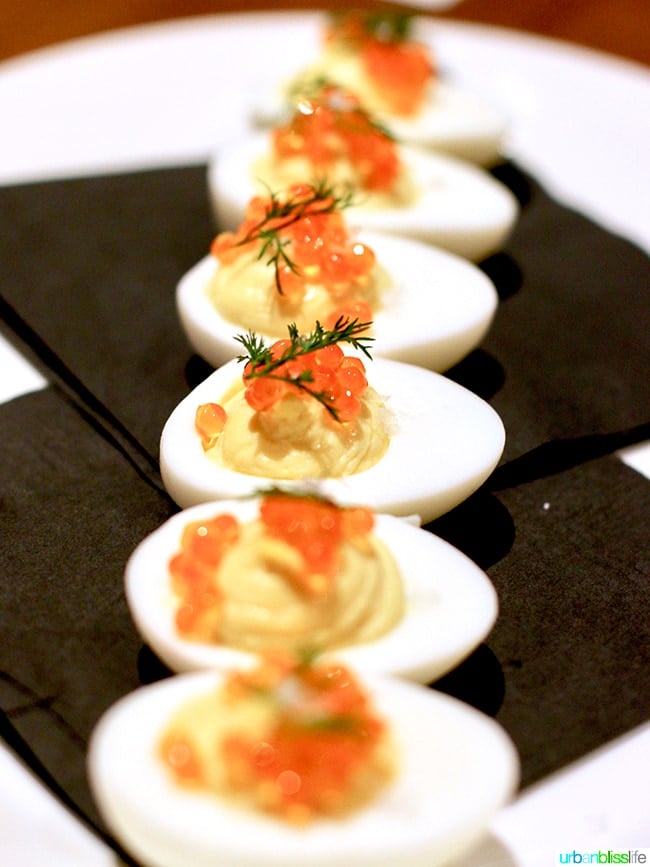 I would suggest that you definitely order the Deviled eggs, trout roe, and dill ($5 on the Tavern & Happy Hour menu). With a healthy heap of trout roe on top of each creamy deviled egg, these are tasty, satisfying bites.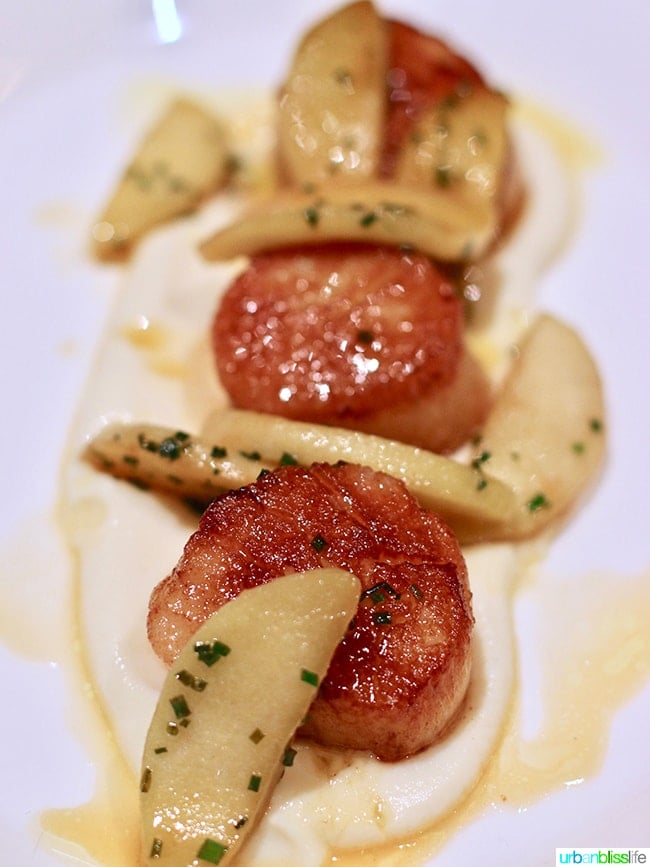 Seared Sea Scallops are always a win in my book. The Seared Sea Scallops($19)at Tanner Creek Tavern come with caramelized apples and celery root puree. It's a beautiful, mouthwatering flavor combo.
My favorite salad that we tried was the Shaved Apple and Kohlrabi, Candied Walnut, Pickled Mustard Seed, White Cheddar ($11). This salad is perfect in almost every way: a lovely balance of textures, sweet and tangy flavors, and could be a satisfying salad on its own.
Dinner
Dinner courses are hearty and sing of classic Pacific Northwest flavors prepared with Chef Payne's creative touches. He rotates the menu items based on what's in season and available.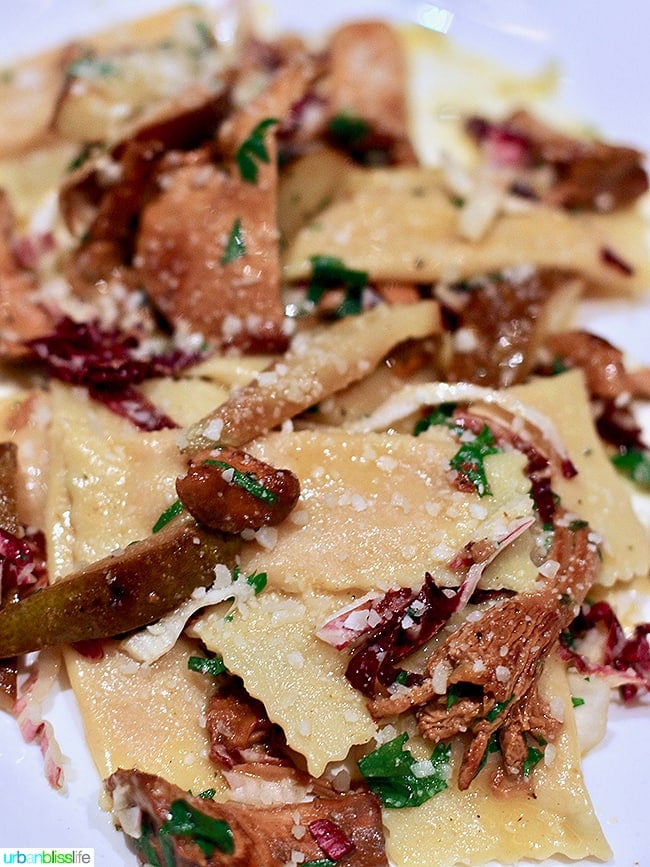 One item I am told will remain on the menu on a regular basis (hooray!) is the Roasted Squash Tortelli with seckle pears, chanterelles, raddichio, and brown butter ($19). I am in love with this pasta dish. The pears, the chanterelles, and the brown butter play so well together on this plate, with the tortelli lovingly folding it all together.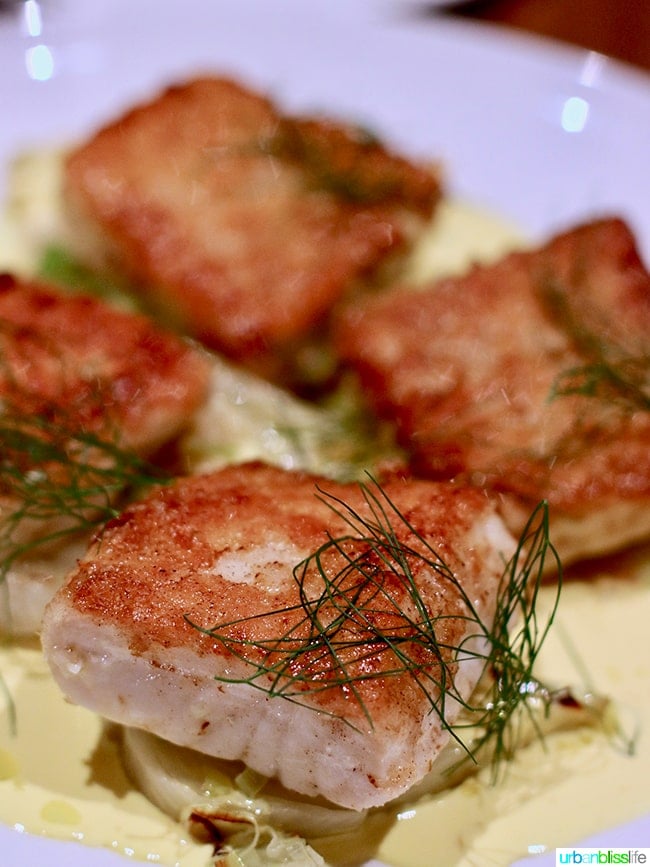 There is a daily Market Fish item offered. During our visit, we enjoyed the Potato Crusted Sturgeon, perfectly crisped on the outside, topped with fennel confit and served on a bed of silky saffron cream.
Meat dishes will also change depending on what's available and in season. During our visit, we tasted the Braised Lamb Shank with Poached Quince, served on a bed of rich heirloom black corn polenta.
Dessert
Definitely leave room for dessert at Tanner Creek Tavern. Or, do as I intend to do one day and meet up with a friend for drinks and dessert. Their sweets menu is outstanding!
As with the rest of their menu, the dessert offerings change regularly. Here's a look at the sweets we tasted during our visit.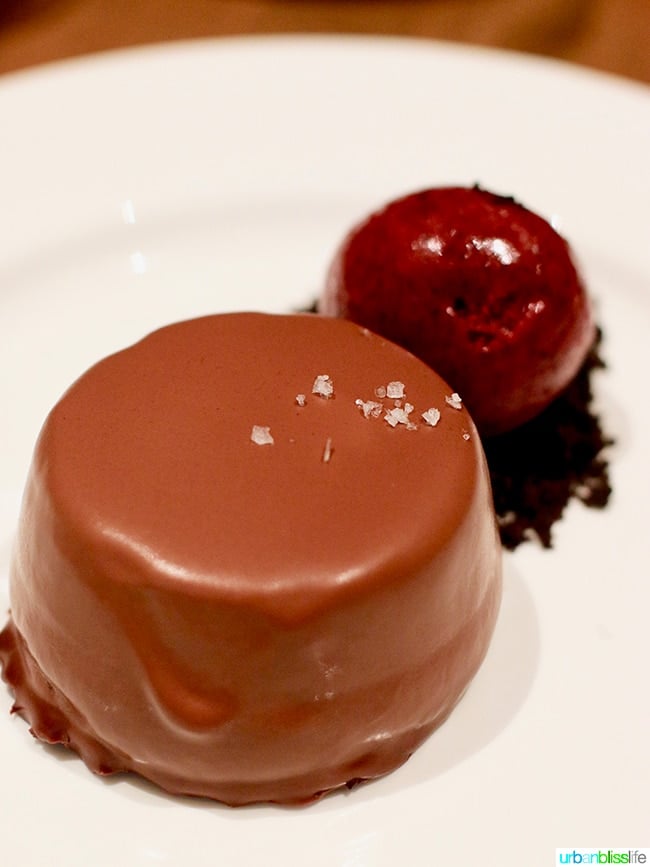 My personal favorite was this grown-up version of fancy PB & J: Chocolate Peanut Butter Mousse Cake with Blackberry Sorbet. DIVINE.
The Honey Panna Cotta with Watermelon Agrodolce and Watermelon Sorbet was also delightful.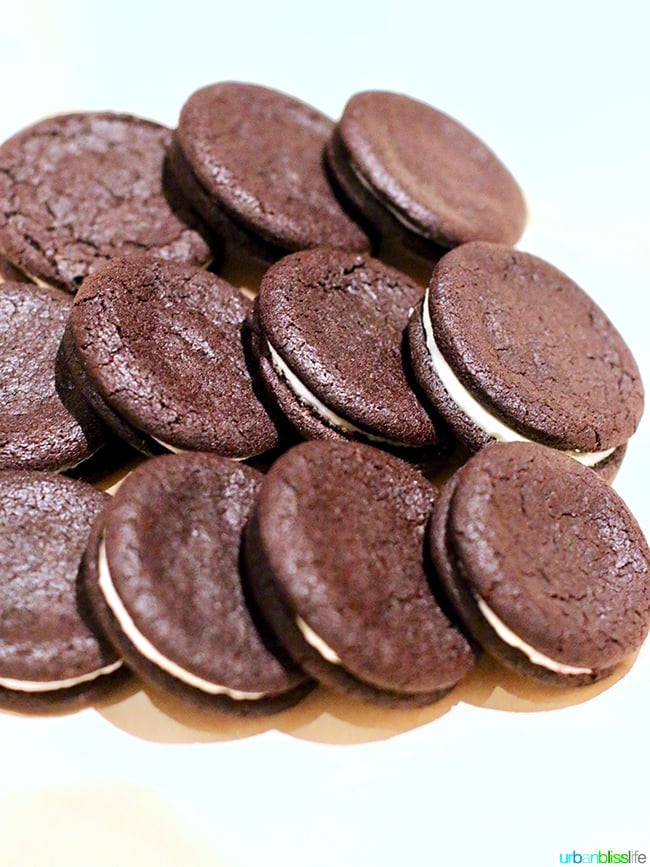 You can't go wrong with House-made Oreo Cookies. My kids would come here for these alone!
Visit
I really enjoyed the food, atmosphere, and service at Tanner Creek Tavern. So far, parking has been easy around this part of the Pearl District (knock on wood!). There is also valet parking at the Hampton Inn Suites.
Dress is Portland attire: jeans, suits, dresses - it's all good here. I suggest not dining here in your athleisure wear... but I would suggest that of any place as well (please make that trend stop!).
If you do dine at Tanner Creek Tavern, please come back and leave a comment with your experience! I would love to know what you ordered and enjoyed here!
875 NW Everett
Portland, OR 97209
971-865-2888
inquire@tannercreektavern.com
HOURS:
LUNCH Mon — Fri 11:30am — 2:30pm
HAPPY HOUR Daily 4pm — 6pm
DINNER Mon — Thurs 5pm — 9pm; Fri — Sat 5pm — 10pm; Sun 5pm — 9pm
BAR Mon — Thurs 11:30am — 11pm; Fri 11:30am — midnight; Sat 4pm — midnight; Sun 4pm — 11pm
Visit the Tanner Creek Tavern website for more information or to make reservations.
More restaurant reviews

I attended a media dinner at Tanner Creek Tavern and all food & beverages photographed here were complimentary. As always, there was no requirement or expectation of coverage, and all opinions and photos are my own.