NOTE: As of 2020, Altabira Portland is closed. Please check out more Portland, Oregon restaurants here.
Altabira in Portland, Oregon has one of the city's best rooftop terraces, incredible food, cocktails, and just celebrated its second anniversary!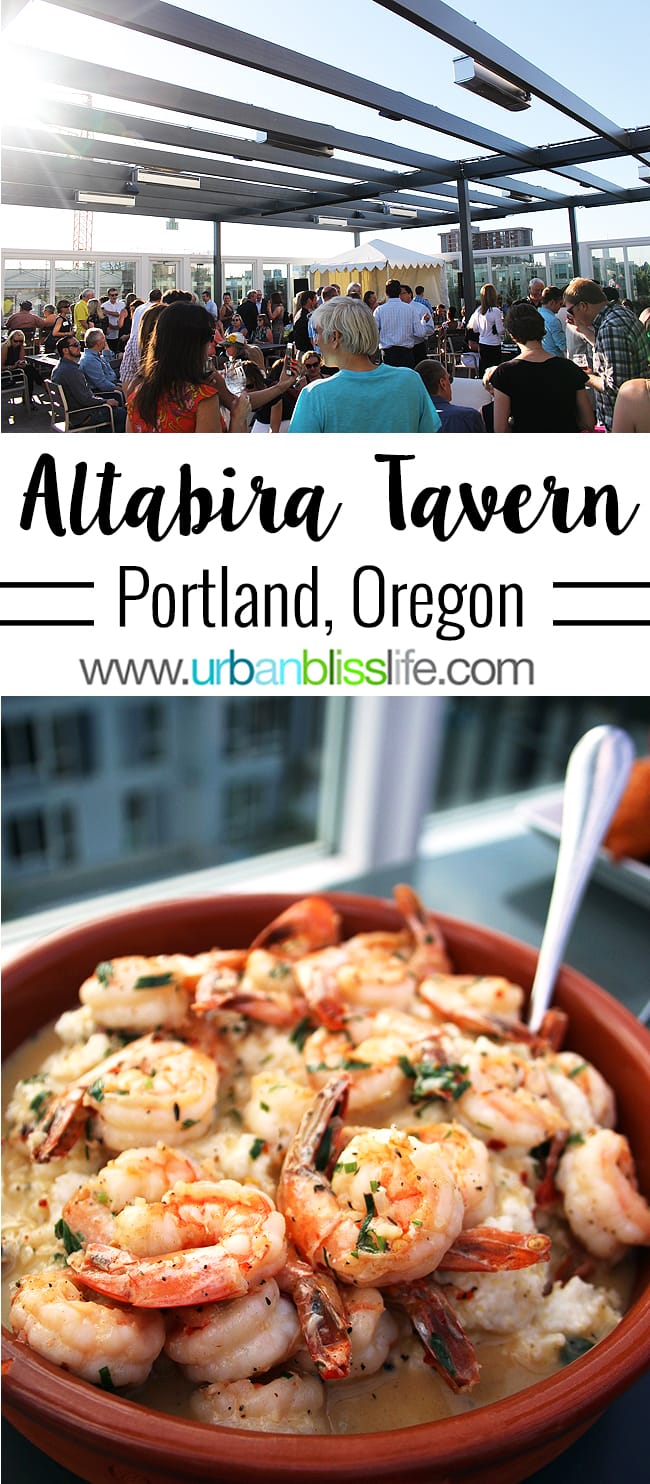 Portland, Oregon is such a pretty city.
I always wondered: why aren't there more rooftop restaurants that showcase this?
Nevermind the weather - that's no excuse. We Portlanders will sit outside on grey drizzly days in our hoodies and jeans and still marvel at this gorgeous city of ours.
One of my personal favorite rooftop restaurants in Portland is Altabira Tavern. Located on the top floor of the Hotel Eastlund, Altabira City Tavern is touted as "an American beer-centric restaurant and bar." Yet another restaurant launched by Portland chef/restaurateur, David Machado.
Altabira: Restaurant with a view
Located in Northeast Portland within walking distance from the Oregon Convention Center (seen in the above photo taken from the rooftop) and the Lloyd Center shopping district, Altabira Tavern attracts locals and tourists alike.
It is open for lunch, happy hour, and dinner, and serves classic American cuisine with a Northwest flavor. Think burgers, salads, pizzas, sandwiches, and elevated pub food along with a smattering of fun options like shrimp and grits and grilled adobo pork ribs.
But it's the rooftop terrace scene that truly sets this restaurant apart from the overflowing Portland foodie scene.
Seating on the terrace is first come first serve, and the restaurant only accepts reservations for lunch and dinner for tables located in the spacious indoor dining room.
Recently, I was invited to a media event to celebrate Altabira Tavern turning two (Happy Birthday to the Altabira team!).
Here's a look at some of the starters, cocktails, and drinks we enjoyed. Keep in mind that the servings you see here are prepared for a group of people; when you dine here, your dishes will be regular individual servings.
Drinks
Sitting on Altabira Tavern's rooftop terrace is the perfect place to enjoy some refreshments under the warm summer sun.
I enjoyed a sparkling brut rosé wine to kick off the evening, and Altabira has a small but lovely wine and bottled beer list. Their draft beer list, on the other hand, is where the beverage program here shines.
The Happy Camper is a popular cocktail of choice at Altabira Tavern. It has Jim Beam Rye, Ramazzotti Amaro, Grapefruit, Orange Bitters, Yellow Chartreuse, Rosemary ($12).
Spicy Blackberry Mezcal Margarita - This was a refreshing blend of sweet and sour, and perfect to enjoy on a hot day sitting on the rooftop terrace!
Starters
There's something about summer in Portland that makes me crave fresh summer veggies. These Oven Roasted Sugar Snap Peas with Mint, Feta Cheese and Garlic Lime Vinaigrette ($9) are SO delicious: the snap peas are precisely crisp as you want them to be, the mint adds a bright herbal note, and the feta and garlic lime vinaigrette help give it some tang.
Shrimp and Grits ($12) - this is one dish that I will almost always order if it's on the menu. I adore shrimp and grits. The Altabira version is wonderful: the shrimp is succulent and flavorful, the grits are just the right texture, and there is just enough of the yummy sauce in the bowl to soak up with the shrimp and grits to make each bite a delight.
Spicy Asian Chicken Wings ($11) - These are good, solid Asian wings. The flavor is pretty typical of what you'd find elsewhere, and I didn't find it to be too spicy, so this is a nice appetizer to share with friends.

Citizen Baker Pretzel with Mustard and Pimento Cheese ($7) - This is the dish that my 10-year-old daughter will almost always order if she sees it on the menu. She LOVES big, freshly baked pretzels. The pretzel at Altabira Tavern has a slightly crispness and crunch when you bite into it, to reveal the soft, pillowy, yummy center. And with Pimento Cheese? Yes, please!
If you are here for Happy Hour, definitely try the Kobe Beef Corn Dog with Sauce Dijonnaise ($5). I was a fan of these corn dogs!
Catalan blended burger
You can order the Altabira Cheeseburger on the Tavern ($14) and Happy Hour ($8) menus, but there's a special burger I need to chat about for a minute.
Chef de Cuisine Luis Escorcia created the Catalan Blended Burger as his entry to the James Beard Foundation's Blended Burger Project. You can still vote for it today! Voting does end soon, though, and winners will be announced in August 2017.
This special burger is a mix of ground chuck and shiitake mushrooms, which gives it nice layers of texture and flavors. It is then served with spring onions and topped with a sexy Romesco sauce and fresh aioli.
Other tempting dinner options
Fresh Egg Pappardelle Pasta with Wild Mushroom, English Peas, Marsala and Parmesan ($19)
Herb Roasted Half Chicken with with Tarragon Gnocchi, Fava Beans, Asparagus, Gremolata and Chicken Jus ($23)
Beer Braised Beef Stew with Baby Turnips, Peas, Morel Mushrooms and Pearl Onion ($24)
Dessert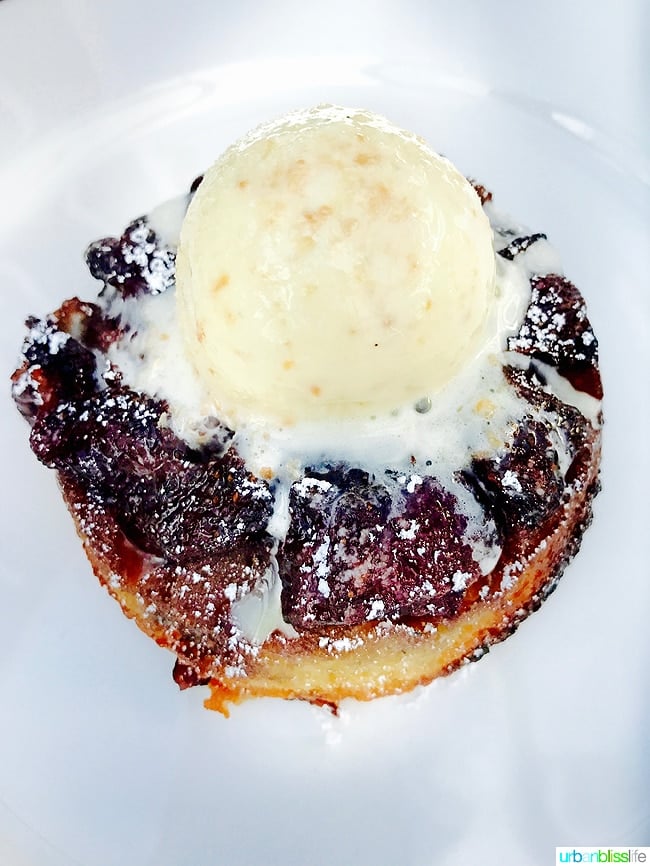 Of course, you have to have dessert at Altabira. My table could not get enough of the Warm Mixed Berry Crisp with Honey Orange Blossom Ice Cream ($8). It is seriously amazing, with a buttery light crunch on the crisp and summery berry flavors with the elegant honey orange blossom ice cream... oh my word. This dessert. I would go back just to enjoy this on the terrace with a nice glass of wine!
Visit
Because of its location, there's a nice mix of local families, business travelers and convention goers, groups of friends attending concerts or sporting events at the Moda Center, and general locals who want to enjoy good food, drinks, and soak up that Oregon sunshine while it's here. Dress is casual, but because there are lots of business travelers, you can go ahead and don that adorable summer dress or suit and it's all good here.
There is no kids menu, but I think most kids would find food they would enjoy here. They have pizzas, burgers, fries, pretzels, and sandwiches I think my own kids would enjoy.
1021 NE Grand Ave., Suite 600
Portland, OR 97232
503-963-3600
HOURS:
LUNCH Mon — Fri 11:30am — 2:30pm
HAPPY HOUR Daily 4pm — 6pm
DINNER
Mon — Thurs 5pm — 9pm
Fri — Sat 5pm — 10pm
Sun 5pm — 9pm
BAR
Mon — Thurs 11:30am — 11pm
Fri 11:30am — midnight
Sat 4pm — midnight
Sun 4pm — 11pm
Visit the Altabira Tavern website for more information.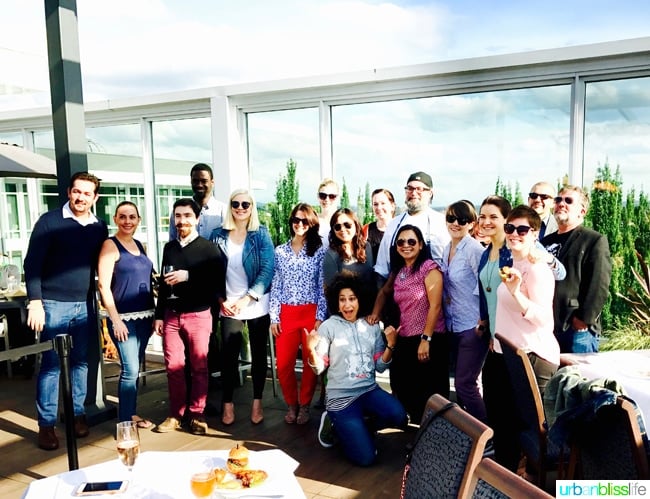 More Portland, Oregon restaurants:
More Portland, Oregon Travel: