Magna Kusina is more than just a Filipino restaurant in Portland, Oregon. It's a gathering spot for friends and family, a home away from home for Filipino-Americans.
Filipino food is definitely having a moment in the United States. And it's about time!
Here in Portland, Oregon, interest in Filipino cuisine is blooming, with more and more Filipino restaurants popping up.
At the beginning, middle, and end of that spotlight is what I consider Portland's quintessential Filipino restaurant: Magna Kusina.
Magna Kusina: Filipino cuisine
Chef/Owner Carlo Lamagna opened Magna Kusina in 2019, after a couple of years of hosting dinner pop-ups. Prior to that, he worked as the head chef at the now defunct Clyde Common, which is where I first tasted his talented cooking.
Lamagna was named one of the Best New Chefs of 2021 by Food and Wine magazine. And Magna was named the Restaurant of the Year by The Oregonian.
This is a space that is bigger than its physical confines. There's a spirit, an energy, a vibrancy that's passed from the kitchen to the front of the house to the customers.
It's infectious.
And, absolutely delicious.
Chef Lamagna and team excel at sharing classic Filipino dishes that are a delicious introduction to Filipino cuisine, in an atmosphere that feels like a typical Filipino family gathering.
Because here, you are treated like family. You will leave smiling, with a happy heart and a full belly.
Restaurant Vibe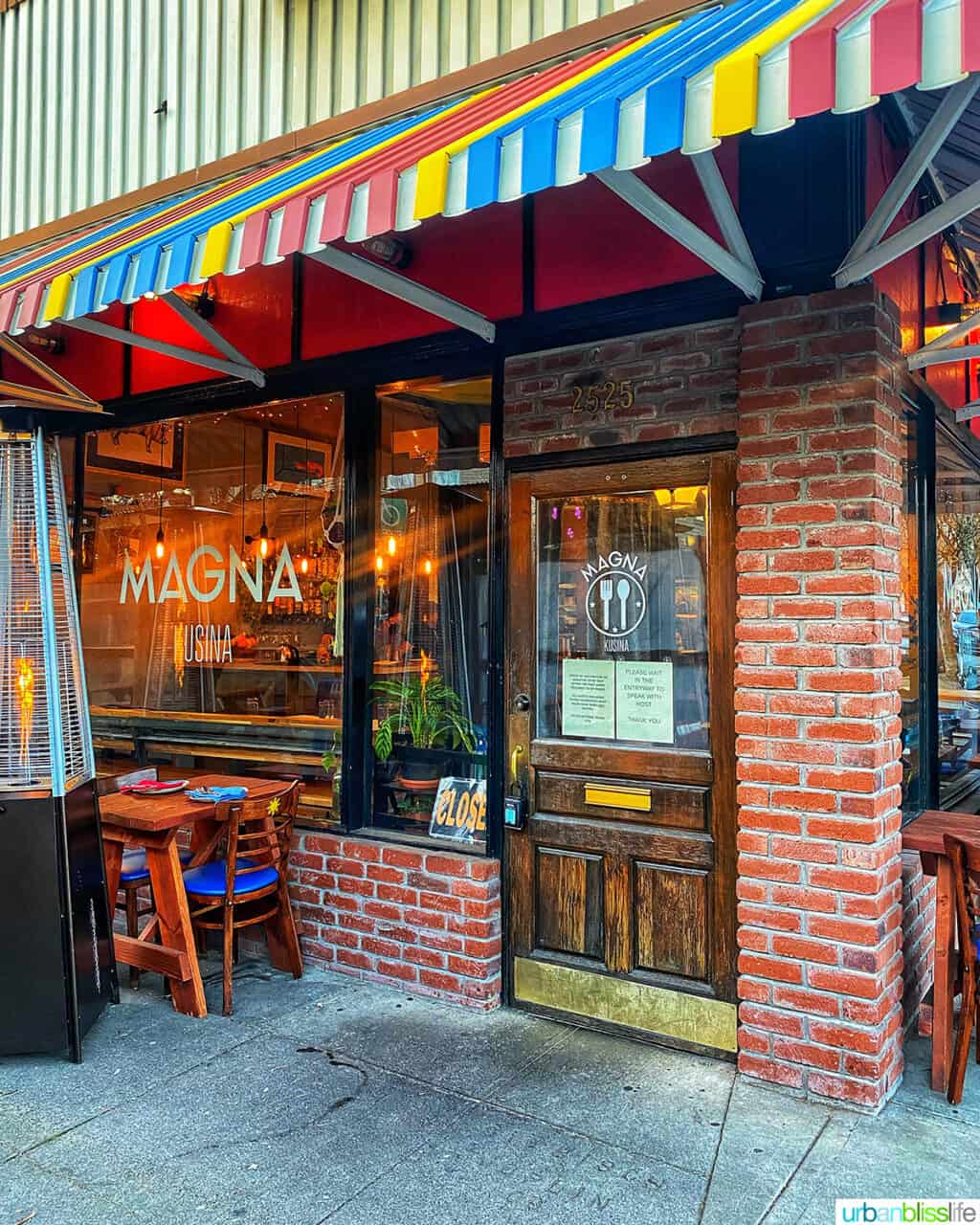 Located on the corner of Southeast 26th and Clinton streets, and across from the Clinton Street Theater, you'll find the colorful tiled awning and brick exterior of Magna Kusina.
The interior restaurant space is tiny but mighty. A bustling force of kitchen energy and diner conversations.
In addition to covered outdoor tables that line the exterior of the restaurant, Magna also currently offers extra outdoor seating along a section of closed-off Clinton Street. The covered patio seating comes with individual table heaters as well as fire pits between the tables.
On any given night, you'll find a wide variety of diners. Couples out on date night. Groups of twenty- and thirty-something friends meeting up after work. Filipino families with kids of all ages. All enjoying the comfortable, laid-back atmosphere, lively conversations with the waitstaff, and soaking up some of the city's best Filipino food.
Here's a look at what we ate during our most recent dinner at Magna.
Dinner menu items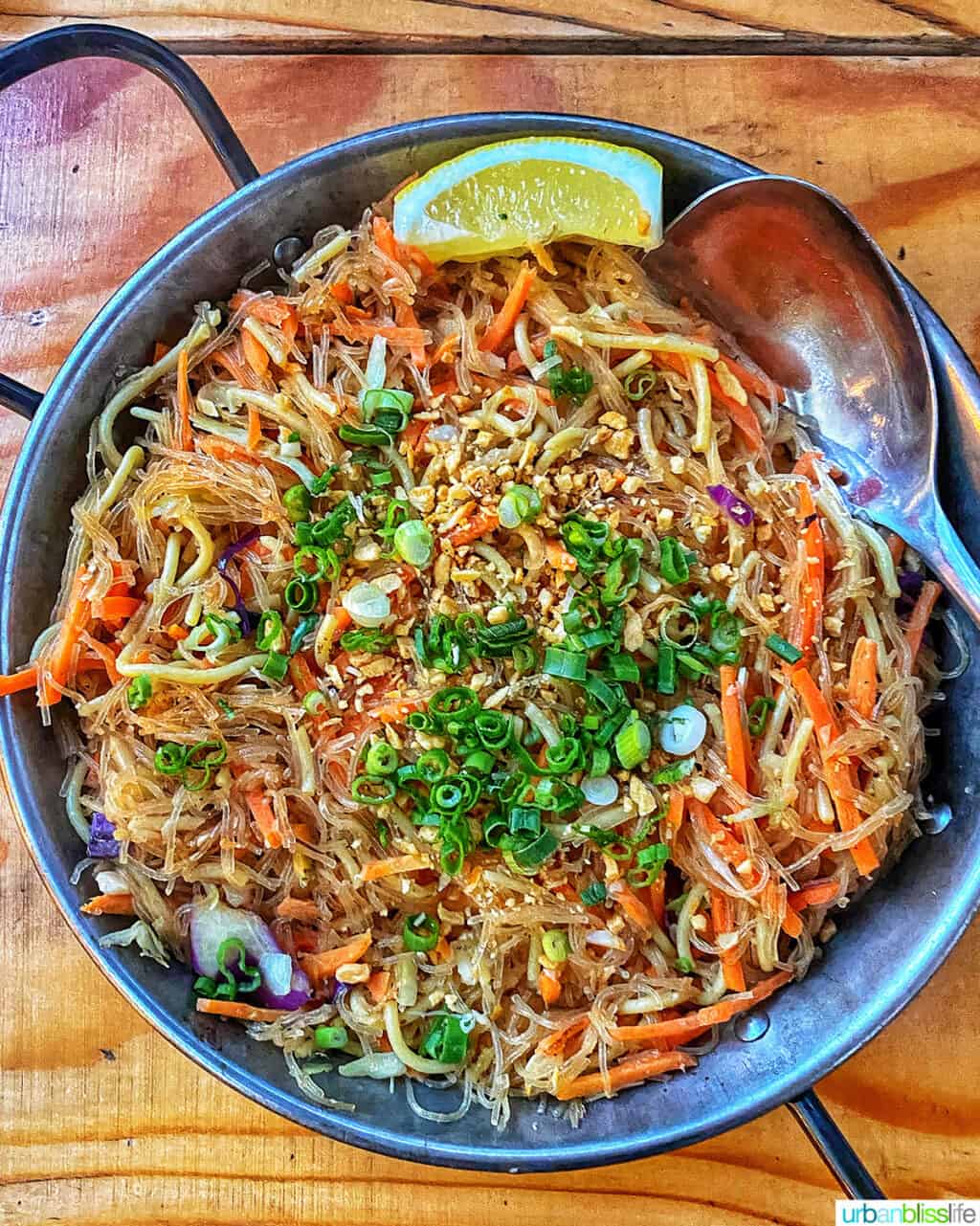 Pancit Bihon ($17)
A Filipino meal is not complete without pancit. There are many different versions, from Pancit Canton to Pancit Bihon, and a few more versions in between. The variations are named after the type of noodle the dish is made with.
The pancit bihon at Magna is a combination of thin rice noodles and housemade egg noodles mixed with carrots, cabbage, and topped with fried garlic. Delicious!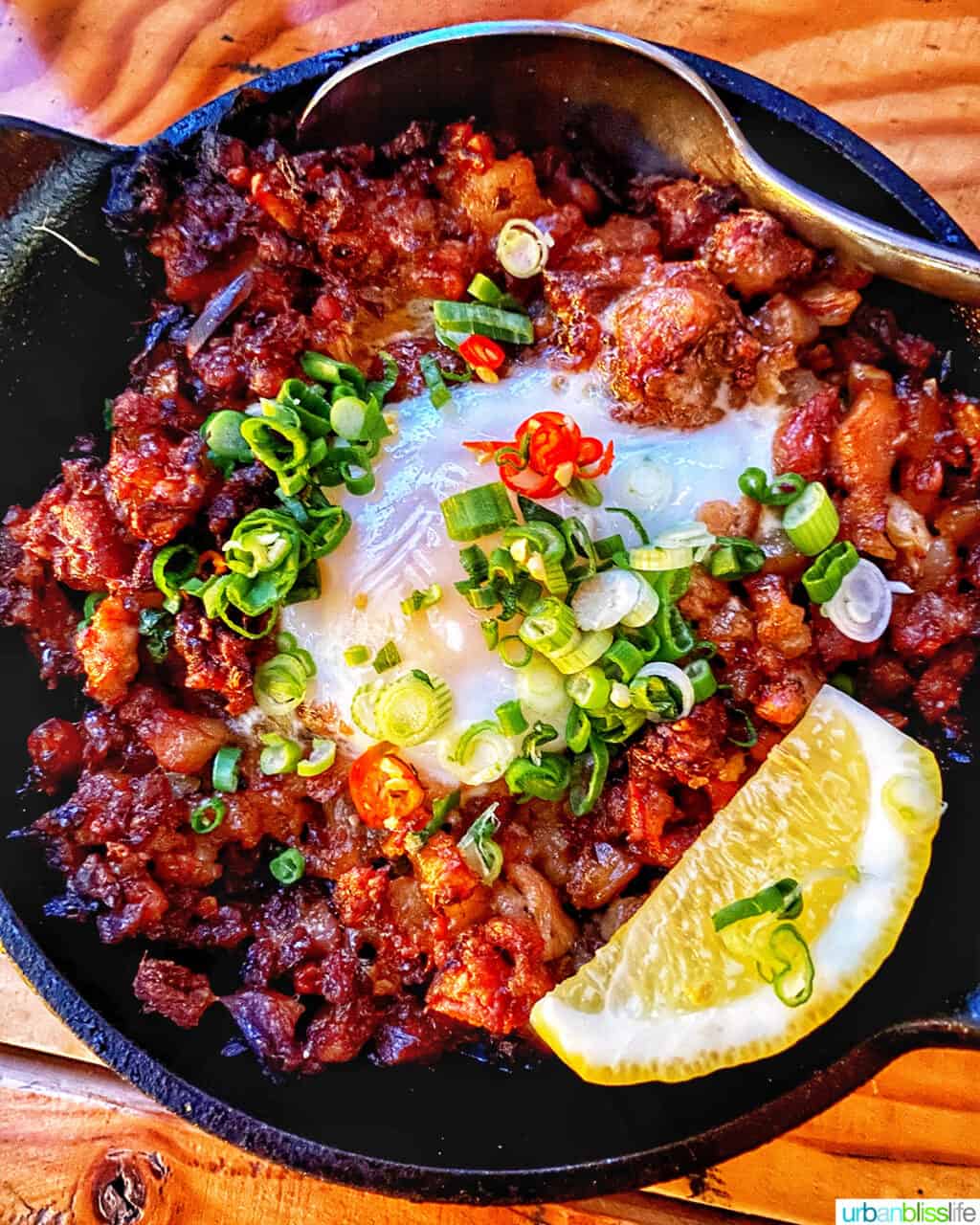 Sisig ($15)
In the Philippines, no part of any animal goes to waste. Sisig is a popular authentic Filipino recipe that usually consists of pig face, snout, ears, and brains, sometimes also with chicken liver.
At Magna, crispy pork bits (I didn't ask which parts and I'm not going to) are marinated in soy sauce and calamansi (Filipino citrus similar to lime). The whole dish is topped with a fried egg, green onion, and chilis. It's got a kick to it, and it's absolutely delicious. Such great crispy comfort food!
Tuhog (Skewers)
If you've been around the blog a while, you know we loooove our Filipino Pork BBQ Skewers. At Magna, you get to choose from an assortment of skewers, from chicken, pork, seafood, and vegetable skewers.
During this particular visit, we ordered the Baboy (Pork Skewers $7) and Scallop skewers ($10). The scallops were topped with a spicy seasoning and cooked to perfection. The pork was coated with an amazing soy vinegar marinade with green onions and chilis.
Both delicious, and I wish we ordered more. Definitely order more than you think so you don't end up fighting for the last piece of each skewer like we did.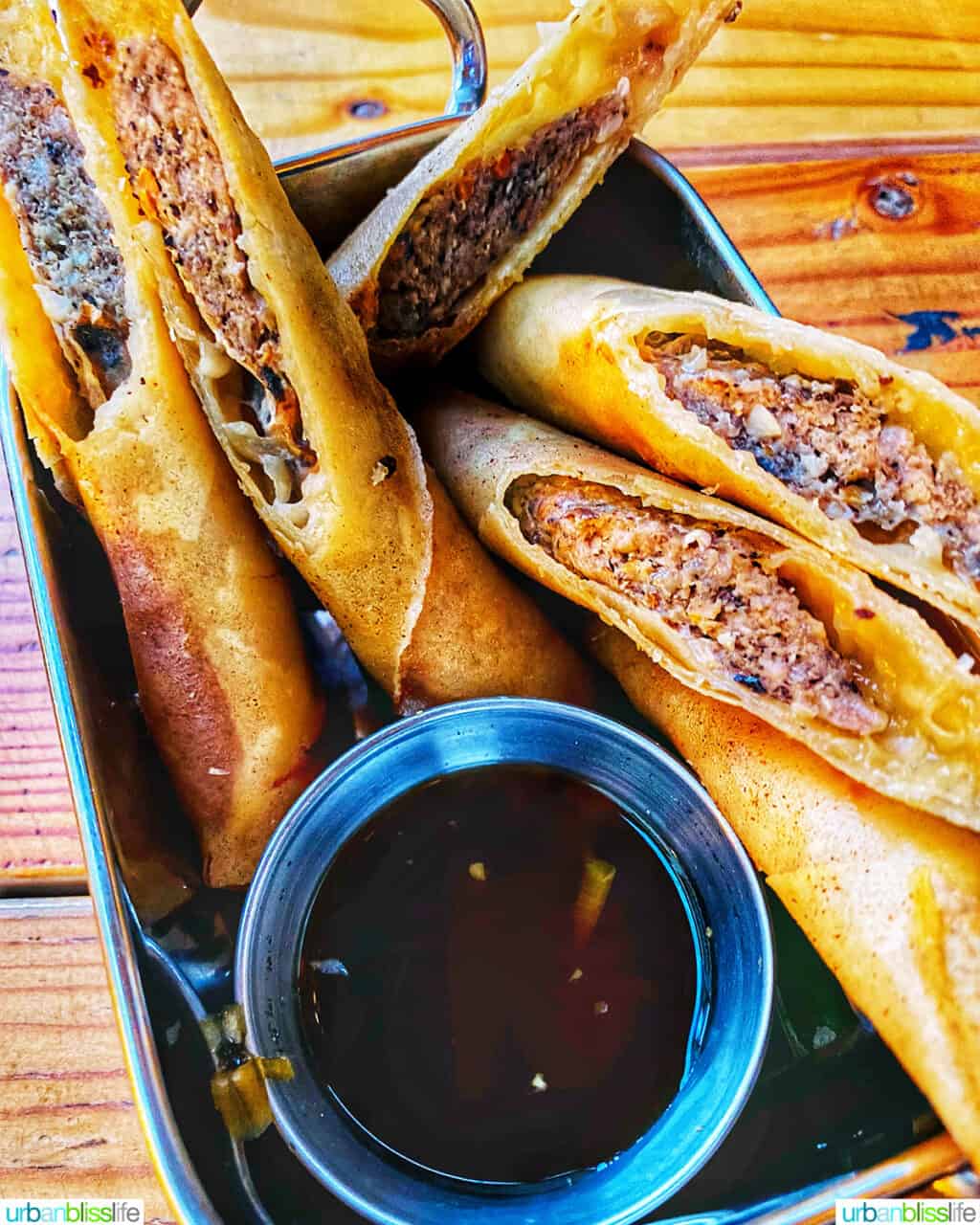 Lumpia ($9)
There are many different ways to make lumpia, and there are numerous online threads devoted to the correct way to making authentic Filipino lumpia. The lumpia at Magna is Chef Carlo's mom's recipe, so don't be dissing his mama's recipe!
They are eggrolls filled with pork, mushrooms, carrots, onions and garlic, served with Magna's house sinamak (spiced vinegar). Vinegar plays a huge part of Filipino cooking, and I would totally buy a bottle of this sinamak. It's fantastic!
There are 6 lumpia to each order. I would suggest that one order is enough for two people, so order two lumpia for parties of four and three lumpia (or four) for parties of 6 people.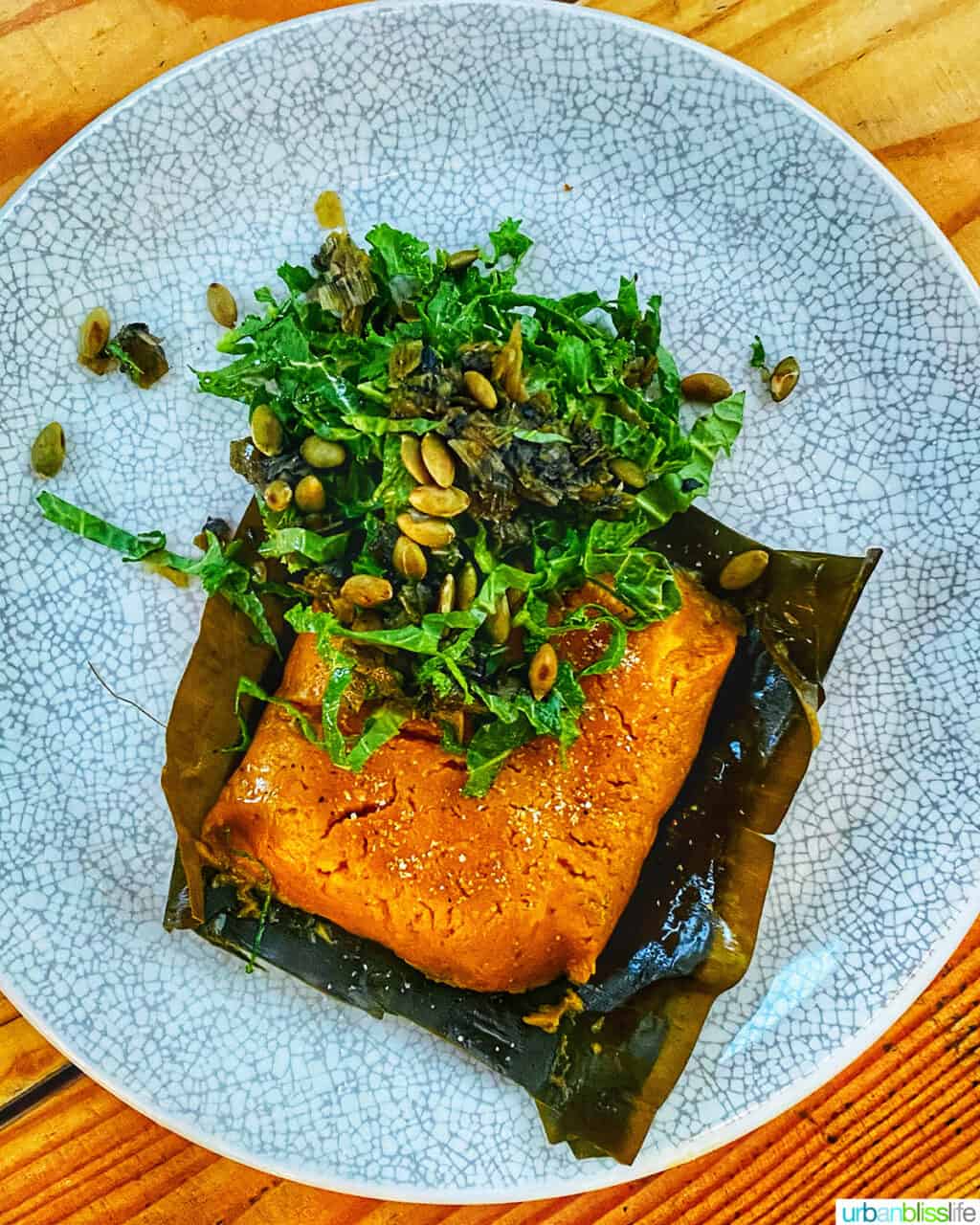 Tamales ($9)
"I didn't know Filipinos also made tamales." I can't remember which one of my kids asked that, but it's a fair point. Much of Filipino food is influenced by the country's time under Spanish and Chinese rule, so you'll see quite a bit of crossover with Chinese food and Mexican food - all with local Filipino ingredient twists.
Tamales are one such example, and we were pleasantly surprised by the tamales at Magna. Their version of Filipino tamales are made with rice flour masa, peppers, onions, sweet potato tops, green garlic, and mustard greens, served in banana leaf.
Side of Sinangag (Garlic Fried Rice -$4)
A classic done well. Order one side per 2 people in your party.
Don't forget dessert!
Absolutely do NOT miss out on dessert at Magna!
There are usually two options, and sometimes they are seasonal based on what's available.
Biko ($9)
Have you ever taken a bite of a dish and immediately all of your senses rush back to your childhood? That's what happened to me when I took my first bite of the Biko at Magna. Oh my word, it's so tasty.
I haven't had Biko in several years, and this coconut sticky rice topped with polvoron (a Filipino shortbread) brought the flavors of my childhood snack times all back.
Seasonal mango pie ($9)
Mango is a favorite fruit in Filipino cuisine. This dessert has mango compote in a crisp puff pastry shell, topped with housemade ice cream and condensed milk. It tasted divine on a chilly winter day, so I imagine it is even more magical on a warm summer day.
And if you're like my parents who wanted to let our waiter and even Carlo himself know how much they would LOVE to see halo-halo (arguably the most popular Filipino dessert) on the menu, know that it's not a year-round dessert here.
Check back in the summer, when they may or may not have it. That said, I'm giving fair warning to y'all at Magna now: my parents will be checking to see if you have halo-halo in the summer ;)
Restaurant FAQs
What is the dress code for this restaurant?
The vibe is casual and fun, so jeans or shorts are totally acceptable. If you want to dress up, that's cool too!
Is Magna restaurant kid-friendly?
Yes! There is no separate kids menu, but most kids would probably at least enjoy the rice, lumpia, chicken or pork skewers, pancit and, of course, any of their dessert options. If you have kids, I suggest booking an outdoor patio table, as there's more room around the tables and it's noise-friendly.
Are there vegan options at this Portland restaurant?
Yes! The menu changes, but currently vegan options include Tokwa't Kabute, Tamales, Kanin, and Gulay - the vegetables of the day.
Magna Kusina
We love Magna Kusina. I'm so happy that we were able to introduce it to my parents on our most recent visit.
My parents are both full-blooded, 100% Filipino, and both gave Magna their solid seal of approval. If you knew how picky my mom was about other people's Filipino cooking, you would know that this is truly high praise from tough critics!
Come for the Filipino food, stay for the people. The people who work at Magna welcome you like family, and dining here feels like you're dining at Lola's, with your Titas and Titos. This is food truly prepared with love, and I have no doubt you will love Magna as much as we do.
2525 Southeast Clinton Street
Portland, Oregon 97202
(503)-395-8542
HOURS: Thursday - Sunday 5:00 pm - 9:00 pm
For more information or to make reservations, visit the Magna Kusina website.
More Portland, Oregon restaurants
Foodie Travels: Restaurants around the world