Ever wish you could make your groceries last longer? This Costco Meal Plan and grocery list will help you make enough dinners for a family of four for one month for under $250!
It used to drive me crazy how quickly we would go through food in our house. Setting aside the food that I need for the recipes I develop for this blog and for clients, our family of four still goes through a LOT of food on our own. And we go through the food WAY too quickly!
If you can relate, then this blog post is for you. Or if you just want some inspiration, motivation, and ideas on how to make your food last longer and save money, this blog post is for you.
In this post, you'll learn:
Now, during these odd and uncertain times, meal planning is more important than ever.
Meal planning can help you save money by making your food last longer.
It can help you feed your family for a long time without constantly going to the store.
Meal planning can take the stress out of everyday cooking so you can enjoy that time with your family.
A few years ago, I started learning how to shop and cook smarter. I learned how to shop once and eat for a week. Then, I learned how to shop once and eat for a month. I just go to the store for fill-in items; my one big shopping trip
Meal planning is a habit that takes practice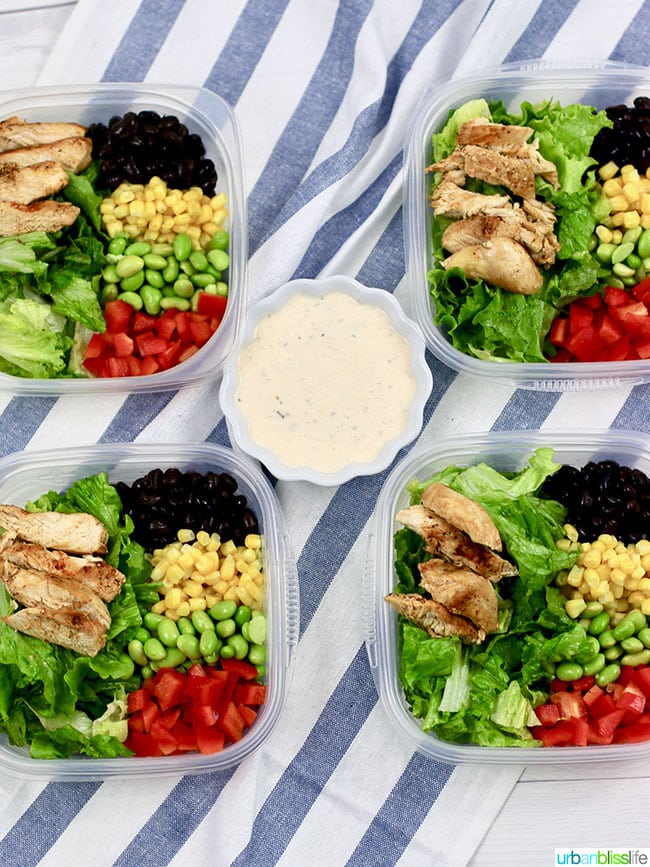 The more I talk with fellow mom and dads, the more I realize this dilemma is more about time than money. Learning to shop for smarter meal planning takes practice to become a habit.
And admittedly, I do get tired of it sometimes that I just give in and get pizza. But listen: that's a-okay. I think it's important, especially when times are challenging, to give ourselves grace. We do the best we can with what we have.
Even with my family's busy schedule, we try to have a homemade dinner together at the table five nights a week. I love this time. It's family magic to this mama.
Because I'm fairly high risk right now, we're actually eating every meal at home. That's three meals a day, together, at the dining table. I love it! But it also requires a LOT more planning.
Costco meal plan recipes
Once a quarter, I do a big Costco run. Although admittedly, this past year I've gone more like once a month.
Then I make a trip once a week for fill-in items to the neighborhood grocery store or farmer's market. Or, better yet, hit the farms down the street when they are open for the season.
The list and recipes for my Costco meal plan below are what I use in general during normal times. However, these are not normal times. And this meal plan has already been helpful just a few days into home quarantine!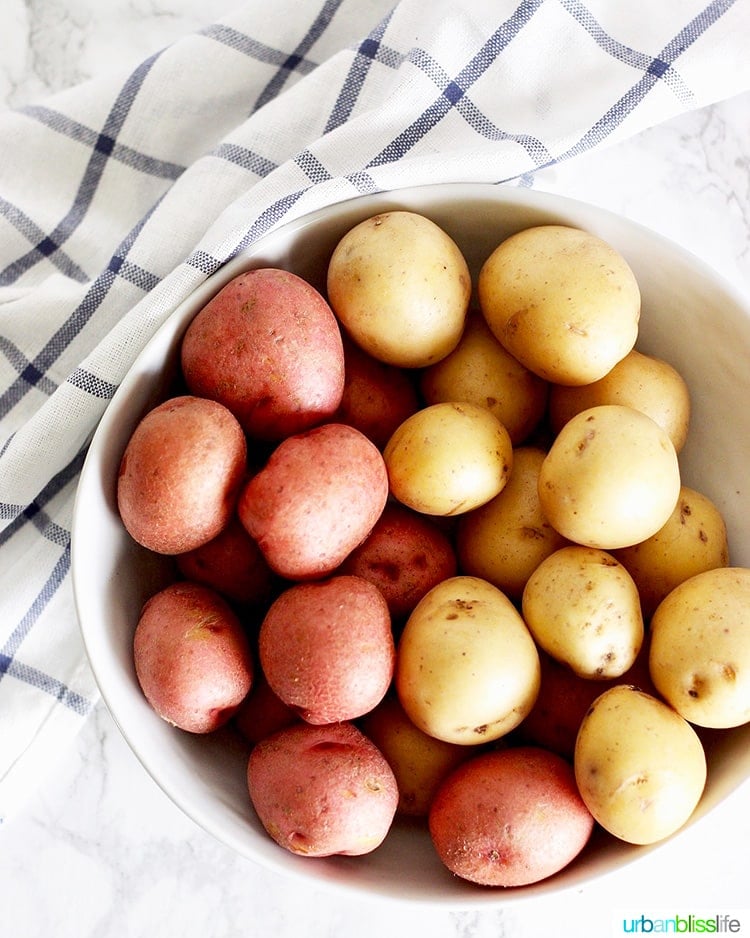 Most of us have a big box bulk store like Costco or Sam's Club in our towns. Here's a look at the groceries I can buy at my local Costco for $242.70. Note: prices vary by location and do not include tax because we don't have sales tax in Oregon.
Fruit & veggies
6 lbs apples ($8.99)
6 mixed (red, orange, yellow) bell peppers ($5.89)
5 pounds of lemons ($6.99)
10 pounds of carrots ($6.99)
2.5 lbs celery stalks ($4.99)
10 lbs onion ($5.49)
15 pounds of potatoes ($4.99)
Frozen foods
6lbs frozen strawberries ($10.89)
4.4 lbs frozen broccoli ($8.99)
6 lb bag of frozen Italian-style meatballs ($16.99)
Canned goods & dry goods
12 cans of chicken stock ($7.49)
48 oz minced garlic ($5.49)
8 cans of black beans ($7.99)
8 cans of diced tomatoes ($6.99)
6 cans of coconut milk ($6.99)
6 lbs rice ($10.89)
4.5 lbs quinoa ($16.49)
Meat
5 pounds of chicken thighs ($3.99/lb = $19.95)
2 whole 3-lb chickens ($4.99 each)
6 pounds of ground turkey ($2.99 lb = $17.94)
6 lbs pork chops ($15.41)
4 pounds of bacon ($15.39)
2 lbs shrimp ($20.99)
Dairy
block of cheddar cheese ($8.49)
The savings on meat alone is one of the main reasons I shop at the big box store. I'm still researching local farms to see if they can give me this much meat for this cheap -- and this much variety of meat too, not just one kind. But for now, I'm gonna stick with Costco.
Other grocery items
This Costco meal plan of course doesn't include every single little item in every one of these recipes. That's because I'm not including items I usually already have on hand and do not normally buy at Costco.
Certain items, like pasta, eggs, salt, pepper, and my dairy-free milks and cheeses. These are items I will pick up each week from our local grocery store.
Fresh herbs can take a dish from okay to amazing, so herbs that I don't grow in my garden I will pick up from the store as needed. We also go through a lot of bananas and salad, so I buy those items fresh each week. I've never found pasta or eggs that I like at Costco, so I buy those locally.
So together with the food I buy at Costco and these other fill-in items, I'm able to make the following recipes that can essentially feed my family of four for one month!
The trick to ensuring we actually USE all of the food as effectively as possible is to prep as much as possible right away. As soon as I get home from buying groceries, I put the basics away and start prepping.
Chop carrots, celery, and onions for various uses. I always have bags full of mirepoix - chopped carrots, celery, and onions - in my freezer. This is the starter base for so many soups, sauces, stir-fries, and more. You can see in the photo above that I chop some of these vegetables larger for roasts and chopped finer for classic mirepoix prep.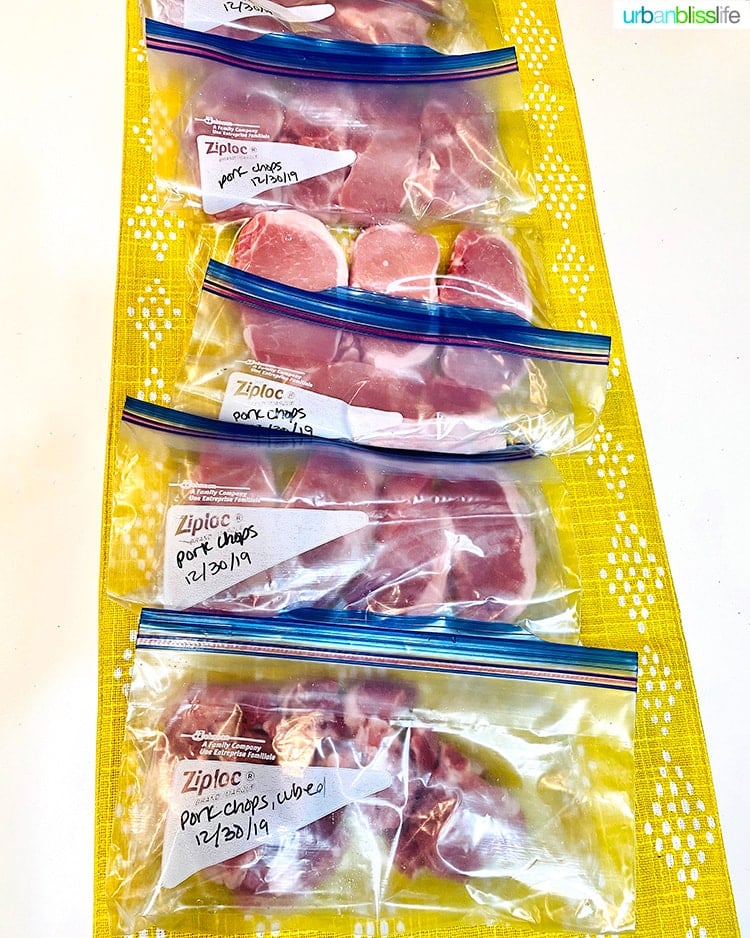 Divide the meat into amounts per meal. For chicken thighs, chicken breasts, and ground turkey, this is pretty easy. Those items are usually already divided into packaging per pound. Depending on what you are cooking, you may want to divide the meat into half-pound freezer bags.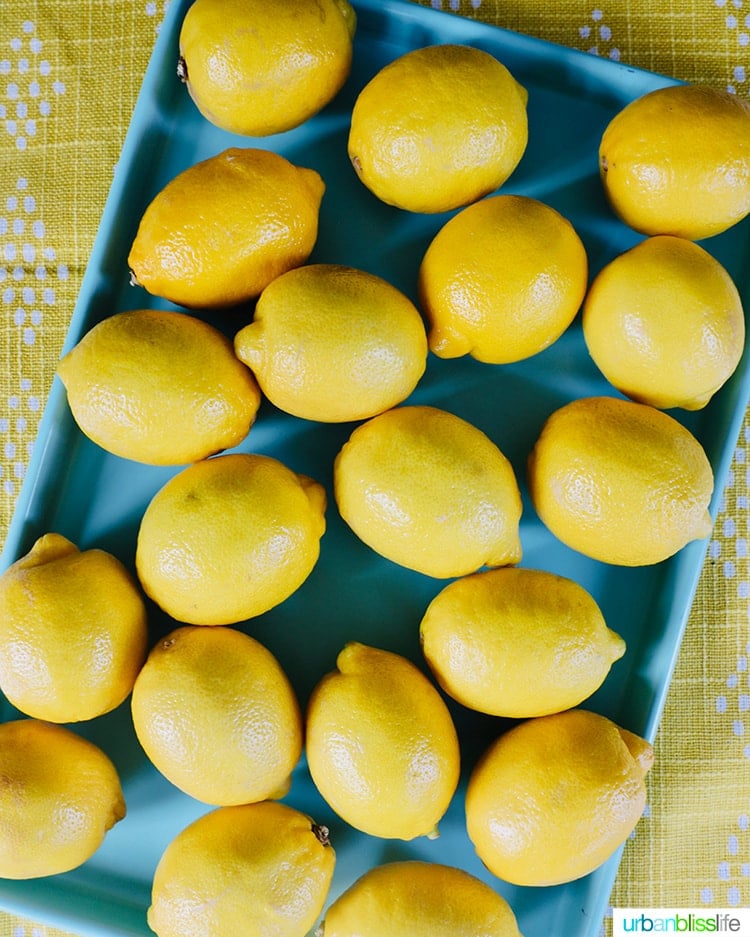 Slice and cut citrus into wedges. I use lemons every single day - in my water, for cooking and baking - and there's no way that even I would go through 5 pounds of lemons in a month. That's a lot of lemons! So I slice a few lemons and cut a few more into wedges. I freeze those for later.
So what do I make with all of this food from Costco?
Here's a look at a general idea of what I would make using the ingredients listed above. These meals would cover my family of four for one month. And for less than $250, plus the cost of odds and ends from my weekly trip to the local grocery store.
Ground turkey recipes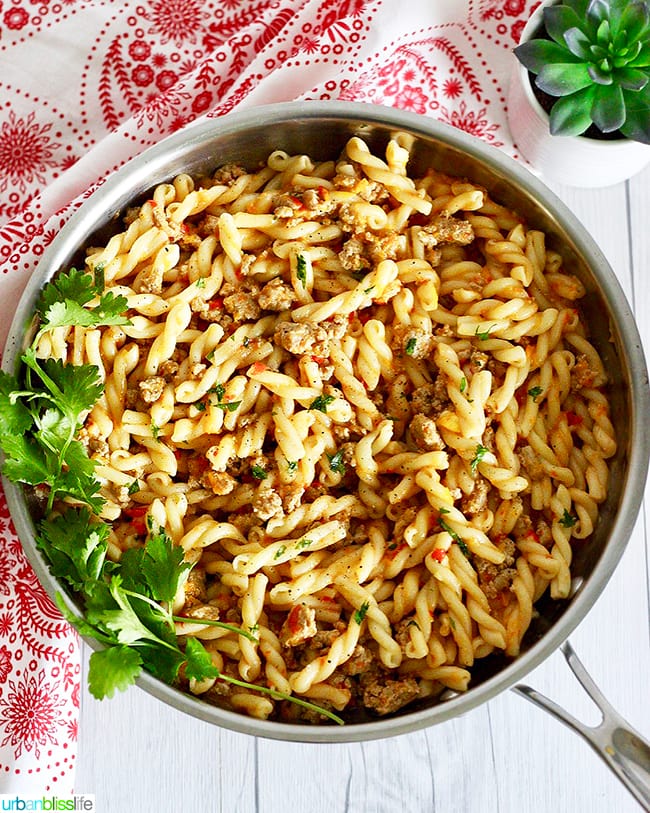 turkey meatloaf
spaghetti bolognese
taco meat for tacos (1 dinner), Taco Pasta (1 dinner), and breakfast scramble or breakfast hash
Chicken recipes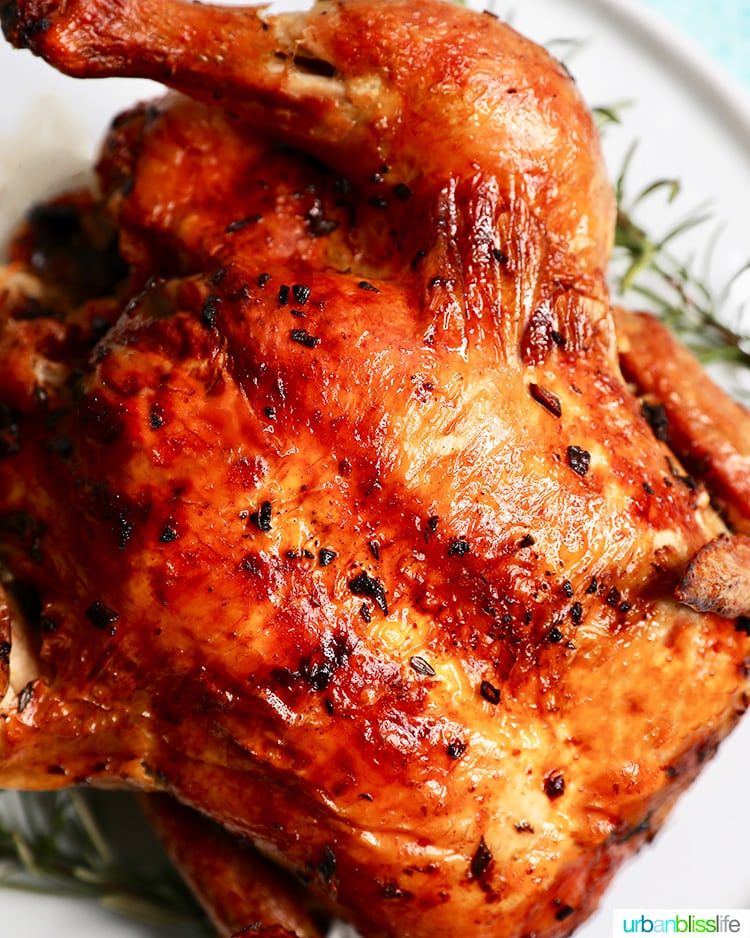 Pork recipes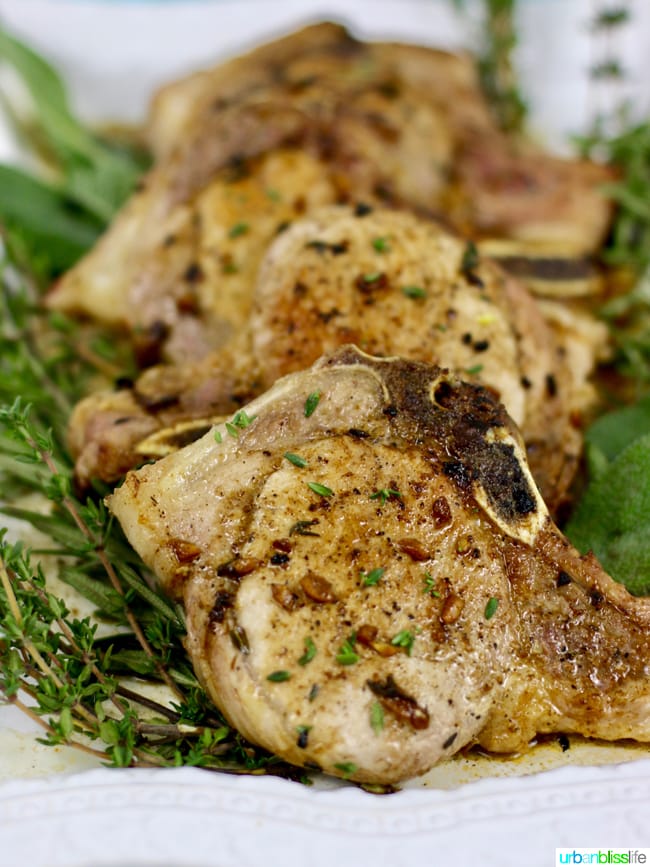 Recipes using frozen meatballs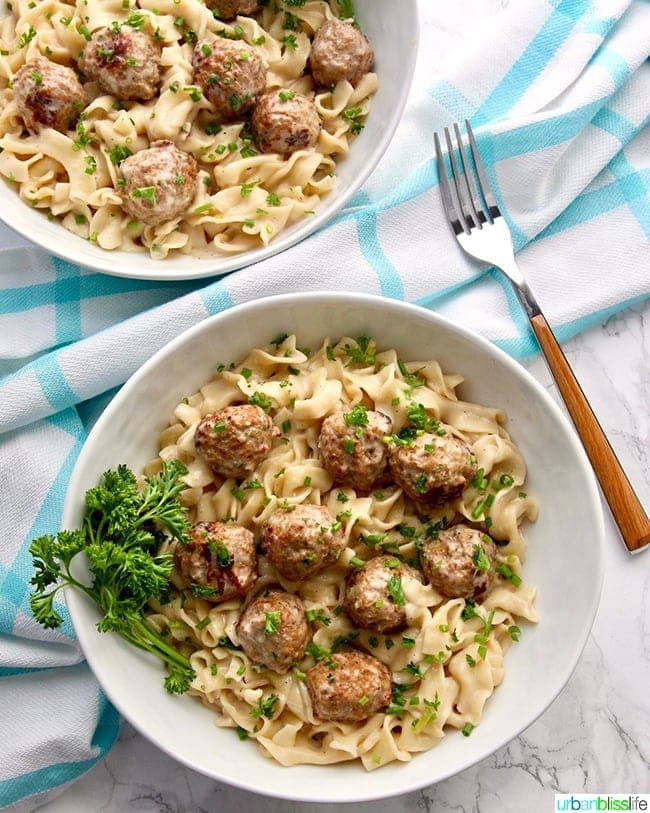 Bacon Recipes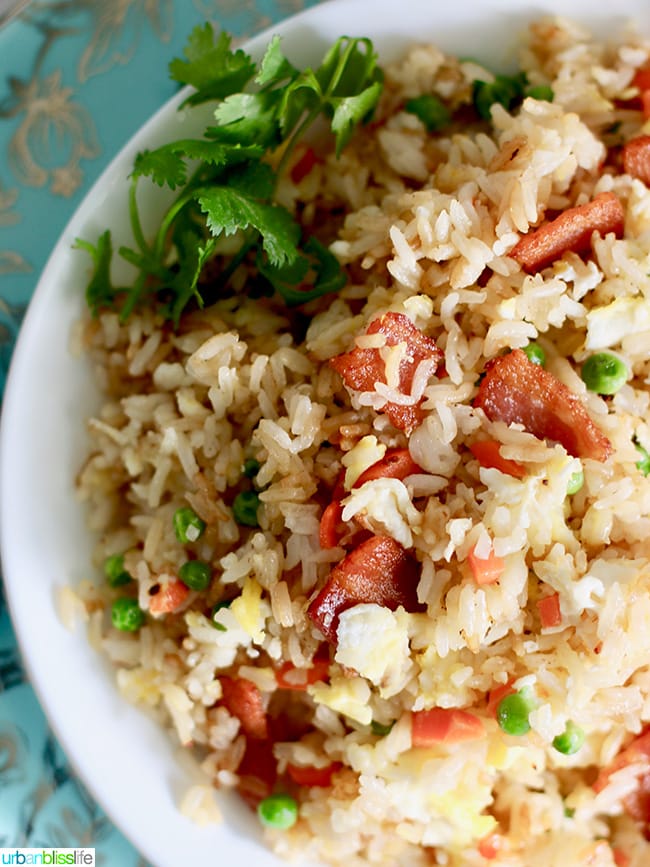 Seafood recipes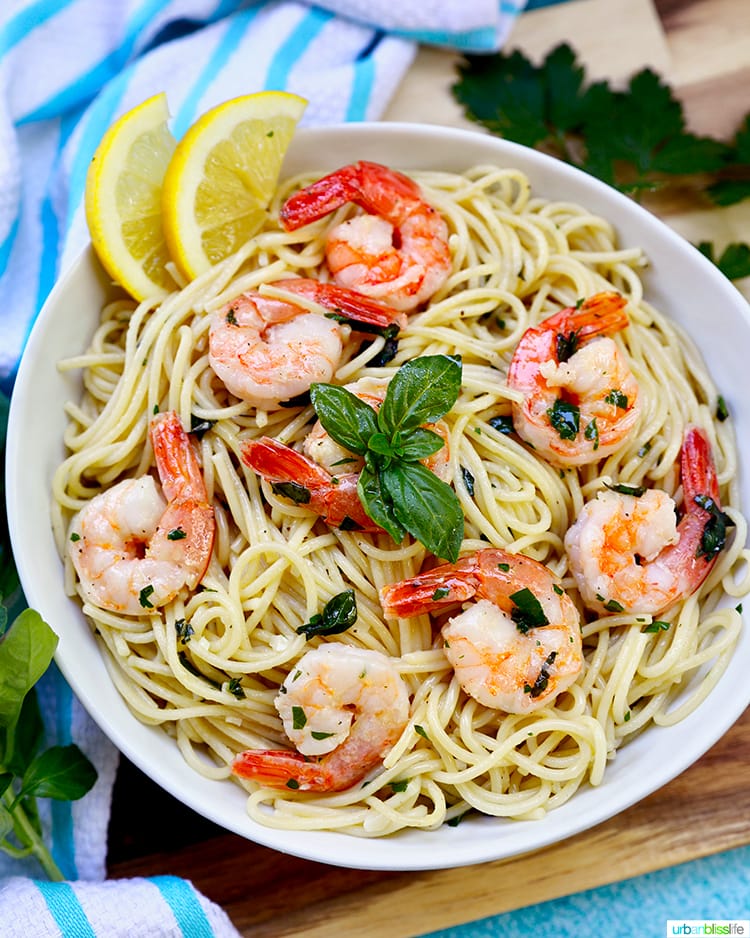 Lemon Garlic Shrimp Pasta
Vegetarian and vegan recipes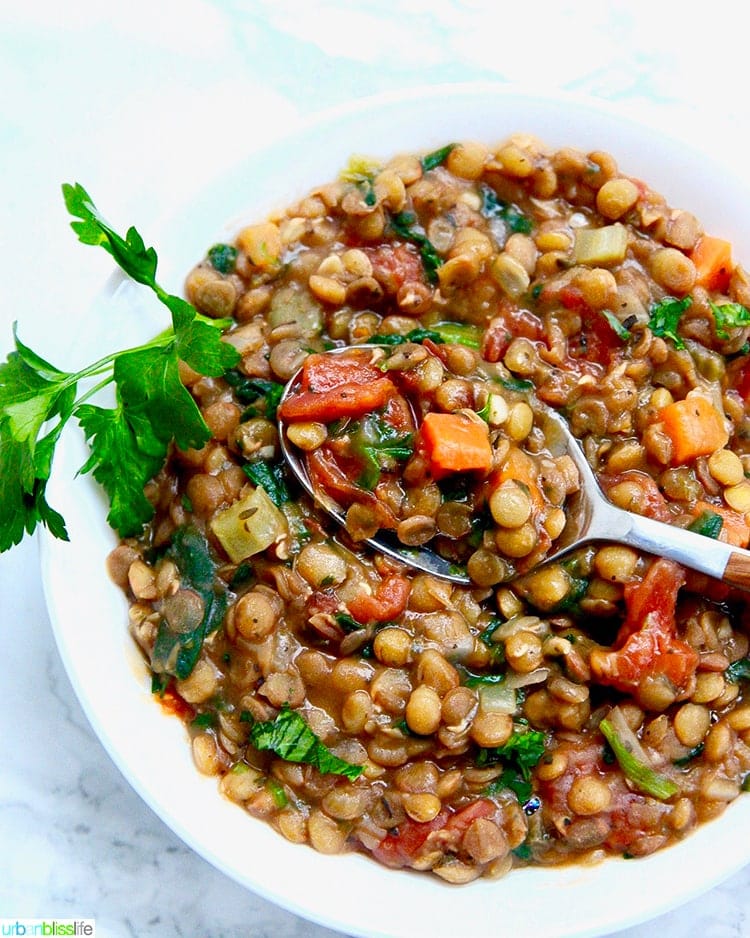 Breakfast recipes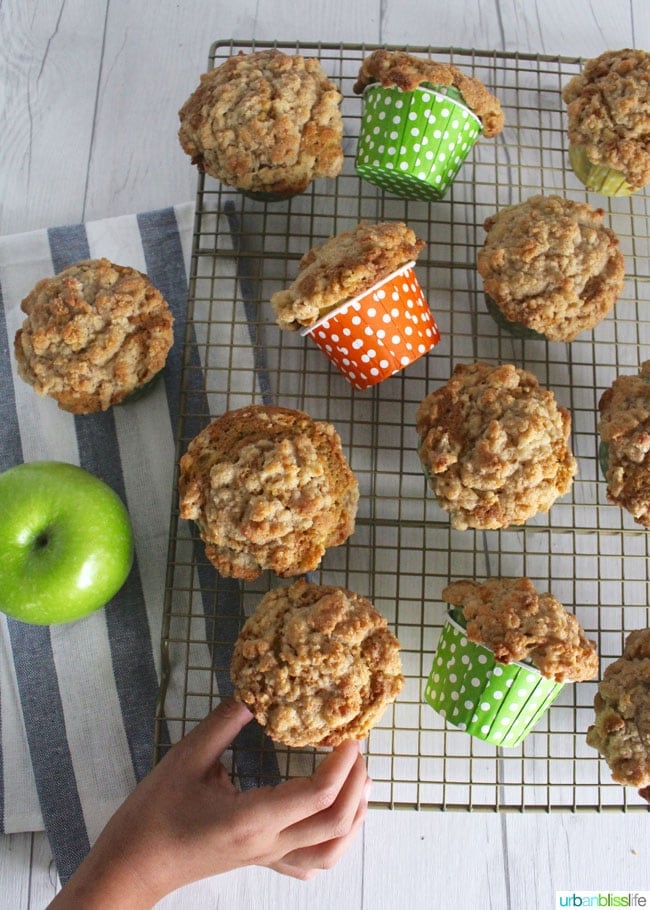 Dessert recipes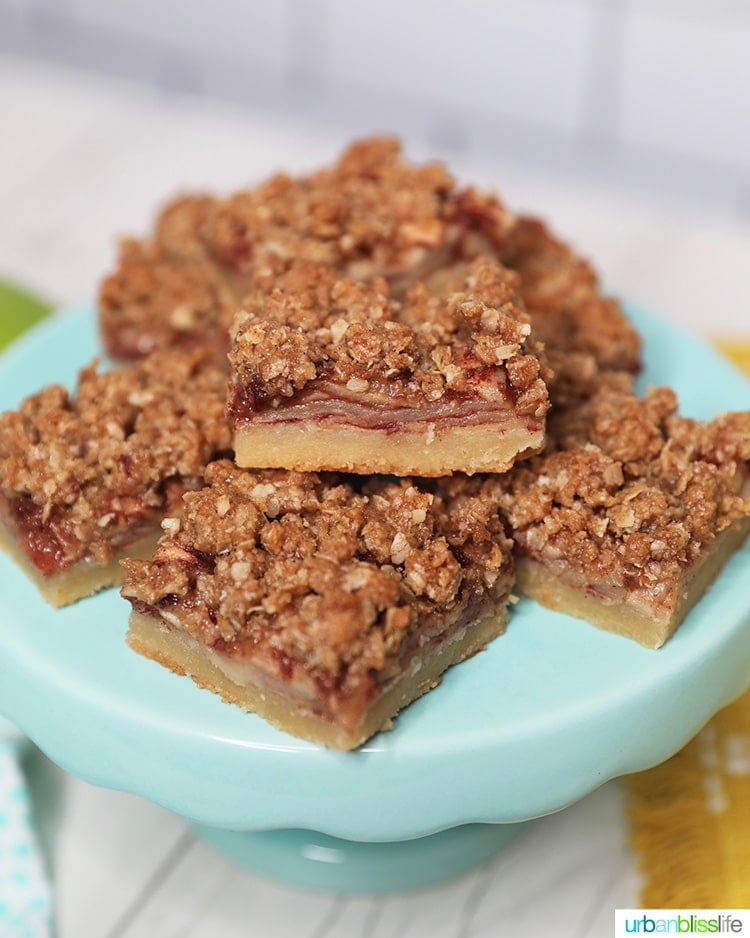 Notes on this Costco meal plan
So, with one Costco shopping trip plus what we already have on hand, I can feed my family of four a whole month's worth of dinners for under $250. We usually round out dinner with fruit and a salad or cut veggies.
With the recipes listed above, we often end up having leftovers. So I will freeze half for a second meal to enjoy in the future. This helps us stretch our dollar - and our food supply! - even further!
My favorite meal prep tools
More Meal Prep and Planning Tips and Recipes
PIN IT: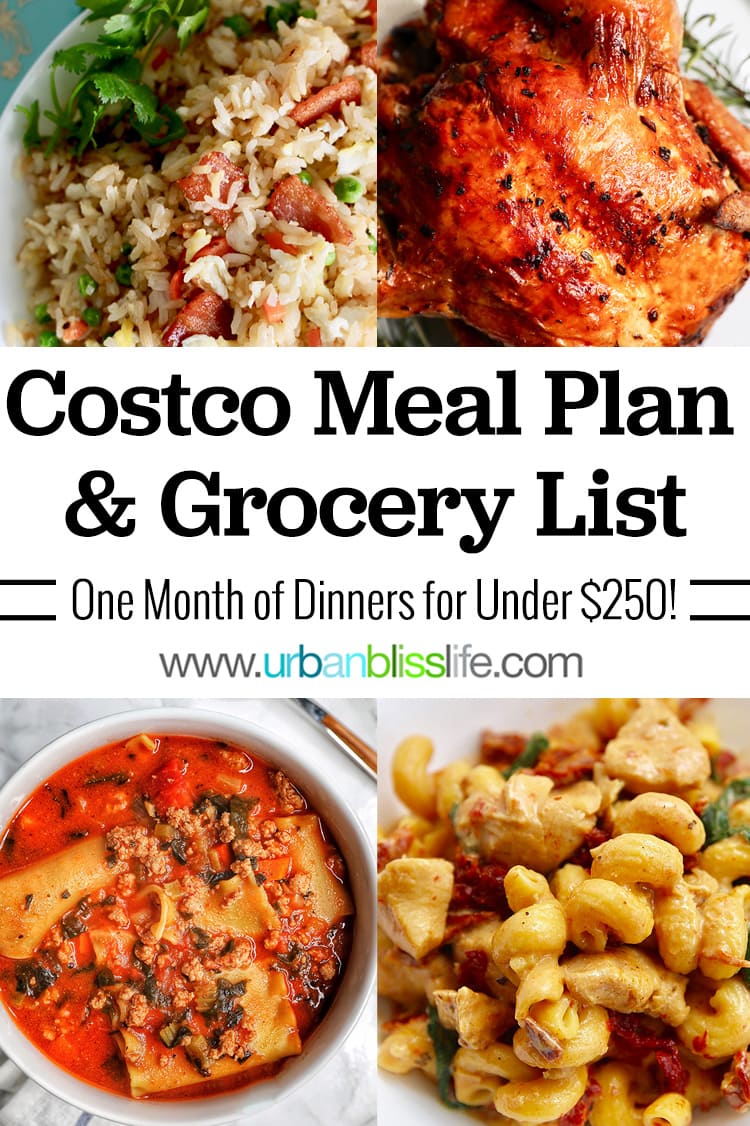 This post was originally published May 5, 2010. It was updated March 19, 2020 with all new photos, updated information, and more in-depth meal prep information and recipes.