If you're looking for the best chili recipe, this Best Instant Pot Chili Recipe is super easy to make, packed with flavor, and is oh so satisfying. The ultimate comfort food! Recipe also includes instructions for making this chili in the slow cooker and stovetop.
This post contains affiliate links. See my Policy page for details.
Comfort food season is the best. Comfy sweaters and boots, wine time by the fireplace, warm blankets, football games, and hot comfort food to fill our bellies.
Chili is, for me, one of the ULTIMATE fall comfort foods. My husband, however, hasn't always been a huge fan.
That is, until THIS, my best instant pot chili recipe!
The first time I made this chili recipe, my husband went back for seconds. The next day, he had leftovers. I knew then that this was the best chili recipe that I've made so far!
Seriously the Best Instant Pot Chili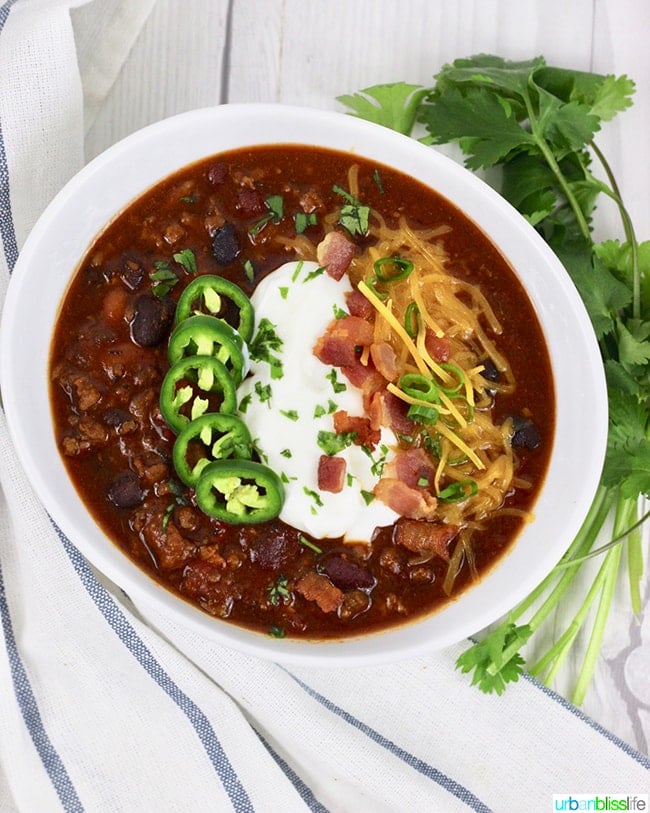 Traditional chili recipes require the ingredients to simmer on the stovetop. Much like the traditional bolognese sauce that would simmer on your Nonna's stove all day long on Sundays, the meat, beans, and veggies in the chili would simmer for hours and create awesome flavor the longer they co-mingled.
What's extra awesome about multi-cookers like the Ninja Foodi and the Instant Pot is that it speeds up that flavorful co-mingling process by pressure cooking, and gives you the same mouthwatering, complex, hearty chili in a fraction of the time.
Make this chili in your Ninja Foodi, Instant Pot, Slow Cooker, or on the Stovetop
I make this chili often in my Ninja Foodi. I have the 8-quart XL Deluxe Foodi, but you can also make this in the 6-quart Foodi. We've also made this recipe several times in my 8-quart Instant Pot. And I have been told others have had great success making this recipe in their 6-quart Instant Pot.
While cooking times remain the same, the 8-quart multi-cookers can take a few extra minutes to come to pressure.
And no matter what size multi-cooker you have, you want to be sure to never add ingredients above your Ninja Foodi/Instant Pot fill line.
If you don't want to make this in your instant pot, or if you don't have a pressure cooker, you can easily make this yummy chili recipe in a slow cooker. You can also make this in a dutch oven on the stove. You just need to make a few adjustments, which I've noted in the NOTES section of the recipe card below.
Substitution Options
DAIRY OR DAIRY-FREE: On its own, this is a dairy-free chili recipe. However, for add-ins and garnish, I have used regular cheddar cheese and regular sour cream for the dairy lovers in my life. I simply sub those out for dairy-free sour cream and dairy-free cheddar cheese.
SPICE: This is a milder (yet still super flavorful!) chili recipe. Most of my recipes are on the milder side, because it's much easier to spice up a recipe than it is to cool it down. Like it spicy? Add jalapeños in the chili and/or on top as a garnish. You can also adjust the spices to your preferred level of heat.
VEGGIES: I like to add more veggies when I can into a dish. Diced carrots, green peppers, red onions, potatoes, and even small chunks of butternut squash would be yummy additions to this. You could even make this a vegetarian chili by subbing out the ground meat for butternut squash and more veggies. Just try to balance out the amount of veggies you put into the recipe for the amount of meat you are taking out of the recipe.
What Can I Do With Leftover Chili?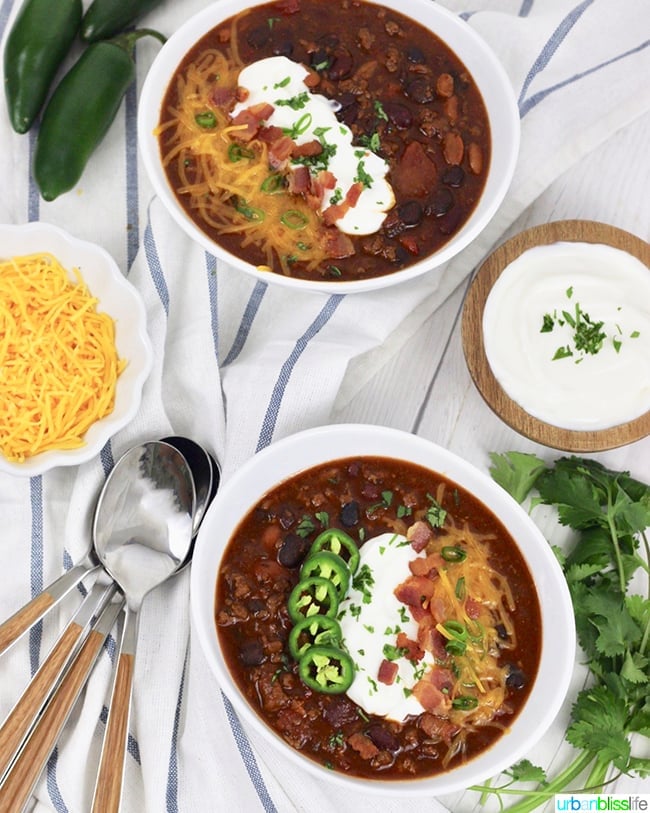 Sure, you could spoon some chili into a bowl and garnish it up, and call it good. But here are more ideas to take your leftovers of this delicious instant pot chili recipe to the next level:
Serve over tortilla chips and top with sour cream, chives, and bacon for chili nachos.
Three words: chili cheese fries.
Cook some frozen tortellini the next day and combine it with leftover chili for Tortellini Chili Soup. Just add a couple of spoonfulls of the starchy pasta water and mix together for more of a soup vs. chunky chili texture.
Chili breakfast scramble: add to scramble eggs, top with avocado and sour cream.
What Wine Goes With Chili?
While chili does, indeed, pair so well with a cold beer, I also enjoy a big bold red wine with this chili. Go for a medium- to full-bodied red that has high tannins and high acidity to help balance the spices in this dish.
The Abacela Winery Tempranillo stands up beautifully to this hearty chili. A Malbec, such as the Misty Oaks Vineyard Malbec, would complement the mild spices and beans. You can also pair this with a classic California red, such as one of my faves, a Ridge Vineyards Zinfandel.
More Instant Pot Recipes
Best Instant Pot Chili Recipe
This chili with three beans, ground turkey, ground beef, and bacon is hearty and satisfying - the ultimate comfort food!
PRINT
PIN
RATE
Ingredients
8

slices

bacon, sliced into small pieces

1

red bell pepper, cored, de-stemmed and diced

1

medium yellow onion, diced

2

cloves

garlic, minced

1

lb

ground turkey

½

lb

ground beef

1

can

(14.5 oz) black beans, drained

1

can

(14.5 oz) pinto beans, drained

1

can

(14.5 oz) kidney beans, drained

1

can

(14.5 oz) fire-roasted tomatoes (do NOT drain first)

1

can

(14.5 oz) beef stock (should equal a little more than 2 cups)

1

can

(6 oz) tomato paste

2

tbsp

Worcestershire sauce

2

tsp

ground oregano

2

tbsp

ground chili powder

2

tsp

ground cumin

1

tsp

ground smoked paprike

2

tsp

salt

½

tsp

ground black pepper
Add-ons and garnishes
sour cream (optional)

cilantro leaves, finely chopped (optional)

jalapeño (optional)

shredded cheddar cheese (I use Daiya non-dairy shreds)
Instructions
Press the Saute mode on your instant pot, then add the bacon. Sauté until the bacon is crisp. Transfer bacon to a plate or bowl lined with paper towels. Drain some of the grease, leaving about a tablespoon of grease in the pot.

Add the red pepper, onion, and garlic and sauté until the peppers are slightly soft.

Add the ground turkey and ground beef and cook until the meat is browned, breaking up the meat and mixing with the veggies throughout.

Add remaining ingredients and half of the cooked bacon. Seal the lid.

Press the Chili setting (or Manual) on your instant pot and cook for 20 minutes. Allow pressure to release naturally for 10 minutes, and then quick release.

Optional: top individual servings with bacon, sour cream, cheddar cheese, and/or sliced jalapeños.
Notes
TO MAKE THIS CHILI IN A SLOW COOKER:
Cook the bacon and set aside on a plate lined with paper towels.
Sauté the red pepper, onion, and garlic in a large skillet. Add the meat and cook until browned.
Add all ingredients (except for half the bacon) into the slow cooker and cook on high for 3 hours or low for 5-6 hours.
TO MAKE THIS CHILI ON THE STOVE:
Follow the instructions as you would for the instant pot, but after combining all ingredients, bring the chili to a low boil and then turn down to a low simmer for 3-4 hours.
DAIRY-FREE OPTIONS
Instead of full dairy sour cream and cheddar cheese, I use Tofutti Sour Cream and Daiya Cheddar Style Shreds.
ELECTRIC PRESSURE COOKER/MULTI-COOKER EQUIPMENT: I make this in my 8-quart Ninja Foodi or 8-quart Instant Pot. You can also make this in the 6.5-quart Ninja Foodi or the 6-quart Instant Pot. Do NOT attempt to make this recipe in a 3-quart multi-cooker unless you reduce the ingredient amounts. Regardless of size, always make sure your ingredients do not go above your multi-cooker's fill line.
PIN IT: