This hearty turkey chili made with coffee chocolate stout and farro is also packed with veggies. The perfect comfort food to warm up any winter evening!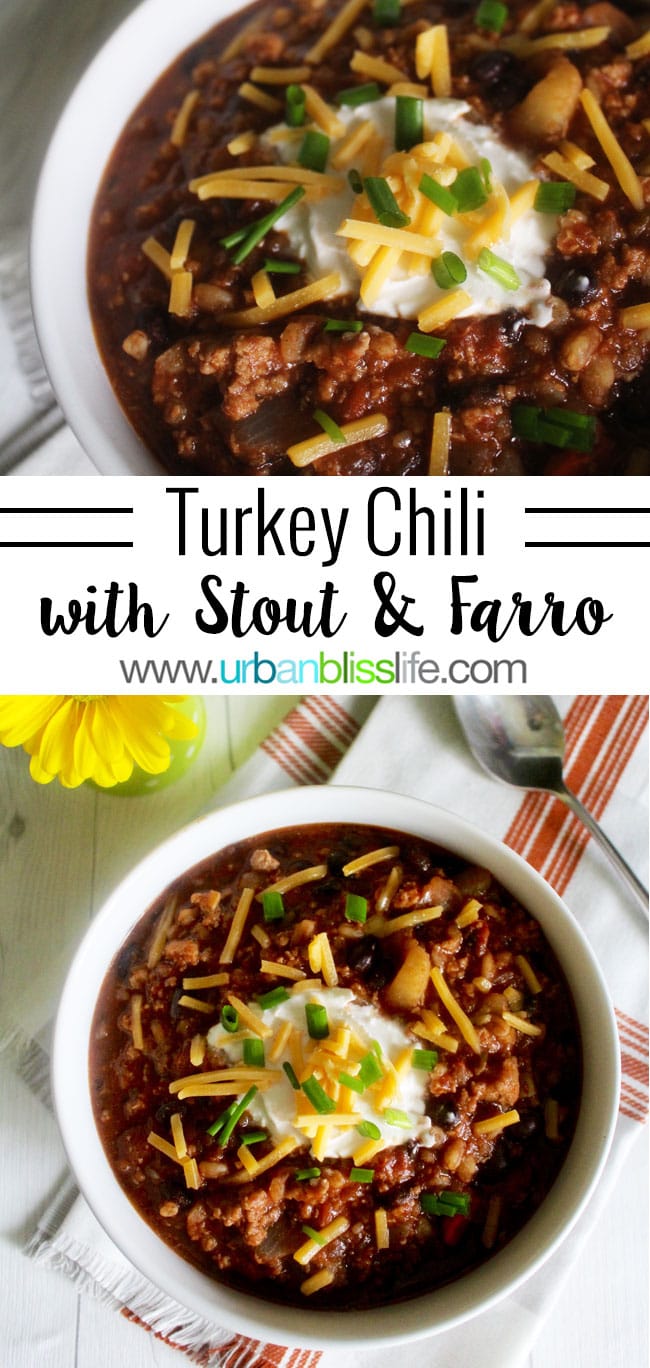 This hearty turkey chili is mood-altering and soul-soothing during blustery winter days, folks. I made this when it was stormy outside, with winds howling and rain blowing sideways.
I'm glad I decided to go for a quick chili recipe versus slow cooker because it totally hit the spot when I needed some comfort food.
Why this dish works
I haven't always been a big fan of chili. Perhaps because I grew up in the days of canned chili...and there is no canned chili that is delicious. It's also how I feel about canned soup, with all of the added preservatives... but I digress.
While I really don't remember my parents ever serving it at home, I do remember having it at friends' houses and sometimes they would bring their canned chili to school for lunch. I also remember buying some in college, heating it up at our apartment...and then vowing never to eat that stuff again.
Fast forward to just a mere five years since my college graduation (HA! Well, five times four this year... and that's the most math we'll ever discuss on this blog, besides talking ingredients) and I like chili again – that is, when it's made fresh. I love ordering a bowl of chili at a restaurant as a starter if it's available, and on a cold, wet, windy day like today, homemade chili that's been simmering on the stove totally hits the spot!
I've decided to use a coffee stout with this hearty turkey chili, which created an amazingly deep, rich flavor to the chili. I used a local collaboration between Coalition Brewing and Zupan's Market that I received as a sample. The Farm to Market Imperial Coffee Chocolate Stout contains local ingredients such as Cafe Umbria Gusto Crema and Woodblock Chocolate.
I'm not going to lie: I'm not normally a fan of stout beer, but there are a few local ones that I have enjoyed, and this is one of them. It's probably because there's more of a coffee and chocolate flavor in this, and I totally dig it. This would be awesome poured over ice cream too... but for today: it completely elevates this turkey chili into something amazing!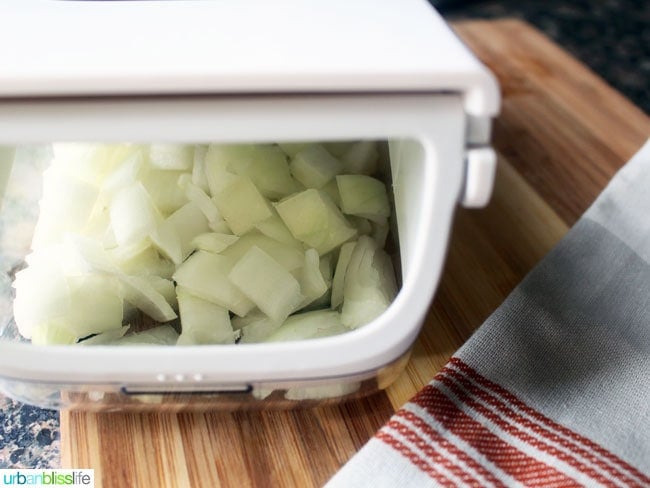 This chili has tons of veggies, including onions, garlic, potatoes, and sweet bell peppers. The farro adds a really nice texture to the chili.
I prefer using turkey meat for my chili, but you can feel free to use ground beef as well.
Now, I think the finished turkey chili with stout and farro pictured above is delicious just as it is. However, you can definitely add in your preferred toppings.
When you add some toppings, it magically transforms into something even more amazing.
Ta-da! Isn't it the picture of perfect comfort food? I like dairy-free sour cream, dairy-free "cheese," and green onions or chives. You could also easily serve this with a side of tortilla chips (my favorite are Juanitas... what IS it about those chips that makes them SO very addictive??!!).
Kitchen tools
To help make this delicious turkey chili, I used a few of my newest OXO products. If you've been following this blog for a while, you know how much I adore OXO. My kitchen is well stocked with OXO gadgets and goodies, and I use them almost daily.
For today's recipe, I actually used three OXO products:
1. The Ground Meat Chopper and Turner, which really helps stir the chili. Its rounded corners actually help scrape up bits of yummy ingredients in the corners of pots and pans. Plus, it reminds me of a propeller, so I totally feel like my food will take off to new heights with this beauty. (Oh yes, I did! I'm in a punny mood, folks!)
2. The Silicone Ladle is probably one of my favorite newest tools because it's heat resistant, which means when I accidentally let it rest in the pot of chili for probably longer than I should have because I was trying to figure out why my darn computer wasn't working today (GAH. On a busy Friday with lots of deadlines!!), the ladle didn't melt into my chili. Which is good, because nobody needs silicone in their chili, right?
3. The Vegetable Chopper with Easy-Pour Opening is a fun new toy, because it chops up fruits and veggies, like the potatoes and the onions for this chili, in one quick motion and is pretty easy to clean. I LOVE my kitchen knives, but this tool definitely has a time and a place in my kitchen, especially when there's less time and more chopping to do!
Substitution options
All right. Back to the chili itself.
You can sub out any grain for farro, but I'm on a big farro kick lately and really love the texture it adds to the chili.
You can also sub out red onions for yellow onions, sweet potatoes for baking potatoes, and jalapenos or other peppers for sweet bell peppers. I prefer non-spicy chili, so if you want to kick it up a notch, be my guest and use spicier peppers.
Ingredients
1

cup

farro

1 14-

ounce

can of chicken broth

1

tablespoon

olive oil

3

slices

of bacon

chopped into ½" pieces

½

yellow onion

chopped

3

garlic cloves

minced

1

cup

finely chopped bell peppers

I use a mix of red and orange peppers

1

medium baking potato

diced into little cubes

1

pound

ground turkey

1 14-

ounce

can black beans

rinsed and drained

1 14-

ounce

can diced or stewed tomatoes

1 8-

ounce

can tomato paste

2

teaspoons

chili powder

1

teaspoon

ground cumin

1

teaspoon

salt

1

teaspoon

black pepper

1

cup

to 1 ½ cups of coffee stout

or any stout beer you like

1

cup

water

OPTIONAL TOPPINGS: sour cream

shredded cheddar cheese, green onions, tortilla chips
Instructions
In a small saucepan, bring the chicken stock to a boil, then add the farro. Reduce to simmer and cook farro according to package instructions (should be done anywhere from 20-30 minutes, depending on the farro you purchased).

Meanwhile, in a large stockpot, heat olive oil over medium heat. Add the bacon and cook until just cooked, about 3 minutes, stirring so the bacon cooks evenly and doesn't stick to the pot.

Add the onions, garlic, potatoes, peppers and sauté for about two minutes. Be sure to stir the veggies frequently to avoid burning the garlic and also to be sure the ingredients don't get stuck to the pan.

Add the turkey meat and cook for about 3-4 minutes, stirring to break up the meat. Cook the meat just until it's browned.

Add the black beans, tomatoes, tomato paste, and spices (chili powder through black pepper) and stir all ingredients well together.

Add the stout and one cup of water, then stir to combine all ingredients.

Add the cooked farro.

Bring the heat down a notch to low-medium heat and simmer for about 10 minutes, then serve with your choice of toppings.
Tried this recipe?
Please leave a star rating and comment! Then snap a pic of your dish and share it on social media. Tag @UrbanBlissLife and #UrbanBlissLife!
Nutrition information is a general estimate. Actual nutrition details may vary depending on the exact foods & brands you use to make this recipe. It does not take into account any substitutions, toppings, or optional ingredients.
Notes
Since chili flavors are really enhanced the longer the ingredients have time to mingle, you can make this in a slow cooker as well, and, it's almost even better when reheated the next day!
This chili freezes really well so it's a great dish to make and then freeze half for later.
What are your favorite chili ingredients? Have you ever cooked with stout beer before?
Thanks to OXO for sending me the kitchen products seen here, which totally came in handy to make this turkey chili recipe! As always, all opinions and photos are my own. I only write about products, events, experiences, and services that I personally enjoy and believe you will, too!
This post contains affiliate links. Read my disclosure policy for details.