Easy Shrimp Lo Mein is so fast, so easy, and so delicious. It's better than take-out! If you love noodles, this dish is sure to become one of your Go To recipes for lunch or dinner.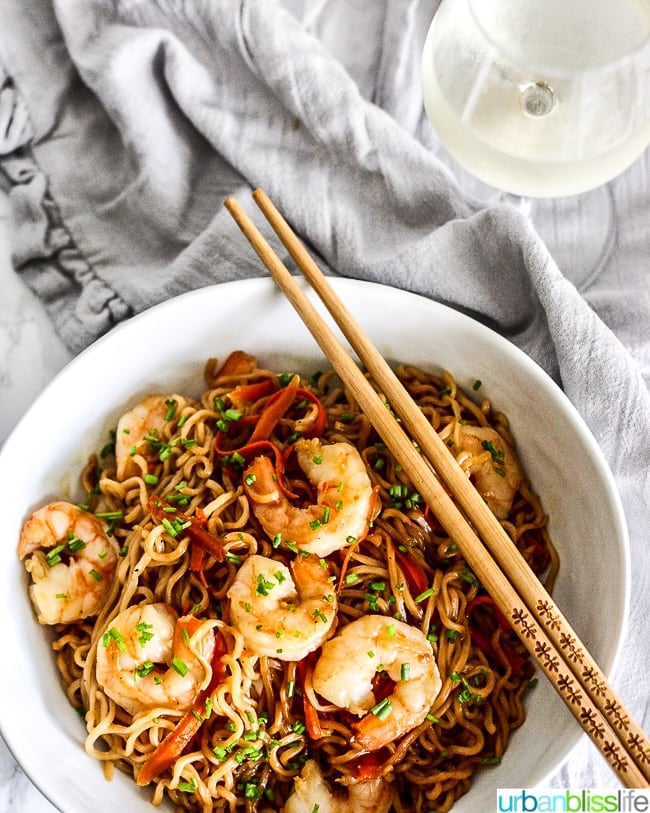 When you need a quick and delicious meal, it's ramen to the rescue!
Wait: Ramen noodles in lo mein? Aren't you supposed to use Chinese egg noodles?
Yes, traditional lo mein recipes call for Chinese egg noodles. If you've got 'em, certainly use 'em!
But if you're like me and you don't, then ramen noodles are an amazing next-best-thing. In fact, I personally prefer ramen noodles in my lo mein!
Easy and fast lo mein recipe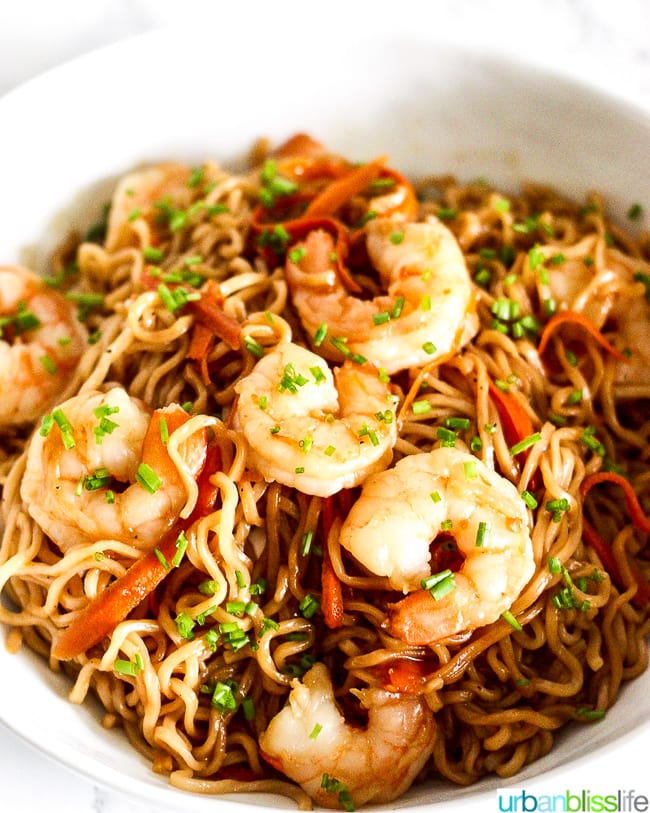 This easy shrimp lo mein recipe is honestly one of my favorites. I make it a LOT.
I've been making variations of this yummy noodle recipe for several years – way back from my college days when ramen noodles, 3am Taco Bell delivery, and pizza for days were the norm. (How my body survived my college eating habits is a true mystery of the universe).
Once I moved to an apartment after sophomore year, we'd start to mix things up and use the ramen noodles in stir fry.
Since then, noodles have been my Go To. Even today, as a grown adult (which is a sometimes questionable self-description), Easy Shrimp Lo Mein is one of my favorite #FastLunch dishes to make while I work from home.
When work is crazy busy, making this lo mein dish is a much-needed and soul-satisfying break.
It doesn't take too long to make. Yet it takes just enough time to get me up on my feet, moving about, and making something delicious to nourish my mind, body, and soul for the rest of the work day.
Substitution options for this recipe
If you or your kids aren't into shrimp, you can easily substitute chicken, pork, beef.
Or, leave the meat out entirely and double up on the veggies for a hearty vegetarian noodle dish.
As for the veggies, here are some of my favorites to include in this lo mein noodle dish:
carrots
red bell peppers
broccoli
red or green cabbage
baby corn
celery
Wines that pair well with shrimp lo mein

This shrimp lo mein is also a fantastic fast weeknight dinner, especially when paired with a lively white wine. Consider enjoying it with a Riesling, Grüner Veltliner, or a crisp Pinot Blanc.
If you're feeling bubbly, go for it! This dish tastes extra amazing with a glass of champagne, prosecco, cava, or other sparkling wine.
Not feeling the vino vibe tonight? Crack open a cold one, like Tsingtao, my favorite Chinese beer. Or go for a fun hard cider, like Portland Cider Company's Sorta Sweet Cider.
Easy Shrimp Lo Mein Recipe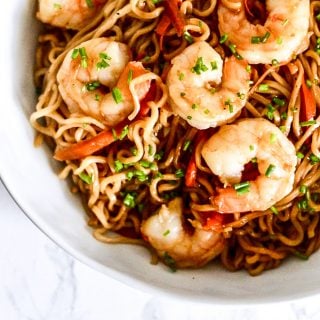 Easy Shrimp Lo Mein
Easy Shrimp Lo Mein takes just 15 minutes to make and is a delicious lunch or dinner!
PRINT
PIN
RATE
Ingredients
Lo Mein
2

packages

uncooked ramen noodles (discard spice packet that comes with it)

2

tbsp

vegetable oil

½ - ¾

lb

shrimp

2

cups

julienned (thinly sliced) veggies of your choice, such as carrots, red peppers, and chopped broccoli

1

garlic clove, minced

optional garnish: sliced chives or green onions, chopped parsley
Instructions
Make the sauce
In a small bowl, stir together the soy sauce, hoisin sauce, sesame oil, and ground ginger. Set aside.

Cook noodles according to package directions. When cooked, drain and set aside.

In a wok or large skillet, heat oil over medium-high heat. Cook the shrimp until fully cooked (both sides should be a nice pink color), about 2-3 minutes. Add the vegetables and garlic, and stir constantly until vegetables are slightly softened, about 2-3 more minutes. Toss in the noodles and the sauce, and toss together until the noodles and veggies are well coated.

Garnish with fresh herbs if you wish. Serve immediately.
Notes
SHRIMP: Use as much or as little shrimp as you would like. This is truly a dish that you can make easily to your personal taste preference. You can even omit the shrimp to make this a vegetarian meal.
PIN IT:

More fast, easy, delicious recipes