If you have a discerning wine or cocktail lover on your gift list this year, you'll find some of the best holiday gifts in this 2018 Holiday Wine and Spirits Gift Guide!
When in doubt, a good bottle of wine, spirits, or non-alcoholic beverage is always a smart holiday gift and hostess gift option. To make your gift giving easy this holiday season, I've compiled a list of some of my favorite wines and spirits gifts to give - and a few extras!
Jump to:
2018 holiday wine and spirits gift guide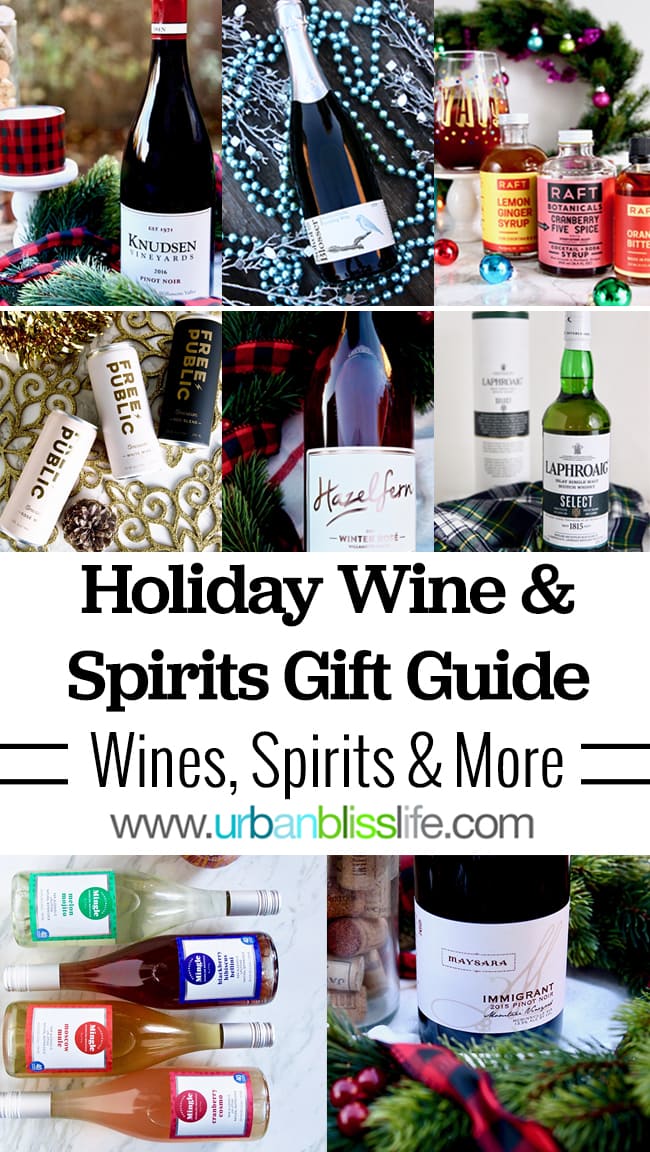 Wines
When giving wine as a holiday gift, you want to make sure you're gifting high quality wines. This is not the time to re-gift that Two Buck Chuck your pal Joe left at your house on game day.
Sokol Blosser Bluebird Cuvée sparkling wine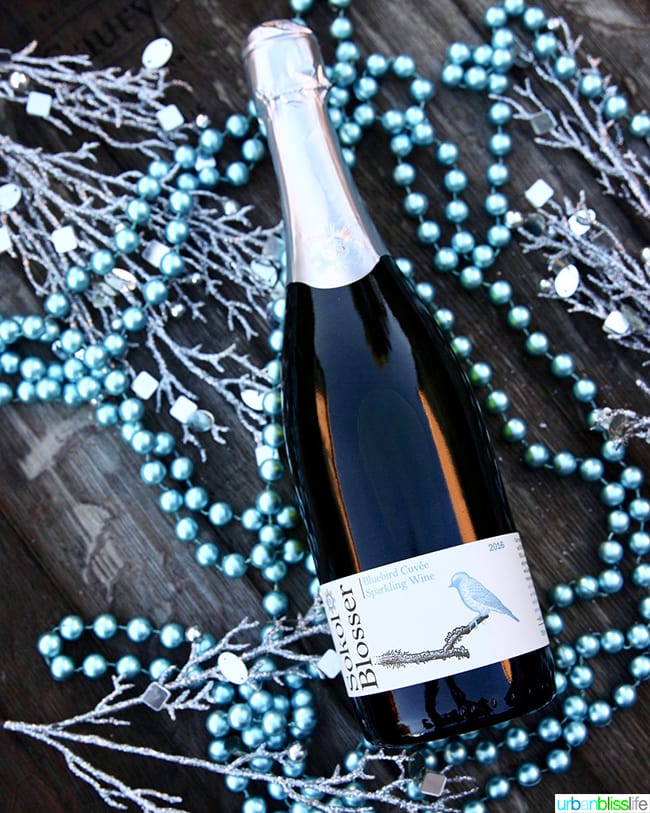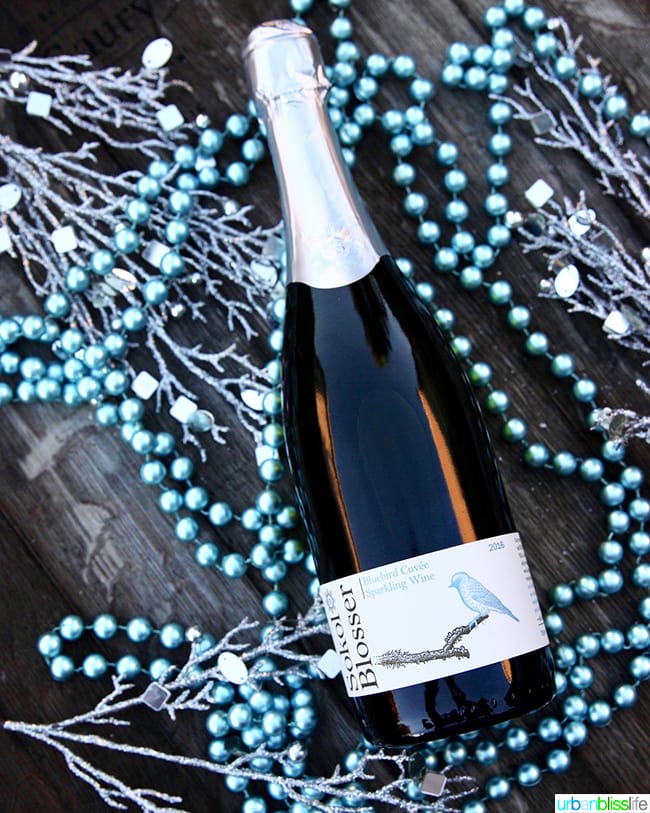 If you're not familiar with the types of wines your friend or hostess likes, go for some bubbly. Sparkling wine is almost always a safe and much appreciated gift!
The new Sokol Blosser Bluebird Cuvée Sparkling Wine ($28) is a dry sparkling wine with bright, vibrant flavors of apple and pear. It's also an absolutely beautiful bottle that would make a gorgeous gift! The name and label is a nod to the winery's long-time support of the Prescott Western Bluebird Recovery Project. For more than 20 years, Sokol Blosser has offered needed shelter and support to preserve a breeding habitat for Western Bluebirds, with 15 bird houses on its organically-farmed property.
I have been a longtime fan of Sokol Blosser wines. Since I have a tattoo of a bluebird, and I adore sparkling wine, I feel like this Bluebird Cuvée was a sign that it was finally time to join their wine club, which I did. :)
2016 Knudsen Vineyard Pinot Noir: An elegant wine that will age well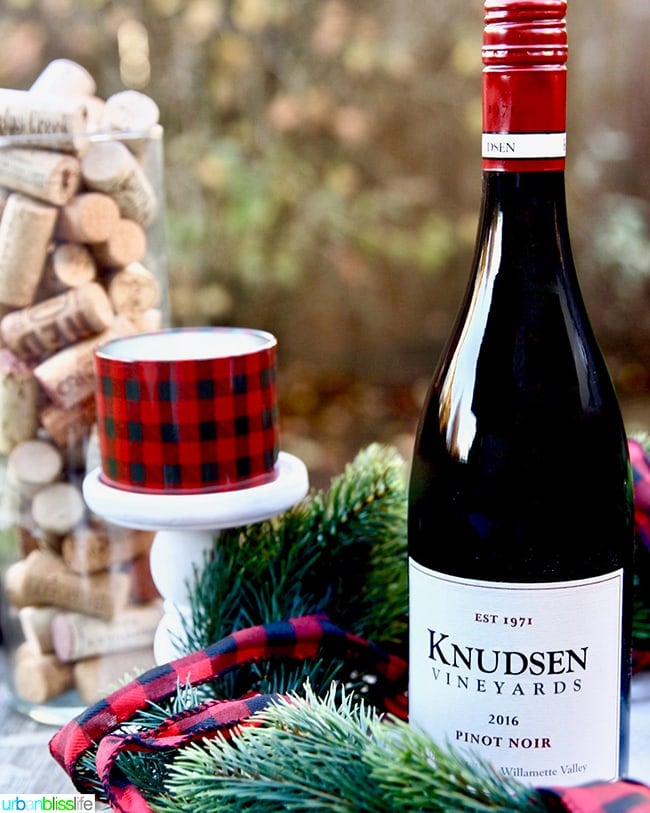 The 2016 Knudsen Vineyards Pinot Noir ($55) is an elegant, graceful medium-bodied wine with lovely tannins. With a core burst of cherries and strawberries, it's balanced out by classic Oregon earth and herbal notes. This is the fifth vintage Pinot Noir from Knudsen Vineyards, which is one of the more established vineyards in the state, founded in 1971.
I honestly haven't met a Knudsen Vineyards Chardonnay or Pinot Noir that I haven't loved. Not just liked – but loved. The second generation of the Knudsen family has truly honored the legacy of this incredible vineyard by continually producing some of the best wines in the state. Serve this at your holiday meal, or enjoy this 5-10 years from now.
2017 Hazelfern Winter Rosé: Best hostess gift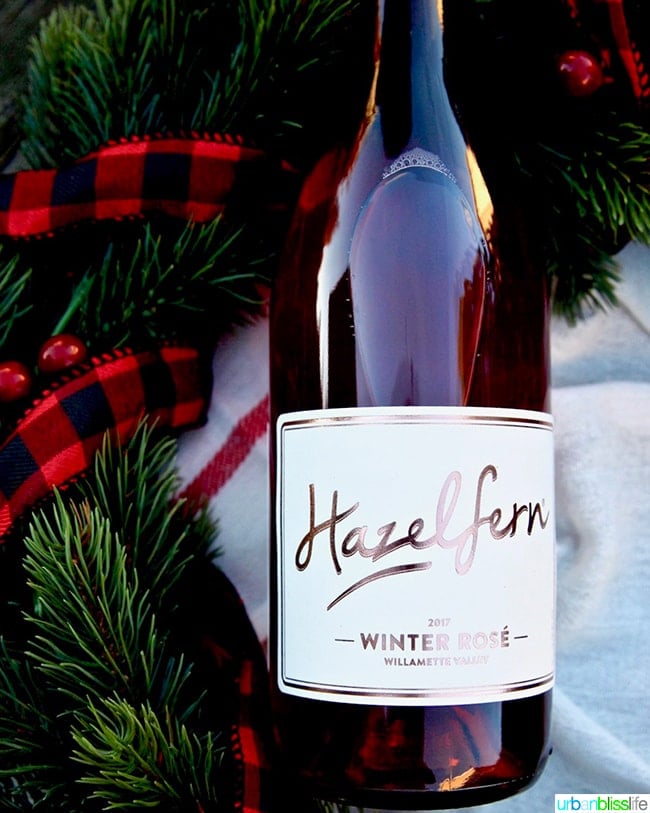 The 2017 Hazelfern Cellars Winter Rosé ($24)is a party in a bottle just begging to be let out. Hazelfern Cellars farms and produces this rosé specifically with winter food pairings in mind, so it's the perfect bottle of wine to buy as hostess gifts and to serve at your holiday soirées. It will stand up to hearty cold weather dishes like Pork Tenderloin with Blackberry Bacon Sauce or Cranberry Pomegranate Sticky Chicken Wines.
Hurry, though: Hazelfern Cellars wines sell out fast, and as of today, November 28th, there are only five cases of the 2017 Winter Rosé left!
2015 Maysara Winery Immigrant Pinot Noir: The wine gift that gives back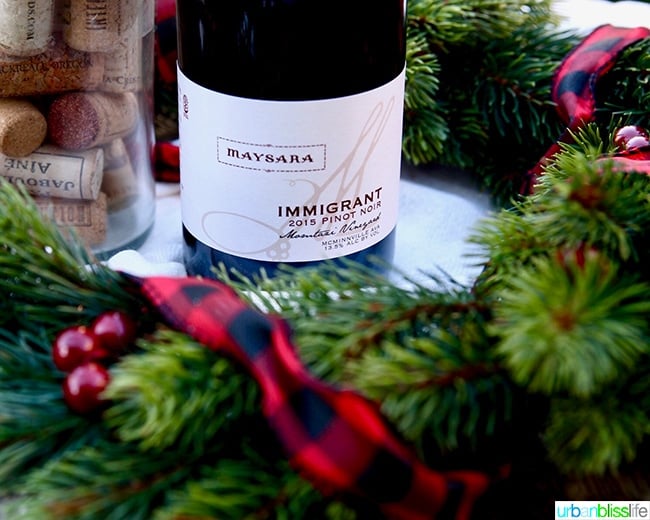 This next wine holds a special place in my heart. It's an incredibly delicious, beautifully done Oregon Pinot Noir, and makes an amazing holiday gift, yes; but it's also what this wine stands for that holds meaning.
The 2015 Maysara Immigrant Pinot Noir ($45) is made with estate grown grapes from their Momtazi Vineyard. In their words: "The 2015 Immigrant Pinot Noir is dedicated to all immigrants, including our own family members who risked their lives to escape and make it to America for the values of freedom and opportunity that this country stands for. Coming from many cultural background worldwide, immigrants have played an integral part in making America the great nation we call home." As the daughter of immigrants, I say: bravo, Maysara.
In this season of giving, it's the gifts that also give back that can mean the most. 33% of proceeds from sales of the 2015 Immigrant Pinot Noir will be going to Refugee & Immigrant programs servicing permanent residency, family based visas, low-cost immigration counseling and much more.
Tendril Extrovert Pinot Noir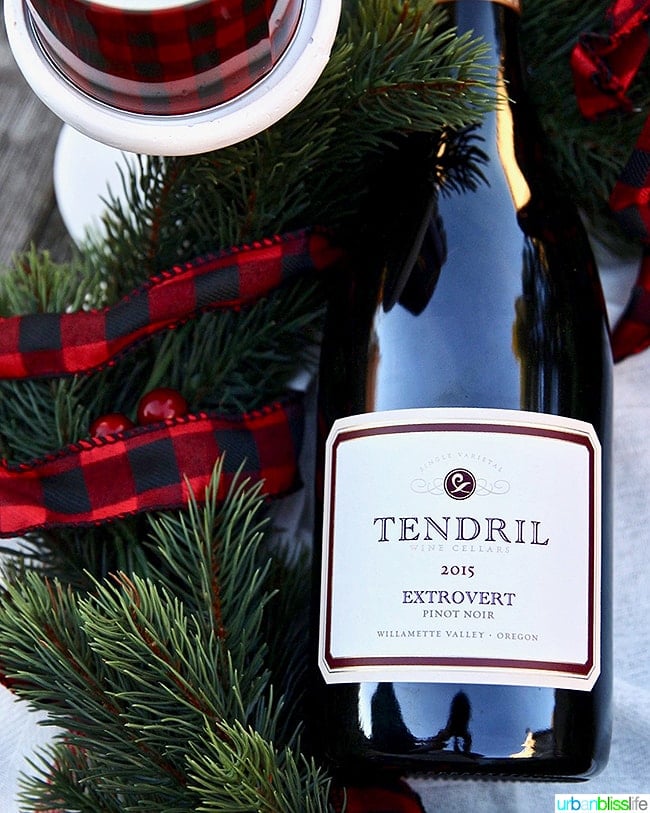 Winemaker Tony Rynders is one of the Willamette Valley's most talented winemakers, in my humble opinion. His Tendril Wine Cellars wines are made, as he calls it, "low and slow" - aged at least 16 months in barrel and then another 6-18 months more in bottle before release date. The result is a collection of exquisite wines that add harmony and grace to any holiday meal.
The just released 2015 Tendril Extrovert Pinot Noir is everything an amazing Oregon Pinot Noir should be: an elegant meeting of ripe raspberries and blackberries, smooth vanilla, and hint of herbs. Gift this to the true Oregon wine lover in your life, who will appreciate this beautifully crafted Pinot Noir.
Free Public canned wine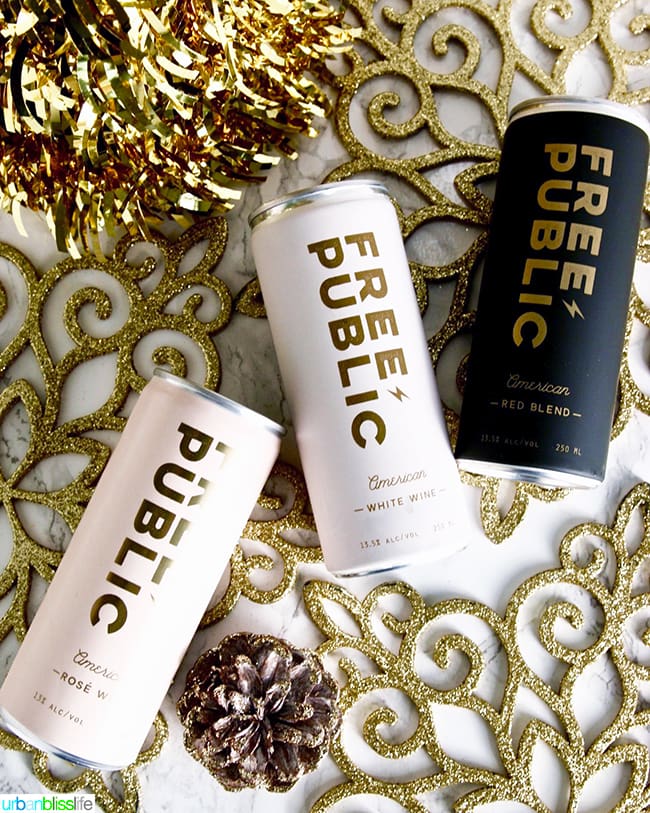 For the wine drinkers in your life who love to be on top of the latest trends, I suggest gifting a few bottles or a set of canned wine. Cans are perfect holiday gifts for friends who love going on outdoor adventures and camping. They're fun and convenient, easy to take hiking, golfing, or to your fave outdoor concerts (where outside alcohol is allowed, of course). There are so many options from which to choose these days - from Canned Oregon, Underwood Wine in a Can, Joe to Go, and Free Public.
I like all of these canned wines, but my 2018 canned wine pick for this holiday wine gift guide are Free Public wines ($14.99/3-pack) These sleek, thin 250 ml cans are sold in packs of three, and are beautifully packaged. Perfect for gift giving! Free Public Wines launched in Oregon in 2017, and are available in white wine, rosé, and red blend. I think the red blend is particularly wonderful to enjoy on chilly fall nights, outside by the fire pit, wrapped up in warm blankets, enjoying the stars.
Spirits & more
Got a cocktail lover on your gift list this year? I have one main liquor to recommend as a holiday gift this year, as well as a set of syrups and non-alcoholic mocktail mixes.
Laphroaig Select Single Malt Scotch Whisky: For the whisky lover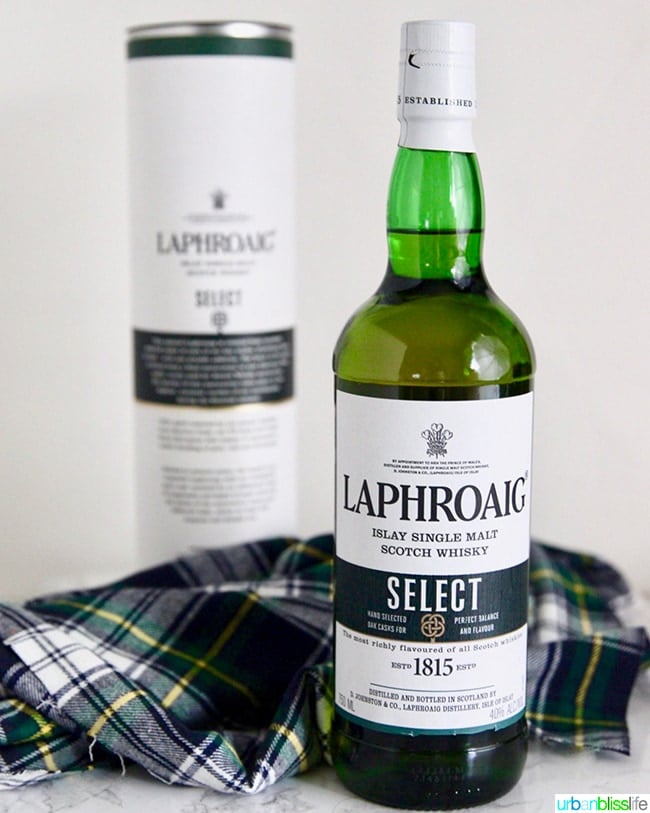 If you follow my Instagram Stories, you know that recently, I had the chance to attend a whisky pairing dinner with Laphroaig. Based in Islay, Scotland, Laphroaig makes a fantastic line of single malt scotch whisky. The Laphroaig Select ($45/750 ml) is an excellent gift to give the whisky lover in your life. It's made with Laphroaig Quarter Cask, PX Cask, Triple Wood, and 10-Year-Old together to create a subtle blending of peat, oak, and sweetness.
Raft Syrups: For the home bartender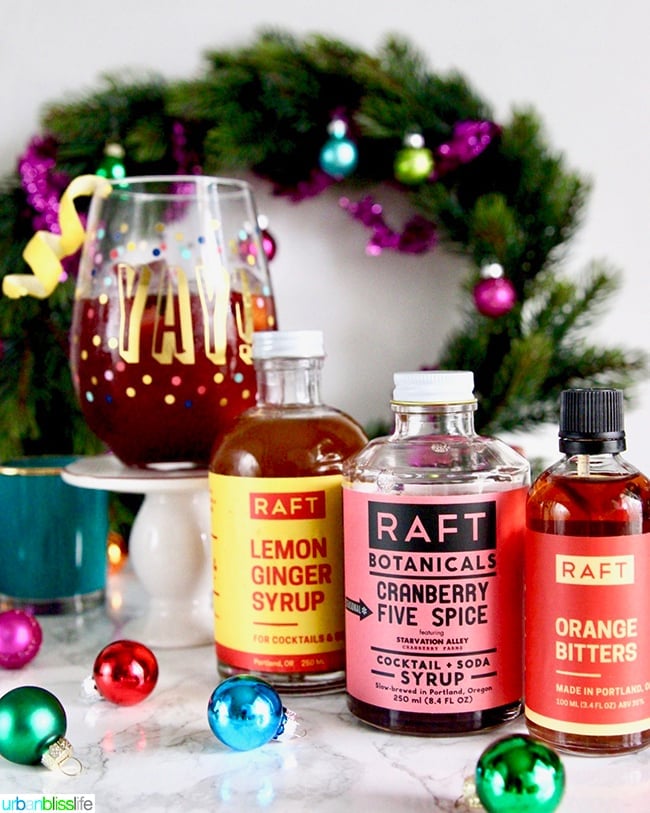 In addition to liquor, every home bar needs quality syrups and bitters in order to create the tastiest cocktails. Portland-based Raft Syrups makes a line of small batch syrups consisting of 100% organic cane sugar paired with natural, sustainable, and fair trade produced ingredients. You can mix these with soda water to create your own natural sodas, or use them to come up with delicious cocktails.
I recently tried the Raft Botanicals Cranberry Five Spice syrup with soda water and cranberry vodka. So festive, refreshing, and delicious! Prices vary, but syrups are $12-$15, and the bitters are $11 each. Choose a couple of syrups and a couple of bitters to put together your own customized holiday gift pack!
Mingle Mocktails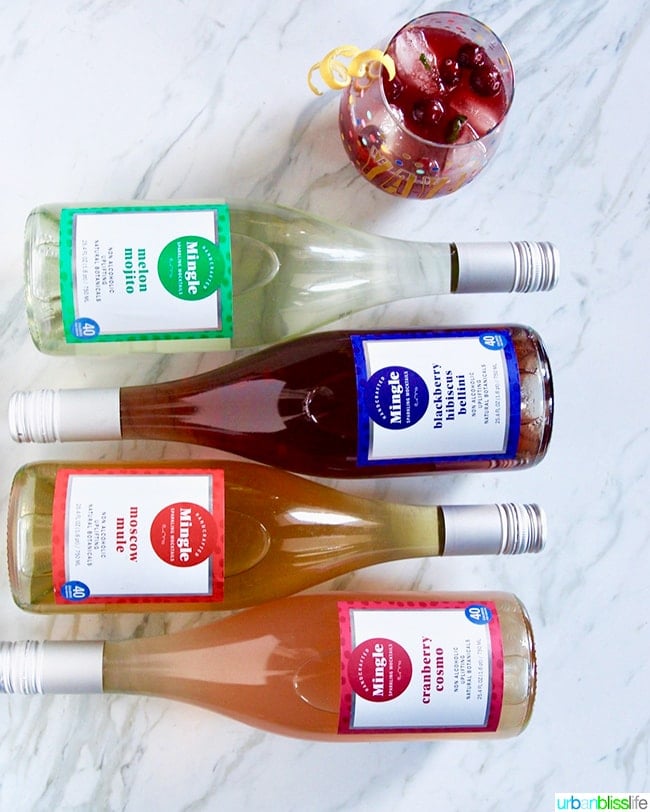 And for those on your holiday list who do not drink alcohol, it's Mingle Mocktails to the rescue. Now, I have to admit that I am not normally a fan of mocktail mixes because I find them to be way too saccharine sweet and sugary. I was SO happy to find that is not the case with these Mingle Mocktails!
Mingle Mocktails are made with natural and organic ingredients, organic cane sugar, and botanical blends to create flavorful, refreshing mocktails. You can gift these on their own and drink them as is. Or, if you or your holiday recipient DO partake in alcohol, pair them with your favorite liquors, syrups, and bitters to create amazing cocktails!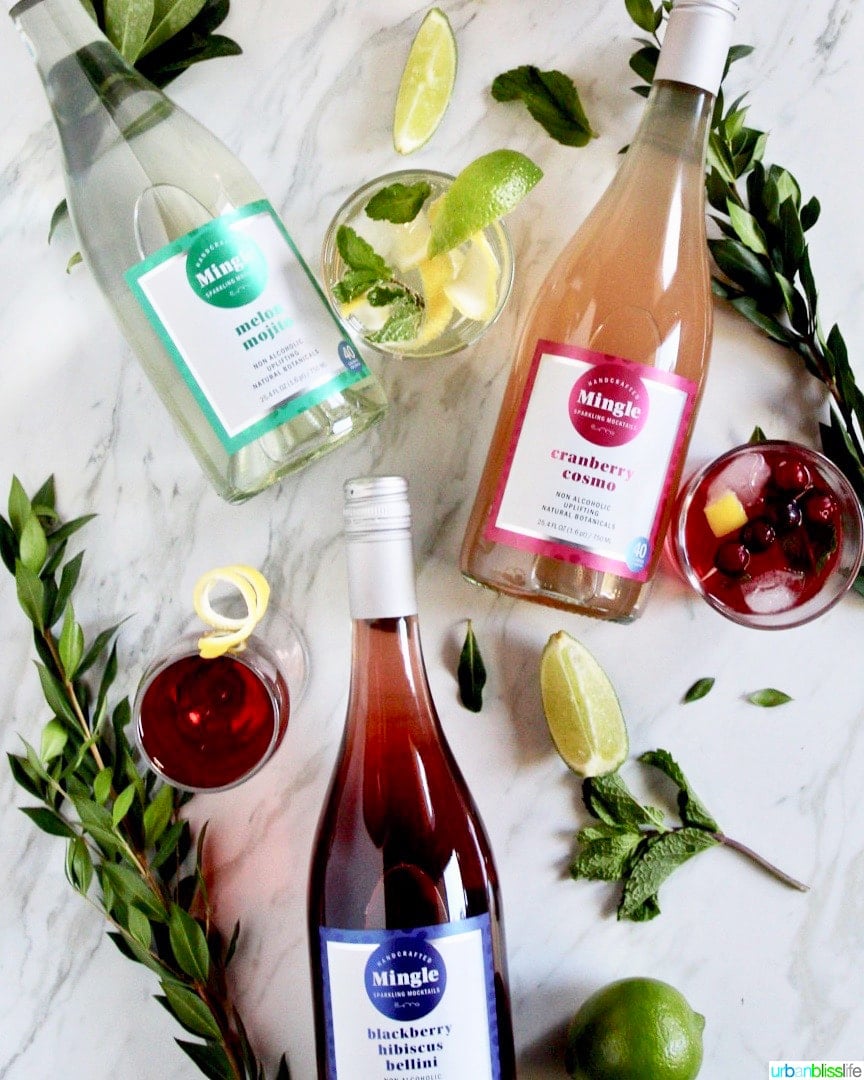 Mingle Mocktails currently come in four yummy flavors (they really are all yummy; I've tried them all!):
Blackberry Hibiscus Bellini
Cranberry Cosmo
Melon Mojito
Moscow Mule
I really do love these and think they make beautiful, thoughtful holiday gifts. I brought a few to Thanksgiving with me since most of my family doesn't drink (I know: I'm the wine-o in the fam!) and my mom, especially, loved them!
As a special treat, Mingle Mocktails is generously offering a discount code so YOU can try these for yourself -- as well as gift them to friends and family!
So there you have it! My 2018 Holiday Wine and Spirits Gift Guide with a few of my top beverage holiday gift picks for 2018.
Which ones would you most be interested in giving - or getting! - this holiday season?
Holiday gift guide for foodies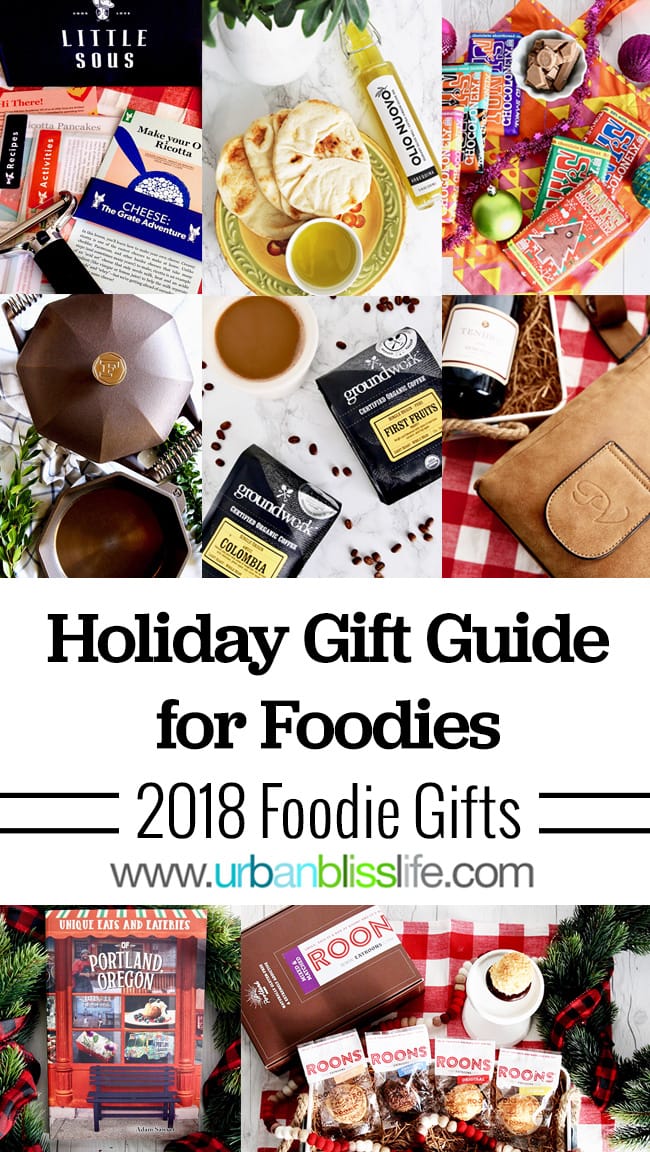 Don't forget to also check out my 2018 Holiday Gift Guide for Foodies!
Disclosure: I received some of the beverages featured in this post as samples, and purchased others. As always, all opinions and photos are my own.