Sloppy Joe Sliders are a fun and delicious way to enjoy a more delicious, lightened up version of a childhood cafeteria classic! Bonus: this can easily be made with pantry and freezer items you already have on hand!
If you went to public school in the 1960s through 1990s, you most likely need no introduction to Sloppy Joes.
This childhood cafeteria classic consisted of ground beef, onion, tomatoes, Worcestershire sauce, and a few other fixings. The filling was ladled sloppily between a hamburger bun.
It was messy, tangy, and filled you up. This was definitely a two-handed sandwich, plus countless napkins. It was ridiculous... and ridiculously satisfying.
The hungry person's sandwich: a Manwich
It was such a popular dish that in the 1960s, it was turned into a canned creation: Manwich. The overarching message of those television commercials back then was clear: if you are hungry and need a manly meal, you go for a Manwich.
Now, I don't see these two-handed, messy sandwiches on restaurant menus as much these days. I don't even think they serve them at schools for hot lunch anymore. All probably with good reason: as they were, they were not the healthiest of dishes.
So I've lightened them up a little with this recipe. If you're hungry for a little nostalgia, but you don't necessarily want the fat & calories of the original, try my version in sliders form!
Sloppy Joe Sliders
These Sloppy Joe Sliders:
have a rich, tangy sauce
are easier to eat than full-size Sloppy Joes
are made with ground turkey instead of the original ground beef/ground pork of the past
have more heart healthy veggies in them than the classic
can be made into true indulgent comfort food by adding shredded cheese to the top of the filling
These can also be made with simple pantry & freezer staples you likely already have on hand: ground meat, canned tomatoes, ketchup, spices, frozen carrots and red peppers, onions and garlic.
How do you make Sloppy Joe Sliders from scratch?
Making Sloppy Joe Sliders from scratch is super easy!
Simply sauté the onions, garlic, red peppers, and carrots. Add the ground meat and sauté until cooked through. Sprinkle in the spices and stir. Add the tomatoes, tomato paste, red wine vinegar, Worcestershire sauce, water, and brown sugar. Stir, and then allow those beautiful ingredients to simmer together for about 20-25 minutes.
Taste the filling regularly during this time and adjust the spices to your personal preference.
Scoop onto Hawaiian rolls and gobble up!
How much hamburger do I need for Sloppy Joes?
Traditional Sloppy Joes call for ground beef and/or ground pork. For this lightened up version, I use ground turkey. We almost always cook with ground turkey in my house.
You will need one pound of ground turkey to make these sloppy joe sliders.
What should I serve with Sloppy Joe Sliders?
These meaty, rich Sloppy Joe Sliders go well with so many side dishes and salads. Because they're so filling on their own, opt for a lighter side dish that won't compete with the big bold flavors of Sloppy Joe meat.
Try serving one or two of these recipes as side dishes with the sliders: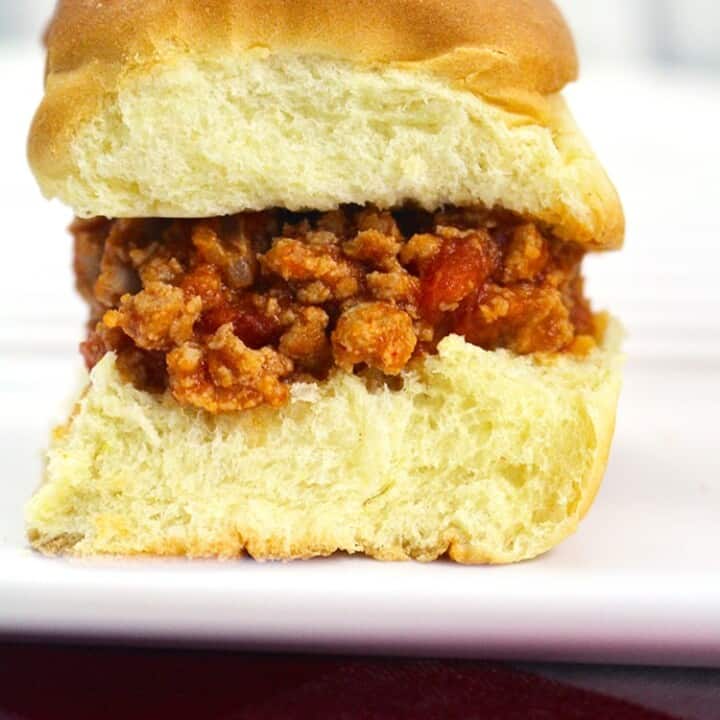 Sloppy Joe Sliders
Sloppy Joe Sliders are yummy hand-held bites packed with flavorful Sloppy Joe meat!
PRINT
PIN
RATE
Ingredients
1

loaf of Hawaiian Rolls

12 rolls

1

tablespoon

olive oil

½

medium yellow onion

finely chopped

½

cup

carrots

finely chopped

1

red bell pepper

finely chopped

1

garlic clove

minced

dash of salt

1

pound

ground turkey

1

teaspoon

ground paprika

½

teaspoon

chili powder

1 14.5-

ounce

can diced tomatoes

1 6-

ounce

can tomato paste

1

tablespoon

red wine vinegar

1

tablespoon

Worcestershire sauce

¼

cup

water

¼

cup

packed brown sugar

salt and pepper to taste
Instructions
Preheat oven to 350 degrees.

In a large skillet, heat olive oil over medium heat. Once pan is hot, add onion, carrots, pepper, and garlic. Lightly salt and sauté for 2-3 minutes until onions are soft and slightly translucent.

Increase heat to medium-high, then add the ground turkey. Use a wooden spoon to stir and break up into smaller pieces while cooking until the meat is lightly brown with no pink visible, about 3-4 minutes.

Add ground paprika and chili powder, then stir to mix the spices well into the ground meat and vegetables.

Add diced tomatoes, tomato paste, red wine vinegar, Worcestershire sauce, water, and brown sugar. Stir gently to combine all ingredients and cook at this heat for 1 minute.

Reduce heat to low-medium and simmer for 20-25 minutes, just until the flavors permeate throughout all of the ingredients and the sauce has slightly thickened.

Meanwhile, halve Hawaiian rolls and place onto a baking sheet. Bake at 350 degrees for approximately 5 minutes, just until lightly toasted.

When the meat mixture is done, scoop heaping spoonfuls onto each roll. Serve immediately.
Notes
Best way to add cheese to Sloppy Joes: place bottom bottom halves of slider rolls onto a baking sheet, top with the cooked meat, then sprinkle on shredded cheese. Place tops of slider rolls on baking sheet. Bake at 350°F just until cheese has melted, about 3-4 minutes. MAKE AHEAD: Make the meat and refrigerate overnight. When you're ready to serve, remove the meat from the refrigerator and heat in a saucepan or microwave before making the sliders and serving.
Tried this recipe?
Please leave a star rating and comment! Then snap a pic of your dish and share it on social media. Tag @UrbanBlissLife and #UrbanBlissLife!
Nutrition information is a general estimate. Actual nutrition details may vary depending on the exact foods & brands you use to make this recipe. It does not take into account any substitutions, toppings, or optional ingredients.
PIN IT: