Celebrate National Rosé Day on June 10, 2017 with these 12 refreshing spring-to-summer wines.
Viva la weekend, sweet food, wine, and travel-loving friends!
Looking for the right wine to celebrate? You want a refreshing summer sipper that sings of the luscious ripe strawberry and raspberry flavors of the season. You want a wine you can serve with food, or simply enjoy on its own – one that's perfect for an afternoon or evening soaking up the sunshine outdoors with good friends. You want a rosé, and I have just the wines for you!
Tomorrow, Saturday June 10th, is National Rosé Day in the United States. To help you celebrate the occasion, I've hand-picked a dozen rosé wines to try.
Jump to:
What is rosé wine?
Rosé wine has exploded in popularity over the past few years. You'll notice the rosé section growing on store shelves not only in the United States, but across the globe. In fact, rosé wine has recently surpassed white wine sales in France.
The color of the wine you are drinking comes from a process called maceration, which is when the juices of the grapes have contact with the skin of the grapes. Much like nervous parents watching over their adolescent child on his/her first date, winemakers only allow the juices to have little contact with the grape skins in order to create rosé wines. Once the wine reaches a color that makes the winemaker happy, the skins are removed and then the juice ferments.
A dozen rosés for National Rosé Day
Here are my picks for the best rosé wines to try for National Rosé Day 2017.
Hazelfern Cellars Rosé of Pinot Noir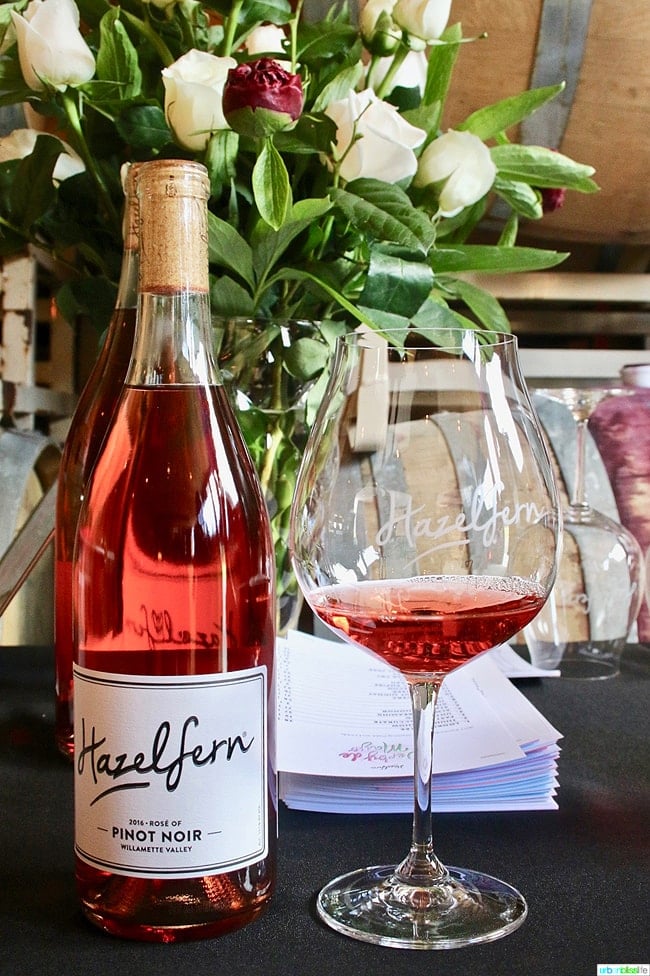 I love that Hazelfern Cellars in Newberg, Oregon offers both a winter rosé and a spring rosé. I had the chance to try their spring 2016 Hazelfern Cellars Rosé of Pinot Noir ($22) at their Derby de Mayo party this year. This 100% Pinot Noir rosé is aged for 6 months in 100% stainless steel. It bursts with bright strawberry flavors and floral aromas. It's fantastic on its own, but Hazelfern also served it in an amazing summer sangria.
Ponzi Pinot Noir of Rosé
If you follow this blog, you know that my husband and I have been fans of and club members of Ponzi Wines for more than a decade. Their Pinot Noir releases are always reliably delicious, so it's no surprise that the 2016 Ponzi Wines Pinot Noir Rosé ($22) is a hit in our book as well. This stellar vintage is a very food-friendly rosé. It opens with a a light floral and vanilla nose and then hits you with a zingy, bright blood orange and strawberry flavor. With minimal residual sugar, it's a clean, dry rosé that would go well with salmon, cod, or a big bold bowl of paella.
Maryhill Winery Rosé of Sangiovese
(pictured here is the 2015 rosé)
Everyone should have one rosé wine that is their Go To grocery store, great value rosé. For me, it's Maryhill Winery 2016 Rosé of Sangiovese ($16); I can usually find it at my local Safeway/Kroger store for under $10 per bottle! But the beauty is that it drinks like a much higher priced rosé. Made in stainless steel with 100% Sangiovese grapes, this rosé has a rich, deep pink color. It tastes of fresh summer fruit: strawberries, peaches, watermelon.
Quady North Rosé
At the Pour Oregon event this spring, I was intrigued and fell pretty hard for the Quady North Rosé ($16), made in Southern Oregon. While most Oregon rosé wines are made with predominantly Pinot Noir grapes, this Rogue Valley rosé doesn't contain any. It is a unique blend of 48% Syrah, 42% Grenache, 9% Mourvèdre, and 1% Counoise. This gives it a complex combination of flavors that dance in your mouth and take turns leading with each sip; bright and summer berry-filled one sip and then big and hearty the next. I love this wine with classic barbecue dishes.
Rain Dance Vineyards Rosé
A newer player in the Oregon wine scene, Rain Dance Vineyards, has produced a well-balanced rosé that represents all of the flavors and aromas of a traditional Oregon rosé. Made with 100% Pinot Noir grapes, Rain Dance Vineyards Rosé ($22) offers the classic rosé signature strawberry, watermelon, citrus zest winning trio of flavors. Being newer to the scene compared to other Oregon wineries, they've only produced 81 cases of this wine. You can purchase bottles online or at their tasting room in Newberg, Oregon. I can't wait to visit their tasting room later this month - they have two adorable estate llamas!
Stoller Estate Rosé
Stoller Family Estate is also a winery where we've been club members for several years, and their rosé is always a reliable summer staple. The Stoller Family Estate Pinot Noir Rosé ($25) is bright and floral on the nose with classic summer fruit flavors. I can attest this is a rosé that is absolutely perfect for enjoying well-chilled on its own with good friends on your porch or patio.
Van Duzer Rosé
I've long known Van Duzer Vineyards for their stunning Pinot Noir wines, but have recently discovered the Van Duzer Vineyard Rosé ($20). This rosé is a delightful sunshine sipper, bursting right out of the gate with the deliciousness of fresh strawberries, raspberries, and pomegranate. I taste a bit of crisp summer melon flavor as well toward the back of the tongue. It's a wonderful, bright rosé to enjoy with your summer picnic food, like fruit medley salad, my melon & prosciutto caprese salad, or shrimp ceviche.
During my travels working on an Oregon Wine Month story for
Travel Oregon
, I had the pleasure of finally visiting
King Estate Winery
in Eugene, Oregon. They had *just* released their 2016
King Estate Rosé
, and it was absolutely ideal for sipping on their award-winning restaurant terrace on the first (finally!) sunny day of spring after a long wet rainy season. This rosé is not even on their website yet as of press date, but you can find it at their winery and possibly at your local wine shop now. It is a bigger, bolder rosé than typical Oregon rosés, made with grapes from four distinct mountain blocks on the estate.
Gilbert Cellars Rosé
During a Yakima Craft Beverage Tour that I took last spring, I fell madly in love with the Gilbert Cellars Wahluke Slope Rosé ($20). First, the color is so striking, and not what most people think about when they think of rosés: it's a stunning coral hue that looks like it belongs on an elegant ball gown. While it is a floral rosé, the Mourèdre grapes give it some weight and hints of white pepper and grapefruit. I'd pair this elegant wine with my poached halibut or ahi tuna crisp appetizers.
Domaine Divio Rosé
Recently, I had the pleasure of attending a winemakers media dinner at Domaine Divio, a beautiful winery and vineyard in the smaller Ribbon Ridge AVA of Oregon. Their 2016 Domain Divio Rosé is such a lovely wine: crisp with just enough touch of sweetness to it. I ended up buying a few bottles because I know these will sell out fast! Right now, you can only buy this in their tasting room, and if you're in the area, I highly suggest a visit.
Durant Vineyards Rosé
The 2015 Durant Vineyards Rosé ($25) is still available and you should get it before it's gone! A beautiful color of rosy pink, this 100% Pinot Noir (Pommard clone) rosé sings of bright summer berries and soft floral notes. It is refreshingly crisp and dry, with a long finish that pairs well with grilled chicken, salmon, and summer veggies.
Three Otters Rosé
(pictured here is the 2014 Three Otters Rosé)
Made by Fullerton Wines, the 2016 Three Otters Rosé ($20) has a beautiful bright acidity that lends itself well to enjoying on a hot summer day. A well-balanced wine, with watermelon, citrus, and strawberry notes, I have found that this is a rosé that most wine lovers enjoy.
Wrap up
There you have it: a dozen fresh rosés for you to try on National Rosé Day June 10, 2017. I love these wines, and think you will be able to find at least one in this delicious dozen that YOU love too! Happy National Rosé Day!
Have you tried any of these? What is your favorite rosé wine?
More food and wine ideas
Where to Eat & Drink in Amsterdam
Helicopter Ride over Paradise: Oahu, Hawaii
5 Family-Friendly Activities in Victoria, BC Canada
Trinity Restaurant in New Orleans
Hazelfern Cellars Girls Club Pop-Up Dinner
L'Ecole Winery - Walla Walla, Washington
Rodney Strong Vineyards - Sonoma California
Disclosure: I received many of these wines as media samples, Van Duzer Vineyards is a client of mine, and almost all of these wines I have purchased on more than one occasion on my own dime as well. As always, all opinions and photos are my own.