Thank you JaM Cellars for sponsoring this post. Looking for Butter Chardonnay near you? Check out their easy-to-use Store Locator! Just pop in your zip code and the Butter will be waiting!
---
Fellow mothers of the world, let's have a bit of a heart to heart for a moment.
Are you feeling stressed out? Over-extended? Blissfully happy with your sweet little life but also barreling through it a mile per second and wondering where the pause button went?
Me too, mamas. ME. TOO.
But after all these years of Mom Bossing, I know: the pause button is always there, mamas. Somewhere between our work, our kids' school, sports and activities, between friends and spouses, somewhere buried beneath the massive mound of house responsibilities and volunteer efforts to be a good citizen and community member – therein lies the pause button.
It's always there, we just have to force ourselves to dig through sometimes to see it. And this Mother's Day (May 13 this year), I encourage you all to join me in hitting PAUSE.
Hit Pause, Fill Tank, Begin Again
What do you do to ensure you actually TAKE some pause button time for yourself this Mother's Day?
One of the things I've done regularly now for the past two years is to make time in my schedule to work out. I know: it's HARD, and it seems impossible, and there are a million excuses. But you CAN do it, mamas! Find a supportive gym with awesome trainers who feel supportive and non-judgmental, go for walks with friends, dance around the kitchen - just get moving, and you'll be amazed at what a difference it makes to your energy and positive outlook.
Another thing I strive to do to help me hit that seemingly elusive pause button is journaling. Even if it's just a list or short paragraph, the simple act of writing – with one of my favorite colored gel pens to match my mood, because I'm an office product freak like that – helps me shake off the madness of the day and re-focus.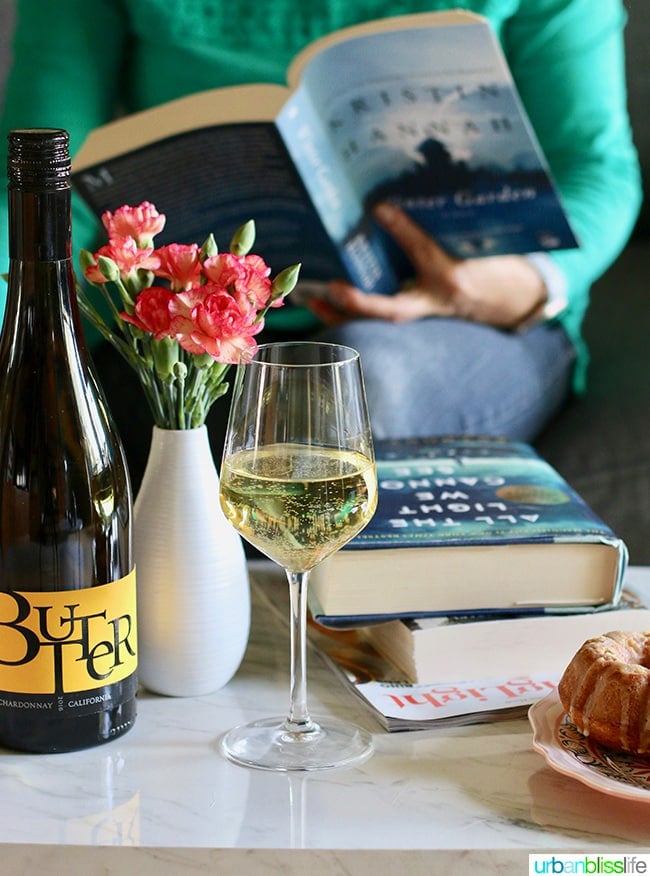 I also try to read for fun, and not just for work, which can be quite a challenge since most of the reading I tend to lean toward also has a work slant to it (as I stare at my cookbooks longingly). But then, that makes it work, right?
So I have a massive, ginormous, ridiculous MOUNTAIN of to-be-read nonfiction books on my nightstand and throughout the house. Even if I just read a page or two (seriously: sometimes that's the MOST I have time for in a week!), that simple break from the grind helps both energize and calm me at the same time.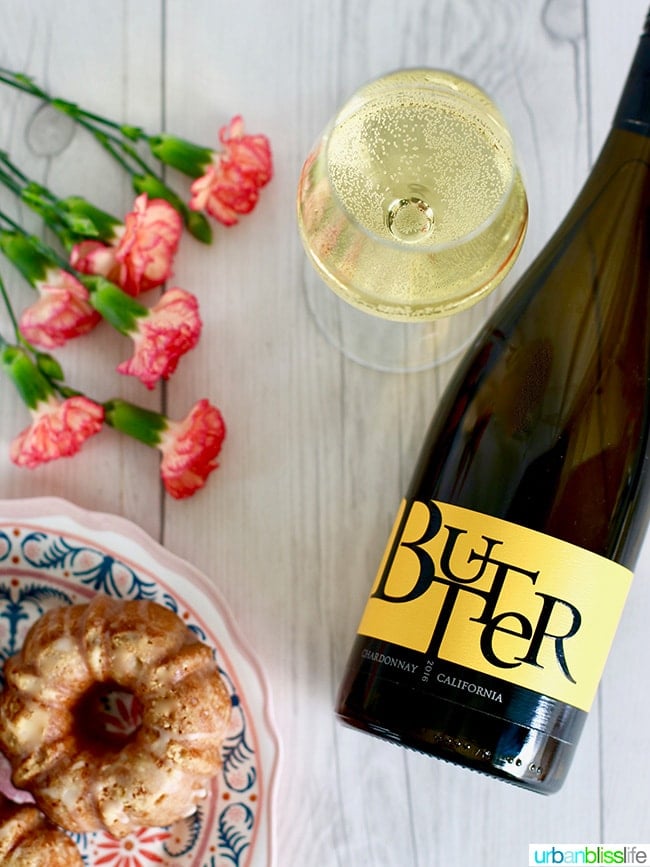 And of course, as most of you know, the activity that gives me great joy and pause from the busyness of the day, is time spent in the kitchen – for fun, and not for work (although that IS fun too, and why I do this work!).
Mother's Day Butter Chardonnay + Cake
Recently, I made Mini Citrus Bundt Cakes that were a HUGE hit with the whole family, and I wish I could gift them to all of my mama friends across the globe. They're so tasty, and go well with another mama pause button classic: a good buttery Chardonnay.
(The recipe for these delicious Mini Citrus Bundt Cakes will be on the blog tomorrow! I cannot wait to share this new cake recipe with you!)
Mama wine time - whether a glass after dinner or a bottle shared between mom friends - is one of my personal fave ways to hit the pause button.
While my family devoured the citrus bundt cakes, I hit the pause button one day and enjoyed some slowed-down, leisurely Me Time with a delicious, sweet mini cake with a glass of this beautiful Chardonnay.
Everything's Better with Butter
JaM Cellars makes this luscious, creamy Butter Chardonnay. It's big and bold (just like you!), and the slight citrus and vanilla notes are great with any citrus dessert. So yummy!
If you love a big California Chardonnay, you will love this wine. It is a fun wine to share with a mom friend who also needs a reminder to hit the pause button now and then!
Sometimes, we do need those reminders from others. I am so grateful to have circles of lovely mom friends who help me remember to hit the pause button – whether it's to workout together or to enjoy some wine and cake. I hope you'll keep my reminder message here to press the pause button in mind the next time you feel stressed out and over-extended.
Cheers to you, Mama!
To all of you who are mothers and soon-to-be mothers, I raise my glass of JaM Cellars Butter Chardonnay in a heartfelt toast.
Cheers to you, mamas! You run and run and run on love, grit, intelligence, and hope all day, and you are 150% worth that pause button each and every day.
PIN IT:
What do YOU do to help you hit the pause button on this crazy busy game of life?
---
I was selected for this opportunity as a member of CLEVER and the content and opinions expressed here are all my own.