If you're looking for the perfect holiday gift for the wine lover or cocktail aficionado in your life, you'll find it in this Wine and Spirits Gift Guide for 2020!
If ever there was a year the gift of wine or spirits were most appropriate, it's 2020.
According to Wine Vine Analytics, 1 million more cases shipped direct to consumer during the first half of 2020 compared to the same timeframe in 2019. The wine is definitely flowing this year, and local wineries are counting on our continued support!
I've split this gift guide into three sections:
The first contains wine clubs, spirits, and wine-related gifts.
The second contains wines that are perfect for gift-giving.
The third contains spirits that are perfect for gift-giving.
Jump to:
Wine clubs are a fantastic way to support your fave wineries and get regular shipments of wines you know you'll love. But what if you're wanting to expand your wine-iverse and try new wines on a regular basis? That's where clubs like Cellar 503 come in. This is a fantastic gift for the wine lover in your life! Each month, they'll get 2 or 4 bottles from small artisanal Oregon wineries from the state's 21 wine regions. Cellar 503 also offers one-time and short-term gift memberships, perfect for the holidays.
PRICE: $45 to $55 per month for 2 bottles + $19.99 shipping per order for the continental United States; $49.99 for Alaska and Hawaii. Portland pick-up: $5.
These are my absolute favorite wine glasses. They are meant for, and are perfect for, Champagne. Any wine lover in your life would love these beautiful glasses!
PRICE: $52 (Set of 4)
Every wine lover, especially those who like to cellar wine, needs a Coravin. This system is used in wine tasting rooms and restaurants all around the globe. In essence, the Coravin allows you to pour just a small amount of wine at a time without uncorking the whole bottle, which lets you enjoy that bottle for weeks, months, or even years.
How it works: a specially-designed coated wine needle pierces gently through the wine cork, allowing you to pour wine both quickly and smoothly. Argon gas, an inert gas used in the wine-making process, then enters the bottle protecting the remaining wine from oxidation.
The Coravin Model Six Advanced Wine Bottle Opener and Preservation System comes in different colors, and comes with three capsules to get you started.
PRICE: $399
For the wine lover world traveler, there are suitcases specifically built to hold up to one case of wine. These VinGardeValise are specially designed to ensure the amazing wines you discovered on your travels make it back safely, so you can open the wines at a later date and look back fondly on those adventures.
For the wine lover who loves to travel, gift this beautiful Sparkling Champagne candle. Fernweh Editions is a new company that crafts candles inspired by food, wine, and travel. The scent is subtle and sophisticated, and I love how the elegant design and packaging can look beautiful in any home.
Holiday Wine Picks
A well-chosen bottle of wine can be an incredibly thoughtful and personal gift. Here are my personal picks for wines to give this season.
Dusky Goose Chardonnay
DUSKY GOOSE WINERY - It is rare - VERY rare - that I fall head-over-heels in love with a Chardonnay. I enjoy Chardonnay, sure, but the 2016 Dusky Goose Oregon Chardonnay hit my tastebuds in all the right places and I am forever dreaming about this Chardonnay. Wine Enthusiast agrees and awarded this particular wine 96 points.
This is a silky Chardonnay, with lemon and pear notes that are softened by undertones of vanilla and honey. It's a truly elegant white wine that's perfect for holiday gatherings, Sunday dinners with roast chicken, and busy Wednesday night cheese board noshing.
Lenne Estate Pinot Noir
LENNE ESTATE WINERY - I was introduced to Lenné Estate this summer, and I can't stop thinking about their Pinot Noirs. They are elegant, luscious, complex wines that have the potential to age for quite a while.
My two favorites are the 2018 Jill's 115 Pinot Noir and the 2016 South Slope Pinot Noir. The latter is a blend of Pommard and Dijon Clone 115, and is a velvety, smooth, and beautifully balanced red wine with a long finish.
Bells Up Winery wines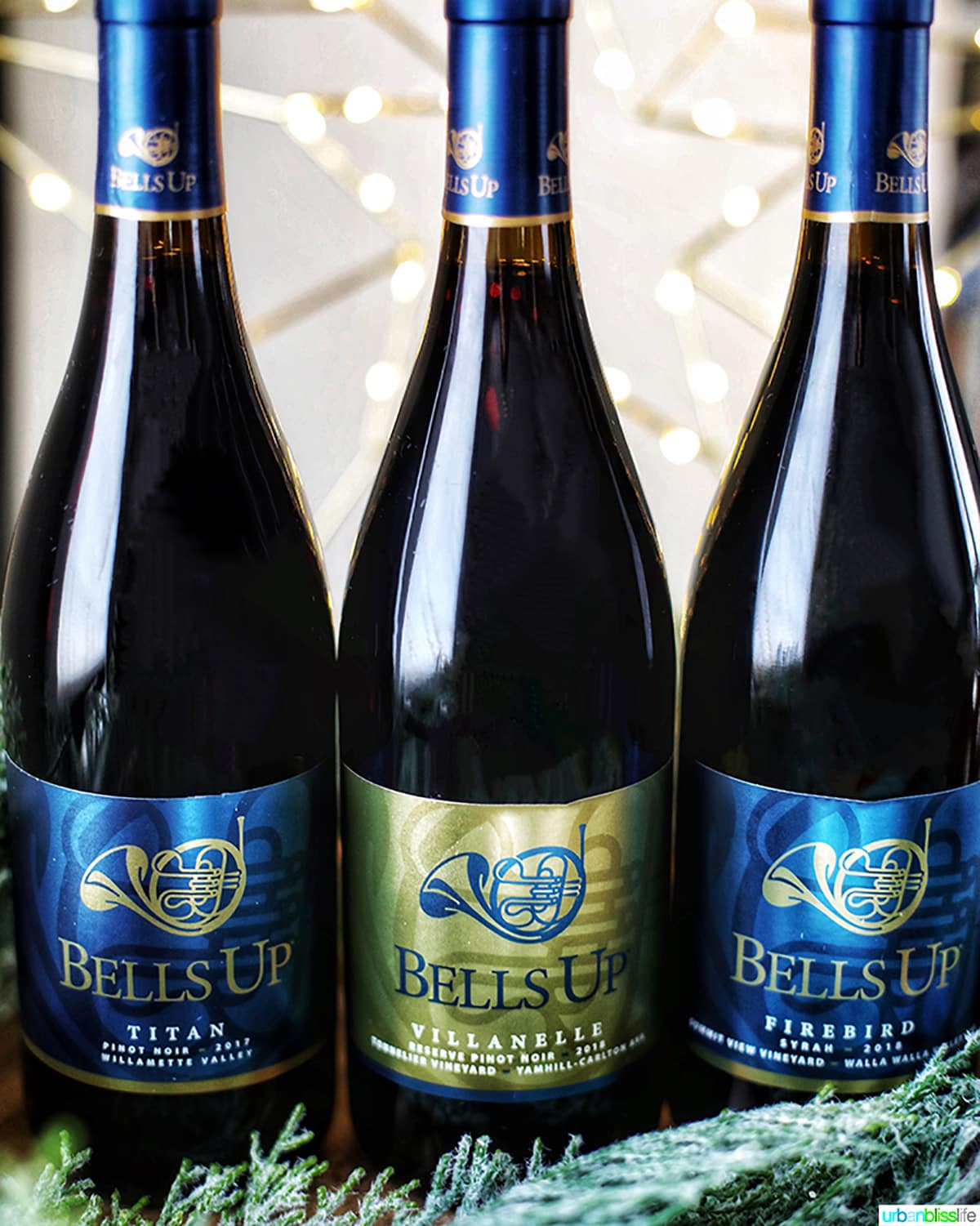 BELLS UP WINERY - One of my favorite boutique wineries in the Willamette Valley makes some fantastic Pinot Noir, Pinot Blanc, Syrah, and Rosé wines. My faves are the three pictured above: the Titan Pinot Noir, Villanelle Pinot Noir, and the Firebird Syrah. Consistently well-balanced, thoughtfully blended wines that are perfect for your holiday meals!
Currently, they have 2018 Titan and 2018 Candide Pinot Noirs in stock, and a few 2017 Titan Pinot Noir bottles still available. They currently ship throughout the US (except Utah and Kentucky).
You can browse their current wine selection online and then call 503-537-1328 or email info@bellsupwinery.com to place your order.
Brooks Winery Extended Tirage Sparkling Riesling
BROOKS WINERY - With arguably one of the most diverse wine portfolios in the Willamette Valley, you can count on Brooks to constantly draw outside the lines of conventional winemaking – and create masterpieces. There is a Riesling here for every type of wine drinker out there, as well as interesting Pinot Noir made in several styles. Plus, the tasting room is gorgeous and they have one of the best in-house chefs who creates consistently delightful menus.
The latest and greatest wine that I recommend adding to your gift giving list: the 2016 Extended Tirage Sparkling Riesling. Aged on the lees for 44 months before disgorgement, this is a bone-dry sparkling Riesling with bright aromas and flavors of citrus and tropical fruits. This is a wonderful wine to give to the food and wine lover in your life.
Walla Walla Wines
WALLA WALLA WINES - I'm really missing our annual trip to the Walla Walla wine region this year, but lucky us, we can all still enjoy these delicious wines from the comfort of our homes! And to make it super duper easy for all of us, Walla Walla has a helpful Wine Online Buying Guide .
You can find more Walla Walla wines to love in my Washington wine guide. In this holiday gift guide, I've selected four to consider:
Tranche Cabernet Sauvignon ($50) - This rich, full-bodied Cabernet Sauvignon has smooth tannins and a long, elegant finish. Perfect for the wine lover who likes to cellar wines or to enjoy over the holidays. (Note: the 2017 is pictured above, but the 2015 is the one available online)
Brook & Bull 2018 The Silent Ode ($48) - Fantastically complex, The Silent Ode is a brooding rich red blend of 50% Cabernet Franc, 20% Malbec, 20% Cabernet Sauvignon, and 10% Petit Verdot. Dark fruits and sour cherries mingle with herbal notes, with strong hints of smoke and stone.
Chester Kidder 2016 Red Wine ($60) - Another beautiful blend, the Chester Kidder has big aromas and flavors of dark berries and spice. A blend of 68% Cabernet Sauvignon, 26% Syrah, and 6% Petit Verdot.
Rôtie Cellars 2018 Northern Blend ($48) - This is a deep, earthy, unique blend of 95% Syrah and 5% Viognier, that is co-fermented. With soft black fruits and smooth tannins and a hint of floral aromas from the Viognier, this is a beautiful red wine to gift to any wine lover on your list.
Brut Rosé
MCBRIDE SISTERS WINERY - I love the story of these two sisters from different continents who teamed up to create this winery. My fave wine: the McBride Sisters Sparkling Brut Rosé. Big, bright strawberry and raspberry on the nose and the palate with lively acidity. Perfect to pop open for the holidays, but at under $20 a bottle, this is a great everyday celebration wine!
Spirits Gift Guide 2020
Question: If 2020 were a cocktail, which cocktail would it be?
Answer: All of them. All the cocktails. All the time.
This year, distilleries have stepped it up even more, with increased unique flavors, meticulous processes, and absolutely gorgeous packaging. Here are some gifts that will make the cocktail lovers in your life very, very happy.
Brandy
I'm a bourbon girl, so I love anything with even a whiff of bourbon on it (hello Bourbon Pecan Pie and Peach Bourbon Grilled Chicken!). This Old Delicious Double Bourbon Barreled Apple Brandy from Hood River Distilling is a brandy that tickles my bourbon-loving tastebuds. Made with Pacific Northwest apples that are crushed, fermented, and distilled, this apple brandy is then twice rested in Kentucky Straight Bourbon Whiskey Barrels. That means a whole LOT of flavor, folks.
This is the perfect sipper for chilly nights, and also fantastic to cook and bake with. Gift it to a friend with a printed recipe for my Apple Whisky Hand Pies, or along with some bitters and a recipe for an Old Fashioned.
Find out where to buy this apple brandy near you.
Rum
A bottle of Callisto Rum will beautify any home bar. Look at this gorgeous bottle! And the contents are just as lovely.
Made from a base premium rum blend from the Caribbean, then aged and charcoal filtered, this botanical rum has 0% sugar with no artificial flavors or sweeteners. It's infused with California botanicals to create a dry, floral, smooth rum. Use this in Boozy Apple Pie Shots or in a daquiri cocktail.
Find out where to buy Callisto Rum near you or online.
Bourbon & Gin
Freeland Spirits is one of the only women-owned and women-run distilleries in the United States. And it's based in my hometown of Portland. And they make AMAZING spirits and fun gift packages. So how could I NOT include them in this year's gift guide?!
There are so many great gift options on the Freeland Spirits website. My recommendation for the cocktail lover in your life: the Perfect Pair (pictured above). This delicious duo includes a bottle of Freeland Gin and a bottle of Freeland Bourbon – two fantastic spirits to help anyone start a fabulous home bar, or to add to one's collection.
Vodka
First, if you've never been to the Pacific Northwest (what are you waiting for?!), head over to the Headwind Vodka website and behold Oregon in all its mountainous, coastal, sandy, forested green glory. The vodka itself is a delicious reflection of the Pacific Northwest. Made from gluten-free grain, it's six times distilled and then twice filtered.
This is a stellar gift to give to the Pacific NW outdoorsy cocktail lover in your life. The bottle itself is an understated and modern reflection of the down-to-earth PNW lifestyle. You can use it to make a classic Moscow Mule, or use it to make vodka sauce and pour yourself a shot to make while the pasta is cooking.
PIN IT:
---
Looking for foodie gift ideas?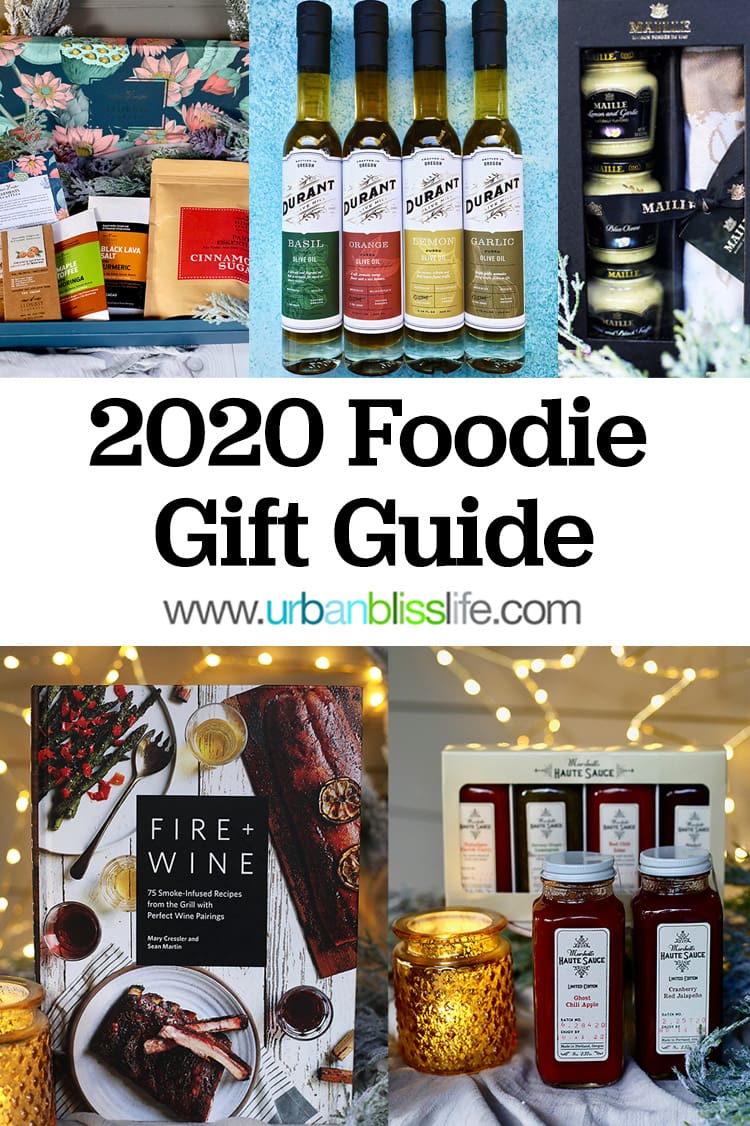 Head over to my 2020 Foodie Gift Guide!