Got a foodie on your holiday list? Check out our 2020 Holiday Gift Guide with specialty foodie gift ideas your friends and family will treasure all year long.
"People who love to eat are always the best people." The inimitable Julia Child was, as she often was, right on the money with this quote.
Gourmet gifts are always wonderful to give and receive. Whether you have foodie friends who love to cook, are learning to cook, or who simply appreciate good food, treat them to special gifts they can enjoy all year long.
For the chocolate lover in your life, gift them Elements Truffles. These organic chocolates, drinking chocolates, are filled with Ayurvedic superfoods and pure essential oils. They are ethically and sustainably sourced, and the company donates 25% of profits back into the holistic development of children in India.
PRICE: Gift packs ranges from $28 - $36
High quality olive oil is one of the most important items in a cook's pantry. My absolute favorite to cook with and to use as a dipping oil are olive oils from Oregon-based Durant Oregon. These are made in small batches and Durant makes single varietal olive oils as well as delicious fused olive oils. Trust me: your foodie friends will LOVE the gift of these delicious gourmet olive oils!
PRICE: $20 - $24
Marshall's Haute Sauce is a staple in Portland-area Farmers Markets, and in kitchens of home cooks throughout the PNW. Made in small batches by Sarah Marshall, all of the sauces are made without binders, artificial preservatives or dyes. They are also gluten free, vegetarian and vegan.
I adore the 4-pack of the four core sauce varieties: Habanero Carrot Curry, Serrano Ginger Lemongrass, Red Chili Lime, and Smoked Habanero Barbeque. Such a great foodie gift idea! For the more adventurous food lover in your life, gift the limited edition Ghost Chile Apple haute sauce (spicy!). Or gift the Cranberry Red Jalapeño - perfect for holiday cooking!
PRICE: $35 gift pack; $10 - $12 for individual sauces
I always say: Food is Love. And Felton & Mary's BBQ Sauce oozes with love - and a whole lot of delicious flavor. When a company is named after a couple known for the loving way they constantly fed their friends, family, and community, you know the goods are going to be just as warm and comforting.
Gift a foodie friend the Felton & Mary's BBQ Prayer Box - a set of four sauces.
PRICE: BBQ Prayer Box $38.99; individual sauces and rubs $7 - $10
This year, with more of us staying home than ever before, I discovered the beauty of Nicky USA meat boxes. We purchased their Family Box and was amazed at how much high quality local meat we received for just $79!
Recently, Nicky USA launched a new Game Day Tailgaters Box, full of everything you need for Game Day - and a lot more. It comes with:
- 4LBS of Nicky Farms NW Pork Back Ribs
- 5LBS of Beef Flanken Ribs
- 2LBS of Nicky Farms Pork Bratwurst
- 2-2.5LBS of Mary's Chicken Whole Legs (4 Whole legs total)+
- 2-2.5LBS of Painted Hills Flat Irons
All for just $89.99. They have a variety of meat boxes available, which are great to give to any meat eater in your life. Be sure to check out their a la carte Fire Sale options too to shop for individual items.
PRICE: $44.99 - $99.99 for meat boxes
Maille Mustard is the gourmet mustard of choice for many foodies, and has been a leader in luxury foods for 270 years. From their traditional Dijon mustard to specialty flavors to their line of balsamic vinegars, every Maille product I have ever tried has been divine. For an extra special touch, gift one of their mustards in a beautiful limited edition Maille sandstone jar.
SAVE 20% OFF: Use code URBANBLISSLIFE at checkout on the main Maille site - https://us.maille.com/ - and save 20% off now through December 13, 2020.
PRICE: varies
I've purchased a LOT of cookbooks this year and decided to just put one in this year's foodie gift guide. Oregon-based Mary Cressler and Sean Martin have published a thoughtful collection of 75 mouthwatering smoke-infused recipes from the grill with perfect wine pairings. It's a beautifully photographed cookbook, and includes some helpful tips with step-by-step photos, such as How to Construct a Crown Roast and Butterflying a Pork Loin. I always really appreciate how these two also do a great job of breaking down the different cuts of meats. There's also a helpful section on different wine styles and understanding basic elements of wine and food pairing.
PRICE: $19
Another Portland favorite: Steven Smith Teamaker teas. If you have someone on your list who drinks tea, these are THE BEST teas I have ever enjoyed at home and during my travels around the world. I love them so much, and know your tea enthusiast will, too.
Smith Teamaker recently released a new Wellness line, with Golden Light (turmeric), Soothe Sayer (peppermint), and Lullaby (lavender) teas. If you know of someone who has trouble sleeping at night, the Lullaby tea is a deliciously calming tea. I swear by it. And Soothe Sayer is perfect for those days when I'm feeling a little run down.
Black teas I recommend from Smith Teamaker: Lord Bergamot, Portland Breakfast, and British Bunch. I'm gifting some tea packs to friends around the globe this year. Shh: don't tell!
PRICE: $13.99
This Holiday Roast from Portland Coffee Roasters smells and tastes like the best dark chocolate in coffee form. The beans come from Mexico's Oaxaca region, which is known for its ideal coffee-growing climate due to its high altitude and humidity level. I love this coffee - it's a lovely way to start the day!
And, for every 12-ounce bag sold, Portland Coffee Roasters will donate $1 to Food4Farmers, a nonprofit organization that supports coffee-growing communities in Latin America by cultivating local solutions to food insecurity. So you can give the gift of delicious coffee that gives back to the communities that make the coffee! And isn't the spirit of giving really what the holidays are all about?
PRICE: $17
For those on your list with a bit of a sweet tooth, you can't go wrong with the holiday selection of yummy gifts from Walkers Shortbread. This company has been making iconic shortbread cookies and treats since 1898. They're a true classic, and I love all of the different varieties of gift packs they have available on their website. From great stocking stuffers like the Mini Festive Stars Shortbread package ($3.99) to lovely keepsake Gingerbread House Tin full of gingerbread cookies ($17.99), there's surely something for everyone here.
SAVE 15% OFF when you order online between now and December 15, 2020, with code 15HOLIDAYS.
Give the Gift of Take-Out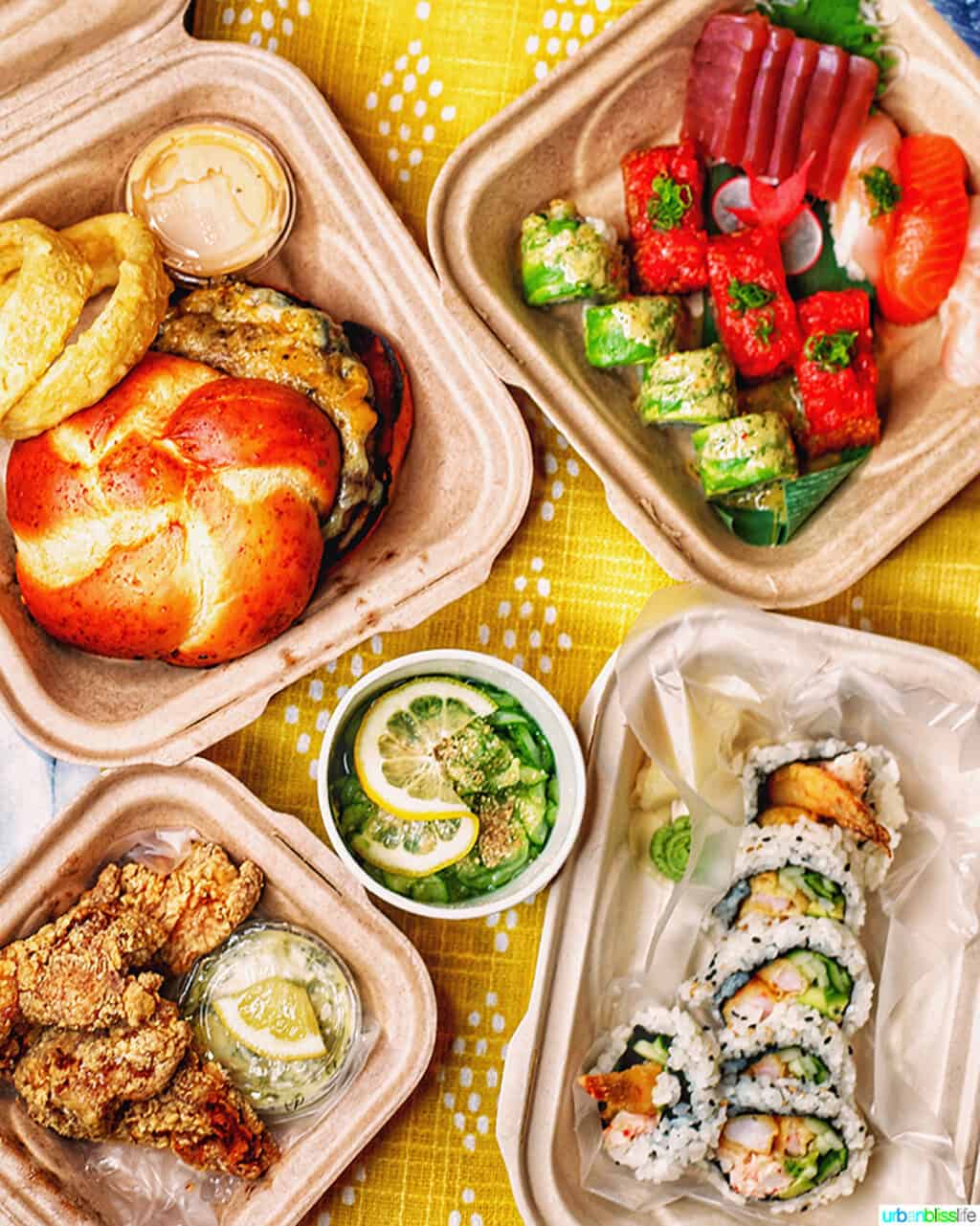 All across the country, restaurants are suffering. Two easy ways to help support our local restaurants: order take-out and buy gift cards.
No matter where your friends and family live, you can find restaurants in their area. If you know they will be in town, order surprise take-out for them. Or, even better yet, buy gift cards to their favorite local restaurants.
If you're in the Portland, Oregon area, consider supporting these great restaurants:
Looking for a place to eat and drink in Portland, Oregon? Be sure to read the full Urban Bliss Life Portland Restaurant Guide!
2020 Top Kitchen Essentials
If you've got a kitchen gadget geek in your life, consider gifting one of these top kitchen essentials. Personally, I use my Ninja Foodi and also my Instant Pot Vortex Plus Air Fryer every single day. AND – these typically go on Mega Sale around Black Friday and in the days leading up to Thanksgiving and Christmas.
These are my tried and true kitchen essentials. These are the best kitchen tools and appliances I personally cook and bake with in my own home! From my favorite cooking tools to baking tools, the best small appliances for home cooks, and more, this kitchen essentials checklist will help you master most recipes in your home kitchen!
Photo Credit: Marlynn Schotland/Urban Bliss Life
I love my Ninja Foodi! I have the Foodi 8-Quart 9-in-1 Deluxe XL Pressure Cooker (model FD401). In addition to pressure cooking, it can air fry, broil, dehydrate, slow cook, sear/saute, and more. And I can often cook two items - a side and a main dish - at the SAME time in the Foodi!
Check out my cookbook: the Ninja Foodi Pressure Cooker Meal Prep Cookbookhttps://amzn.to/2PpT5Ua! 75 recipes, 8 weeks of meal plans, shopping lists, step-by-step prep instructions, and my best Ninja Foodi cooking tips and tricks to help you pressure cook, air fry, make yogurt, and more in the Ninja Foodi Deluxe XL multicooker!
Photo Credit: Marlynn Schotland/Urban Bliss Life
I have and use this 8-quart Instant Pot Duo a few times a week. Be sure to check out my Instant Pot Recipes!
This Vitamix is one of the more affordable Vitamix blenders, and it gets the job done! I use this blender almost every day, for smoothies, soups, sauces, and so much more!
Photo Credit: Marlynn Schotland/Urban Bliss Life
This 5-quart KitchenAid Stand Mixer is a workhorse in my kitchen! I use it almost every day for everything from cookies to pizza dough to icing. I use mine so much, I have two: one in a limited edition Ocean Drive color, and one in white.
Photo Credit: Marlynn Schotland/Urban Bliss Life
Daterra Cucina is a Portland, Oregon-based family business that makes my favorite everyday cooking pans! They are professional grade, ceramic, non-stick, non-toxic pans that cook food BEAUTIFULLY and are super easy to clean. I love them and know you will, too!
This is my newest air fryer, purchased in 2019. I love my basket style air fryer, but also needed to do recipe testing with a rack/tray style air fryer since so many of you now use this style. The InstantPot Vortex Plus is a 7-in-1 workhorse that serves as an Air Fryer, Toaster Oven, and Rotisserie Oven, which allows it to Air Fry, Rotisserie, Roast, Broil, Bake, Reheat, and Dehydrate. The 10-quart capacity means you can air fry A LOT OF FOOD in one batch! Versus making several batches in the 5-6 Quart basket style air fryers.
Photo Credit: Marlynn Schotland/Urban Bliss Life
During our kitchen remodel, I learned how to create delicious dishes using our GoWise Air Fryer, and I love it! This 5.8 Quart, 8-in-1, XL Air Fryer is perfect size for families with 3+ people.
Photo Credit: Amazon
This Instant Pot Vortex 4-in-1 Air Fryer is a 6 Quart, basket air fryer with 4 One-Touch Programs, Air Fry, Roast, Bake, Reheat. The basket can accommodate a 2-pound bag of fries and a 4-pound chicken.
This is my newest slow cooker - the CrockPot MyTime Slow Cooker. I LOVE it!! It's a 6-quart programmable slow cooker with an easy-to-clean ceramic pot.
Photo Credit: Marlynn Schotland/Urban Bliss Life
I've had this Ninja 3-in-1 Cooking System for 10 years, and it's amazing! I love using it mainly as a slow cooker. I also love to use it to keep food warm for parties. Cleans up easily too!
Photo Credit: Amazon
I have the older version of this 2-quart Cuisinart ice cream maker and it is still going strong after 10+ years! It's so easy to use and comes with a great little instruction booklet that's easy to follow.
Need more foodie gift ideas?
If you have a wine lover in your life, I've got a great 2020 Wine & Spirits Gift Guide coming out next!
In the meantime, check out my Wine Lovers' Essentials list and shop for those wine enthusiasts in your life!
Travel addicts on your holiday shopping list? Shop for my Top Travel Essentials
And here's a look back at some of my favorite foodie tech gadgets