This Garlic Lemon Asparagus is a simple, elegant, delicious side dish. Perfect for Thanksgiving, Christmas, Easter, or any weeknight dinner!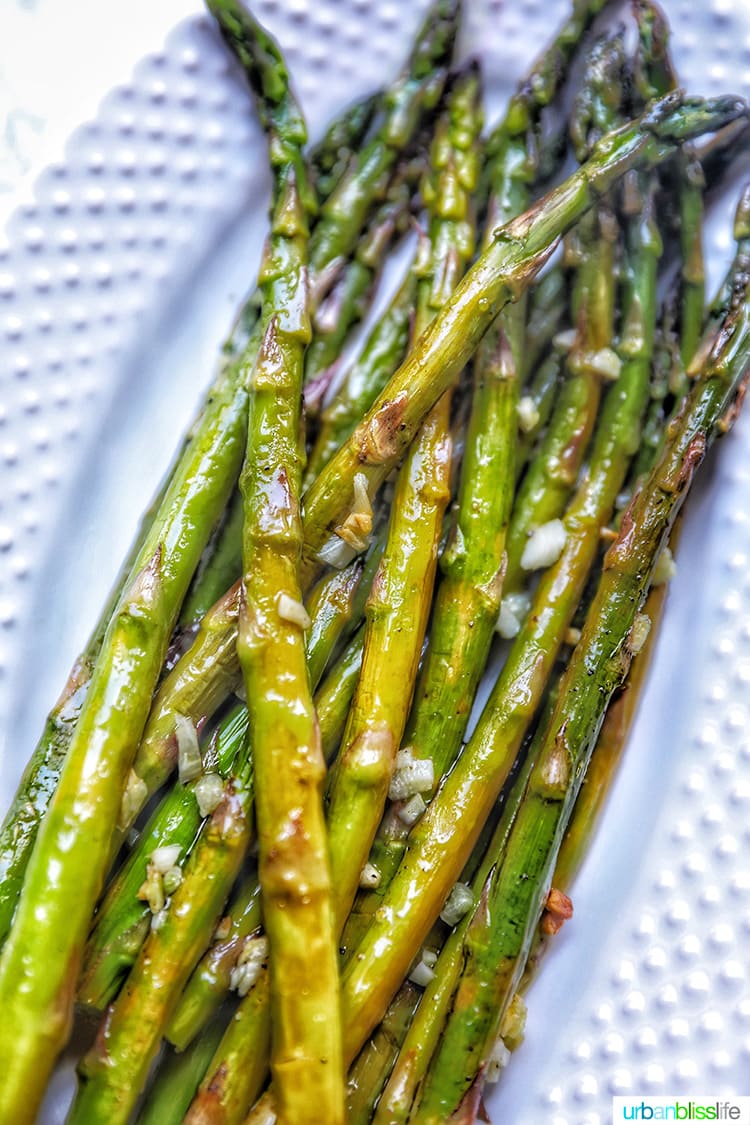 Side dishes are meant to be fast, easy, and delicious. This recipe for garlic lemon asparagus ticks all three boxes!
This garlicky asparagus is so simple yet full of flavor. The citrus adds a beautiful brightness to the dish and the garlic adds some zing. Asparagus is one of those vegetables that really takes on the flavors of citrus and garlic quite nicely, especially when roasted.
What do I need to make roasted asparagus?
You only need a few ingredients to make this garlicky asparagus:
asparagus - you'll need one bunch. Look for thin asparagus versus thicker stems. Thin asparagus roasts up quickly and really takes on the lemon and garlic flavors.
olive oil - use a high quality extra virgin olive oil
lemon - fresh lemon juice adds a brightness to the dish
garlic - I use three cloves, but you can add more or less, to your liking.
kosher salt - the bigger flakes stick nicely to the vegetables and distribute bigger flavor than table salt
ground black pepper - just a bit for balance
As far as equipment goes, you simply need a baking sheet and aluminum foil.
How do you make this garlic lemon asparagus?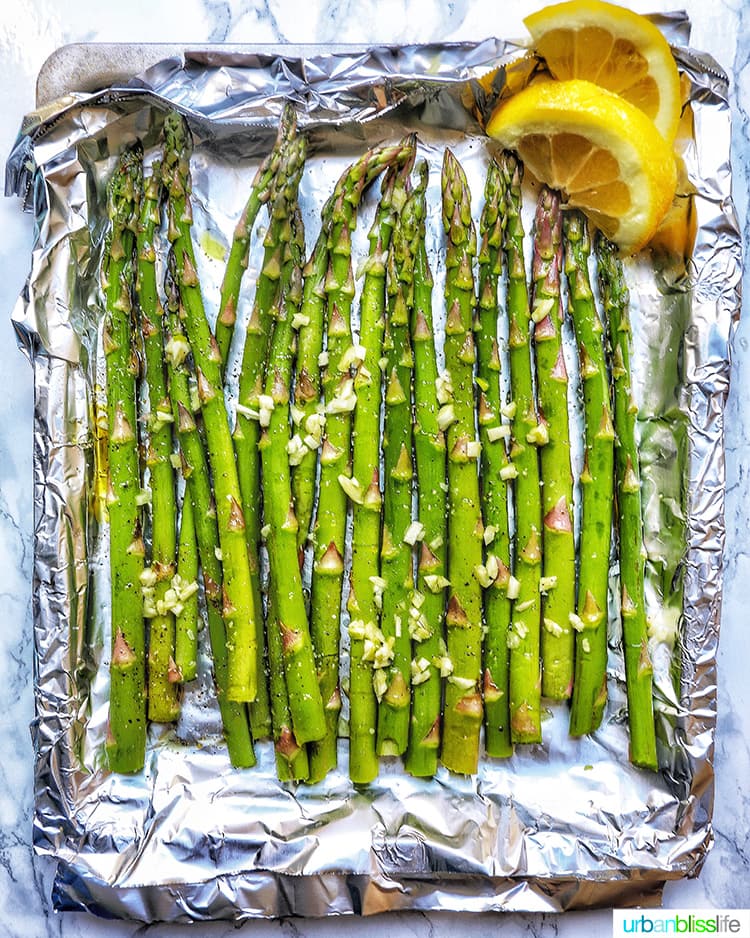 Simple toss ingredients together on a foil-lined baking sheet. Then bake at 425° for 12 to 15 minutes. It's that easy!
See the recipe card below for full detailed ingredient quantities and instructions.
What do you serve with asparagus?
This garlicky asparagus is typically served as a side dish. However, there are ways I have enjoyed this as a main course.
As a side dish, this asparagus recipe shines with poultry. It's great for Thanksgiving with Citrus Herb Turkey Breast. Or enjoy it with everyday meals like Roast Chicken, For Christmas, serve this asparagus side dish alongside Cranberry Meatballs or Herb-Crusted Rack of Lamb.
It also is amazing with pasta dishes, like Bacon Shrimp Pasta, Instant Pot Tuscan Chicken, and Crab and Corn Fettuccine.
For an all-vegan or all-vegetarian crowd, serve this garlic lemon asparagus with Creamy Pasta with Crispy Mushrooms, Vegan Fettuccine Alfredo, or Dairy-Free Mac and Cheese.
What wine to serve with Garlic Lemon Asparagus
The citrus and garlic zing of this dish pair beautifully with a dry, bright white wine with lively acidity. Go for a Sauvignon Blanc, Pinot Blanc, or Pinot Gris.
More recipes for entertaining at home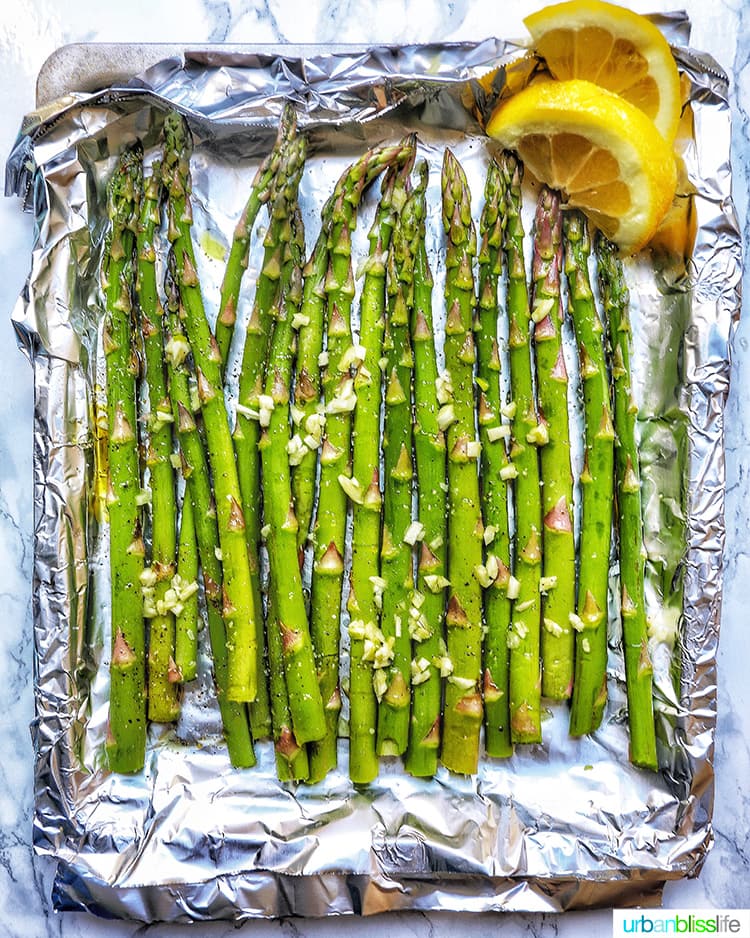 Garlic Lemon Asparagus
Garlicky asparagus with bright citrus lemon is a delicious side dish that is quick and easy!
PRINT
PIN
RATE
Instructions
Preheat oven to 425°F. Prepare a baking tray lined with aluminum foil.

Place trimmed asparagus on top of foil. Drizzle olive oil and lemon juice, then top with garlic. Season with salt and pepper. Toss to coat and distribute garlic evenly among the asparagus.

Bake at 425°F for 12 to 15 minutes, just until the asparagus is tender and slightly deeper in color. Serve immediately.
Notes
Grocery tip: When selecting asparagus at the store, look for thin asparagus. The flavors of this dish shine more with thin asparagus, and the thicker asparagus take longer to cook and flavors don't infuse as well.
Storage tip: Store in the refrigerator in an airtight container for 2-3 days.
PIN IT: