This is a sponsored post written by me on behalf of Safeway. All opinions are 100% mine.
---
Planning a small Thanksgiving dinner at home? You'll find all of the Thanksgiving essentials for a holiday menu for four to six people right here!
Thanksgiving is such a special time for so many families. This year, we're planning to enjoy a quiet evening at home, just the four of us. Many of our friends and family are doing the same. We'll have Zoom calls with our family around the world. I know that even though it won't be the same as everyone gathering together in one spot for a huge family feast, it can be just as special. And, we still have so much to be thankful for this season.
If you're planning a small Thanksgiving dinner at home too, I've got you covered! This post contains a simple holiday menu, with options for homemade and store-bought dishes.
A Small Thanksgiving Dinner
Whether you're planning a Thanksgiving dinner for two, four, or six people in your household, you can create a beautiful, delicious holiday meal of what I call Thanksgiving essentials:
Roast turkey (either full turkey or a turkey breast)
Stuffing or dressing
Dinner rolls
You can feel free to build from there if you want to make a more elaborate meal. But these five dishes can all be made in one day – or even store-bought! – so you're spending more time with loved ones instead of in the kitchen.
I found the ingredients for every homemade item and all of the store-bought items at my local Safeway. But you can also find quality Thanksgiving essentials at the Albertsons Companies family of stores, including Albertsons, ACME Markets, Jewel-Osco, Randalls, Shaw's Supermarket, Star Market, Tom Thumb and Vons.
Let's Talk Turkey!
For small gatherings, you can opt for a full turkey or a turkey breast. If your gathering is for two people, a turkey breast might be the best way to go. You'll probably even still have leftovers, depending on the size of the turkey breast.
If you are feeding three to eight people, I suggest making or buying a full turkey. You'll want to plan for approximately 1.25 pounds per person.
4 people – 5 lbs
6 people – 8 lbs
8 people – 10 lbs
Stuffing or dressing
No turkey is complete without stuffing or dressing! This can be a polarizing dish, with some people on Team Stuffing, while others are dedicated to Team Dressing. Wherever your loyalties lie, this is something you can easily make ahead of time, or buy and finish while the turkey is cooking.
If you want to make a dressing from scratch, try my Wild Rice Dressing with Cranberries, Cherries, and Pecans. You can also purchase pre-packaged stuffing and dressing at the store. I bought a bag of pre-made stuffing from Safeway for the stuffing in the photo above. It took me just a few minutes to make and a few extra basic ingredients that I already had on hand.
Super side dishes
When we gather as extended family for holidays, there are usually SO many side dishes. When it'll just be you and your household bubble for a small Thanksgiving dinner at home, scale back on the sides. I like to choose one veggie side dish, and one carb side dish.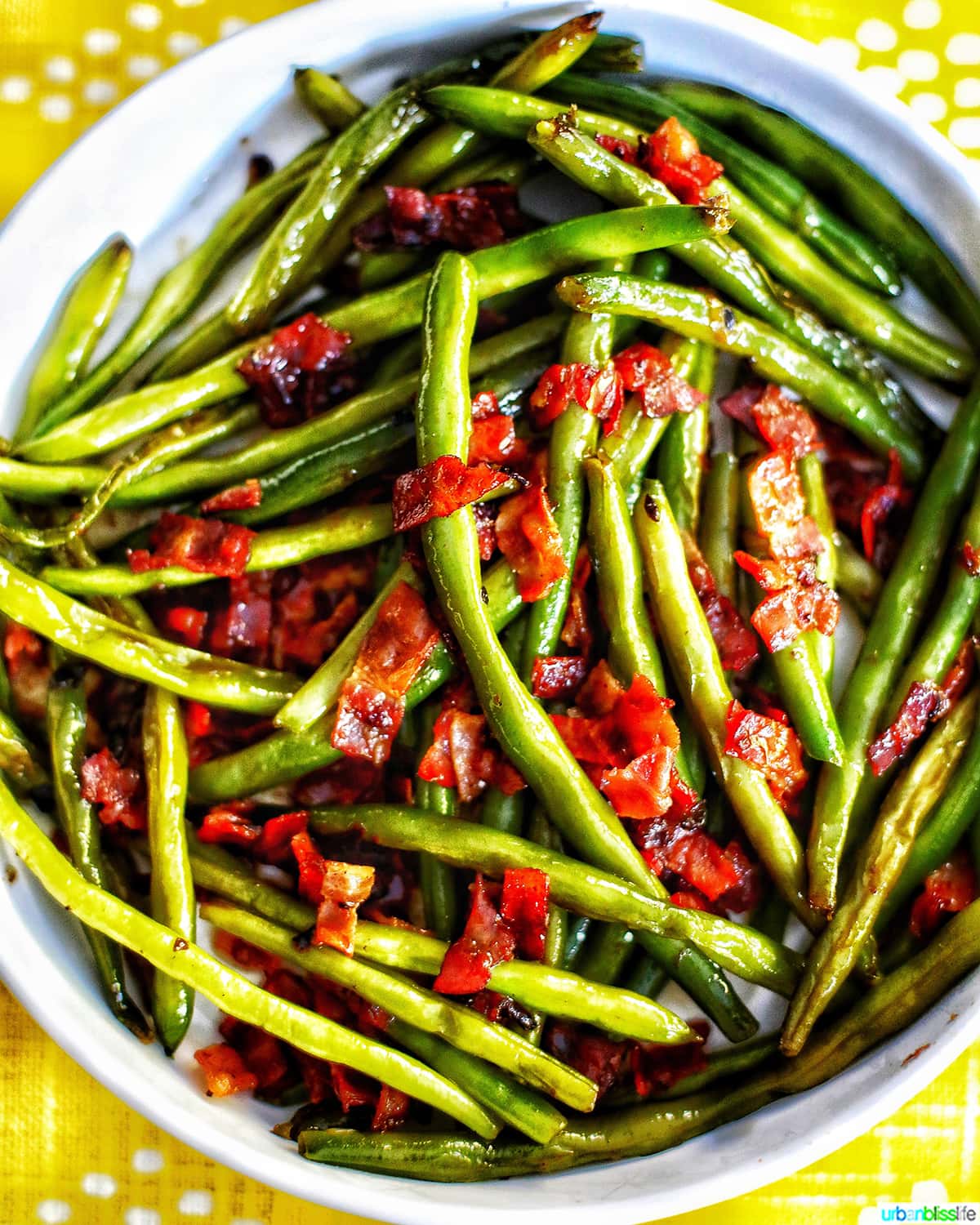 These Green Beans with Bacon and Shallots are simple, yet sophisticated. They're a hearty way to get some greens on your Thanksgiving menu!
Bakery rolls are always delicious and inexpensive. I bought a bag of the rolls pictured above at my local Safeway for just $2.99.
Delicious Dessert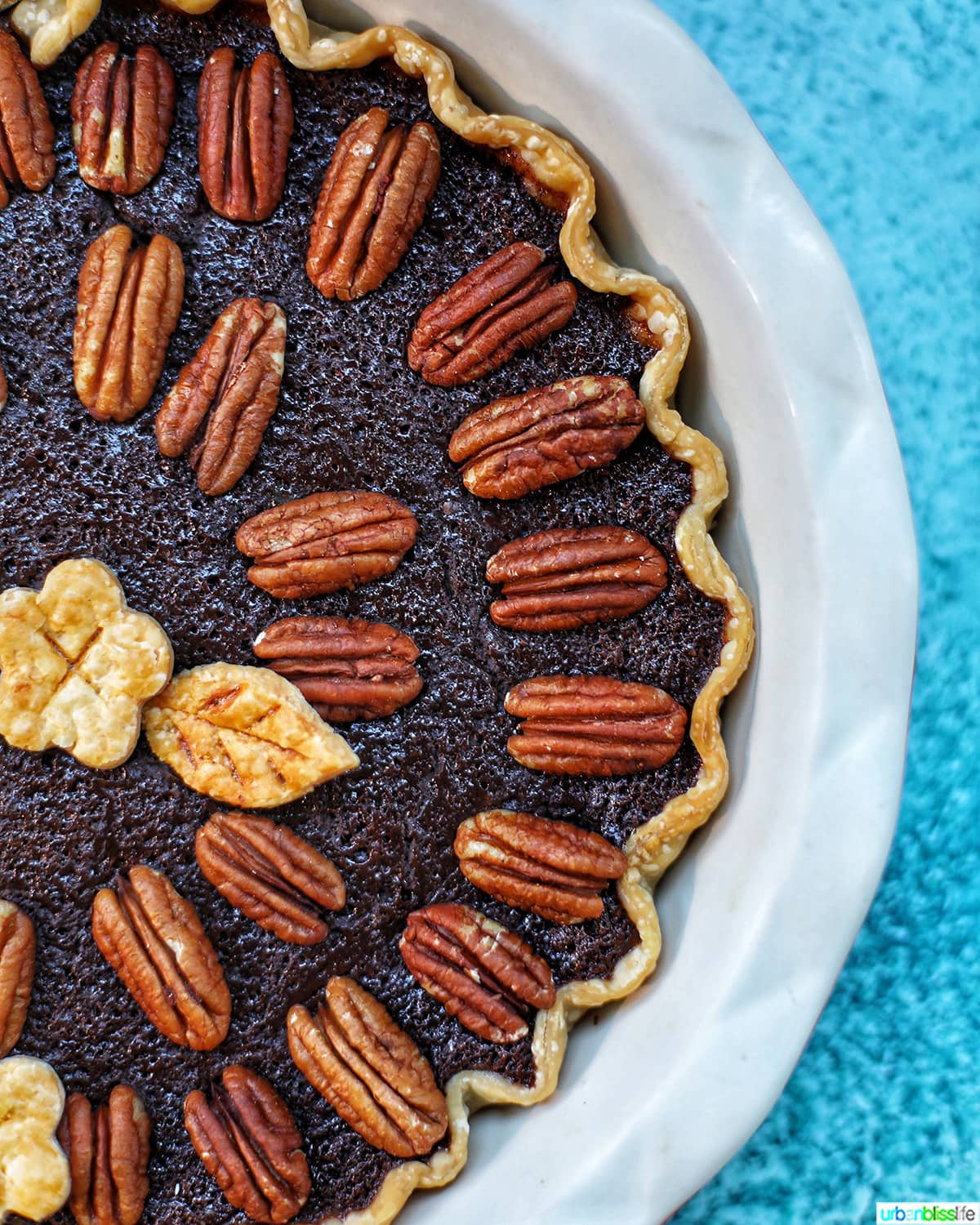 Dessert is one dish that I usually stick to the same servings as I would if we were serving a crowd. Because I know: whatever we don't gobble up during the main meal, my family will happily enjoy for days to come!
For a simple twist on traditional Thanksgiving pecan pie, try my Chocolate Pecan Pie recipe. It's really easy, and you just need a few basic ingredients that you can easily find at your local grocery store.
Best Wines to Serve at Thanksgiving
Two wine varietals are as traditional as turkey at the Thanksgiving table: Chardonnay and Pinot Noir.
My local Safeway always has some of my favorite Oregon Chardonnay and Oregon Pinot Noir in stock. And, at fantastic prices – especially if you buy a mix of six bottles as a Safeway Club Card member (which we have been for over a decade)!
Chardonnay and Pinot Noir both pair beautifully with standard Thanksgiving turkey. Pinot Noir also pairs well with side dishes like mashed potatoes, mushrooms, and green beans. Chardonnay also pairs well with buttery rolls, stuffing, and yams.
Holiday Meal Shopping Tips
Holiday meal shopping doesn't have to be stressful. Try these holiday grocery shopping tips that have helped me throughout the years:
Plan ahead. Write out your menu, and go through your pantry, fridge, and freezer to find what you already have. Then create your shopping list based on what you still need.
Beat the crowds and shop online. You can find the best deals and get your Thanksgiving shopping done early online. Be sure to get any essentials and items that can be stored early. Safeway also offers Grocery Delivery and DriveUp & Go™ for convenient ways to shop. I've used and love both options!
If you do decide to do your Thanksgiving shopping in-store this year, shop during quieter business hours. My local store tends to be less busy mid-week, between 9am and 11am. Friday night, and all day Saturday and Sunday tend to be the busiest times. You can always call your local grocery store to find out what time might be less crowded at that particular store.
Leave the Cooking to Someone Else!
While this menu for a small Thanksgiving dinner can easily be made in a day (I promise: I've done it!), you might want an even easier option. For you, my friends, there is a simple solution: Order ahead of time!
In the Portland area, you can order a traditional turkey dinner that serves 6-8 people with all the fixings starting at just $54.99. That's an amazing price for a LOT of food – and for the peace of mind knowing your holiday meal is taken care of.
At my local Safeway, this order-ahead Thanksgiving meal would include:
a 10-12 lb. Fully Cooked Turkey
48 oz Mashed Potatoes
28 oz Homestyle Stuffing
24 oz Gravy 12 ct.
King's Hawaiian Rolls
14 oz Cranberry Sauce
Specific items and amounts may vary from store to store. All dinners are fully cooked! You just need to allow for 2 to 3 hours at home for heating. How is that for super simple? :)
Whether you decide to make your small Thanksgiving dinner completely from scratch, go 100-percent store-bought, or you do a little of both, remember the heart of the holiday is the people seated at the table. I hope you all enjoy a wonderful, relaxing Thanksgiving meal with loved ones.
If you live in the US, what's on your Thanksgiving menu this year?
PIN IT: