Green Beans with Bacon and Shallots is a classic side dish with a salty, crunchy, out-of-this-world delicious twist!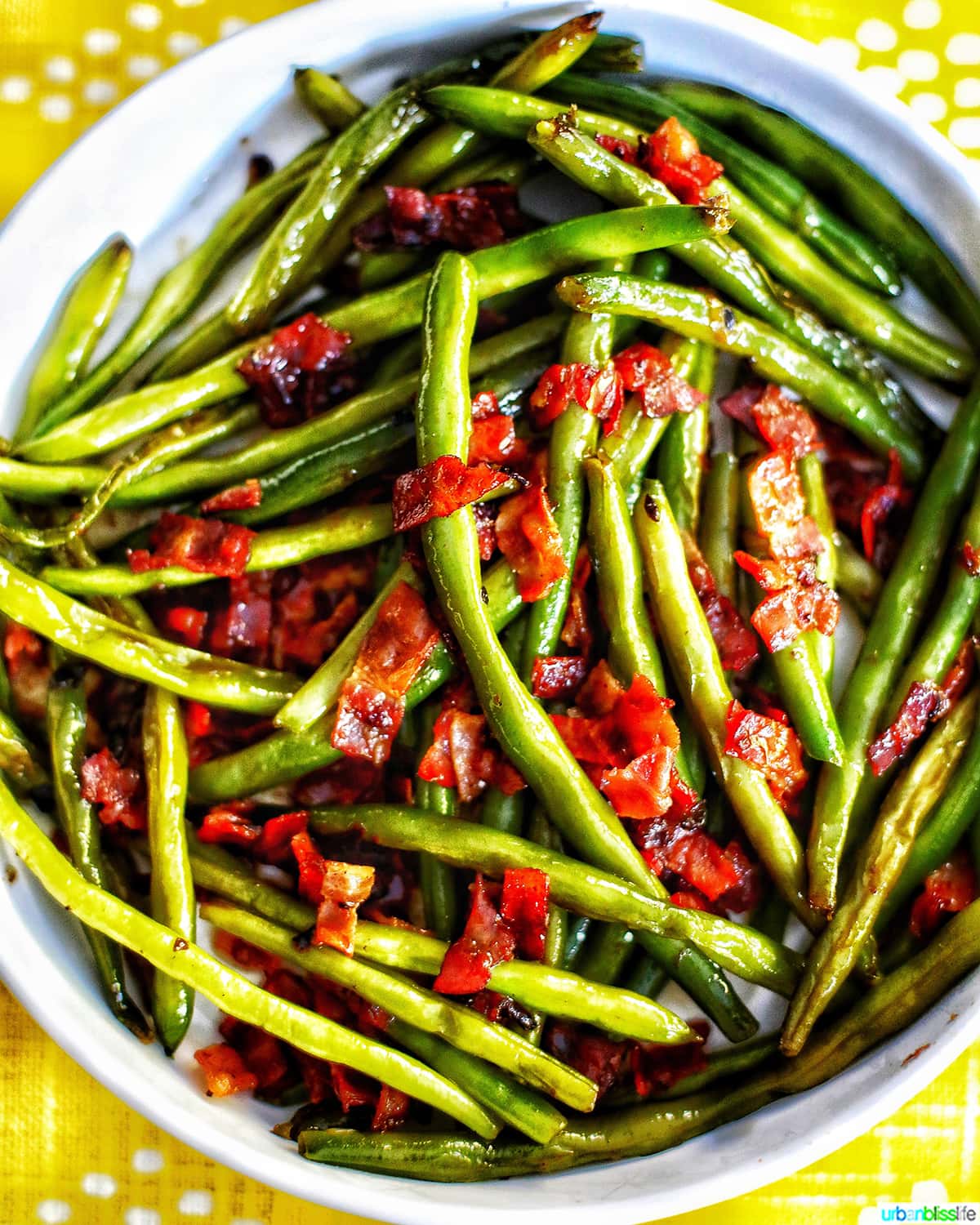 If you're going to eat green beans, they should be cooked with bacon (unless you're a vegetarian, obvi).
That's my lil' kitchen rule, and I'm stickin' to it!
Have you ever had green beans with bacon? Oh my word, it's the BEST (and I argue: only) way to enjoy these fresh, vibrant, beautiful veggies.
Green Beans with Bacon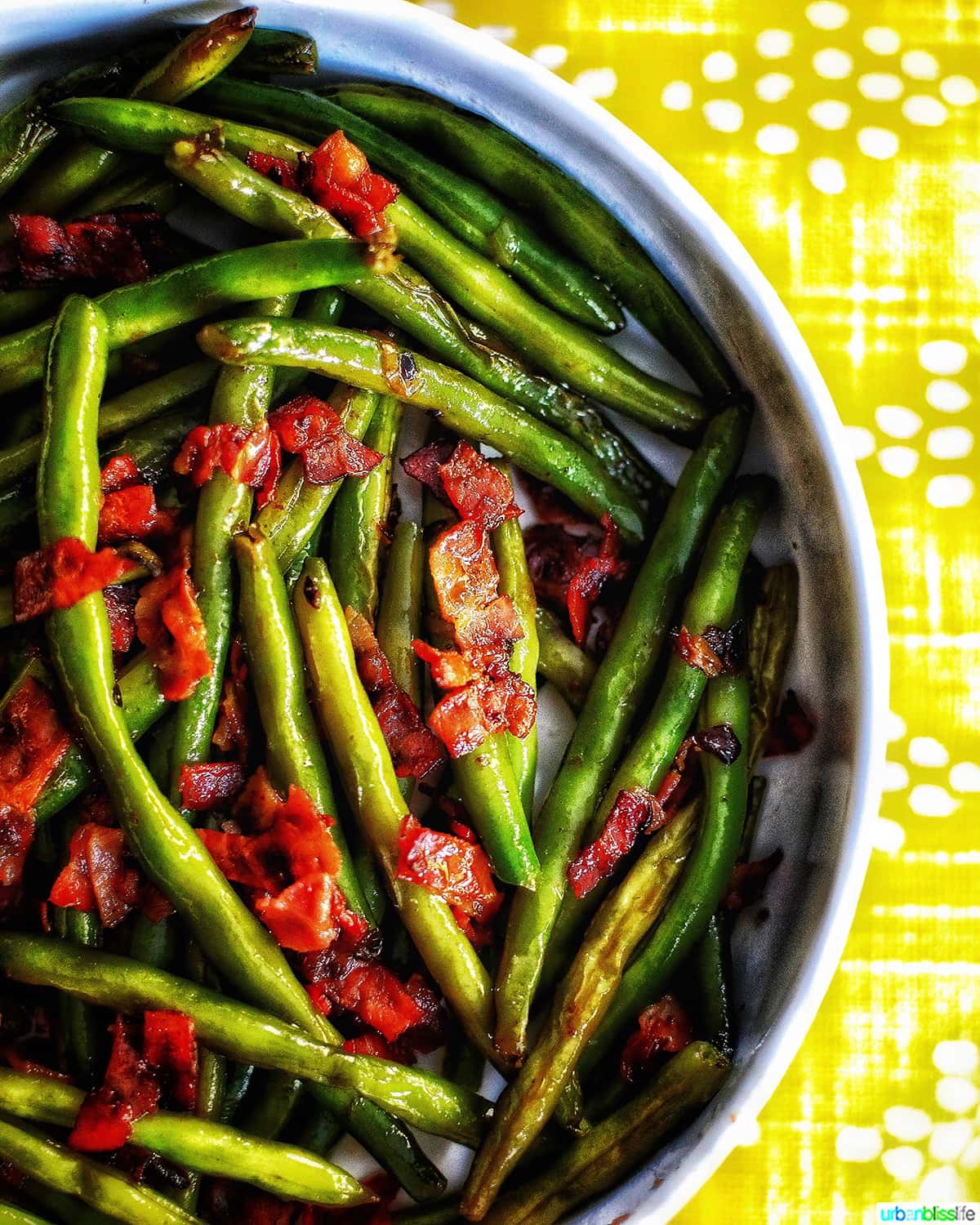 The bacon adds this beautiful salty, crunchy, sinfully delicious layer to the sweet, healthy green beans. They're tossed together with shallots and coated with melted butter, creating a well-balanced savory side dish.
SO good!
And, it's a simple side dish that is easy to make. It only takes 15 minutes!
What you need to make this side dish
Start with fresh green beans. If you can't find fresh green beans, you can definitely use frozen green beans. Frozen vegetables are picked at their ripest in season and flash frozen. So frozen is the next best option to fresh.
You'll also want to use a high quality butter. I use Tillamook Unsalted Butter when I can, because it's local (Oregon). And, it's made with 81% fat, which adds a rich, silky buttery flavor.
Shallots add an elegant undertone of acidic, slightly sweet flavor. While shallots are a member of the allium family, they add aromatics similar to garlic. They are milder than standard onions, however, so that's why I love them in this dish.
Shallots can be found in most grocery stores right next to the onions and garlic. However, if you can't find any or they are too expensive, you can use a mix of yellow onions and garlic.
Finally, you need some really good bacon. Choose a bacon that has a decent amount of fat. Avoid turkey bacon – it just won't sauté the same way or give this dish the bacon-y goodness it's meant to have.
Exact measurements and detailed instructions can be found in the printable recipe card at the bottom of this post!
How to make green beans with bacon
Start by melting butter in a large skillet over medium-high heat.
Add the shallots and sauté for 1-2 minutes, just until softened.
Then add the bacon and cook until crispy, about 3-4 minutes.
Add the green beans, and toss to coat with the other ingredients. Cook for 3-5 minutes, constantly moving around the ingredients to evenly cook. Once the green beans have cooked to your preferred doneness, turn off the heat. Plate, and serve immediately.
What to serve with green beans with bacon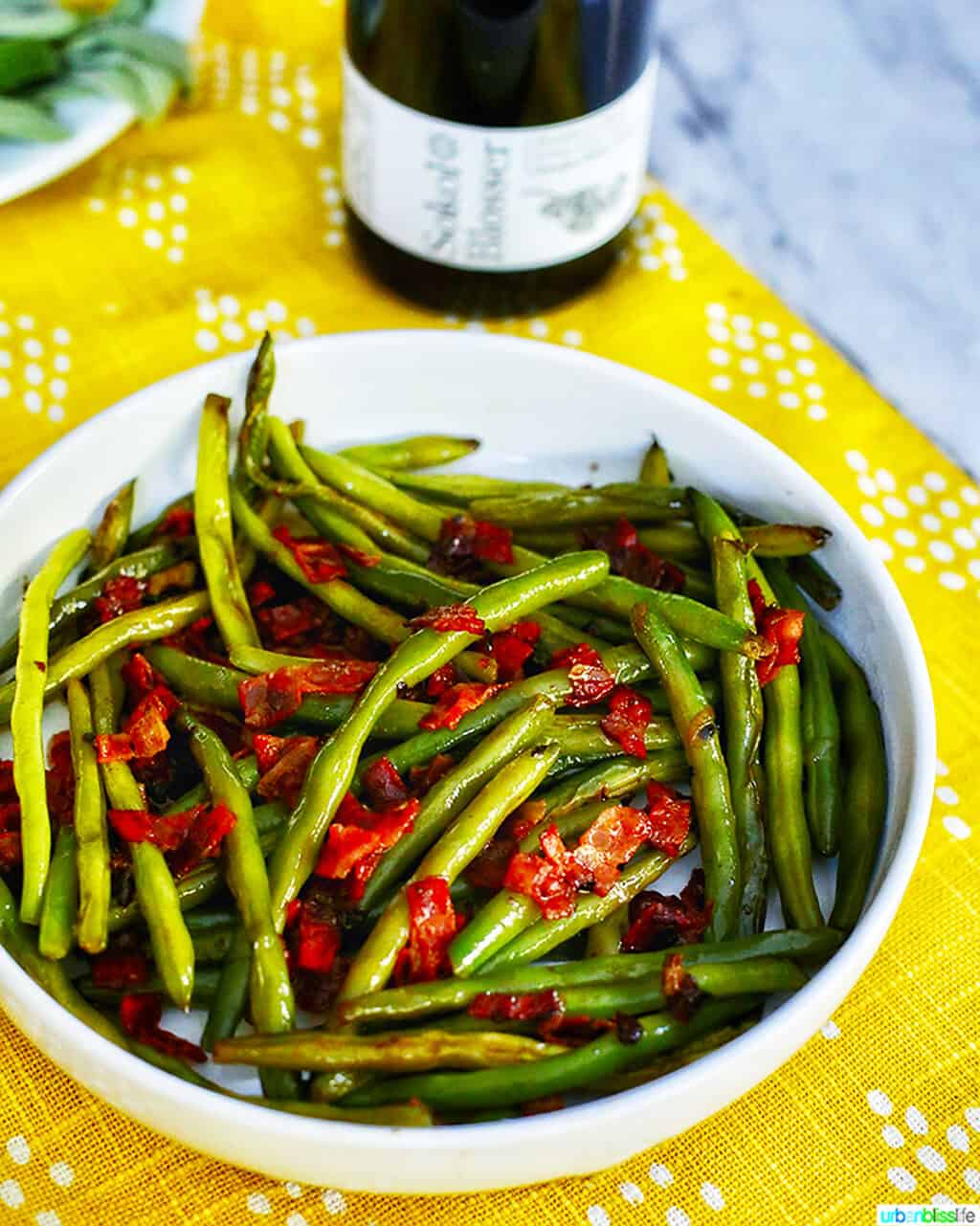 This delicious side dish is great for holidays. It's a beautiful addition to the Thanksgiving table, Christmas, and Easter. It's also a fantastic easy side dish to serve with almost any dinner.
Some main dishes that go well with green beans:
Green Beans with Bacon
A savory, delicious, easy side dish for weeknight meals and holiday meals alike!
PRINT
PIN
RATE
Ingredients
3

tablespoons

unsalted butter

2

tablespoons

minced shallots

6-8

slices

bacon, chopped into small pieces

1

pound

green beans
Instructions
In a large skillet, melt the butter over medium-high heat.

Add the shallots, and sauté for 1-2 minutes, just until softened.

Add the bacon and cook to desired crispness, about 3-4 minutes

Add the green beans, toss together until coated and cook for 3-5 minutes until green beans are softened. Remove from heat, and serve immediately.
PIN IT: