Wild Rice Dressing with Cranberries, Cherries, and Pecans is a hearty Thanksgiving side dish packed with rich fall flavors.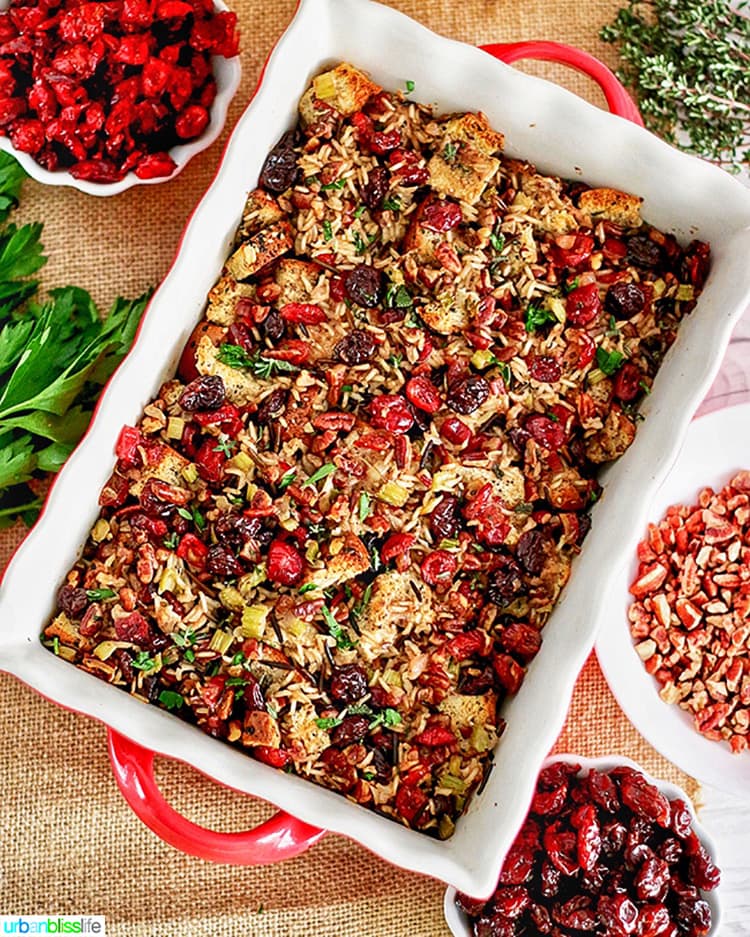 Do you prefer Thanksgiving stuffing or dressing?
If you're confused about the difference between the two, you're not alone.
What is the difference between stuffing and dressing?
The main difference is that stuffing is cooked inside the Thanksgiving turkey; dressing is cooked outside of the turkey.
That said, you still see the two used interchangeably these days.
I'm more of a fan of dressing versus stuffing. I think the Thanksgiving bird tastes better without stuffing, while a dish like Thanksgiving dressing is worthy of its own separate preparation and presentation.
Wild Rice Dressing with Cranberries, Cherries, and Pecans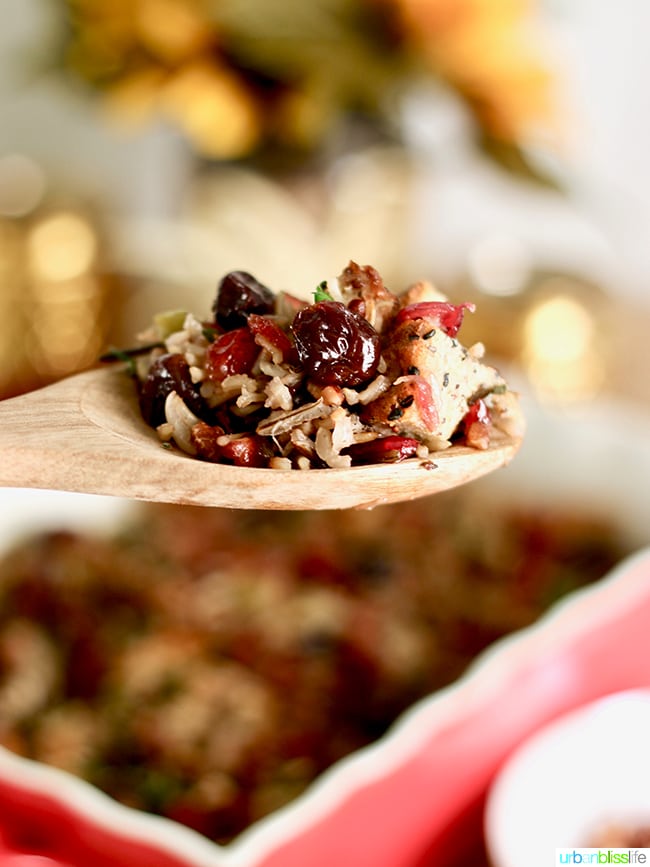 This Wild Rice Dressing with Cranberries, Cherries, and Pecans recipe has so many favorite flavors of fall packed into each bite. It makes enough to serve a crowd of approximately 18-20, if each person takes one heaping serving spoon.
How to make wild rice dressing
Many of my favorite dishes start with a tablespoon of preserved bacon fat. You don't need a lot; a little bacon fat goes a long way to adding delicious flavor and aromas to every bite of a dish.
If you don't save your bacon grease like I do (mason jar in the fridge), or if you want to keep this strictly a vegetarian recipe or vegan recipe, you can easily substitute olive oil or butter.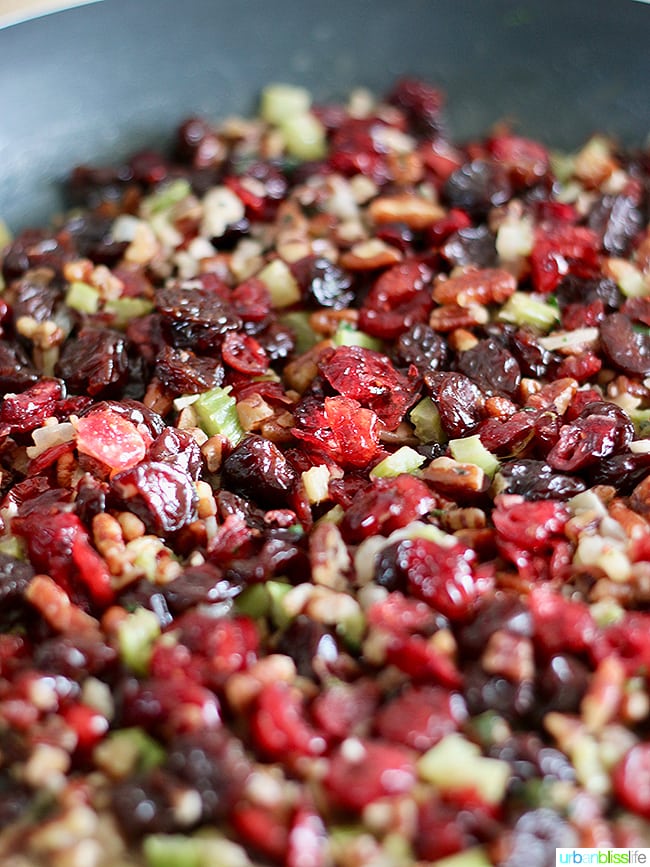 The wild rice cooks in a medium pan while you sauté together the celery, onions, and garlic.
Then you add the pecans, dried fruit, and slowly add the milk in to help soften the mixture while it bakes.
Finally, you add the cooked rice, sautéed fruit & nut mixture, and cubed bread all together in a large bowl. Spread the mixture out evenly into a large 9 x 13" baking dish, and bake according to directions below.
What kind of bread to use in dressing
A note on the bread: I cubed 9 slices of a hearty seeded wheat bread, which gives the dressing an even deeper, richer, earthier taste.
You could use regular wheat bread or white bread, but make sure you use day-old bread.
You can also toast the bread in the oven for 5-7 minutes before mixing it in.
Or, you could use traditional croutons. Just know that your bread choice will affect the texture and taste of the dressing, so go with a bread you enjoy and you can't go wrong!
Which dried fruit to use in dressing
Dried cranberries and cherries are, I believe, staples of the fall pantry. They add so much richness and depth to this wild rice dressing recipe. That said, you could choose to use all dried cherries or all dried cranberries if you prefer one over the other.
I keep dried fruit in my pantry to use for cheese & charcuterie boards for holiday parties, to include in food gifts, and there are no shortage of holiday baking recipes that call for yummy dried fruits.
And of course, for main holiday dishes like this Thanksgiving dressing!
Leftover Ideas for Wild Rice Dressing
If you're not cooking for a huge crowd, you will definitely have leftovers. This dressing is an awesome base for many leftover dishes!
Here are some ideas:
Wild Rice Dressing Scramble - Add a warmed up spoonful on top of scrambled eggs in the morning.
Wild Rice Dressing Quiche/Frittatas - Beat some eggs and pour over the dressing in a round baking dish or divide into muffin tins for frittatas. Bake until the eggs are fluffy and cooked.
Wild Rice Dressing with Sausage - Cook Italian sausage, add to the dressing for a yummy leftover lunch.
Wild Rice Dressing Burgers - Beat an egg or two (depending on how much you have leftover) and add to the wild rice dressing in a bowl. Form burger patties, and refrigerate for about 15 minutes, just to set in the shape. Cook over a skillet, about 2-3 minutes each side. Top each burger with a tower of mixed greens, or eat between hamburger buns and your choice of toppings.
Wild Rice Dressing Recipe
Wild Rice Dressing with Cranberries and Cherries
This Wild Rice Dressing with Cranberries, Cherries, and Pecans recipe is a hearty Thanksgiving dinner dish!
PRINT
PIN
RATE
Ingredients
1

cup

wild rice mix

2

cups

1 14.5 ounce can vegetable broth

¼

cup

water

2

tablespoons

bacon fat or olive oil

1

tablespoon

garlic

minced (about 2-3 cloves)

½

cup

onion

diced

1

cup

celery

chopped into small pieces

½

tablespoon

thyme leaves

chopped

2

tablespoons

parsley leaves

finely chopped

1

cup

chopped pecans

salt & pepper

1

cup

dried cherries

1

cup

dried craberries

1

cup

milk

8

cups

cubed hearty wheat bread

about 9 slices
Instructions
Grease the bottom and sides of a 9" x 13" baking dish with butter. Set aside.

Heat oven to 350 degrees farenheit.

In a medium pot, bring chicken stock and water to a boil. Add wild rice mix, stir, lower heat to low, cover, and let simmer for 30 minutes until rice is fluffy and liquid is absorbed.

While rice is cooking, heat bacon fat or olive oil in a large skillet over medium-high heat.

Add garlic, onions, and celery to the skillet and sauté for 1-2 minutes, until the onions are softened.

Add pecans to the skillet, stir, and toast ingredients for about 5 minutes, stirring every minute or so.

Add dried cranberries and cherries, then slowly pour in the milk. Stir everything together for 1-2 minutes, just to heat up the milk and slightly soften the dried fruit.

Combine bread cubes, skillet mixture, and cooked wild rice in a large bowl. Gently toss so all ingredients mingle nicely. Slowly pour into the baking dish into an even layer.

Cover with foil and bake at 350 degrees farenheit for 30 minutes.

Uncover, and bake for an additional 15 minutes.
Notes
VEGETARIAN OPTIONS:
* use olive oil instead of bacon fat
* use vegetable stock instead of chicken stock DAIRY-FREE OPTION:
* use almond milk or coconut milk instead of regular milk
Do you prefer stuffing or dressing? Will you be cooking for a crowd this Thanksgiving or bringing a dish to another celebration?
PIN IT:
More Holiday Recipes
---
This post is sponsored by Graceland Fruit, which is my favorite brand of dried fruits. All opinions, recipes, and photos are, as always, my own.