Planning a wine country vacation to Sonoma County? Explore unique dining, drinking, and shopping experiences at the Barlow -- an inviting 12.5-acre open-air market in Sebastopol, California.
Sonoma County is one of my favorite wine regions in California. It's so beautiful - with the rolling hillsides and vineyards, the farms, the majestic Redwoods. And the wines of Sonoma County are a fantastic reflection of the land and the people.
Most of the wine grape growers in the region are family-owned vineyards that have been passed down from generation to generation. There's a sweet and supportive sense of community here that makes any visit to this California wine country all the more enjoyable.
There's a LOT to do in Sonoma County. If you're short on time, The Barlow is one of the best ways to experience the best Sonoma County has to offer in one spot.
The Barlow
The Barlow is a 12.5-acre open-air market located in the heart of California's Sonoma County wine country. So it's no wonder the market is home to some fantastic tasting rooms.
But there's much more to experience here beyond just the wine. Below are a few of my favorite places to explore at this vibrant outdoor marketplace.
Jump to:
Golden State Cider
All Golden State Ciders are 100% fresh-pressed. They feature five Core ciders (their Ginger Grass is AMAZING!!) and several Specialty ones. ⁠⁠While you're here, order a flight, which includes four ciders (flavors rotate monthly) for $15. They've partnered with three neighboring eateries - thefarmerswifebarlow, acrepizza, bbq_smokehouse - so you can order food at the taproom and it will be delivered to your table.⁠⁠
Hours
Mon & Tues: 12pm-5pm
Wed & Thurs: 4pm - 8pm
Fri - Sun: 12pm - 8pm
Address: 180 Morris St., Suite 150, Sebastopol CA, 95472
Phone: 707-827-3765
Website: drinkgoldenstate.com
Woodfour Brewing
If you prefer beer over cider, head on over to Woodfour Brewing. They specialize in farmhouse-style beers like saisons, sours, and barrel-aged lagers. But their seasonal beer menus feature a mix of amber and pale ales. All the beers are crafted onsite in small batches.
Hours
Wed & Thurs: 12pm-8pm
Fri & Sat: 12pm - 9pm
Sun: 12pm - 7pm
Address: 6780 Depot Street, #160, Sebastopol CA 95472
Phone: 707-823-3144
Website: woodfourbrewing.com
Farmer's Wife
While exploring the Barlow, stop off for lunch at the Farmer's Wife. The cafe only uses locally-sourced organic ingredients to create it's delicious gourmet sandwiches, salads, and soups. They also feature a special menu dedicated to french fries, which includes truffle fries and chorizo fries.
This vegan club was the first thing I ate right after landing in Sonoma County during my last trip here. It was AMAZING! I am still dreaming about this sandwich.
Hours
Mon - Wed, Sun: 12pm-8pm
Thurs: 11am - 8:30pm
Fri & Sat: 11am - 9pm
Address: 6760 McKinley Street, Suite 120, Sebastopol, CA 95472
Phone: 707-827-3306
Website: thefarmerswifesonoma.com
Region Wine
For a unique wine-tasting experience at the Barlow, check out Region. This is the perfect spot to try wines made in Sonoma County that you might not otherwise get to try; many featured wineries have tasting rooms that are farther out from town, and some of them don't have their own tasting rooms. Plus, it saves you from worrying about driving from winery to winery!
In one part of the space, you can try 50 wines in self-serving WineStation machines. A separate area offers a more traditional wine-tasting, with hand-poured bottle service from area winemakers. Wines from 14 appellations are featured, so you can experience a wide variety of styles and regions.
Hours
Wed & Thurs: 12pm-8pm
Fri & Sat: 12pm - 9pm
Sun: 12pm - 7pm
Address: 180 Morris Street, Suite 170, Sebastopol, CA 95472
Phone: 707-329-6724
Website: drinkyourregion.com
Pax wine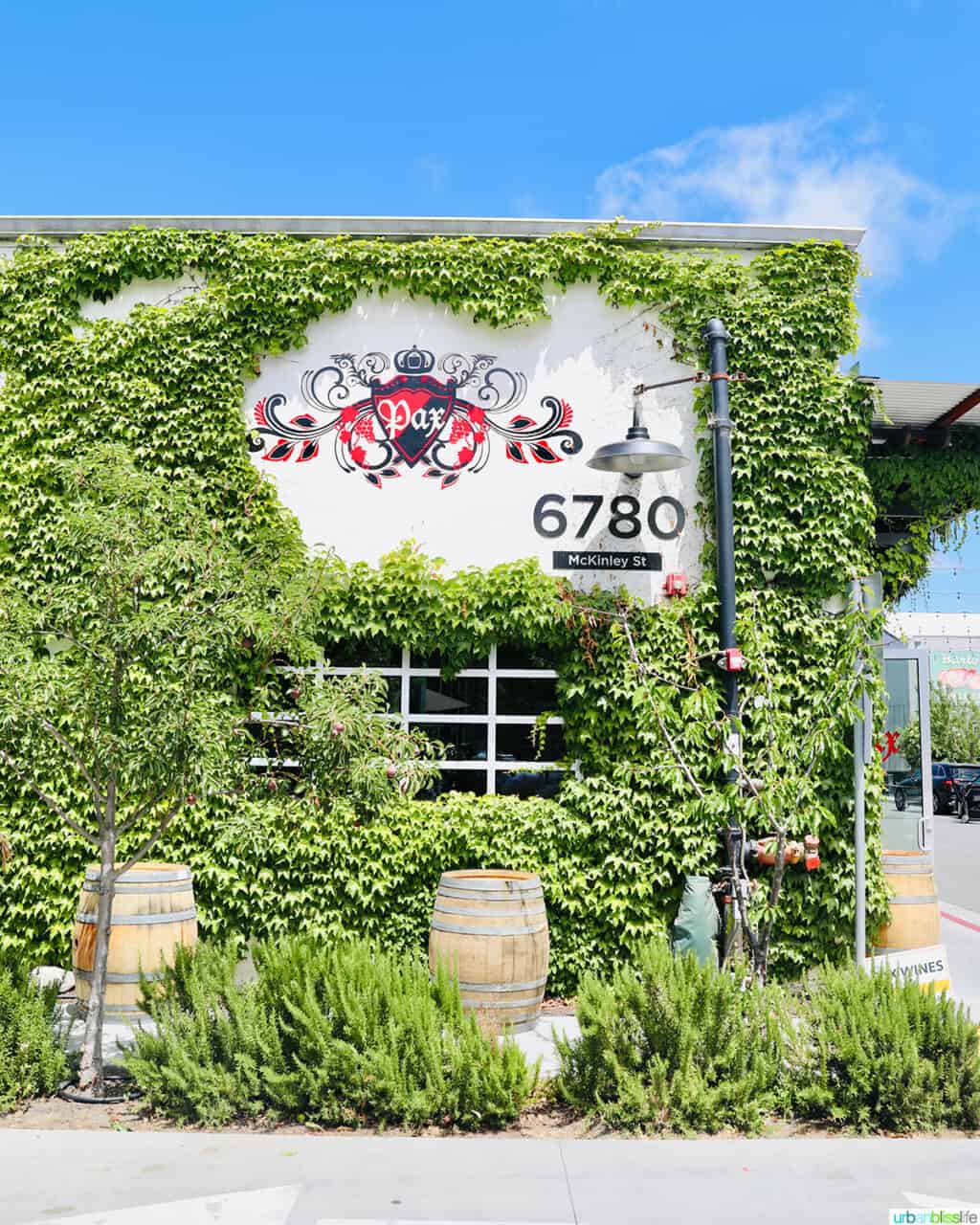 Founded as a winery that produced exclusively wine made from Syrah grapes, Pax now features other varieties including Trousseau Gris, Chenin Blanc, and Gamay Noir. Their wines are made without the use of chemicals and their grapes are crushed the old-fashioned way, by feet and hands.
Enjoy wines by the flight, glass, or bottle at their Barlow tasting room. It's a fun spot to meet up with friends or enjoy a glass before dinner.
Hours
Sun-Tue, Thurs: 11am-7pm
Wed, Fri & Sat: 11am - 8pm
Address: 6780 McKinley Street, Suite 170, Sebastopol, CA 95472
Phone: 707-331-1393
Website: paxwine.com
California Sister
Before you leave the Barlow, stop by California Sister and pick up a stunningly colorful bouquet of fresh, locally grown flowers. Walking in, I could immediately feel the stress of travel leave my shoulders as I soaked up the calm and beauty of this space.
Their designs are inspired by the changing seasons and they take care to not use floral foam, which can be harmful to the environment. Named after a butterfly native to the West Coast, a visit to California Butterfly is sure to brighten up your day.
Hours
Sun-Mon: 11am-5pm
Address: 6790 McKinley Street, Suite 190, Sebastopol, CA 95472
Phone: 707-827-8090
Website: californiasister.com
More Sonoma County Travel
More Wine Country Travel Guides