Is Oregon the new frontier for Malbec wine? Valcan Cellars co-owner/winemaker and Malbec in the City founder J.P. Valot thinks so. With an increasing number of Oregon wineries growing and producing a variety of Malbec wine styles, we take a deep dive into the world of Oregon Malbec.
"I love Oregon so much, and fell in love with it the first time I came here in 2001 as a harvest intern. I was lucky to find Malbec here, because I came to work with Pinot Noir grapes. The community is very special and the quality of life is amazing, especially here in Corvallis."
That's Juan Pablo (J.P.) Valot, co-owner and winemaker of Valcan Cellars in Corvallis, Oregon. He's also the driving force behind the inaugural Malbec in the City event in Portland, Oregon.
Valot was born just north of Mendoza, Argentina - a region well-known for its incredible Malbec. Although Malbec was originally planted in France, it is now the most widely-planted grape in Argentina.
And while Oregon's wine reputation is focused on being the land of Pinot Noir and Chardonnay, Valot says there's never been a more exciting time for Oregon Malbec.
"After a few decades growing and making Malbec," Valot says, "Oregon has reached a significant number of wineries producing high quality Malbec wines and Malbec blends by selecting the best terroirs and winemaking techniques."
And the time is right, he says, for Malbec in the City - a celebration of Malbec wine.
Jump to:
What are the typical characteristics of a Malbec?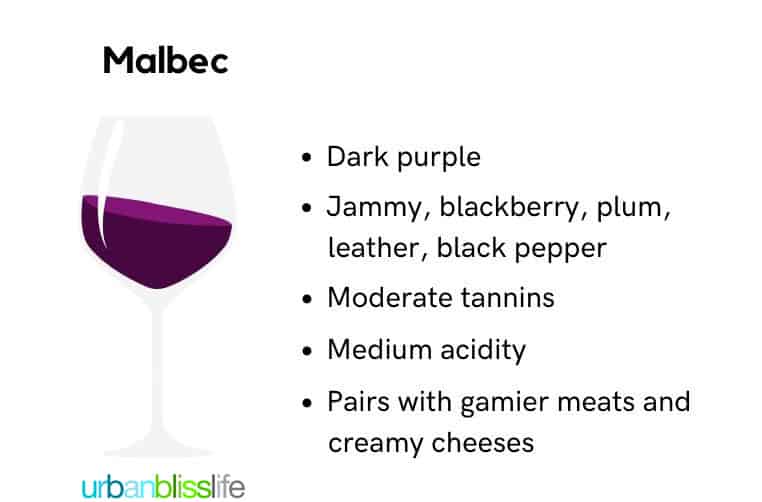 For those unfamiliar with Malbec, here's a quick look at the general characteristics of this red wine.
Color - deep purple-red, with a tell-tale magenta-hued rim when poured into a glass.
Body - Full
Tannins - Medium
Acidity - Medium
Alcohol - Medium to High (usually around 13-14%)
Aromas & flavors - Black cherry, ripe plum, dark plum, blueberry, pomegranate, and blackberry fruits. Sometimes: black pepper, oak, dark chocolate, floral, coffee, tobacco.
Malbec typically has big, jammy flavors and a fuller mouthfeel. It's not as popular worldwide as other big reds, such as Cabernet Sauvignon or Syrah, so you'll often find Malbec wines to be a great value.
For many winemakers, Malbec is a dream grape variety. "Malbec is your perfect child," says Valot. "Malbec grapes come loaded with aromas, flavors and polyphenols, allowing us to have a more minimalistic, hands-off approach."
What makes Oregon Malbec different?
Currently, the majority of Oregon Malbec is grown in Southern Oregon. While there are winemakers in the Willamette Valley that produce Malbec, they usually get their grapes from the Rogue Valley AVA and the Umpqua Valley AVA.
Thick-skinned Malbec grapes need sunshine and a drier climate to thrive, and temperatures in Southern Oregon are said to be similar to France's Bordeaux and Rhône regions.
A small number of Malbec is grown elsewhere in the state. Notably, also in the Columbia Gorge AVA.
"I do not like to compare different regions in the world," says Valot, "but I can tell that we get better chemistry numbers (in Oregon), especially the acidity (tartaric acid and malic acid) compared to those vineyards planted in the lower areas of the valley floor in Mendoza."
Malbec grapes truly express the unique characteristics of their terroir. So the differences in climate, soil, nutrients, and production methods help create vastly different wines in Argentina, France, California, Washington, and Oregon.
Valot continues: "Malbec is very versatile. You can go from a White, Rose, and Sparkling Malbec to a light, medium to a full bodied Malbec."
And at Valcan Cellars, Valot does just that.
Examples of different styles of Malbec wine
There truly is a Malbec wine for almost everyone.
In addition to the traditional still full-bodied red wine that dominates Malbec wine production, there are also different styles that showcase the versatility of this grape.
At Valcan Cellars, Valot produces a sparkling Malbec and a white Malbec, in addition to a traditional still red Malbec.
White Malbec
Valcan Cellars was the first winery in the United States to produce a White Malbec wine. Once harvested, Malbec grapes are gently pressed. This is to ensure minimum color is imparted on the free-run juice. Since very little skin contact occurs, the result is a White Malbec, which is actually a very pale, transparent salmon color.
The latest vintage of Valcan Cellars White Malbec is a light, medium-bodied white wine with a bright acidity and smooth tannins. With aromas and flavors of citrus, wild berries, apple, pear, and melon, this is a refreshing Malbec to enjoy on warmer days. I'd even suggest it has the body, structure, and finesse to replace that Chardonnay at your Thanksgiving table.
Sparkling Malbec
Many sparkling red wines tend to be on the sweeter side. At Valcan Cellars, Valot produces a dry sparkling Malbec.
He picks the grapes at a similar ripeness to when Pinot Noir and Chardonnay grapes - more traditional sparkling varieties - would be picked.
The sparkling Malbec is made with skin contact for seven days prior to pressing. The grapes are then fermented in tanks for two weeks, aged for five months sur lie, then the bubbles are created by force-carbonation before bottling.
This is a medium-bodied, dry sparkling wine with refreshingly bright acidity and aromas and flavors of wildflowers, strawberries, and black cherry.
Malbec in the City
It is the growing diversity of Oregon Malbec that Valot hopes to showcase at the first of its kind of Malbec event in the US: Malbec in the City.
Malbec in the City
Sunday, April 30, 2023
Castaway
1900 NW 18th Avenue, Portland, OR 97209
12:00 - 1:00 pm VIP Hour
1:00 - 5:00 pm General Admission
At this Oregon wine event, you'll be able to taste more than 30 different Oregon Malbec wines. From white to sparkling to the traditional still red Malbec, you'll be able to taste it all at Malbec in the City. Enjoy light bites, tango dancing, and live music.
For more information and to buy tickets, visit MalbecInTheCity.com.
Proceeds will benefit Our Legacy Harvested, a nonprofit empowering the BIPOC community in the wine industry.
What Oregon wineries currently produce Malbec?
The list of Oregon wineries that produce wines from Malbec grapes that are grown in Oregon is ever-changing. Most are Southern Oregon Malbec producers, and more are added to this list regularly.
Here's a list of some of the wineries that are currently producing Malbec in Oregon.
Wineries that are in bold and have an asterisk* by their name are participating in Malbec in the City on April 30, 2023.
2Hawk Winery
Abacela Winery*
Awen Winecraft
Cathedral Ridge Winery
Gonzales Wine Company*
Hummingbird Estate*
Leah Jorgensen Cellars *
Melrose Vineyards*
Misty Oaks Vineyard
Natalie's Estate Winery
Noble Estate Vineyard
Paul O'Brien
Peter William Vineyard•
RoxyAnn Winery*
Ryan Rose Wine*
Sarver Winery*
Silvan Ridge
Sweet Cheeks Winery*
Trella Vineyards*
Valcan Cellars*
Weisinger Family Winery*
Willamette Valley Vineyards*
Buy Oregon Malbec online from our partner, Vivino (affiliate)
Want to learn more about Oregon wine? Check out our full Oregon Wine Guide.
Food pairings for Malbec wine
Now let's get to my personal favorite part of every conversation: food pairings.
While I enjoy a glass of Malbec on its own, I think it's an incredible wine to pair with a variety of foods. When paired thoughtfully, both the wine and the food flavors elevated and everything simply tastes better.
Here are some suggestions for Malbec food pairings.
Food pairings for still red Malbec
Malbec's rich black fruit flavors and smoky secondary notes make it a delicious pairing with game meats. It's great with lamb, mushrooms, and funky blue cheese. Try it with our Herb Crusted Rack of Lamb or Mushrooms Marsala (as featured on The Drew Barrymore Show!)
Comparing Malbec to other red wines
Cabernet Sauvignon vs Malbec
If you love big, bold red wines, chances are, you'll love either or both of these wines. Both pair beautifully with red meat. However, there are noticeable differences in color, tannins, and in aromas and flavors. For a detailed look at the difference between Cabernet vs Malbec, visit our sister site, Recipe FAQ.
Malbec vs Merlot
These are both full-bodied red wines. However, there are visible differences between the two in color, as well as in the aromas and flavors. Visit Recipe FAQ, our sister site, to learn more about the difference between Malbec vs Merlot.
Oregon Malbec resources
Learn more about Oregon wines
If you visit, please be sure to let them know that you read about it on Urban Bliss Life! And if you snap some pics, tag us @UrbanBlissLife and #UrbanBlissLife on Instagram, TikTok, Twitter, and Facebook.
Sign up for the best food, wine, travel deals