Here's a taste of what Sonoma County wine country has to offer... through the eyes of the Hanna Winery California Wine Pairing Dinner in Portland, Oregon.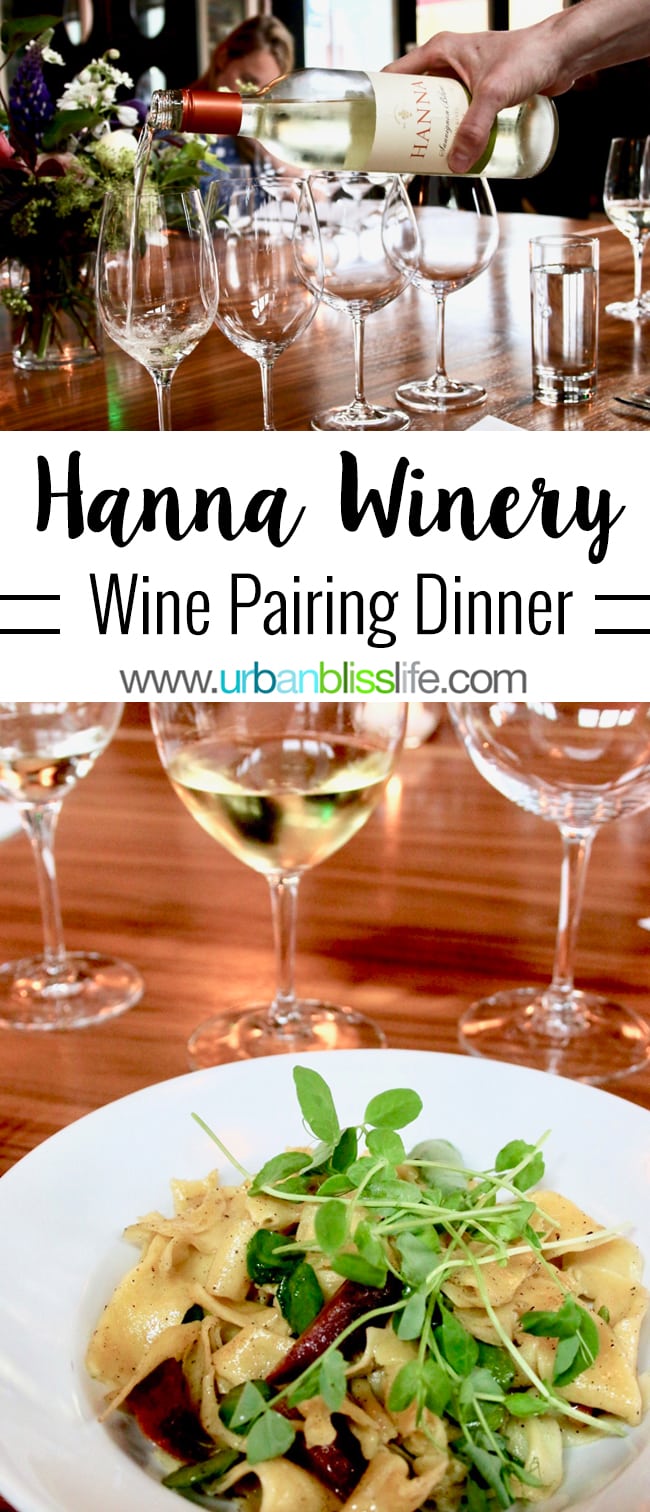 Sonoma, California is full of rolling vineyard hills and deep valleys, vastly different temperatures and soils, producing incredibly diverse wines.
In the heart of Sonoma wine country are distinctly different valleys: mainly, the Alexander Valley, Sonoma Valley, and the Russian River Valley. For four decades, Hanna Winery and Vineyard has called this beautiful place home, crafting wines the exemplify the beauty of each of these valleys.
Hanna Winery and Vineyard
In 1985, Dr. Elias Hanna, much to the surprise of his family, purchased 12 acres of land in the Russian River Valley.
The family-owned and operated Hanna Winery and Vineyard now manages 600 acres of land, with 230 of those acres being planted vineyards in the Russian River Valley, Alexander Valley, and Sonoma Valley.
Dr. Hanna's daughter, Christine, grew up planting and caring for the young vines alongside her father. She returned after college to work alongside her father, first in public relations and marketing, then taking over management in 1993. She is now President and Owner of Hanna Winery and Vineyard.
The wines
Hanna Winery and Vineyard produces a well-rounded portfolio of wines. Current selections include Chardonnay, Sauvignon Blanc, Pinot Noir, Merlot, Malbec, Cabernet Sauvignon, and a lovely rosé. Their nicely priced 2016 rosé wine ($22) is made with mostly Malbec, versus Pinot Noir, giving it a beautiful salmon berry color and a beautifully layered taste.
Recently, I had the opportunity to try their wines and meet Christine Hanna during the Hanna Winery California Wine Pairing Dinner in Portland, Oregon.
Wine pairing dinner
The intimate gathering was held in one of my favorite food- and wine-focused event spaces in town: Plaza del Toro.
In addition to learning more about Hanna wines, we had the pleasure of listening to Christine Hanna share the story of her family's wine business. Living on the farm, with access to so much fresh, seasonal produce, she has created numerous recipes that pair beautifully with Hanna wines.
Christine Hanna and Plaza del Toro did an amazing job pairing Hanna wines with dishes that combined Pacific Northwest ingredients with Sonoma County flair.
Here's a look at some of the dishes we enjoyed during this dinner. May they inspire you the next time you need to pair wines from Sonoma County with a meal!
The wine lineup
Our first wine with dinner was the 2016 Hanna Sauvignon Blanc ($19) from the Russian River Valley. This is the only Hanna Winery white wine that is not done in oak.
The Sauvignon Blanc has a nice bright lemony flavor and a clean finish that pairs beautifully with a light summer salad, such as the Dungeness Crab & Fennel Salad with bitter greens, red onion, and meyer lemon vinaigrette that we enjoyed during the dinner.
Our next white wine was the 2015 Hanna Chardonnay from the Russian River Valley. This is a classic California Chardonnay: big, buttery, and oaky.
The Chardonnay pairs nicely with a summer pasta dish, such as the Cacio e Pepe pasta with english peas, pea tendrils, fava beans, and baby carrots that we enjoyed as our second course.
Moving on to the reds, we enjoyed both the 2013 Hanna Bismark Mountain Cabernet Sauvignon from Sonoma Valley, and the 2014 Hanna Cabernet Sauvignon ($44) from the Alexander Valley.
These are both incredibly layered and nuanced, and I love tasting the difference between vintages and vineyards. The 2014 Hanna Cabernet Sauvignon is bursting with blackberry, cola, and black cherry flavors and soft vanilla. The Bismark Mountain Cabernet Sauvignon has a richer, earthier cassis flavor and a big, smooth finish.
Both are big reds that pair wonderfully with equally rich meat dishes. I enjoyed them both with the Open Fire Grilled Tomahawk Ribeye Steak served at this dinner.
The Winemaker Cooks
These wine and food pairings highlight Christine Hanna's expert hand in the vineyard and the kitchen. Her cookbook, The Winemaker Cooks, contains more than 100 recipes alongside personal stories as well as cooking and wine pairing tips. I've only just begun to flip through the pages and am enamored by the beautiful photos and have bookmarked a few recipes that look amazing to try!
Visit
Hanna Winery and Vineyard has two tasting rooms: one in Alexander Valley and one in the Russian River Valley.
Alexander Valley Tasting Room
9280 HWY 128
Healdsburg, CA 95448
707.431.4310
Open Daily: 10:00 am – 4:00 pm
Russian River Valley Tasting Room
5353 Occidental Road
Santa Rosa, CA 95401
707.575.3371
Open Daily: 10:00 am – 4:00 pm
* limited experiences available*
Have you had wines from Sonoma California? Do you have any wine pairing questions you'd love answered? Let me know in the comments below!
More Sonoma wine ideas
Where to Eat in Sonoma County, CA: Catelli's
Jordan Estate Winery in Sonoma California Wine Country
Sonoma California Wine Country Travel Guide: Top Restaurants
Disclosure: Many thanks to Hanna Winery and Vineyard for inviting me to this complimentary media Hanna Winery California wine pairing event. As always, all opinions and photos are my own. This post also contains affiliate links.