A road trip from Portland to Victoria BC is a roughly six hour journey, and well worth the trip!
Big, bright, bold flowers everywhere.
Old castle-like buildings with tall turrets and people dressed like royalty.
Various bodies of water and boats docked all along the shore.
These were the memories of Victoria B.C. that I carried with me from my visits as a young child. I can't even recall the last time I had been to Victoria BC... perhaps I was nine or 10 years old? Old enough to possess fuzzy memories, but young enough to forget the details.
Those memories came rushing back recently, when my family took a road trip from Portland to Victoria BC, then on to Vancouver BC for spring break. We had an incredible time, and I am so excited to share our travel experiences with you over the next few months!
Today we start this Portland to Victoria BC road trip series.
Portland to Victoria BC Family Road Trip
In preparation for our road trip, I made each of my kids the traditional custom vacation packets that I prepare for each of our trips. You can get the full details on what I include in these packs in my Tips for Family Road Trip Bliss post.
I've made these custom kid vacation packets for our road trip to Idaho, Eastern Washington, Montana, and for our travels to Hawaii, Switzerland, and Italy. For road trip food, I packed the usual snacks crackers, nuts, fruit, granola bars, waters, and peanut butter & jelly sandwiches. I used my free Road Trip Packing List printable to make sure we had everything we needed packed, and we were on our way bright and early on a Sunday morning!
Heading out on your own road trip? Download my free Road Trip License Plate Game and BINGO Printables and my Fun Road Trip Printables.
Scenic drive through the Pacific Northwest
The drive from Portland, Oregon to Port Angeles, Washington took us about four and a half hours.
We made one stop for gas and snacks, which took up about 20 minutes of our trip. Along the way, once you get off of I-5, the main highway, and onto the state highway that takes you to Port Angeles, the scenery is quite breathtaking.
You drive all along Hood Canal and through the Olympic National Forest. It's beautiful, and I see why so many people travel up to this part of the Northwest often for vacation!
Port Angeles, Washington
Victoria BC is located on Vancouver Island. Being one of many islands in the area, the only way you can get to it is by ferry.
Once you get to Port Angeles, Washington, there are plenty of signs to follow. These make it super easy to find the ferry service.
Right next to the ferry dock, you'll find a large number of options for dining. Choose from small cafes for quick bites or sit-down restaurants.
Plus, there's a fun dock that you and your family can walk down. It's a great spot to enjoy the views while waiting for the ferry to leave.
Taking the MV Coho Ferry from Port Angeles, Washington to Victoria BC Canada
My kids have only taken one other drive-on vehicle ferry in the past. That was in Switzerland when they were about 4 and 6 years old. So this ferry ride was almost like their first all over again. I love being able to witness experiences like this through their fresh eyes!
First time taking the MV Coho Ferry from Port Angeles, Washington to Victoria BC? Here are some helpful travel tips!
For nearly 50 years, the historic MV Coho Ferry operated by the Black Ball Ferry Line has been the main vehicle and passenger ferry service linking the Port Angeles, Washington and Victoria BC. With an average capacity of 100 vehicles and 1,000 passengers per trip, the MV Coho is a spacious, well-run mode of transportation that operates 365 days a year.
Do they use Canadian or US Dollars in Victoria BC?
You can pay for the ferry and for snacks and souveniers on the ferry with either Canadian or US dollars, as well as with credit cards. Keep in mind that most credit cards charge an international fee, so as soon as you cross over into Canadian territory, you're going to be charged that fee for every card purchase you make.
What legal documents are needed to travel from the US to Victoria BC?
One you arrive in Victoria, you'll go through customs, which will require you to provide valid proof of citizenship. We brought our passports.
However, for children who are 16 years of age or younger, you can show either:
a passport
an original birth certificate, or
a naturalization certificate/citizenship card.
Be sure to check the latest travel regulations before you travel, as border requirements are subject to change.
How much does the ferry ride to Victoria BC cost?
You can ride the ferry as a walk-on passenger, or drive your vehicle onto it.
It is highly recommended that you make a reservation in advance if you are taking a vehicle across on the Coho Ferry. Rates range from $6 for motorcycle vehicle registration to $63 for a vehicle and driver. Online registration for vehicles must be made at least 12 hours in advance of sailing; telephone reservations may be made up to one hour prior to sailing.
Tour buses and commercial vehicles need to call in advance for those specific current rates.
Fares and tax are subject to change. Please be sure to visit the Coho Ferry website before your trip for the latest fares and guidelines.
What is the process for boarding the ferry to Victoria BC?
Once you drive up to the ticket booth, there will likely be a line. Receive your ticket and place it on your dashboard. Then proceed to the numbered row the agent on the dock assigns to you. Park immediately behind the last car.
At this point, you may stay in your car. However, if you have more than 20 minutes to wait, you can get out of the car and stretch your legs. About 10-15 minutes before they open the doors, they'll make an announcement that it's time for all passengers to return to their cars.
The loading process for vehicles is a clearly well-organized and often-done process. The guys direct you to your lanes inside the ferry on the vehicle decks. As long as you are paying attention, everyone gets on and off safely and quickly.
After parking, you then leave your car and head upstairs to the large passenger seating areas. You are not allowed to remain in your vehicle during the ferry crossing.
How long is the ferry ride to Victoria BC?
Sail time to Victoria BC is approximately 90 minutes from port to port.
During that time, you can make use of the ferry's WiFi and use any electronic devices you brought on board with you. I suggest bringing valuables with you from your vehicle and keeping them with you at all times. Not that it is unsafe in any way, but just because I recommend that wherever and whenever you travel. If you keep valuables to a minimum when traveling, even better.
You can remain seated in the covered areas for passengers the entire time, or you can move about inside and outside of the main area, during the entire trip.
What to wear on the ferry to Victoria BC
No matter what time of year you take the ferry, I suggest bringing at least a light jacket with you. It can get quite windy, and also rainy, while sailing. My daughter and I only lasted a few minutes outside each time we ventured out. Tt became so cold so fast, and was too windy for us to carry on any kind of conversation.
Being outside Is a great way to experience the ferry ride, though. So if you can go outside even for a few minutes, I highly suggest doing so. You will have beautiful views of surrounding islands!
What can you eat on the ferry

to Victoria BC?
The MV Coho has a small snack bar and seating area. Here, you can buy hot and cold beverages. You'll find coffee, beer, wine, and child favorites like milk and apple juice. You can also purchase snacks like cookies, crackers, hot dogs, nachos, and more.
Sit back and enjoy the ride to Victoria BC
The ferry ride from Port Angeles to Victoria is incredibly smooth, and it goes quite quickly. My favorite part was when we were about 10 minutes from shore. That's a great time to head outside to watch the city come into view.
Victoria is a GORGEOUS city. I really cannot wait to show you our family travel adventures in this beautiful Canadian city! And, to share some family travel tips too! Stay tuned for the next part of my Travel Bliss: Victoria BC Canada series!
Have you ever taken the ferry to Victoria BC, or any other vehicle ferry before? What was your experience like?
More Family Travel Tips
PIN IT: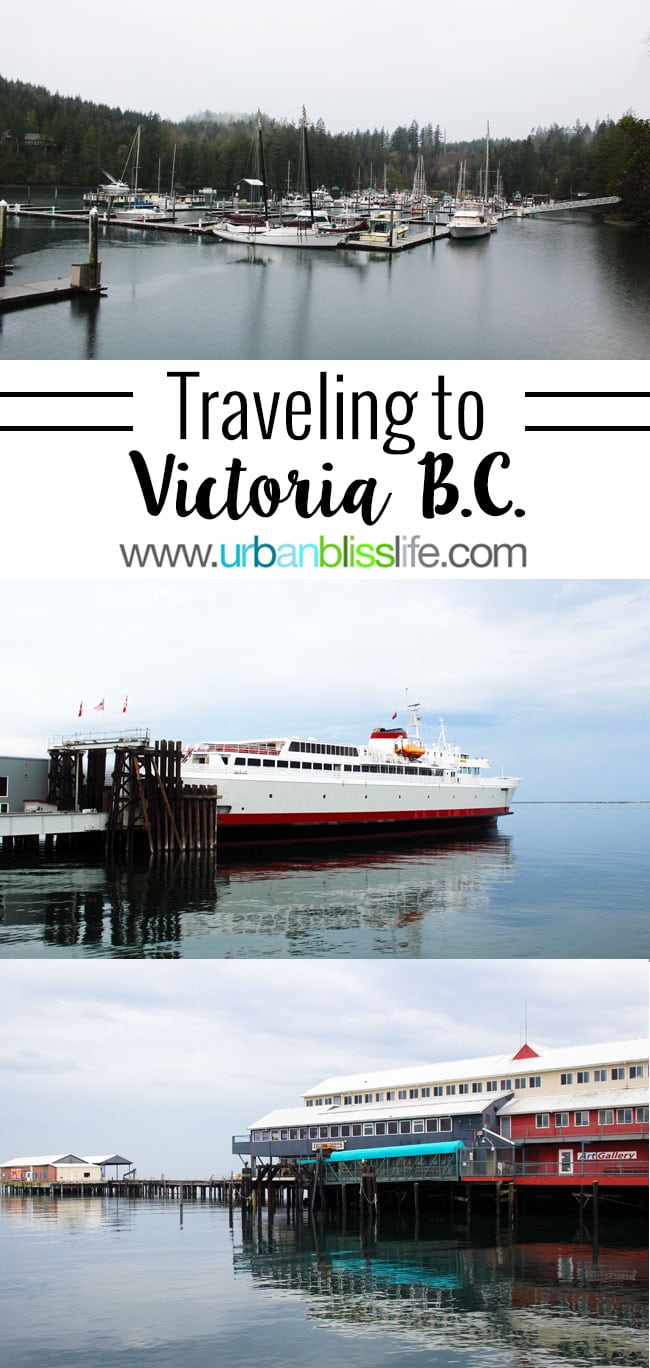 Many thanks to Tourism Victoria for sponsoring this family travel series, and to Black Ball Ferry Line for the complimentary ferry ride covered in this post. As always, all opinions and photos are my own. My family and I truly enjoyed every experience shared that is/will be featured in my Travel Bliss: Victoria BC series, and I think you will too!