Looking for a hotel in Victoria, Canada? Consider a stay at the Inn at Laurel Point. British Columbia's first carbon neutral hotel, the Inn at Laurel Point features spacious rooms, stunning harbor views, exceptional on-site cuisine, and friendly service.
Victoria B.C. on the west coast of Canada is a charming island with a European-feel. I've visited Victoria for family travels as well as for solo work travels, and I always enjoy my time in this beautiful city.
During my most recent visit, I had the chance to stay at the Inn at Laurel Point.
Jump to:
✨ What makes this place special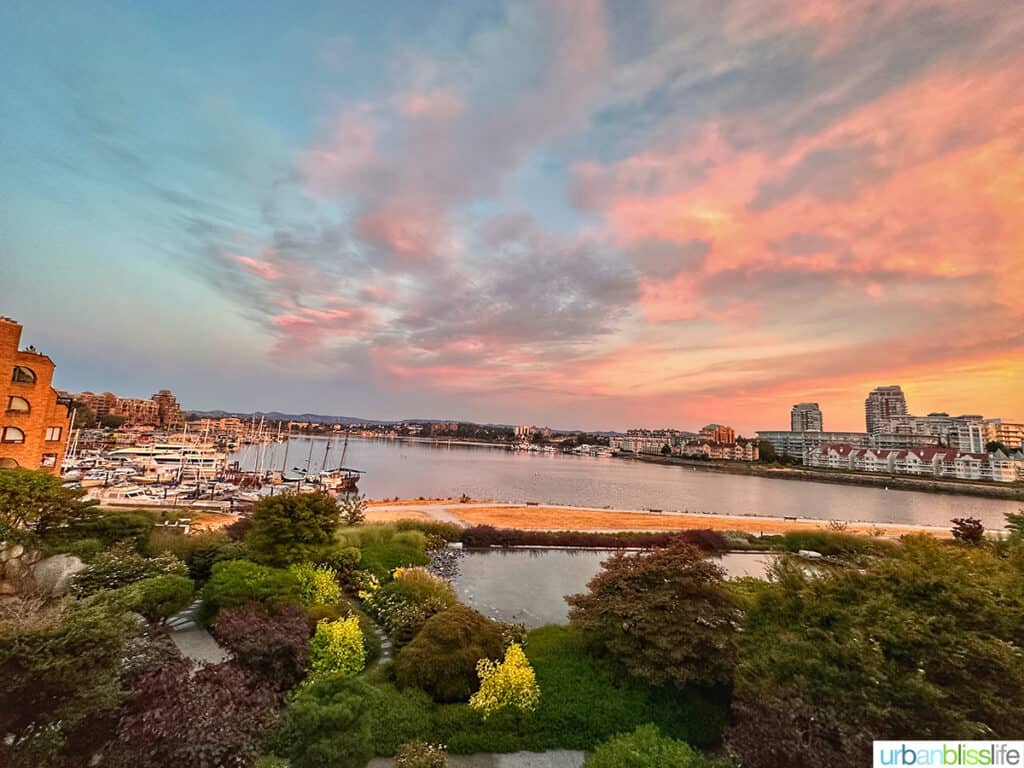 First, let's talk about the location. The Inn at Laurel Point is located right on the Victoria harbor. It's a short walk away from Parliament, the Royal BC Museum, downtown shops, and of course, the harbor itself.
And if you're one of the many growing population of eco-conscious travelers, you can feel good about staying here. The Inn at Laurel Point has the bragging rights of being British Columbia's first carbon neutral hotel, since 2009.
The hotel is committed to zero waste practices, renewable energy generation, water conservation, and reducing, eliminating, and off-setting carbon emissions wherever possible. Carbon offsets are sent to the Great Bear Rainforest, protecting 6.4 million rugged hectares of old-growth trees, and wildlife habitat for bears & wolves.
At the end of the day's travels, you can retreat back to one of the hotel's 200 spacious and beautiful rooms or suites.
🛏 Rooms and suites
There are two wings at the Inn at Laurel Point: the Erickson Wing and the Laurel Wing.
I stayed in one of the 35 suites in the Erickson Wing, which is the newer wing; the Laurel Wing has 165 rooms that were part of the original build of the hotel.
All rooms have balconies, with various views. The Ericskson Wing suites all have spacious terraces with scenic harbor views. The photos above were all taken from my terrace. The view is one of the best parts about staying at the Inn at Laurel Point!
My suite had a super comfortable king bed, separate sitting area, desk, Nespresso coffee maker, and small refrigerator. it also had a massive luxury bathroom suite, with a deep-soaker tub and separate glass-enclosed walk-in shower, and plenty of counter space and double sinks.
🍳 Breakfast options
I often judge a hotel by its breakfast options, and the Inn at Laurel Point gets the highest marks in this category. On my first morning, I ordered the eggs benedict from room service.
This is no exaggeration: it was one of the best eggs benedicts I have ever had. They even accommodated my annoying request for crispy bacon (sorry, Canadian friends! I'm just not a fan of Canadian bacon), and the bacon was crisped to perfection. The hollandaise sauce was silky smooth, and the eggs were poached perfectly. All breakfast potatoes should be as crispy and well seasoned as these potatoes were. And I absolutely adore the addition of tomatoes that added color, acidity, and freshness to the whole dish.
I loved it so much that I ordered it on my last morning for room service as well!
And, if you're enjoying breakfast in the hotel's on-site restaurant, Aura, be sure to order the Seafood Benedict. This inventive play on eggs benedict is given Asian-inspired flavors and the seafood tastes so fresh.
Of course, there's more food at Laurel Point than just breakfast. A Grab-and-Go station next to the front desk offers beverages and snacks. A coffee shop/bakery is currently in the works, which will be open to the public as well as hotel guests.
And the on-site restaurant, Aura, offers happy hour, weekend brunch and tea, dinner, and more.
🍽 Dinner at Aura restaurant
Whether you are a guest at the Inn at Laurel Point or not, you can make a reservation for dinner at Aura. Dinner is available between 5 and 10pm (closed Tuesday and Wednesday).
You can order dishes a la carte from the regular menu. However I recommend gathering some of your besties and making reservations for the Chef's Group Tasting Menu.
For just $65 per person, you and 7 to 11 of your closest friends can enjoy an absolutely memorable evening feasting on a set 9-course meal. I'm going to be writing about that dining experience in a separate article soon!
In the meantime, check out Aura's most recent menus and make reservations by visiting the Aura restaurant website.
🌟 Other amenities
There is a small on-site pool and fitness center.
There's also some beautiful space to lounge outside of the back of the hotel facing the harbor. You can stroll through the gardens and enjoy some zen moments watching the beautiful waterfall.
Nearby is the Kitchen Garden where Aura chefs grow and harvest food that is served in the restaurant. It's seasonal, and when I stayed here there were vegetables like kale, onions, artichoke, arugula, brussels sprouts, and leeks. Plus they grow numerous herbs and berries.
You can snap a photo of the Kitchen Garden sign QR code and see a garden map with what's currently growing. How cool is that? I love it!
🏩 Hotel FAQs
Is this hotel pet-friendly?
Yes! Be sure to read the hotel's pet policies and ask about their pet-friendly guestrooms when making your reservation. The hotel offers doggie beds, food bowls, house made doggie cookies, a local walking map with some dog waste bags.
What time is check in? What time is check out?
Check-in: 4:00 pm
Check-out: 11:00 am
Is there parking available?
There is underground parking available to all guests for $20 CAD plus tax, per night.
🛍 What to do nearby
Conveniently located on the harbor, the Inn at Laurel Point is just a short walk or bike ride away from some of Victoria's main attractions and its vibrant downtown scene.
Rent e-bikes from Pedego Victoria. Victoria is very bike-friendly, and the Inn at Laurel Point has a secure bike lock-up in their parking garage.
Do a walking tour with Songhees Nation. The 7 Signs of Lekwungen Walking Tour is an eye-opening, memorable tour that takes you to some of the Songhees Nation's most important historical sites.
Kayak or canoe in Victoria Harbour. You can rent kayaks from Ocean River Sports. I recommend doing a guided tour, since experts like our guide Lee Phillips can show you exactly where you can go and how to navigate the very busy and heavily trafficked Victoria Harbour safely.
Parliament and the BC Royal Museum are also walking distance from the Inn at Laurel Point.
🏨 Stay at the Inn at Laurel Point
I thoroughly enjoyed my stay at the Inn at Laurel Point. The hotel is well-maintained and even though there were events happening throughout the day and night in the hotel's different event rooms, it was still so quiet and peaceful up in the rooms.
The view is truly stunning, especially from the Erickson Wing suites. I love how large the balconies are, and I appreciate the privacy partitions on the balconies.
Each staff member was warm and welcoming, and very helpful any time I had any questions or needed assistance. And the food was simply delicious. More on that soon!
Inn at Laurel Point
680 Montreal Street
Victoria, BC
V8V 1Z8, Canada
+1 800-663-7667
For more information or to book your reservation, visit the Inn at Laurel Point website
More Canada travel guides
If you visit, please be sure to let them know that you read about it on Urban Bliss Life! And if you snap some pics, tag us @UrbanBlissLife and #UrbanBlissLife on Instagram, TikTok, Twitter, and Facebook.