Victoria is a charming city in British Columbia, Canada. If you're planning to travel here in the near future, here are some of the Top Things to Do in Victoria BC.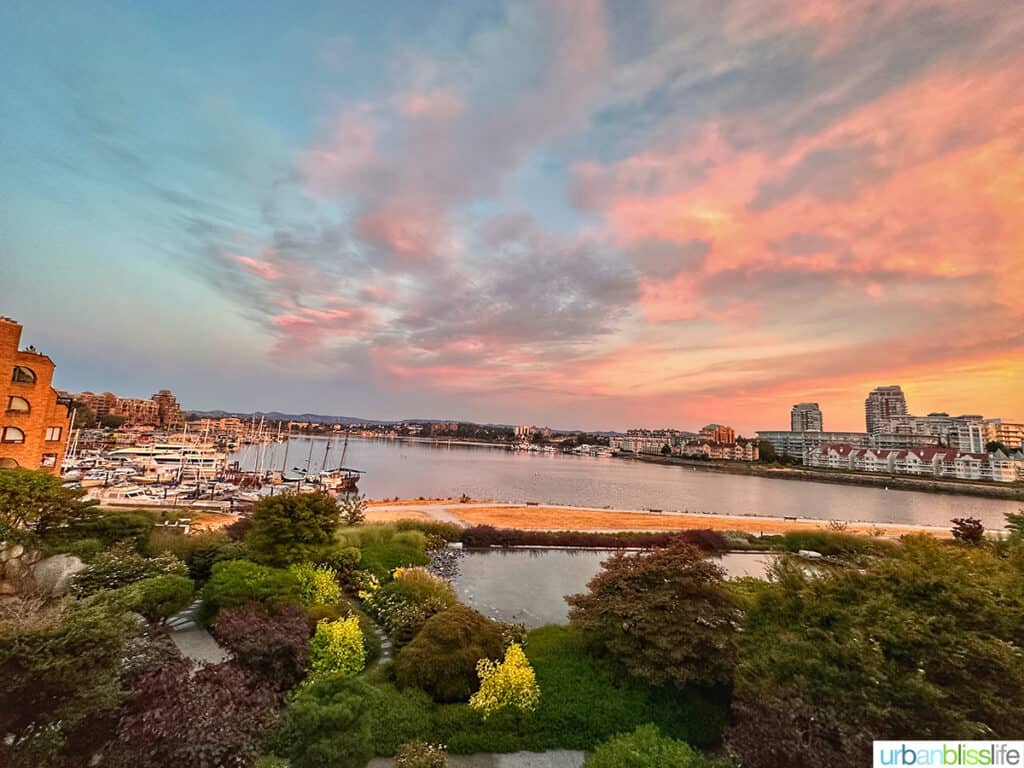 Victoria is the capitol city of the province of British Columbia. It's located in the southern tip of Vancouver Island on the west coast of Canada.
Prior to European exploration arrivals in the late 18th century, Victoria was long home to several First Nations people. Then came Captain James Cook, Hudson's bay Company establishing Victoria as a fur trading post, and a gold rush boon in the 1850s.
Since then, Victoria has blossomed into a city known for its tourism, technology, higher education, and fresh seafood.
Named after Queen Victoria, this capitol city has the architectural charm and feel of smaller European cities. And with sprawling gardens throughout its boundaries, it's known internationally as the City of Gardens. More than one million people visit its famed Butchart Gardens, a National Historic Site of Canada, each year.
Jump to:
Reasons to love Victoria BC
I have been to Victoria BC several times, and it never fails to charm and delight.
If you're thinking of visiting, I highly recommend it. Here are just a few reasons to fall in love with this beautiful city.
Victoria BC is extremely bike-friendly and walkable city. Perfect if you're here for a long weekend!
World-class global cuisine. With a diverse population, you'll find no shortage of delicious eats representing Chinese, Korean, Filipino, Italian, Spanish, Mexican, Japanese cuisine and so much more. From casual grab-and-go spots to exquisite fine dining and everything in between, foodies will love all of the options here!
It's an extremely family-friendly city. If you're traveling here with family, be sure to check out this top family-friendly things to do in Victoria BC article.
The people here are lovely. You've heard how Canadians are so nice, right? Well, Victoria is full of kind, friendly people who are proud of where they live.
To illustrate the last point: my cab driver and I chatted nonstop from the moment we left the airport to the moment I walked into my hotel. He was so friendly and knowledgeable about Victoria -- and so excited to share what he loved about his city!
Ready to learn more? There's so much to do in this beautiful Canadian city, but to start, here are 5 Things to Do in Victoria BC.
1. See the city on bike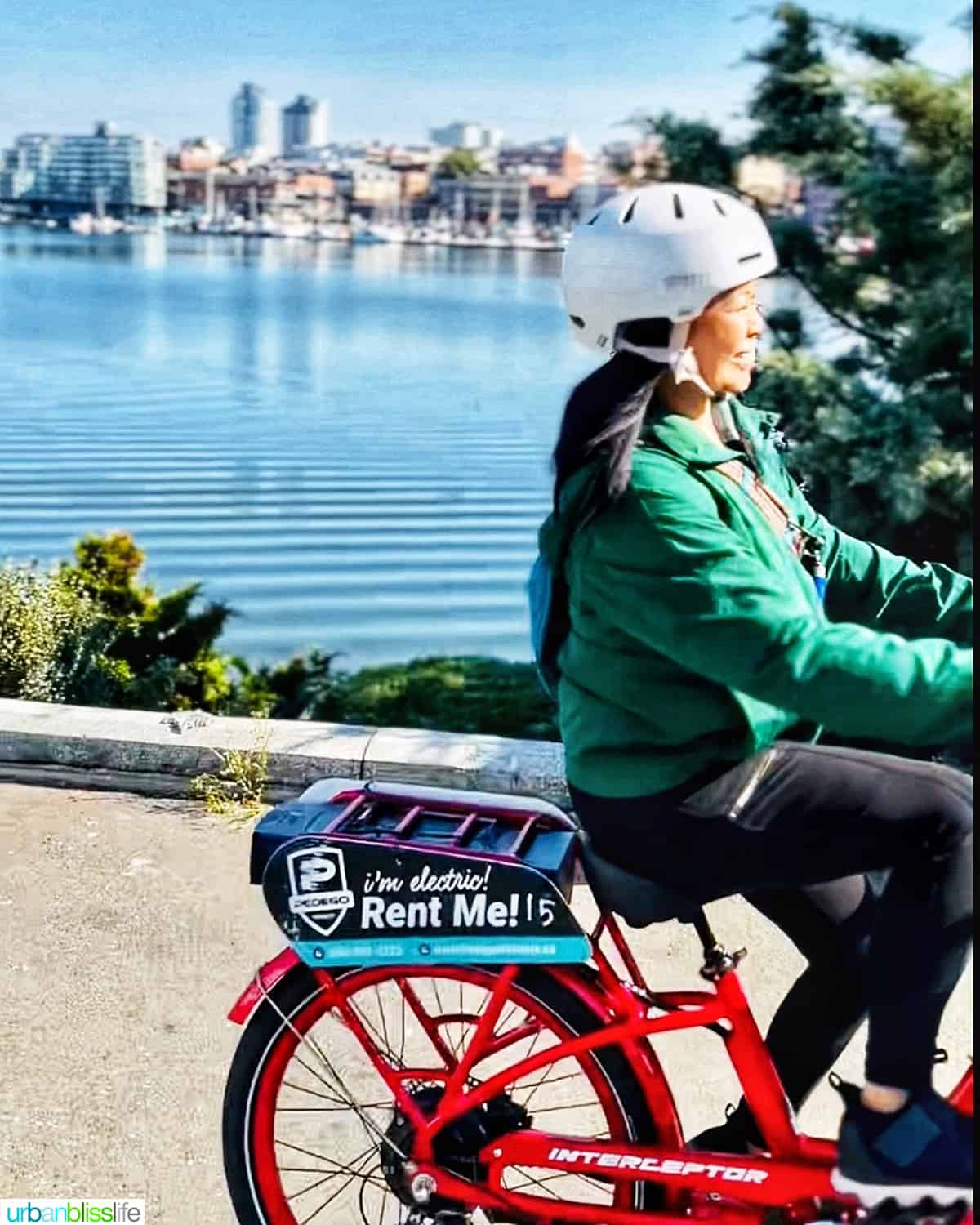 Victoria BC is extremely bike friendly, with hundreds of miles of dedicated bike lanes and routes in the city. There are also trails that take you through the urban city to more rural, scenic landscapes, such as a former freight railway line turned 55-kilometre trail known as the Galloping Goose Regional Trail.
I recommend renting e-bikes from Pedego Victoria. It's conveniently located just down the street from Parliament buildings and the British Royal Museum. You can rent bikes for 2 hours, 4 hours, or a Full Day. Rentals include a bike helmet, lock, and short training session.
2. Enjoy a Nordic spa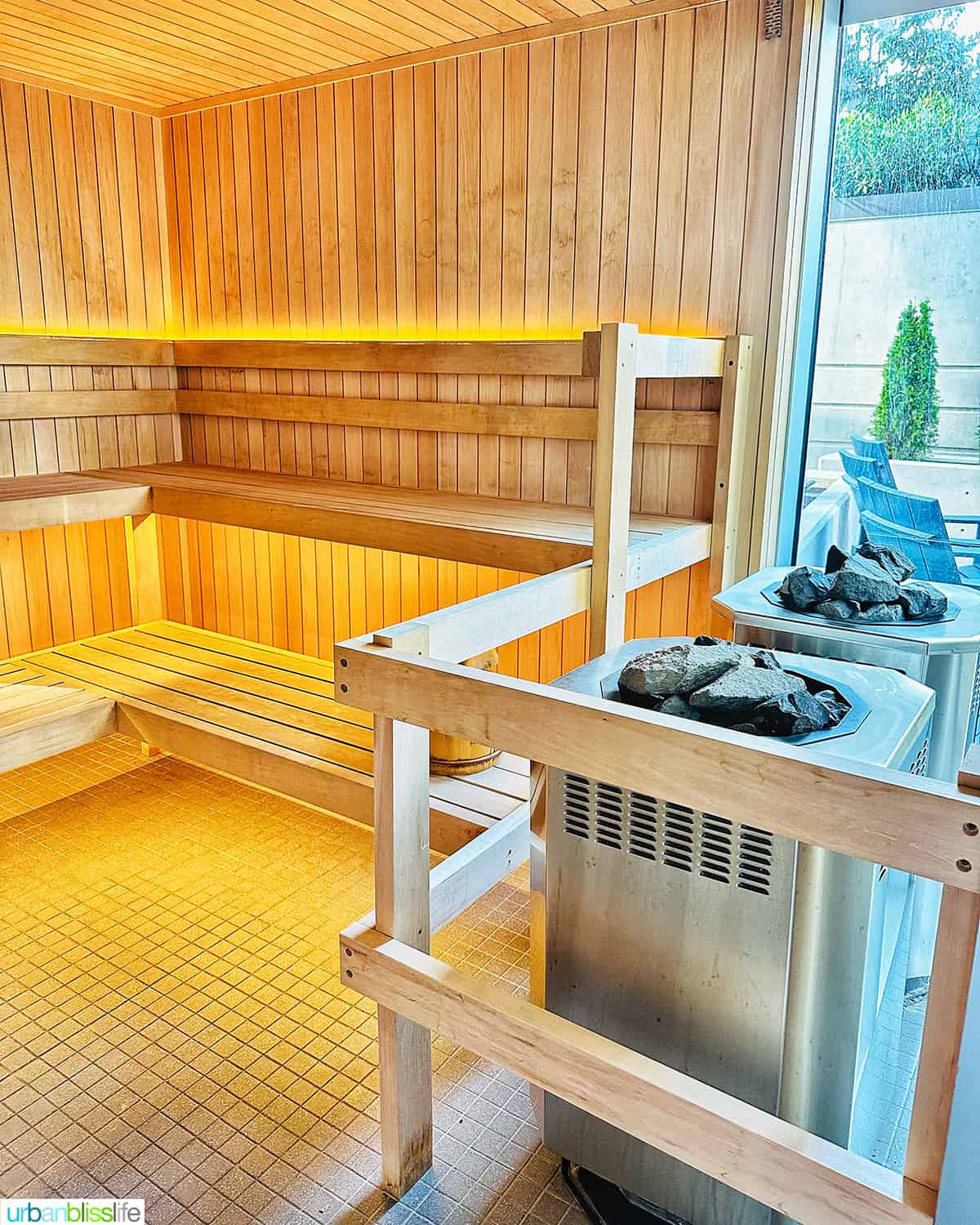 Victoria is a city where locals prioritize health and wellness, so if you're here for a relaxing retreat, you have no shortage of spas and salons from which to choose. I experienced my first Nordic spa circuit at the aptly named Ritual Nordic Spa, and cannot recommend this oasis enough!
The circuit includes 15-20 minutes of heat (sauna or steam room), followed immediately by 1-2 minutes of cold (ice plunge bath or ice bucket), followed by 10-15 minutes of rest at regular room temperature (outdoor lounge or Himalayan salt room).
You can either purchase a 2-hour circuit, during which you may move through the shared rooms at your own pace. Or you can book a private sauna suite.
Ritual Nordic Spa is thoughtfully designed space, a true oasis in the middle of the city. The staff are warm and welcoming, and the facilities are clean, well-maintained, and simply a joy to enjoy.
3. Learn more about indigenous culture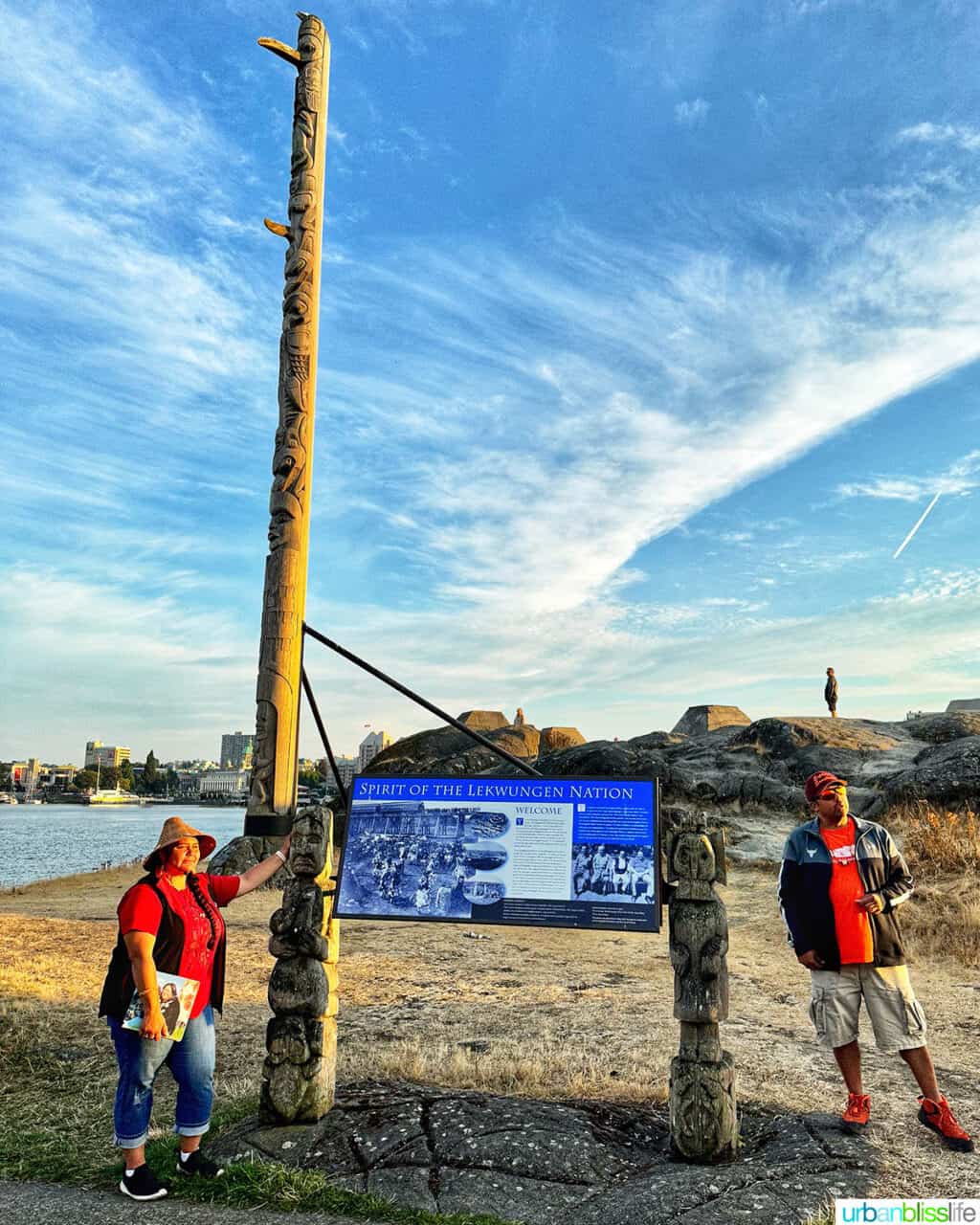 Victoria is the land of the Lekwungen People, known today as the Esquimalt and Songhees Nations.
I highly recommend you sign up for one of the two-hour 7 Signs of Lekwungen walking or canoe tour. Your cultural guide will take you throughout the city, where you'll find seven markers that designate significant cultural sites. You will learn so much about the land, the spirit of the people, and the history, culture, and spirit of the Lekwungen people.
The tour guides are known as Knowledge Keepers, and ours – Melissa Barnard and Cyril Morris– were amazing! I was humbled and honored that they shared not only the history and stories of Songhees Nation, but also their personal family histories on Vancouver Island. I think to truly appreciate and understand Victoria today is to have a better understanding of its full history. And I am so grateful to Cyril and Melissa and for sharing the Lekwungen history with so much heart and passion – and passing on their important knowledge to us.
It's fabulous tour for families, and for all travelers who want to learn more about the land you are visiting.
4. Navigate Victoria Harbour by kayak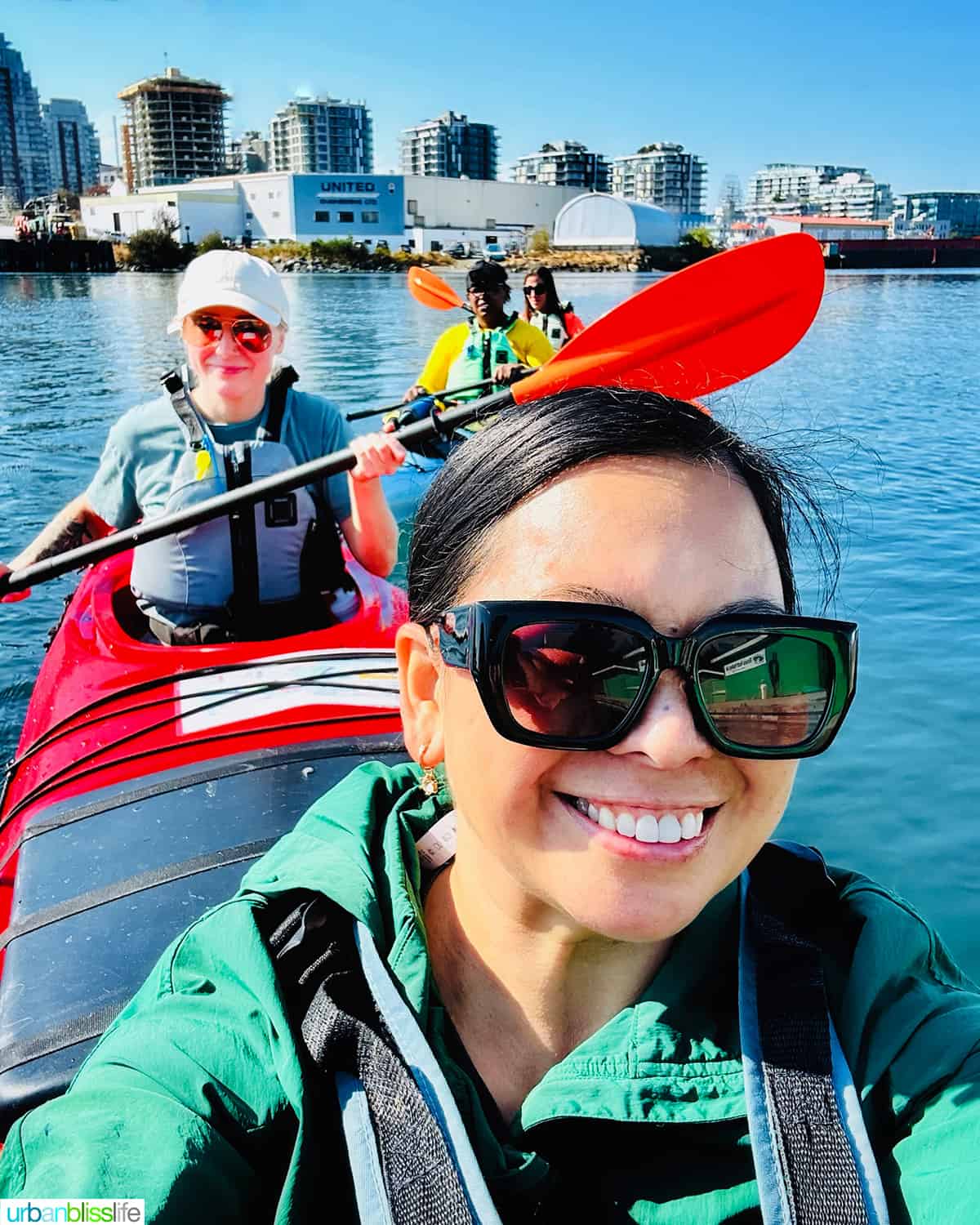 Water sports fans will love visiting Victoria BC. Surrounded by the Salish Sea, which goes out into the Pacific Ocean, the inner harbour of Victoria is a bustling spot for water transportation. In addition to seaplanes, cruise ships, and ferry landings, you can also kayak, canoe, and enjoy stand up paddle boarding in the harbour.
You can rent kayaks from Ocean River Sports. They have kayak and SUP rentals, as well as guided tours and classes. Under the supervision of our fantastic guide, Lee Phillips, our group successfully kayaked the harbor.
Being on the water is a great way to see and learn more about Victoria from a different viewpoint.
5. Witness local wildlife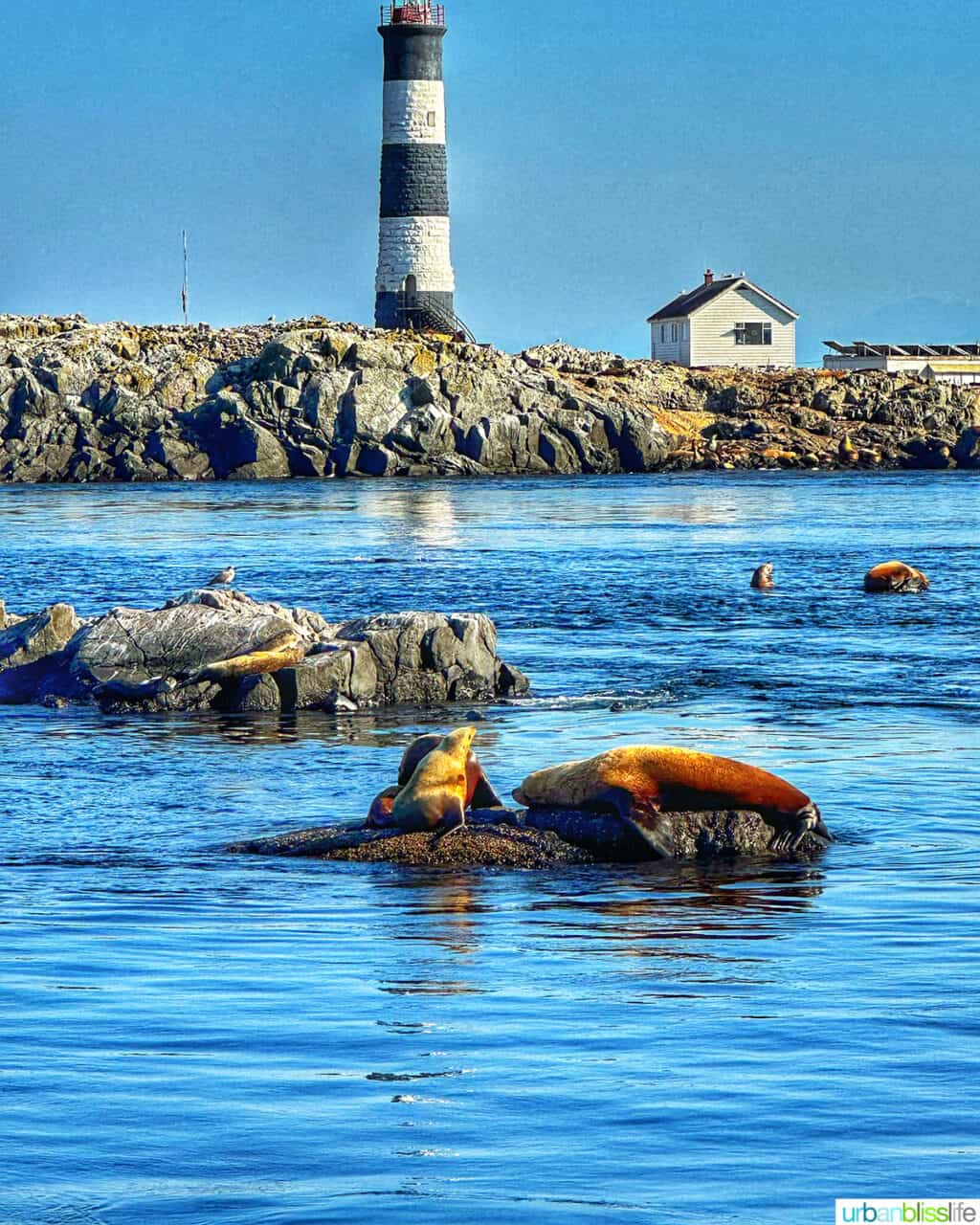 So many beautiful animals call the Salish Sea home. Whale watching in Victoria is a popular activity, with good reason.
Orca Spirit Adventures has numerous whale watching tours daily from April through October. You can catch a ride on a covered vessel with heated indoor cabins, full washroom facilities, and an upper viewing deck. Or the more adventurous can book a seat on one of their 12-person zodiac boats.
On our tour, we spotted three whales! I've been on whale watching tours before where no whales were to be found, so know that it's never a guarantee. But what a beautiful site to see the whales playing in the sea!
The tours also usually go by Race Rocks, where you'll find hundreds of seals and sea lions. You may even spot the resident otter, and a bald eagle or two.
Victoria BC FAQs
What airport do you fly into for Victoria BC?
Victoria International Airport (YYJ)
How do you get to Victoria BC from the US?
You can either fly into Victoria International Airport (YYJ), or take one of the ferries. One option is the Clipper Ferry, which is a 2 hour and 45 minute ferry ride from Seattle to Victoria BC. Another option is the Black Ball Ferry Line, which runs the 90-minute MV Coho ferry ride from Port Angeles to Victoria BC.
What is the best month to visit Victoria BC?
Victoria is beautiful any time of year. But for the mildest weather, most beautiful blooms, and potential whale watching, try visiting in the Spring (March through May) or Fall (September through November).
What is the currency in Victoria BC?
Canadian dollars.
Can you use US Dollars in Victoria?
As of this publication date, many merchants in Vancouver and Victoria BC will accept US dollars. However, change is only given in Canadian dollars.
Is Victoria BC safe for tourists?
As a woman traveler, I find Victoria to be very safe. I would go out early and run as the sun was rising and always felt very safe. As with most cities around the world, you should still take caution when traveling and use common sense when navigating a new city.
🏨 Where to stay in Victoria
The Inn at Laurel Point - British Columbia's first carbon-neutral hotel, this hotel boasts spacious rooms and suites (every room has a balcony) with beautiful views of Victoria Harbour. Be sure to read this Inn at Laurel Point hotel review.
The Delta Victoria Ocean Pointe Resort and Spa is across the harbour and is an equally beautiful place to stay.
I recommend both of these hotels for family travel, as well as for solo travel and small group travel.
🍽 Where to eat in Victoria
The food scene is fantastic here! Check out some of these restaurants while you are in town.
Aura - Aura restaurant is on the first floor of the Inn at Laurel Point. I had the pleasure of enjoying breakfast from here each morning of my most recent stay. And, I got to enjoy the incredible Chef's Group Tasting Menu experience.
If you have a group of 8-12, I highly recommend making a reservation for their Chef's Groups Tasting Menu. For just $65 per person, you'll enjoy a 9-course meal featuring some of the best items on Aura's dinner menu. Plus, there's a lovely view of the harbor from the restaurant.
Be Love - Go to Be Love for delicious, colorful vegetarian fresh fare. You'll find a good selection of teas, kombucha, and smoothies, as well as satisfying salads and main plates.
Zambri's - Craving Italian food? Zambri's menu features seasonal and local ingredients. You'll find hearty pastas, pizzas, and delectable starters and desserts.
And check out these other places to eat in Victoria BC.
🇨🇦 More Canada travel guides
If you visit, please be sure to let them know that you read about it on Urban Bliss Life! And if you snap some pics, tag us @UrbanBlissLife and #UrbanBlissLife on Instagram, TikTok, Twitter, and Facebook.