Looking for a scenic, easygoing trail that you can walk or bike? Check out the Historic Columbia River Highway State Trail!
I have lived most of my life in the great state of Oregon, and the Columbia River Gorge never ceases to amaze me with its beauty. Last fall, I had the opportunity to explore areas of the Gorge that I have driven by likely hundreds of times, but have never visited up close.
One of those areas is the old Historic Columbia River Highway – Highway 30. No longer accessible by motorized traffic, the old highway runs parallel to Interstate 84 along the Columbia River. It's a fantastic trail for beginners and experts alike!
Bike rentals
Before we hit the trail, we rented bikes from Mountain View Cycles. You can rent most adult road bikes for $75 per day and most kids' bikes for $25 per day.
Mountain View Cycles experts can fit you for the right bike, and supply you with helmets for your ride.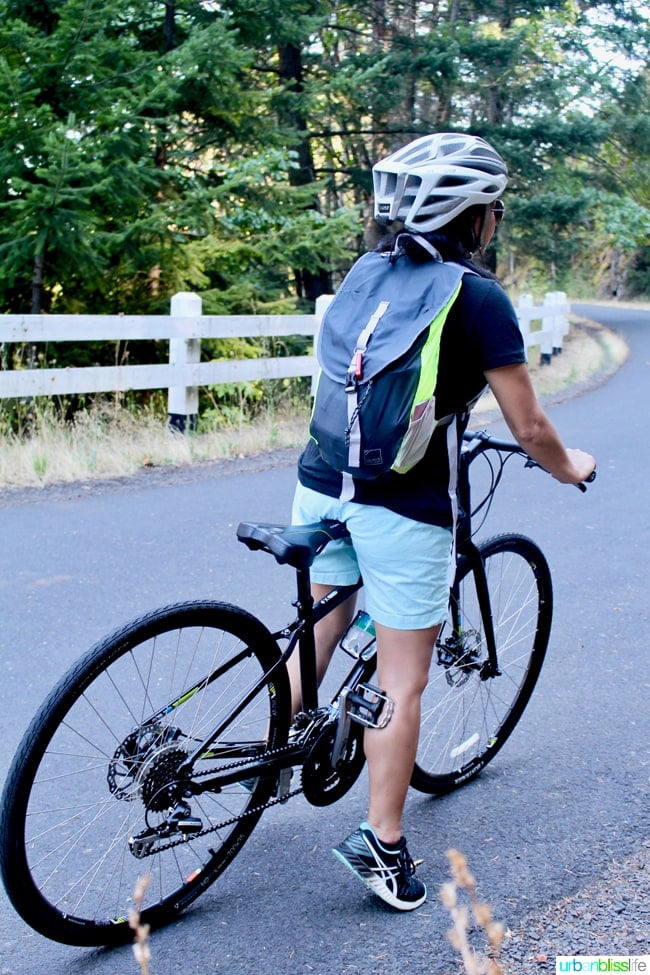 Once we were fitted for bikes and helmets, we were on our way!
Car-free trail
The Historic Columbia River Highway State Trail offers 12 miles of paved, car-free adventure. We started at the Mark O. Hatfield WEST Trailhead, near Hood River, Oregon. The ride starts at an incline and then tapers off to plenty of flat roads with slight inclines here and there.
You'll be immersed under canopies of gorgeous pine trees with breaks of open skies to let the sun shine through. As you wind around the terrain, breezes reward you at just the right time.
And then, there are these gorgeous views at the viewpoints:
Gifts of nature
Even though it's a well-traveled, public trail, remember that you are still out in nature.
We were quickly reminded of this when we came across this guy on our bike tour:
This rattlesnake was one of two that we happened upon during our bike tour. He kept to himself and we stayed safely on the opposite side of the trail (thank goodness for zoom lenses!). I honestly never felt unsafe at all.
But the rattlesnake was a good reminder to always stay alert: keep your eyes up, your ears open, and don't carry a lot of gear with you on this trail that could weigh you down.
After more beautiful scenery on our ride, we came upon the Moser Twin Tunnels, which was such a treat!
After we passed through the tunnels, we came across another gorgeous viewpoint. Then, due to time constraints, we decided to turn back.
That's when I snapped this shot, which I realize is out of focus, but it captures the ease, the relaxed state of this bike ride.
Explore the Historic Columbia River Highway State Trail
I recommend this trail for anyone who wants to run, walk, or bike and enjoy the gorgeous Columbia River Gorge area - without worrying about car traffic. It's a great trail for beginners, and you can definitely take your time or do a quick trek up to the tunnels and back.
That said, I'm told that because of the curves of the trail, it's also popular for cyclists to do short training runs. Just remember the rules of the road – stay to the right unless you are passing.
To park at the Mark O. Hatfield Trailhead (either West or East), there's a $5 day parking fee. There are restrooms at the trailheads, and there are a few picnic tables at the trailheads as well as at different stops along the trail.
Ready to walk, run, or bike the Historic Columbia River State Highway trail? Visit the Oregon State Parks website for more information.
More Oregon travel ideas
Day Trip to Cascade Locks, Oregon
Day Hike: LaTourell Falls Trail Loop
Sunriver Resort - Bend, Oregon
Tualatin River Wildlife National Refuge
I enjoyed this trail during a #HoodGorge press trip with Travel Oregon. Our bike rental and tour were complimentary. As always, all opinions and photos are my own.