If you're looking for a top notch experience at one of the best Northern Idaho Hotels, be sure to check out my tip for the fanciest sute in the area!
Our summer road trip through Idaho and Montana was EPIC, folks. From Glacier National Park to Lava Hot Springs, Idaho to Whitefish, Montana, from Boise, Idaho to Missoula, Montana, and all points in between. EPIC.
Today's Travel Tuesday post is a feature on our final hotel stay as we traveled back from Western Montana to Portland, Oregon.
Thanks to our friends at the Best Western Plus University Inn in Moscow, Idaho, our final stay was one of my family's favorites.
Where to stay in northern Idaho
Moscow, Idaho is located in Northern Idaho, on the Washington-Idaho border. It's the home of the University of Idaho, and it's an adorable small town.
The Best Western Plus University Inn is conveniently located near the University of Idaho, the mall, and a short drive from the freeway. It was also recently renovated with more high tech amenities and modern decor.

We were comped the Presidential Suite, which was an excellent model of the hotel's recent renovation.
The presidential suite
At least double the square footage of a standard guest room, the Presidential Suite is a single-story suite with a large living room that includes a separate dining area and bar, a large separate bedroom, a full bathroom with TWO baths/showers, and a half bath in the main entrance. There is closet space galore, and plenty of storage and work space, as well as general walking around space.


The Presidential Suite opens up to a large patio with three tables and sets of chairs next to the open common courtyard. It's an excellent space to unwind and enjoy a meal al fresco.
If you're here on business, there is plenty of workspace, and an abundance of electrical outlets and charging stations. I LOVED this. There were enough stations that each family member could charge up electronics at the same time.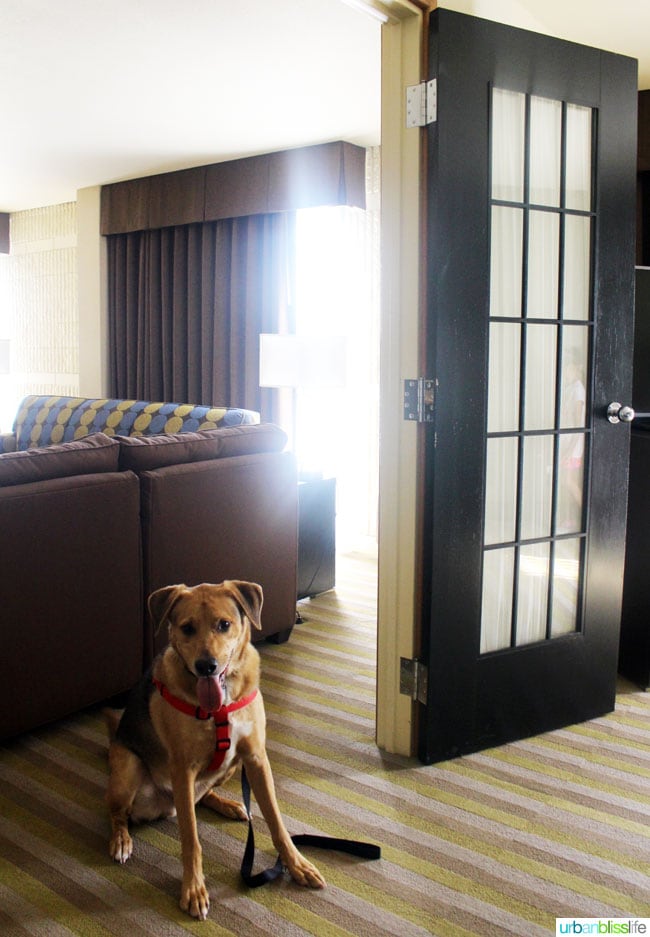 The best part: this hotel is dog-friendly, so ALL of your children –furry kids included– can feel totally spoiled by staying in the Presidential Suite.
Dining
Within the Best Western Plus University Inn, is Seasons Public House. Open for lunch, dinner, and Sunday Brunch. The restaurant is casual, family-friendly, and has a fun Trivia Night on Thursdays, along with Happy Hour 4-6pm Sunday through Thursday each week.
Since it was our final stop on our epic family road trip, and since we had the space to spread out and relax in the Presidential Suite, we decided to splurge and order room service for our last dinner. By this point, we were so tired, we just wanted to relax in our hotel room in comfortable clothes (AKA pajamas) and have the option to eat from bed if we wanted. We didn't, but the point is: we could have if we wanted to. That's the beauty of room service!
---
Family Road Trip Travel Tip: I highly recommend saving some money to splurge on your final meal of your family road trip. It's a sweet way to end on an indulgent note, especially if you've scrimped and saved for most of the trip. Use this family time to share your favorite happy/crazy/weird moments of the trip together over your celebratory meal.
---
I have to say: I was actually surprised by how much I loved the room service meals we ordered. I didn't expect much -- who does from a large chain hotel in the middle of nowhere, right? But boy, was I wrong. I write about food for a living and I was impressed.
The steak bite appetizers ($12) were the first sign that the Best Western Plus University Inn meals would be a cut above the rest. Sirloin braised in Jack Daniels whiskey and served atop garlic butter crostini with a mushroom cream sauce? YES, please! I could have eaten two plates of this.
The gluten-free Fish Tacos ($10) is a delightful dish for lunch or dinner.
Vietnamese Lettuce Wraps ($10) are gluten free and delicious. Perfect as an appetizer to share, or as a light entree.
The aftermath says it all: we loved the whole meal! (The kids both had grilled cheese and fries, by the way).
Breakfast is included with your hotel stay, regardless of the type of room you book, and is served in a large breakfast room. You have a huge selection of hot and cold breakfast items from which to choose, and my kids definitely got their fill of bacon, eggs, and hashbrowns at breakfast.
Activities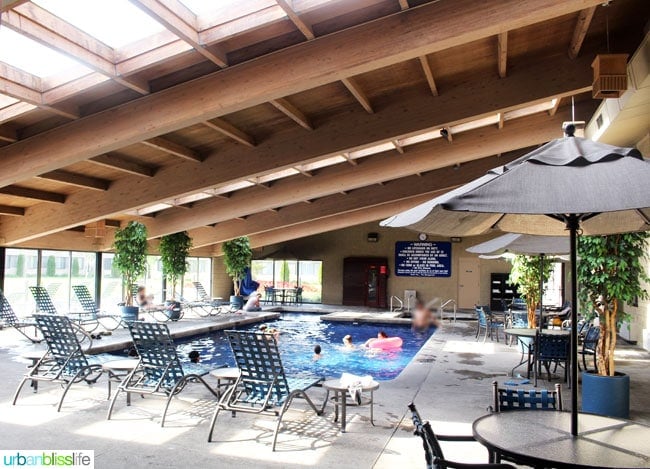 As with all hotels, my children often base their final rating on the hotel swimming pool. The Best Western Moscow's pool was large, covered, but also had floor to ceiling windows that made the area feel spacious. There was plenty of space around the pool, with an abundance of lounge chairs and tables and chairs. We could have hung out there for a full day had we spent more than one night at this hotel. The pool area was definitely a highlight for my kids!
Wrap up
If you are wondering about the standard guest rooms, they are decorated just as nicely as the Presidential Suite. While they vary in square footage, the hotel does an excellent job of keeping the entire hotel squeaky clean (from what I could see) and nicely managed. The staff was super friendly, and we felt so comfortable staying here. Room rates vary depending on the dates of your stay and the season, but in general, I have found the rates to range anywhere from $100 to $160 per night.
When we discovered we'd be staying in Moscow, Idaho for our last night of our family road trip, we had no idea what to expect. We were absolutely THRILLED with our experience at the Best Western Plus University Inn in Moscow, Idaho, and I highly recommend checking it out if you are traveling near the area.
---
Family Road Trip Travel Tip: I highly recommend saving your long distance driving for the first part of your trip, when you have the most energy and everyone in the car is still excited about what's to come. During the last part of your trip, try to break up the drive home in half, or at least make more pit stops to allow for a mental, physical, and emotional refresh.
---
More Idaho and Montana travel ideas
Travel Bliss: Glacier National Park
Travel Bliss: Whitefish Mountain Resort
Travel Bliss: Flathead Lake and Kalispell, Montana
Travel Bliss: National Bison Range
Travel Bliss: Where to Eat & Drink in Missoula, Montana
Travel Bliss: Road Trip from Portland, Oregon to Boise, Idaho
Travel Bliss: Where to Eat & Drink in Boise, Idaho
Travel Bliss: Lava Hot Springs, Idaho
Travel Bliss: Road Trip from Idaho to Montana