Raptor Ridge Winery in Oregon's Willamette Valley does Pinot Noirs exceptionally well, but they're also one of only six Grüner Veltliner producers in the Pacific Northwest, and one of about 29 in the United States.
Welcome to Oregon wine country, where no matter how famous our wines become, we're still (and hopefully always will be) a little Wild West out here. That pioneering spirit that brought Lewis & Clark and crew out West over a hundred years ago is seeped deep into the soil, in our blood, and wafts through the air into every newcomer who sets foot on this beautiful land and falls in love.
You get that feeling of optimism, innovation, and excitement when you visit Raptor Ridge Winery.
Recently, I had the opportunity to attend a media lunch with Raptor Ridge Winery owner and winemaker Scott Shull; his partner in life and in running the winery, Annie Shull; and members of their staff. It was a gorgeous fall day – perfect for lunch on the deck of Raptor Ridge's beautiful tasting room overlooking the vines.
Raptor Ridge Winery
Scott Shull is an engineer-turned-self-taught-winemaker guy, who started off as an independent producer. He founded Raptor Ridge Winery in 1995, making the first vintages in an old converted sheep's barn. Then in 2000, he had a wild idea to tear up an old cherry orchard in the Chehalem Mountains and plant a mix of Pinot Noir, Pommard, and Grüner Veltliner grapes. As you can imagine, ripping out old cherry trees, with well established roots, and prepping the soil for vineyard plantings takes a lot of work.
What you see now as Raptor Ridge was built out in three different phases. The first block – Adalfo's block, named after vineyard manager Adalfo Jimenez – was just a few acres. Then Shull took a couple of years off, then grafted Macario's block – named after vineyard manager Macario Ramirez – in 2004. The third phase of the vineyard took place in 2007, and is named after vineyard manager Dustin Miller.
Now, the Raptor Ridge vineyards total about 20 acres, about 18 of which consists of active vines.
The Raptor Ridge Winery Tasting Room was built in 2010, and is a bright, well-sized space to showcase Raptor Ridge's portfolio of wines.
The majority of Raptor Ridge wines are Pinot Noirs, such as their Barrel Select Pinot Noir ($30) and Estate Pinot Noir ($45). They also make several single vineyard wines sourced from select sites such as Shea ($55) and Meredith Mitchell ($45).
We had the honor of enjoying the first vintage from the estate, the 2006 Adolfo's Block Pinot Noir.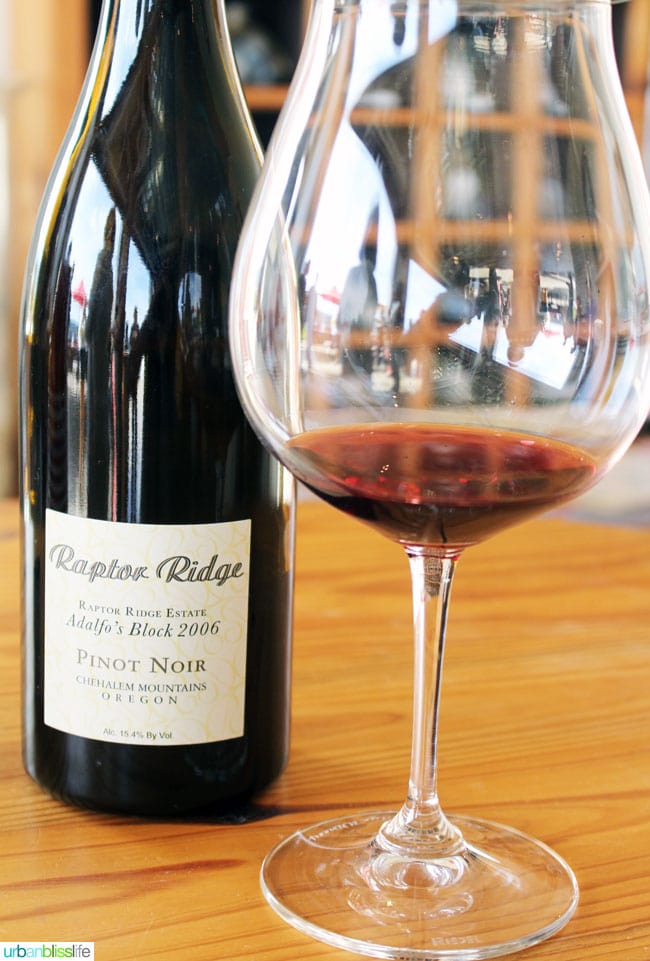 If there were to be such a thing as being able to taste hard work, I think this would be it. The 2006 Adalfo's Block Pinot Noir has a full, complex character that goes back and forth between a rich blackberry flavor (or perhaps residual cherry flavor from the spirit of the previous orchard?) and a mild spice.
During our retrospective tasting, we also enjoyed the 1997 Raptor Ridge Shea Vineyard Pinot Noir; the 2000 Raptor Ridge Meredith Mitchell Vineyard and 2000 Shea Pinot Noir; the 2005 Willamette Valley Pinot Noir; and the 2010 Gran Moraine Vineyard Pinot Noir. I took copious notes on each, but for the interest of time I will share my favorite of these, which was the final tasting of the bunch.
The 2010 Gran Moraine Vineyard Pinot Noir ($60) is a delightful, floral red that is bursting with beautiful color and luscious mixed berry flavors. I absolutely love this wine.
More than pinot noir
As I mentioned previously, Raptor Ridge Winery also is one of the few in the valley who produces a Grüner Veltliner. With cuttings taken from Austrian Grüner vines, the 2014 Raptor Ridge Grüner Veltliner ($20) is bright, with tangerine and lemon citrus notes and a steely acidity.
Raptor Ridge also makes a lovely 2011 Brut Rosé Harbinger Vineyard Methode Champenoise($63). This is their first vintage, and it is a light, dry wine that is not too bubbly and pairs well with many light desserts.
During the visit, we even got a special taste of the upcoming 2015 Auxerrois in the middle of fermentation. This is going to be one to watch!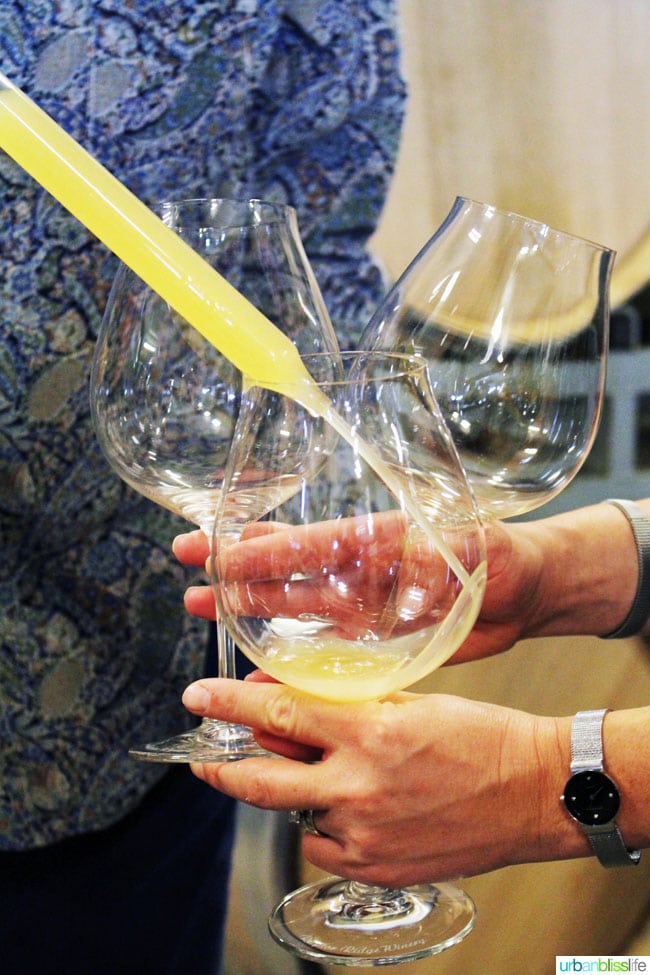 Raptor Ridge luncheon
Raptor Ridge Winery has an in-house chef, Irene Bonn Laney, who is also a yoga instructor. I know: it's very Portland, as we all have our slash (I'm a writer/social media strategist/graphic designer; she's a chef/yoga instructor. What's your slash?). She's actually hosting the last Yoga in the Vines of the year on November 5th.
Irene's infectious smile can also be felt in her food, which is just happy. She makes happy, healthy, absolutely delicious food that pairs so well with wine.
To start, she created this beautiful kale salad with apples, raspberries, and a light lemon, olive oil, maple dressing. It was served with her homemade rustic bread, with a basil, rosemary, sea salt compound butter.
With our meal, we were invited to try a vertical tasting of the Raptor Ridge Estate Pinot Noirs (2011, 2012, 2013, and 2014), but my favorite was tasting the 2014 Estate Pinot Noir ($45) in a side-by-side tasting with the 2014 Whole Cluster Pinot Noir ($50). Guess which one I fell in love with?
Yes, the more expensive one, which is a special cuvee of which only 126 cases were produced. Also, at press time, this cuvee is only available first to Flight Club Members (fingers crossed that there are some left for the rest of us!).
---
Oregon wine buying tip: Unlike many other wine regions in the country, I find that most Oregon wineries price their wines quite accordingly: the more expensive the wine, the higher quality the wine. You would think this logic would hold true everywhere, but in my experience, it does not. With the exception of a few wineries in the state, you can pretty much count on getting what you pay for with Oregon wines.
---
For our main course, we enjoyed a hearty shepherd's pie with beef, carrots, peas, heirloom local corn, cinnamon, and red wine.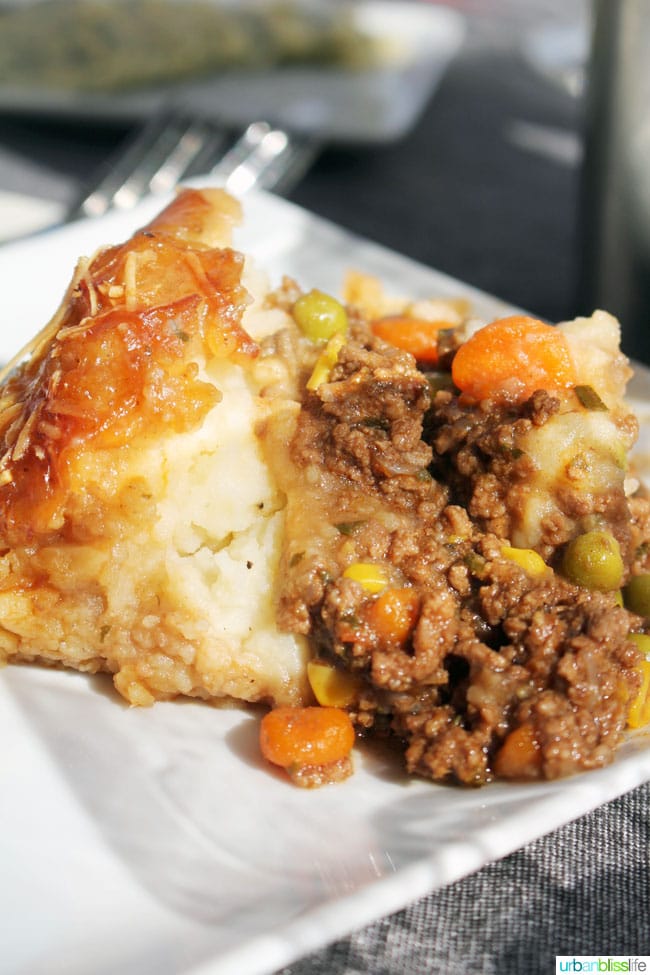 For dessert, Irene made a lovely plum cake with rhubarb quince butter.
And I have to also give her my deepest gratitude for making a dairy-free dessert option for me, which was delicious: stewed plums with a cardamom and clove scone and whipped coconut cream. I could eat all of this all day long.
If you like what you see here (and I only wish you could taste how amazing this meal was!), consider hosting your next private event at Raptor Ridge Winery. Irene can create a full menu to suit your event needs, and your guests will be wowed by the stunning scenery on the private deck as well as the incredible portfolio of Raptor Ridge wines.
Raptor Ridge Winery
18700 SW Hillsboro Hwy
Newberg, OR 97132
HOURS: Daily 11am - 4pm
www.RaptorRidgeWinery.com