Portland, Oregon to Yakima, Washington is a quick, 3-and-a-half-hour Pacific Northwest road trip full of wind farms, waterfalls, and wine.
One of my favorite things about living in the Pacific Northwest is the close proximity to, well, EVERYTHING.
Truly. From my house, it's just a one-hour drive to the beach, an hour and a half to the mountains, three hours to the desert. And along the way? SO many awesome adventures that you can easily turn into day trips.
Recently, I ventured out to Yakima, Washington for the Travel and Words Conference. It's about a three-and-a-half hour drive from Portland, and a fun drive to make with a friend!
My blogger pal Melissa, who writes the sweet and beautiful MelissaKaylene.com lifestyle blog, joined me for this little road trip and conference fun.
I thought I'd share some road trip stops along the way for those of you who may be doing this drive during your travels to the Pacific Northwest. It's a beautiful, scenic drive with three main types of attractions along the way: wind farms, waterfalls, and wine!
Pacific Northwest Road Trip: The Route from Portland to Yakima
From the heart of Portland, Oregon, you'll drive east onto highway I-84. You'll stay on I-84, passing Cascade Locks, Hood River, and The Dalles, before heading north onto Highway 97 up into Washington State. Stay on Highway 97 until you pass the town of Toppenish. You'll then go north onto Highway 82 up to Yakima.
Waterfalls Along the Columbia River Gorge
Driving out from Portland, Oregon, Highway I-84 follows the Columbia River and takes you out to the majestic and awesome Columbia River Gorge. This is one of my favorite places on earth.
You can read more about the Columbia River Gorge in my past posts, but one of my favorite side adventures during this road trip is to one or two waterfalls along the way.
Multnomah Falls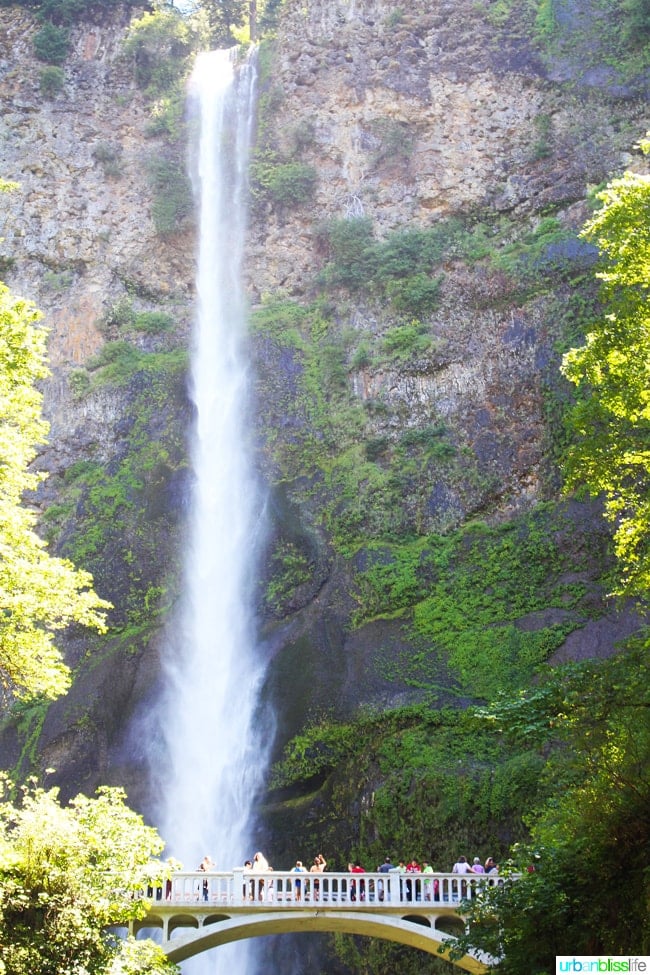 A must-see on nearly any Pacific Northwest road trip is Multnomah Falls. The most famous waterfall in Oregon is located about 40 minutes east of Portland. If you've never been here before, it's worth a stop. It's the most visited natural recreation site in the Pacific Northwest, and with good reason: it's absolutely gorgeous!
On any given day, but especially during Oregon's high tourist summer season, you should be prepared to drive around the large oval-shaped parking lot a few times before you hit the parking jackpot and a spot opens up. If the lot is full, you will see a digital warning on a highway sign a few miles beforehand.
Once you've parked, you can hike up to the bridge (pictured above) or hike even further all the way to the top. The falls were impacted during the fall 2017 Gorge fires, and at the time, the trails leading to the top are not accessible. Visit the Forest Service website for the latest.
There is a lodge at the base of the falls with a restaurant, snack bar, restrooms, and gift shop. I recommend indulging in a soft cone or ice cone from the snack bar. If you have time, you can make reservations to enjoy lunch or dinner at the full restaurant.
Latourell Falls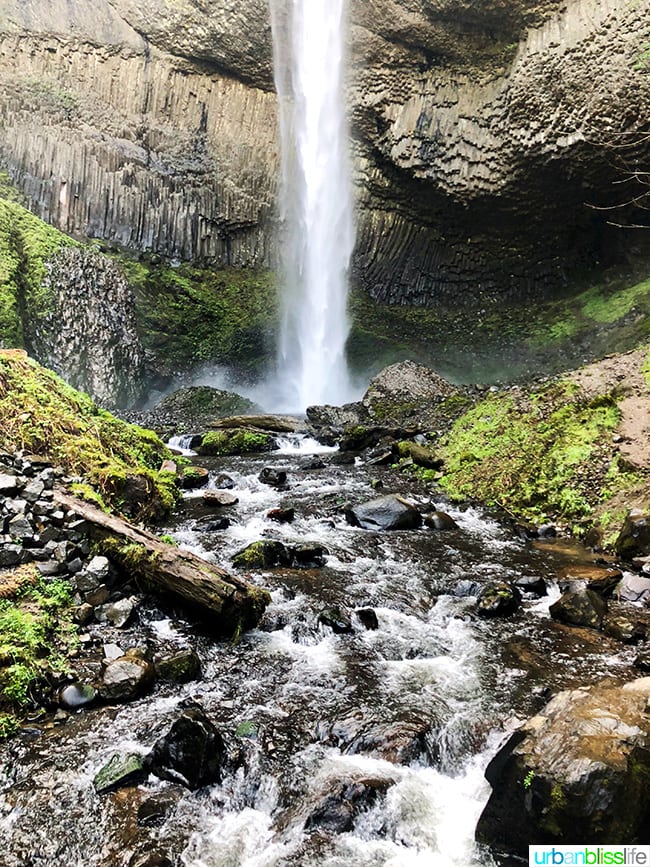 My favorite waterfall in this part of the state is smaller than Multnomah Falls and usually less crowded. However, Latourell Falls has become quite popular now that it is one of the only waterfalls accessible due to fire damage around the Gorge. Read my full post about Latourell Falls here.
After Multnomah Falls and Latourell Falls, you'll drive by the town of Cascade Locks (where you will HAVE to make a quick stop for the best soft serve around!) and Hood River. I've written numerous posts on Hood River, and while you could easily spend a whole week exploring this fun and growing city, I'd suggest either booking a night on your way back, or just stopping by for lunch at Pfriem or Woodfire Solstice Pizza, and then continuing your drive into Washington.
Wineries
No Pacific Northwest road trip is complete without a stop at a winery or two. Between Portland and Yakima, you have a multitude of winery stops along the way from which to choose.
One of my favorites in Hood River is Phelps Creek Vineyards. I'll likely do a separate post on my fave Hood River vineyards/wineries this summer, so for now I'll just highlight a winery along the route on the Washington side that Melissa and I made an impromptu stop at on our road trip.
Maryhill Winery (Goldendale, Washington)
With 63 different wines in their portfolio, Maryhill Winery is one of the largest wine producers in Washington state. The winery itself is situated right on the Columbia River Gorge, on the Washington side, in the town of Goldendale. The winery is massive, with a large indoor tasting room and outdoor terrace, plus an ampitheater that hosts the likes of Chris Isaak and Michael Franti during its 2018 summer concert lineup.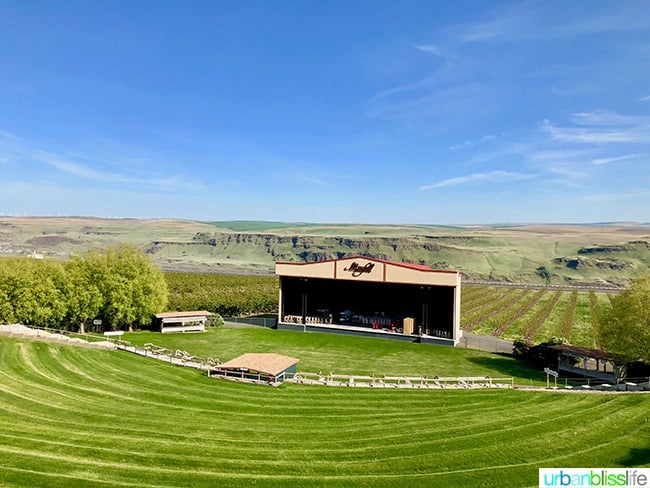 Tastings are $10 per person during the week ($15 per person Friday through Sunday), but that's refunded with the purchase of a $20 bottle of wine. My personal picks: the Maryhill Rosé of Sangiovese and the Viognier.
PSA: don't forget: if you're the one behind the wheel, remember to sip and spit. The spit buckets in tasting rooms are there for a reason. You can still taste the wines and experience the winery setting, without the dangers of drinking and driving!
Wind Farms in Goldendale, Washington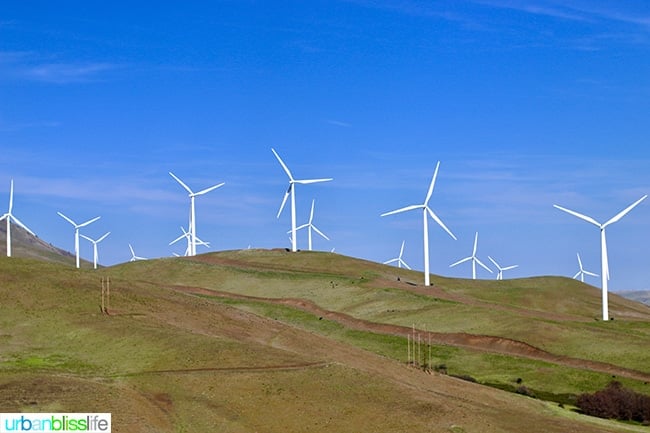 Not long after passing Maryhill Winery on your way to Yakima, white dancing antlers appear to dot the blue skies. As you drive closer, you'll notice those small figures are actually gargantuan wind turbines. The Windy Point/Windy Flats project is one of the largest wind energy projects in the entire United States, spanning 90 square miles.
It's truly a sight to see, and there is a scenic viewpoint area on the east side of the highway where you can stop and take photos.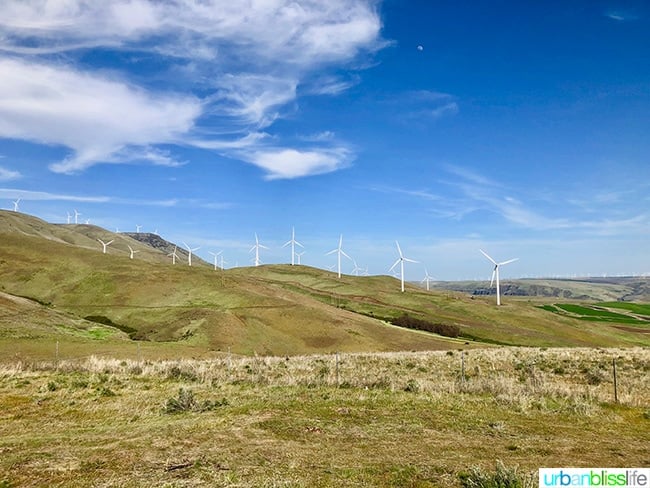 Pacific Northwest Road Trip: Destination Yakima
After Goldendale, you'll drive through vast farmlands and valleys, much of which will be without cell service.
Then, your next stop could be the small town of Toppenish. I've never actually stopped in Toppenish, but it's a cute town with an interestingly impressive amount of outdoor murals.
Finally, you reach Yakima.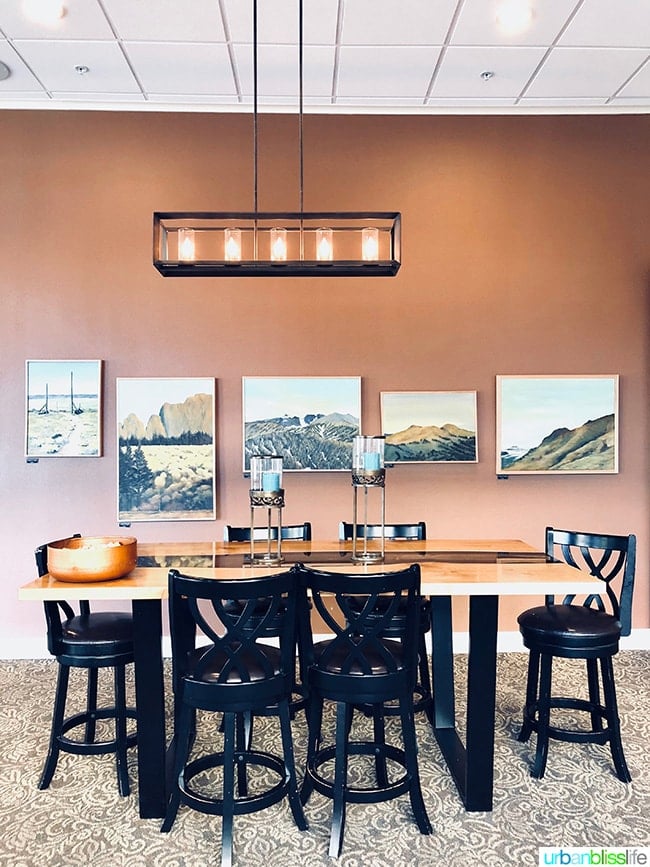 Melissa and I stayed at the Hotel Maison, which is also the hotel I stayed during my last visit (read my post about Hotel Maison here).
2018 GMC Terrain Denali: Road Trip-Ready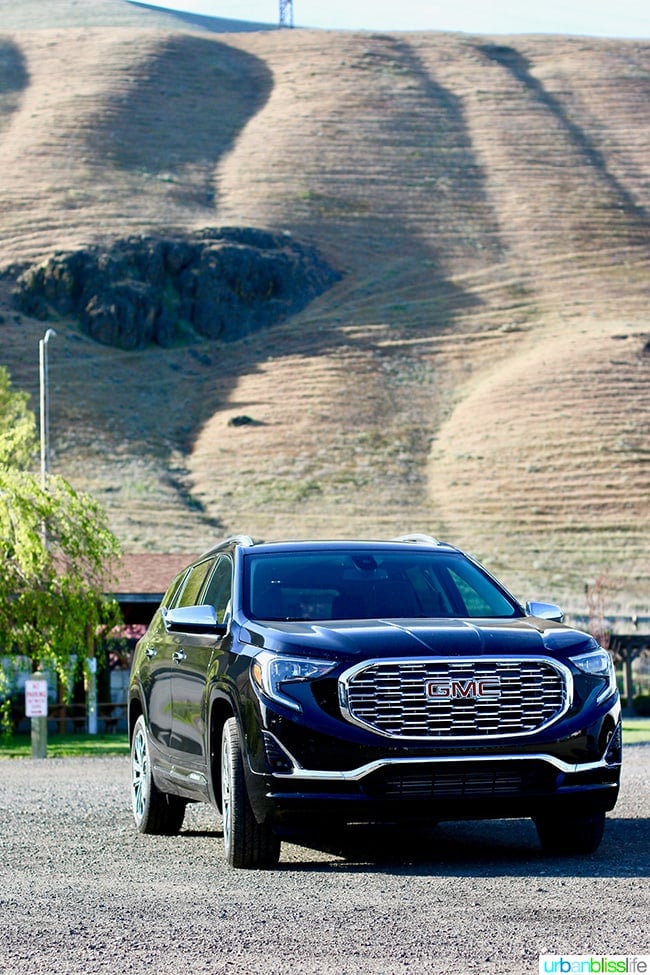 For this kind of Pacific Northwest road trip, you'll need a vehicle that with ample space, comfortable seating, strong safety features (especially if you drive during inclement weather; the winds also are very strong along the Gorge!). Plus, a few high tech bells and whistles don't hurt.
Melissa and I drove the 2018 GMC Terrain Denali on this road trip.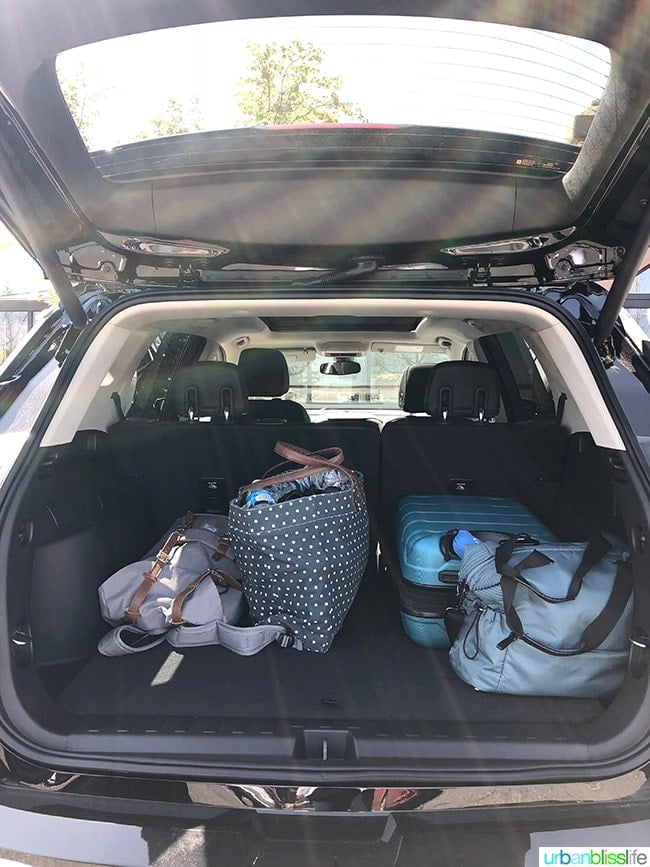 Since it was just a 2-night trip and there were only two of us, we had ample room in the back for all of our luggage - and then some! I can see having enough space for my entire family's bags in the back for a long weekend or even week-long trip.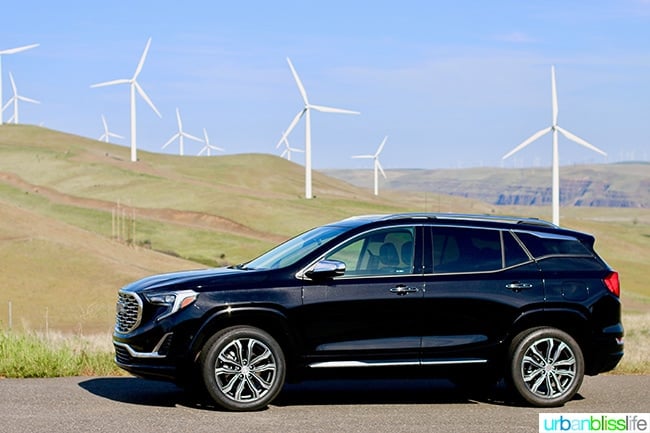 The 2018 GMC Terrain is a beautiful small luxury SUV, which seats five. The driver's seat and passenger seat are plush, with nice adjustment capabilities for shorties like me.
The back seat, however, is pretty tight for three adults on a road trip. If you're just driving around town, I think the back seat would be fine for adults and older kids. If you have younger kids, babies, or toddlers, the back seat gives them plenty of space to ride comfortably for longer periods of time.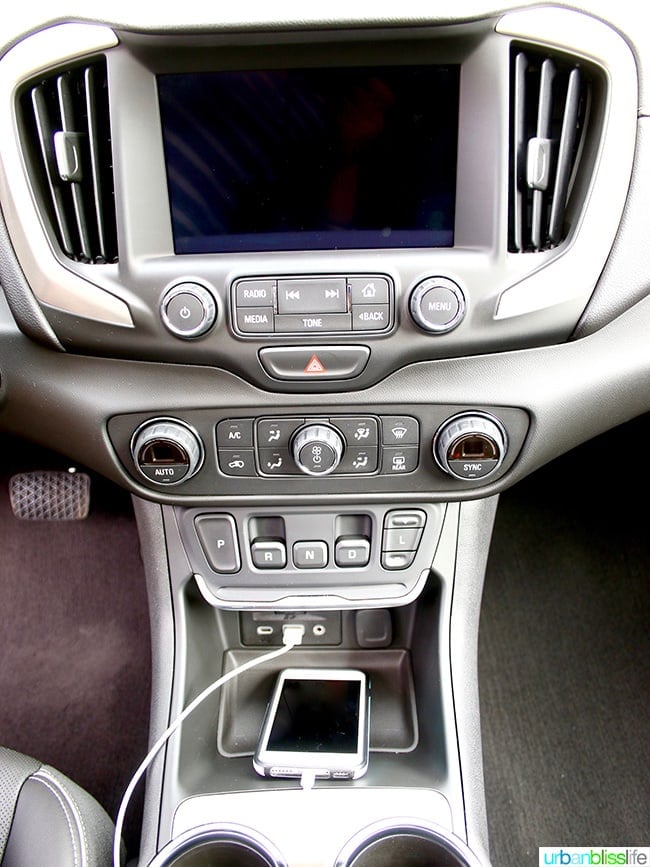 One thing you and your kids will appreciate on road trips is the ability to stay plugged in throughout the trip. With built-in WiFi and several USB ports in front and back, you can stay plugged into the outside world.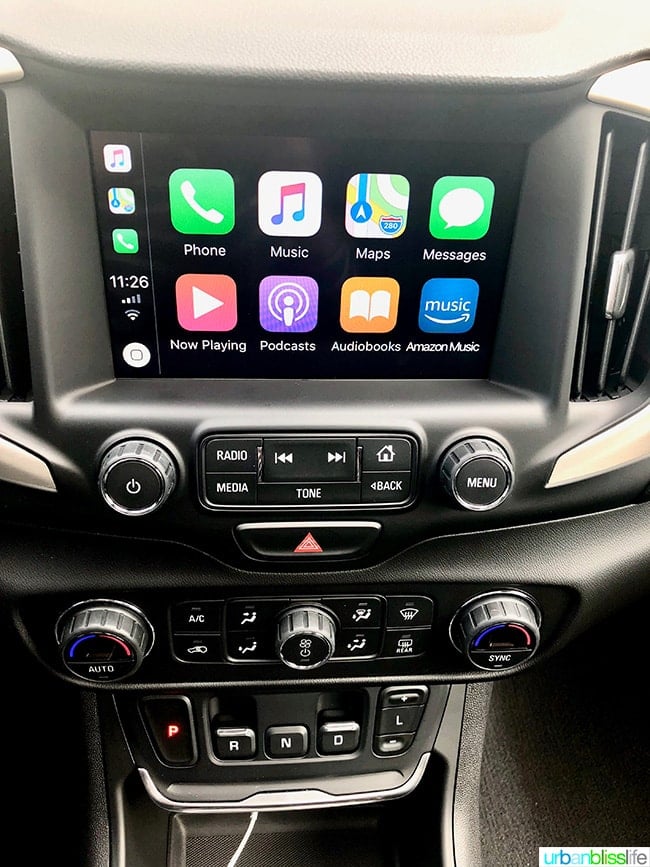 There's even Apple Play for those with iPhones, so you can have text messages read to you, listen to your own saved playlists or podcasts, and have your own maps come up on the dash when your phone is plugged in. (There's also a version of this for those who have Android phones).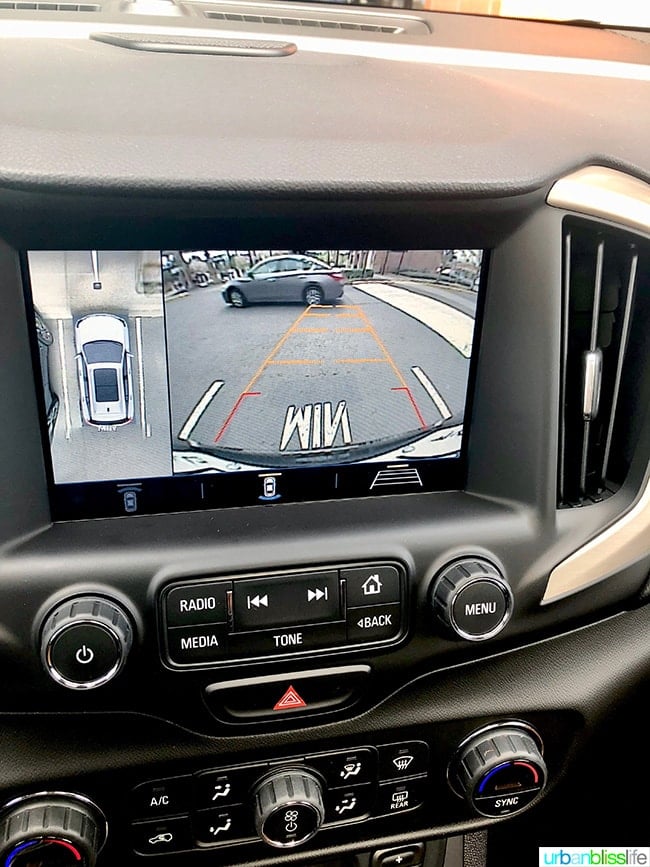 The rear camera is large and clear, with a 360 degree view of your surroundings. There is also parking assist available, although we didn't get a chance to try that out.
One thing that took quite a bit of getting used to for me personally was the new push button transmission instead of a traditional transmission shifter. I know they did this to save space, but it's still a head trip to drive and I actually found it distracting. I am sure a lot of people will enjoy the extra console room it allows, however.
The 2018 GMC Terrain Denali also comes with lots of interesting storage spaces throughout the side doors, the mid-console, and the top of the glove compartment. It definitely takes into account the many reasons you may be driving this vehicle, and all of the items (phones, important papers, road snacks, water, etc) that you may need to store within reach during your drive.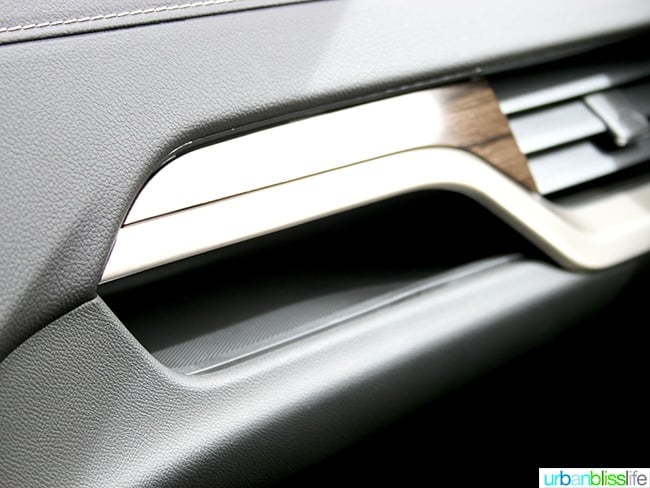 Most importantly, the 2018 GMC Terrain Denali drove beautifully from Portland to Yakima and back. It took to the curves smoothly, easily transitioned between city and highway speeds, and I felt truly safe in this vehicle.
More Yakima, Washington Travel Bliss
I'll be writing more about my travels to Yakima, Washington soon. In the meantime, I hope this road trip overview inspires you to make some of these stops along the way on your own travels from Portland to Yakima!
Here are more articles about places Yakima you might be interested in visiting:
PIN IT:

---
I partnered with General Motors for a test drive of the 2018 GMC Terrain Denali for this post. Gas, food, and lodging were all on my own dime. As always, all opinions and photos are my own.