Adventure to the scenic Columbia River Gorge and stop by the Kiyokawa Family Orchards in Hood River, Oregon for a day of farm fresh fun!
The day that we visited Kiyokawa Family Orchards was an idyllic, picnic-perfect, Pacific Northwest kind of day.
The skies were a magnificent clear blue, with not a cloud to be found. Glorious snow-capped Mount Hood loomed large in the distance. The gentle breeze from the Columbia River swept sweet scents of fresh summer berries, peaches, and apples over us as our eyes took in the lush greens of the orchards and surrounding hillsides.
It was magical.
This picturesque setting, filled with fresh fruit bounty, is only about an hour and a half east of Portland, Oregon.
Jump to:
The Orchards
Kiyokawa Orchards is located in Parkdale, a small town just outside of Hood River, Oregon.
With 187 acres of land, they are the largest U-Pick orchard in the valley.
The Kiyokawa family has been farming this beautiful land since 1911.
Like many families in the area, they've built strong roots here. I found them to be incredibly humble, hard working, kind, and so passionate about growing and providing the best fruit for their customers.
I had the pleasure of meeting owner Randy Kiyokawa (pictured above) during our visit. His father, Mamoru Kiyokawa, started the family farm; it has always been a family-owned and family-operated business, and looks to continue to be. Now the third generation, Randy's children, are also helping with the farm as well.
The fruit
The orchards are currently preparing for the summer U-Pick season, which could start any day now! As of right now, cherries and blueberries (limited quantities) look to be ready for U-Pick soon; be sure to check their website for U-Pick dates. In the meantime, their Fruit Stand store just re-opened for the season on July 8th, so you can purchase their delicious farm fresh fruit there.
They also sell fruit at farmer's markets throughout the Portland area and in Hood River, as well as to local and Portland-area chefs and restaurants.
Pears are their number one crop, with about 85 acres in pear trees. They grow a dozen varieties of European pear and a dozen varieties of Asian pears.
They also farm 40 acres worth of apple trees, and grow more than 100 varieties of apples alone.
The remaining land is devoted to cherries, blueberries, peaches and other fruits. They even grow kiwi! I had NO idea any type of kiwi could grow in the Pacific Northwest until I saw this. So cool!
Fruit stand
The Kiyokawa Family Orchards fruit stand is really more like a farm store than your average small roadside fruit stand. Summer hours until August 25th are limited to Saturday and Sunday, from 9am to 6pm. After August 25th, they will be open 7 days a week.
Here, you can find freshly picked pears, apples, cherries, blueberries, peaches, and more from their orchards. You'll also find award-winning pies, turnovers, local honey, jams and fresh cider.
Be sure to try some of the more rare fruit that this farm has to offer, too! If they have the Butter Pear, try one of those -- it's so smooth, just like butter! There's also a cotton candy/bubble gum flavor type of plum that is so fun to taste.
Visit
I loved our visit to Kiyokawa Family Orchards, and am so excited that the fruit stand is once again open so that I can share their information with you now!
Pick a sunny day to adventure out here in this scenic area. Pack a picnic, pick some fresh fruit or purchase some from their fruit stand, and enjoy the picnic area and kids' play area. Prices are very reasonable for the amazingly fresh & delicious fruit they offer here, and the staff is incredibly friendly and helpful.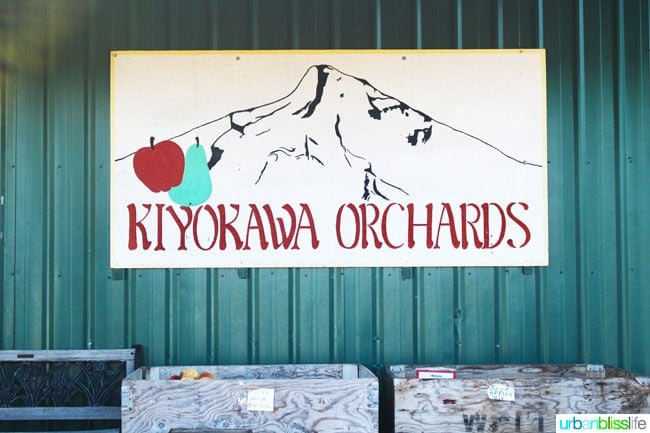 5625 Hutson Drive
Parkdale, OR
HOURS VARY, as does the availability of fruit.
For current hours, be sure to visit their website before planning your visit:
http://www.kiyokawafamilyorchards.com/
Where to Go in the Hood/Gorge Area
Disclosure: I visited Kiyokawa Family Orchards as part of a #HoodGorge press trip with Travel Oregon. All opinions and photos are, as always, my own.