Looking for accommodations when traveling to Portland, Oregon? Hotel deLuxe is located in downtown Portland and is a fantastic place to stay when visiting the Rose City.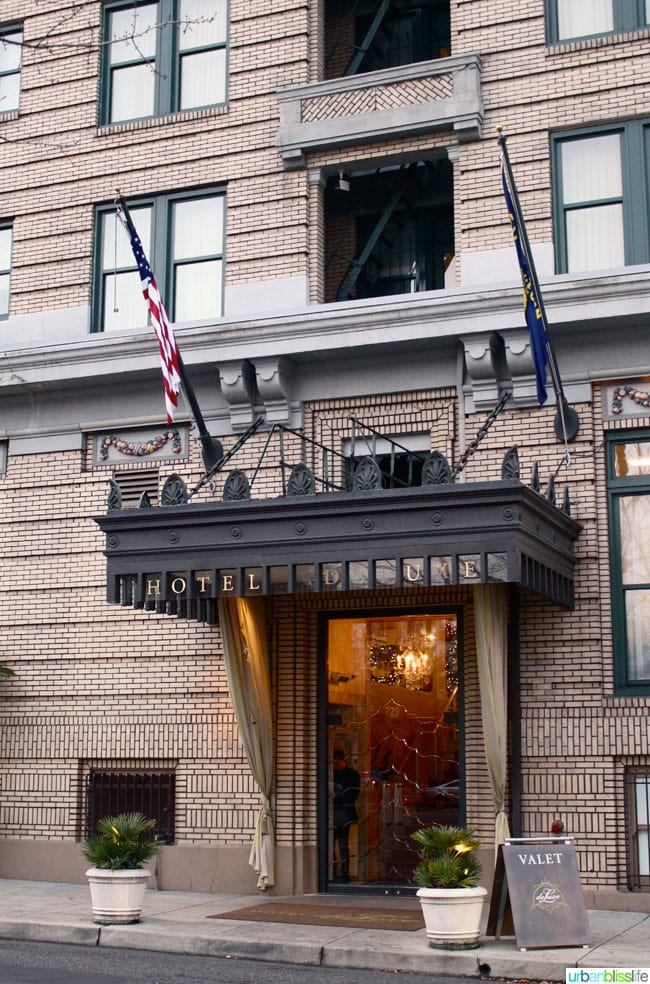 In 2019, more than 8.8 million tourists visited my hometown of Portland, Oregon.
While there are so many options for accommodations, I often recommend a hotel located in or near downtown Portland. This is a central location that makes it easy to explore the city and its surrounding neighborhoods.
Plus, you can do quick day trips easily from downtown Portland. The Oregon Coast is just an hour and a half by car. Explore cute beach towns like Cannon Beach and Lincoln City.
Mount Hood, a dormant volcano, is less than one hour away. There, travelers can choose from tons of activities, including great skiing, snowboarding, snoeshowing, hiking, and lake activities.
If you choose to stay downtown, one great spot is Hotel deLuxe.
Hotel deLuxe in downtown Portland
Formerly Hotel Mallory, Provenance Hotels purchased the hotel in 2004. And, after undergoing extensive renovations, it reopened as Hotel deLuxe in 2006.
Named after the Hollywood color lab, Deluxe, the hotel exudes the glamour and prestige of the Golden Age of Hollywood.
Hotel deLuxe is perfect for those wanting opulence without excess, glamour without too much glitz. And for travelers seeking cozy comfort with a topping of elegance
More than 400 black and white cinematic stills adorn the hotel walls, throughout the rooms, hallways, and gathering spaces.
Even the signage carries on the Hollywood theme, including the individual room privacy signs.
Guest rooms and suites
The 130 guest rooms come in a variety of sizes and styles, each with indulgent yet essential amenities . . .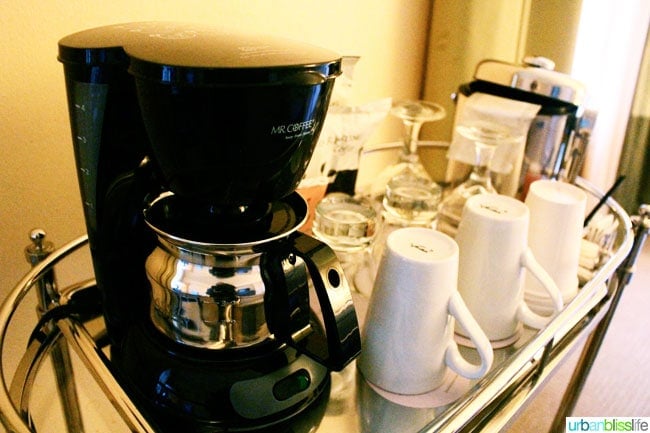 There's even a Make It So button in each room for your convenience.
Craving something sweet? You can have one of Portland's most innovative, delicious ice cream pints delivered right to your room -- and bypass the sometimes hours-long line waiting outside the actual Salt & Straw ice cream shops.

Dining
The dining options at Hotel deLuxe are equally committed to understated elegance.
The Driftwood Room is the hotel's swank bar. And Gracie's – a nod to screen legend Grace Allen – really does remind me of restaurants in Hollywood where you wine and dine and make deals. Yet it's just as comfortable simply enjoying one of their delicious brunches in everyday non-Hollywood clothing.
Here's a look at some of the dishes I recently enjoyed when dining at Gracie's restaurant:
Stay at the Hotel deLuxe
Hotel deLuxe
729 SW 15th Ave
Portland, OR 97205
For more information, visit the Hotel deLuxe website
More Portland, Oregon Hotels
Canopy Portland - a Hilton collection hotel in Portland's Pearl District
The Duniway Hotel - another Hilton hotel, located in the heart of downtown Portland
Hi-Lo Hotel - a boutique hotel in the heart of downtown Portland