A trio of culinary influences are combined to shine in creative dishes at Compere Lapin in New Orleans, Louisiana.
Today, my daughter turns 11. Eleven!
She's taller than me, full of curiosity and creativity, loves sports and science, and is an absolute joy to travel with. Last fall, we had the pleasure of taking a mother-daughter trip to explore the amazing city of New Orleans, and one year later I am still finding more and more to write about and share from that remarkable experience.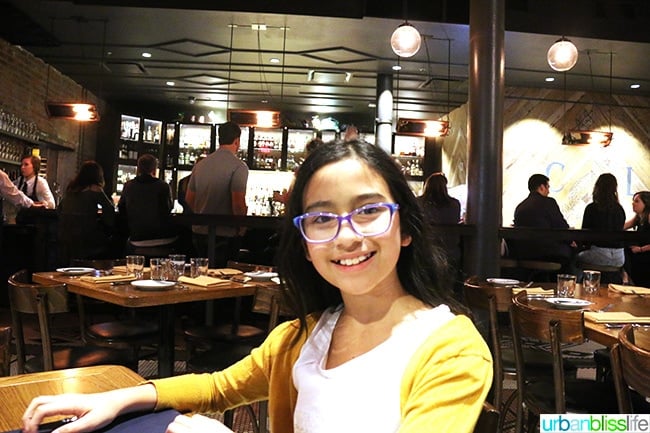 A mother daughter trip is something so special, it's nearly impossible to capture in words and even photographs. We did so much in just four days and three nights!
One of the restaurants we had the pleasure of dining at was Compère Lapin, where Chef Nina Compton of Top Chef New Orleans fame, who was also named one of Food and Wine magazine's Best New Chefs of 2017.
About Compere Lapin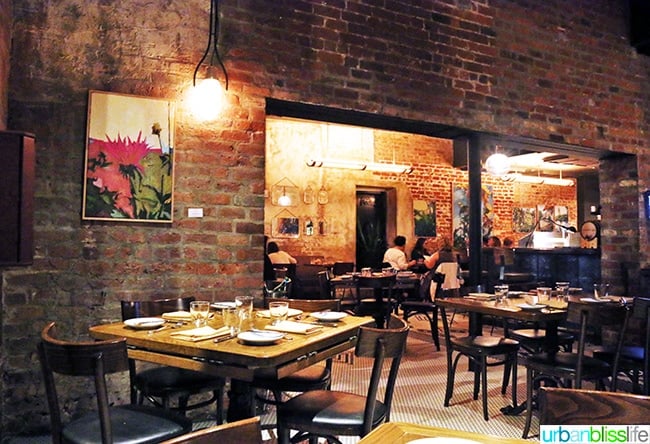 Compère Lapin is named after a mischievous rabbit in folktales that Chef Compton read about during her childhood on the island of St. Lucia. Her Caribbean roots mingle with her love of New Orleans ingredients and her classical French training in each of the dishes at her restaurant. The result is a rich dining experience full of wonder, curiosity, and inventiveness on each plate.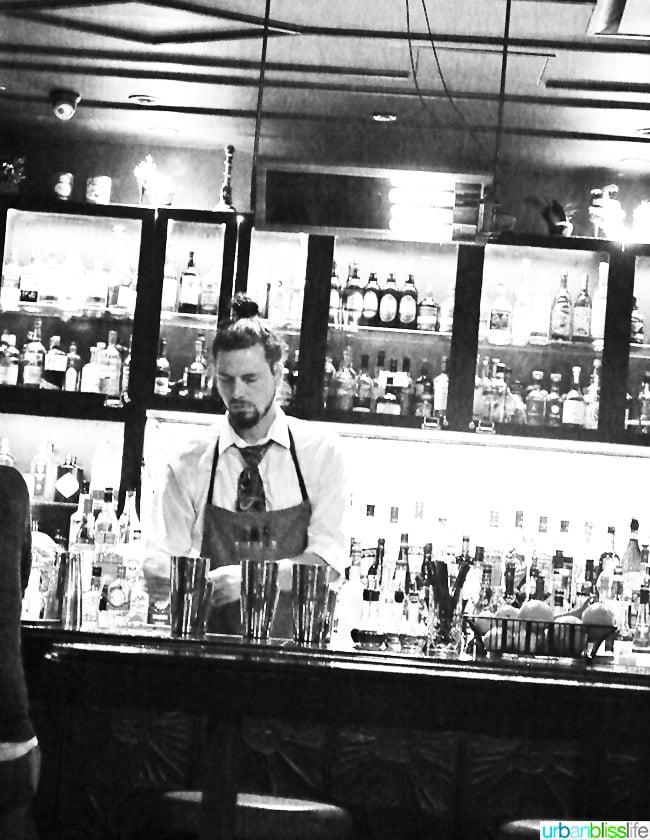 Compere Lapin's bar program is strong, with creative cocktails ranging from $12-13 each, like the South Island Swizzle (Rhum, Manzanilla, Honey, Lime, Coconut Water) and the Louisville Slugger (Bourbon, Apple Brandy, Chicory, Smoked Vanilla).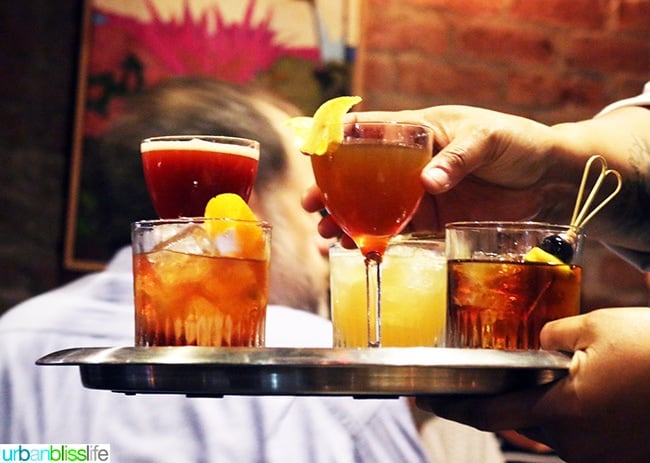 The wine list at Compere Lapin is lengthy, with impressive offerings from around the globe. I started with a lovelyCôtes de Provence rosé.
Each meal starts with the restaurant's now famous biscuits, served with a dollop of honey butter and a loving scoop of bacon butter. These square biscuits are buttery, flaky, flavorful bites of joy and my daughter and I would have been perfectly happy dining on an entire platter full of them.
Alas, there was more food to try.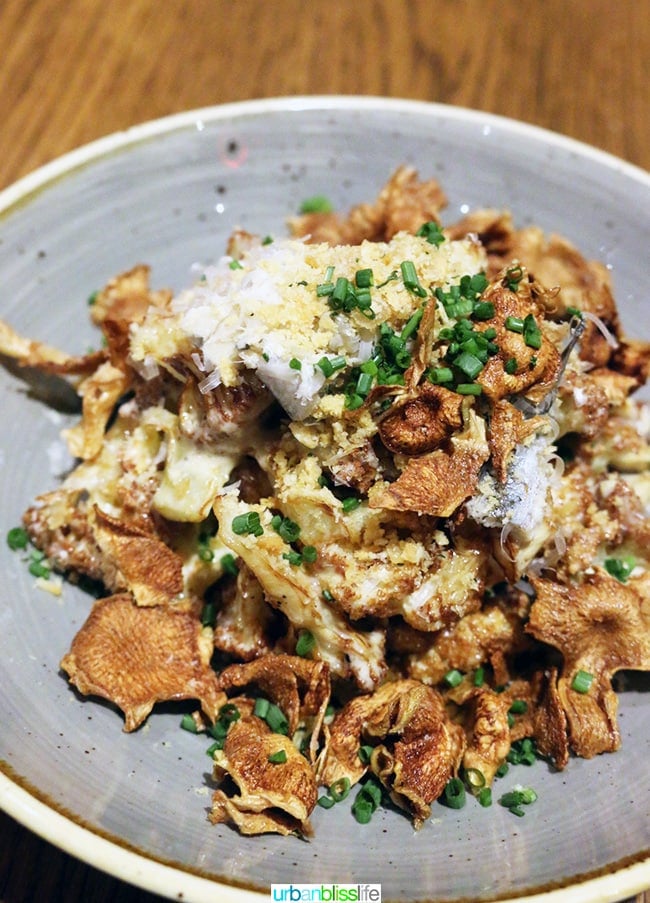 Crispy cauliflower with chicken skin and buttermilk ceasar... this was an incredibly inventive dish at Compere Lapin that I wasn't sure about at first, but I was totally won over at first bite.
While the menu does change from time to time, and the specials are worth investing in, one of the most popular first course items that is consistently on the menu is the Cold Smoked Tuna Tartare with avocado and crispy bananas. If you're in doubt about a first course, and the crispy cauliflower isn't available, I would order the tuna tartare!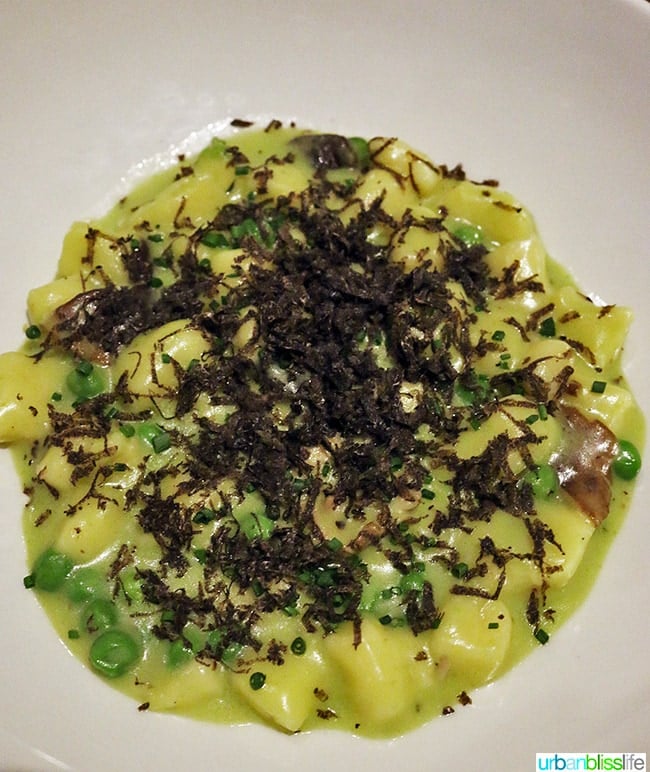 For my main entree, I ordered the special of the night. It was truffle season (and is right now if you are in NOLA!), and the potato gnocchi with English peas and shiitakes were topped with freshly shaved truffles table side.
First, you should know that ANY pasta dish you order at Compere Lapin is house made and is most likely going to be amazing. This gnocchi was perfect, and who can argue with that insanely generous mound of freshly shaved truffles? Not I! I loved this dish so much, and am happy to see that the restaurant has offered it a few different times over the years.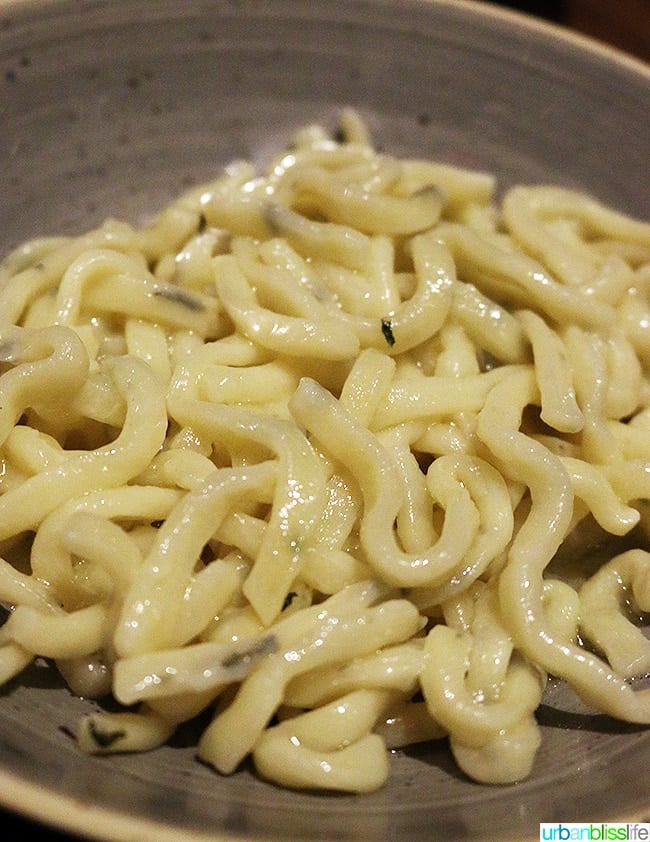 While there is no official kids menu at Compère Lapin, our waitress kindly offered an option of buttered noodles for my daughter. Although adventurous, my daughter was not feeling quite up to a large serving of more complex grown up delicacies on this particular evening, so the buttered noodles were absolutely perfect for her.
And of course, these aren't just plain ol' noddles here: they are house made, hand cut scialatielli. So delicious!
Dine at Compere Lapin
I wish we had the opportunity to also try brunch and lunch here, as I have heard wonderful things about both of those menus as well. My daughter and I enjoyed the kind service during our visit, and we both fell in love with the modern, herringbone-focused decor as well (wish I could visit during the daytime for better photos!). We both enjoyed our dishes immensely, and would seriously go back for a full plate of those deliciously addictive biscuits.
Compère Lapin
535 Tchoupitoulas
New Orleans, LA 70130
HOURS:
Brunch Saturday & Sunday: 10:30am - 2:00pm
Lunch Monday - Friday: 11:30am - 2:30pm
Dinner Saturday & Sunday: 5:30 - 10:00pm
For more information and to make reservations, please visit the Compère Lapin website.
My daughter and I dined her courtesy of the New Orleans Visitors Bureau as part of our #FollowYourNola press trip. As always, all opinions and photos are my own.
More New Orleans travel ideas
Family Travel to New Orleans: Audubon Nature Institute
What to Do in New Orleans: Shop, Eat, and Drink on Magazine Street
What to Do in New Orleans: Visit the National World War II Museum
Where to Eat in New Orleans: Brennan's Restaurant // District Donuts // Trinity Restaurant // Johnny Sanchez