Along the shores of Lake Geneva lies Chateau de Chillon. This stunning Swiss castle with rich history is the perfect family travel spot for a day of exploring.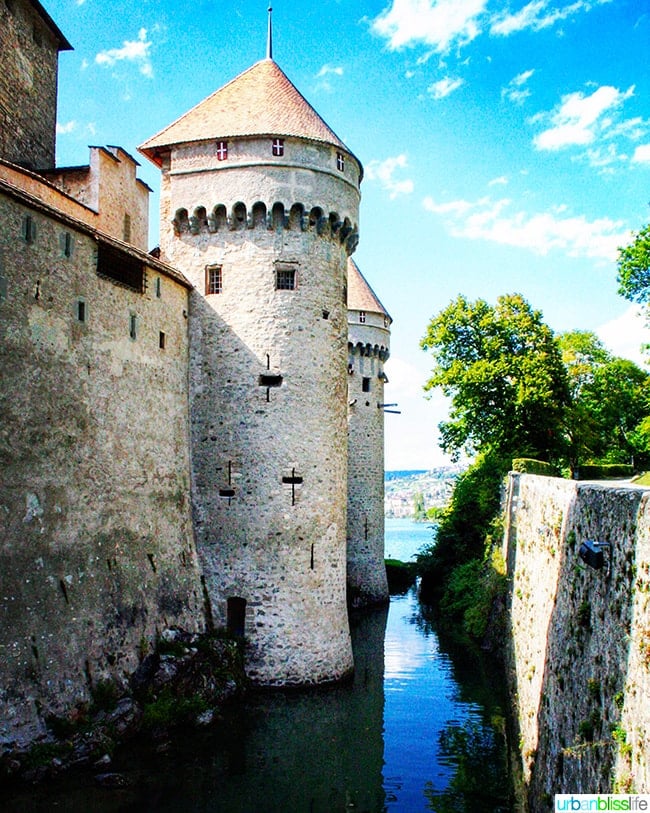 Jump to:
If you follow our family travel adventures, you know that I absolutely adore visiting castles. We had a blast visiting the Castles of Bellinzona on our way back to Zurich, Switzerland from our family vacation in Lake Como, Italy. And I've loved visiting various castles of Ireland recently.
During one of our family vacations to Switzerland, we decided to take the train out to the Montreaux area and visit Chateau de Chillon.
Chateau de Chillon: the Chateau on the Lake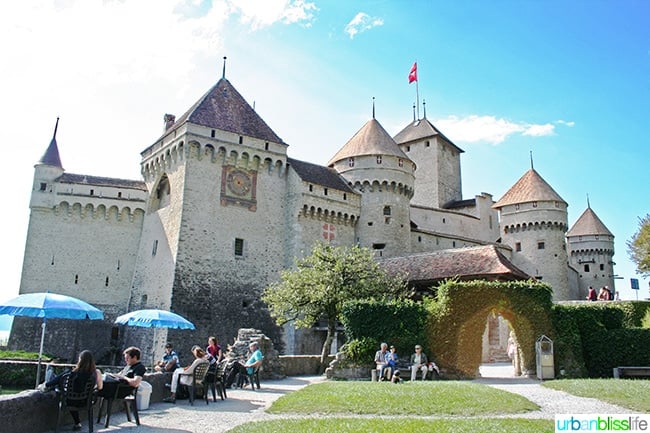 This beautiful Switzerland castle is located in the French part of the country. It's a beautiful chateau on the Lake Geneva, with a moat surrounding the entire castle.
Most of the castles built by the Savoys reportedly follow a square building plan. Chateau de Chillon, however, is built in an oval formation that follows the island on which it is built.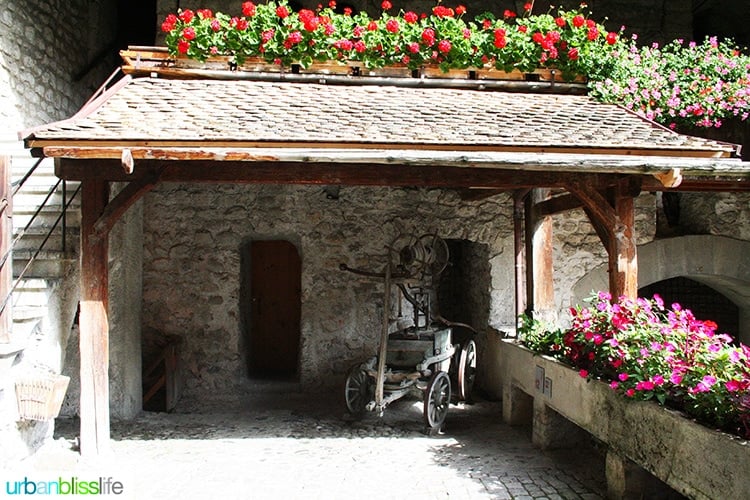 Chateau de Chillon is the most-visited historic building in Switzerland. The first written record of the castle is in 1150, when the Savoys controlled the land of this area. The Bernese then took over Chillon Castle in 1536. Finally, during the Vaudois Revolution of 1798, it became the property of the Canton of Vaud. Today, ongoing restoration projects continue to maintain this stunning historic castle.
The castle is perhaps most famous around the world for being the subject of a poem by Lord Byron. He wroted The Prisoner of Chillon about François Bonivard, who was imprisoned at Chateau de Chillon.
How do I get to Chillon Castle?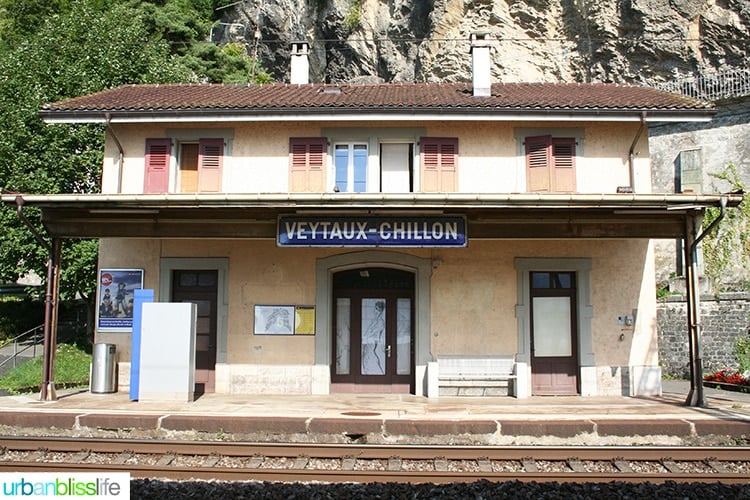 We took the train from Zurich to Veytaux, which took approximately 3 hours. It's an absolutely gorgeous train ride, as you pass by cities like Bern and Fribourg. You will also pass the Gantrisch Nature Park, which could make a scenic pit stop along the way.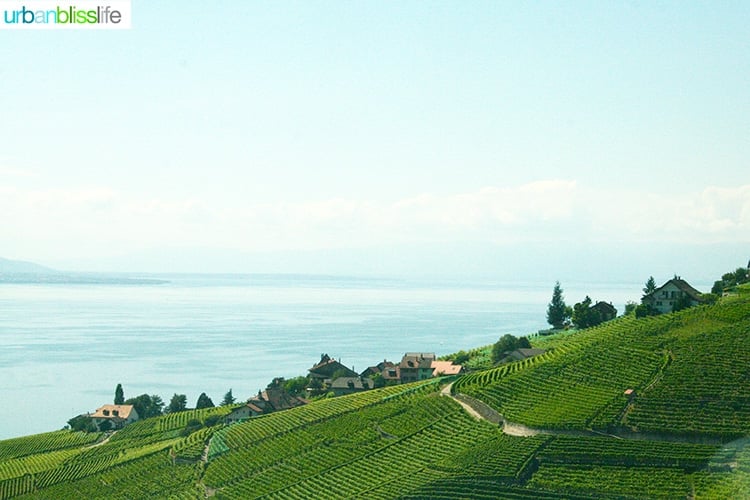 If you choose to drive from Zurich, it will take approximately two and a half hours. Follow the A1 and A12/E27 to Montreaux. Take Exit 15 to Montreaux, then follow signs toward the Chateau de Chillon. This will take you along Route de Chailly, Avenue Eugène-Rambert/Avenue Rambert, Avenue de Belmont, Avenue du Midi and Route 9 to Rue Bonivard in Veytaux.
You can also take the train to Montreaux, depending on your departure city. You can find train schedules and rates online. If you take the train to Montreaux, then the castle is a half an hour walk or a 5-minute bus ride.
Fun things to do at this Swiss castle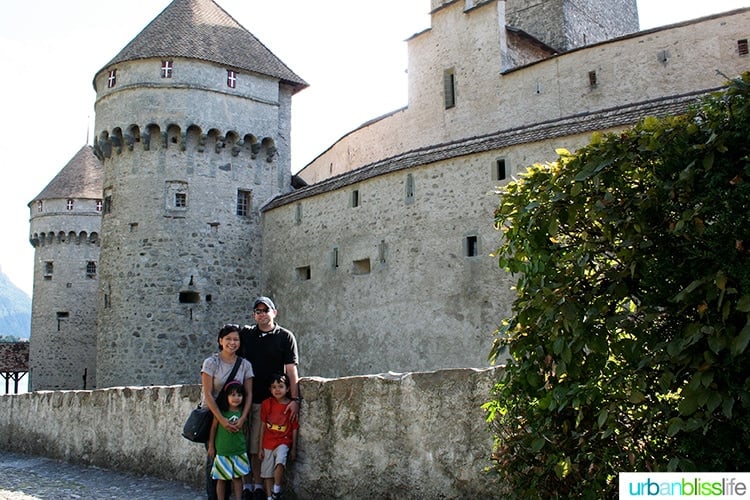 We decided to do our own self-guided tour, but the Chateau offers guided tours in several languages. Be sure to make advanced reservations for a guided tour.
It was a beautiful summer day when we visited this historic Swiss castle. This made it especially easy to take our time exploring the various castle rooms, as well as the gift shop and restaurant.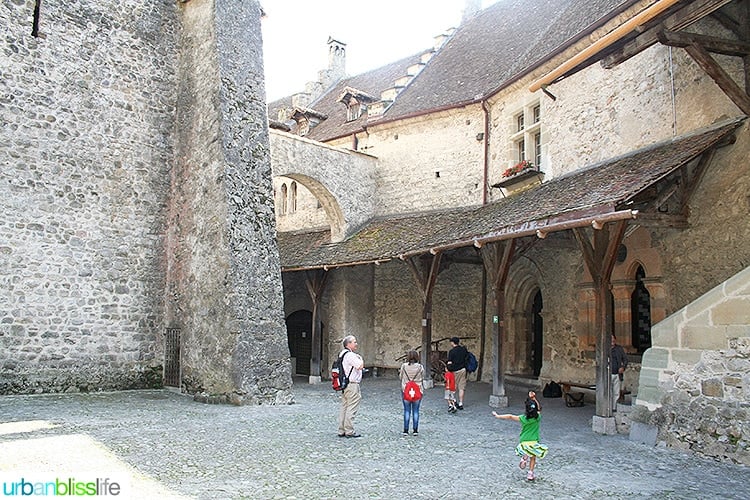 Four courtyards lead on from the entrance of the castle, beginning with the lower courtyard, which must have been the busiest, up to the Castellan's courtyard, the Courtyard of Honor, reserved for the use of the counts, later dukes of Savoy and their retinue, and finally to the curtain-wall courtyard.
A Castle Treasure Map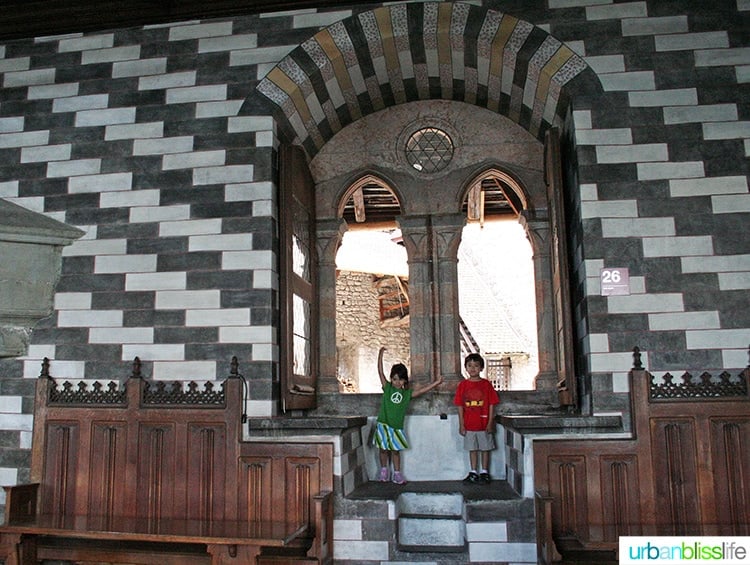 One of the coolest special features Chateau de Chillon offers families, is Drako's Itinerary. Aimed at children around the ages of six to 10, Drako's Itinerary is a brochure that works like a treasure map of the castle. The map is a companion to the adult map, so the whole family can play along and kids can really feel involved with the castle experience. We loved this!
Chapel at Chillon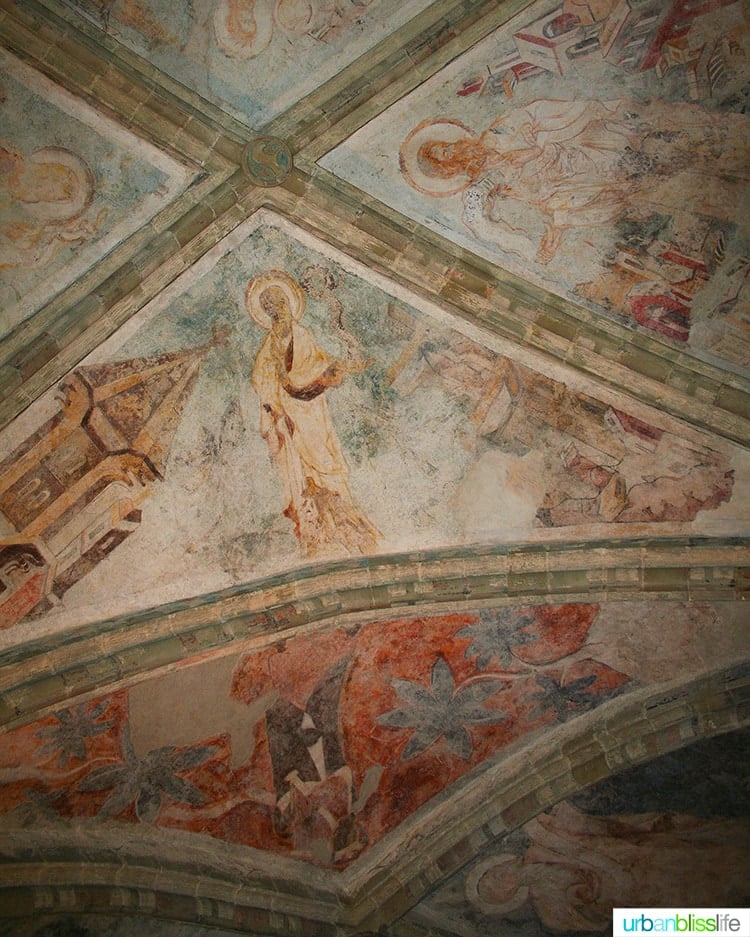 Within this Swiss castle is a chapel. The paintings on the walls and ceilings date back to the 14th century. The chapel originally served as the private church for the counts and dukes of Savoy.
Clos de Chillon winery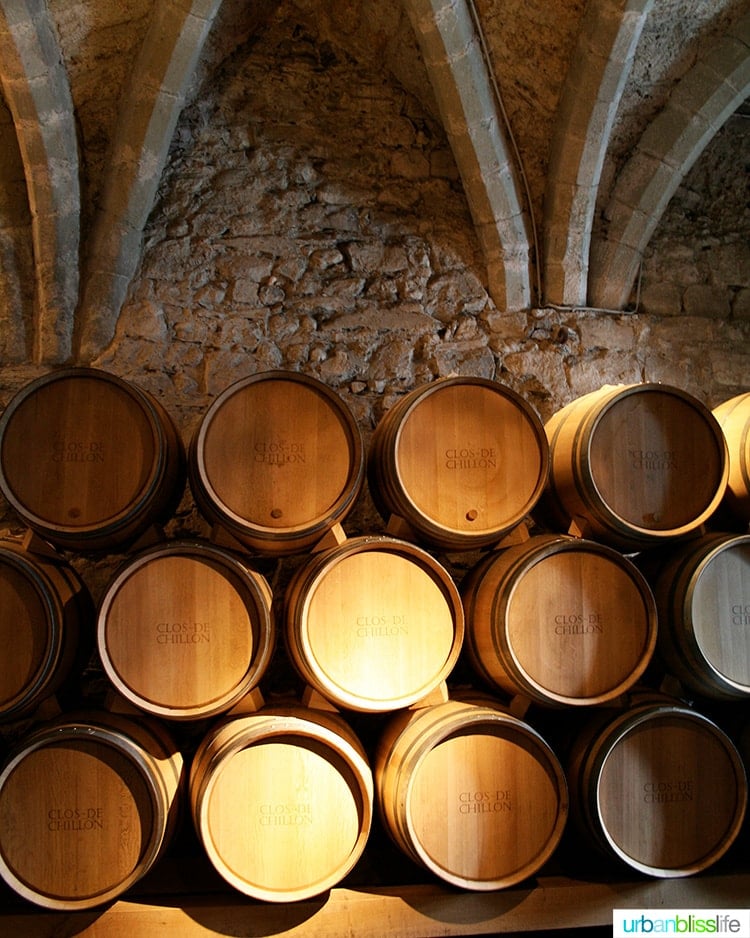 For centuries, there was a wine cellar and wine press at Chillon. Starting in 2011, Clos de Chillon began producing wine again. Grapes are grown on estate vineyards along the shores of Lake Geneva.
Clos de Chillon produces two main wines: a Grand Cru Chasselas white wine and a Gamaret-Garanoir red wine blend.
If you are part of a guided tour, you can also participate in a wine tasting at the end of your tour. The wine tasting at Chateau de Chillon is approximately 30 minutes, and wines by the bottle are available for purchase at the castle.
When is the best time to visit Château de Chillon?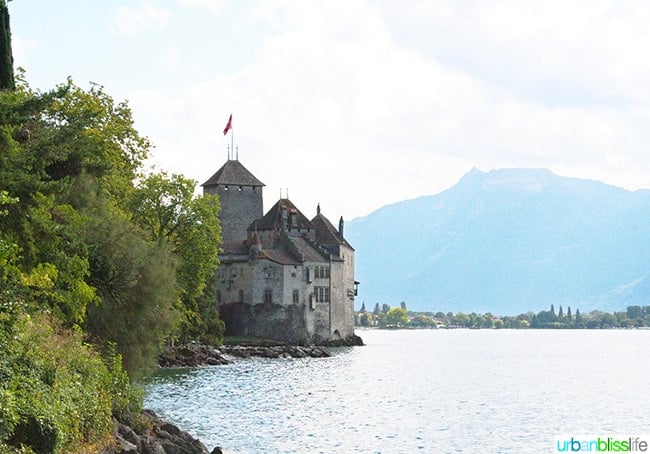 Summer is busy tourist season, but it's also a time when the sun shines on the lake. It's nice to be able to walk around the castle when the temperatures are mild and there's no rain, since quite a bit of the castle is uncovered.
Special Family Weekend: November 2 - November 3, 2020
If you are traveling to this French part of Switzerland in early November, I recommend visiting Château de Chillon the weekend of November 2 - 3, 2020.
During the first weekend in November, museums in the Association of Museums of the Vaudois Riviera (AMRV), including Chateau de Chillon, will be offering family-friendly workshops.

WORKSHOP PRICES: 20.00 CHF per family (minimum 1 adult and 1 child, up to 5 people in total).

On presentation of their ticket, families signed up to the workshops will get free entry to all AMRV museums, as well as free travel on VMCV bus lines. That's SUCH a great deal! And what a fantastic way to explore this beautiful part of Switzerland.
Admission Fees & Hours
If you would like a guided tour, I highly recommend making reservations in advance. You must fill out the request form online at least two working days before the tour date you are requesting. So to be safe, fill out the form and submit it before you travel to Switzerland.
HOURS:
| | |
| --- | --- |
| April to September | 9AM to 7PM (last entry at 6PM) |
| October & March | 9:3AM to 6PM (last entry at 5PM) |
The castle officially closes one hour after the ticket office closes. I recommend arriving at least two hours before the last entry time. This way, you will be able to fully enjoy touring this gorgeous chateau by the lake!
| | |
| --- | --- |
| Adult | CHF 13.50 |
| Child (6-15 years old) | CHF 7.00 |
| Family (2 adults + 2 to 5 children 6 to 15 years old) | CHF 35.00 |
| Swiss Travel Pass, Swiss Museum Pass, ICOM | free |
More Switzerland Travel:
This post was originally published on August 18, 2018. It was updated February 20, 2020 with updated content and more helpful information for your family travels!