Departure Portland offers new summer dairy-free ice cream flavors each week that are beautiful and delicious!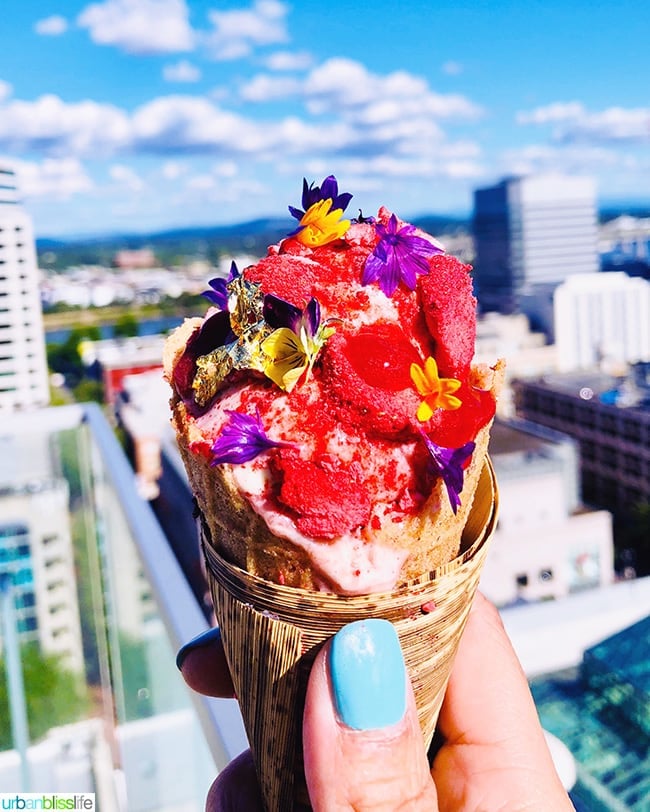 Summer is the best in Portland, Oregon.
The weather is warm but not humid, and Mother Nature shines with an abundance of outdoor adventures for 24/7 fun.
This is when the mountains, lakes, beaches, and desert are all buzzing with happy explorers soaking up the best of that Pacific Northwest life.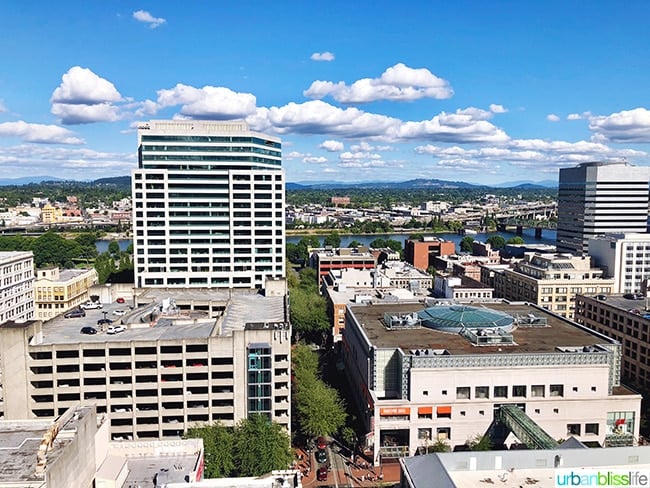 If you're in Portland this summer, cap off a day of adventure with a celebratory ice cream atop one of Portland's best (if not the best) downtown rooftop restaurants: Departure.
Summer dairy-free ice cream specials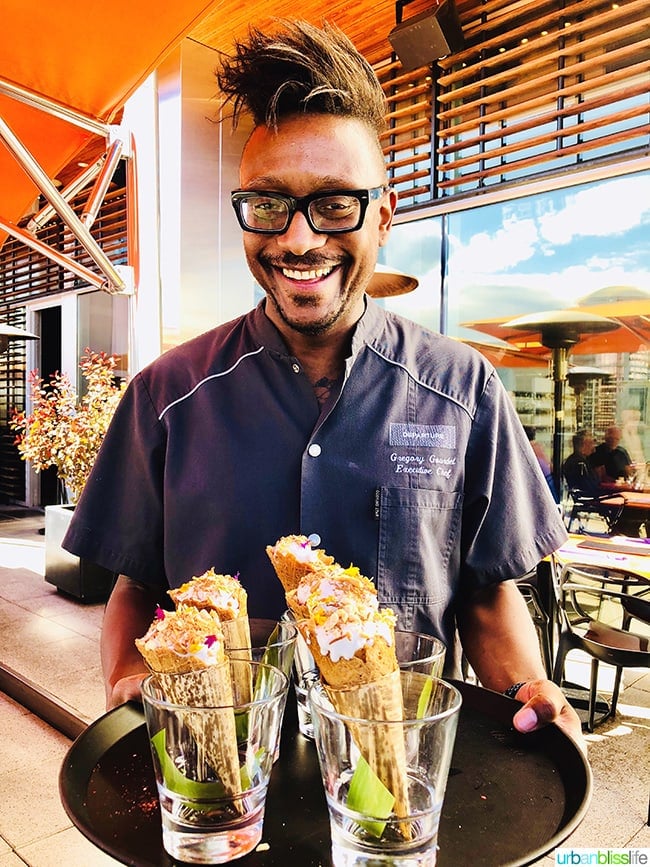 Each week this summer, Chef Gregory Gourdet (pictured above; Top Chef Season 12) and his talented Departure restaurant team concoct new ice cream flavors that are both stunning works of art and delicious creamy treats. All of the summer ice cream flavors are dairy-free, which makes this dairy-free mama very happy! My dairy-free options at most places are usually relegated to eating plain ol' boring sorbets (cue sad trombone), but nothing is ever boring or plain at Departure. They've taken their creative approach to fresh, global dining to a new level with their summer ice cream specials.
Here's a look at a sample of the summer ice cream flavors you can find at Departure. Remember that flavors rotate each week, and there's always a vegan option, too.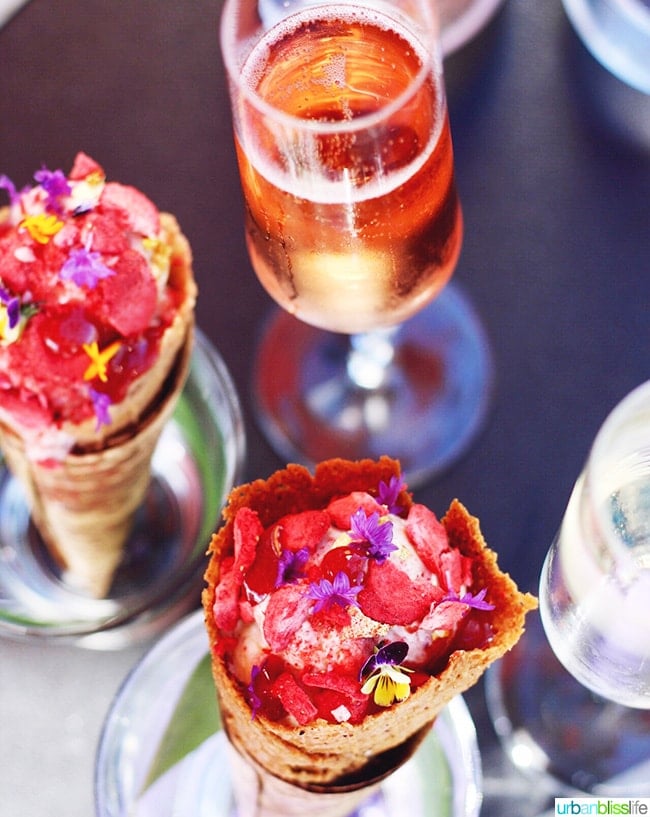 Coconut with Fermented Berry Swirl - this was my personal favorite. The coconut milk ice cream has fermented local berries swirled within and topped with freeze-dried berries, gold leaf, and edible flowers. SO GOOD!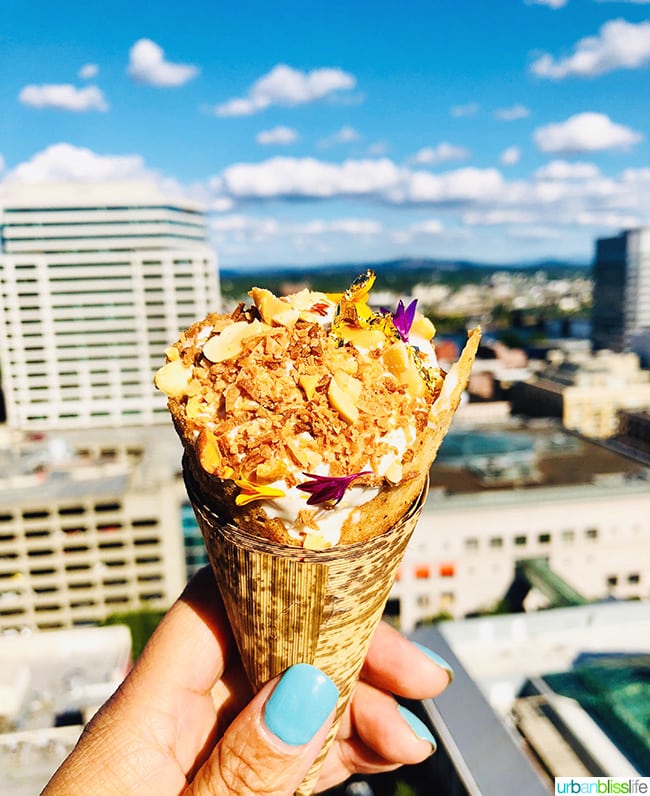 I don't know if this one has an official name but I'm going to call it the Tasty Thai Crunch. It's a super creamy treat packed with Thai flavors, thanks to coconut milk steeped with lemongrass, lime leaves, and chili. This was the crowd favorite.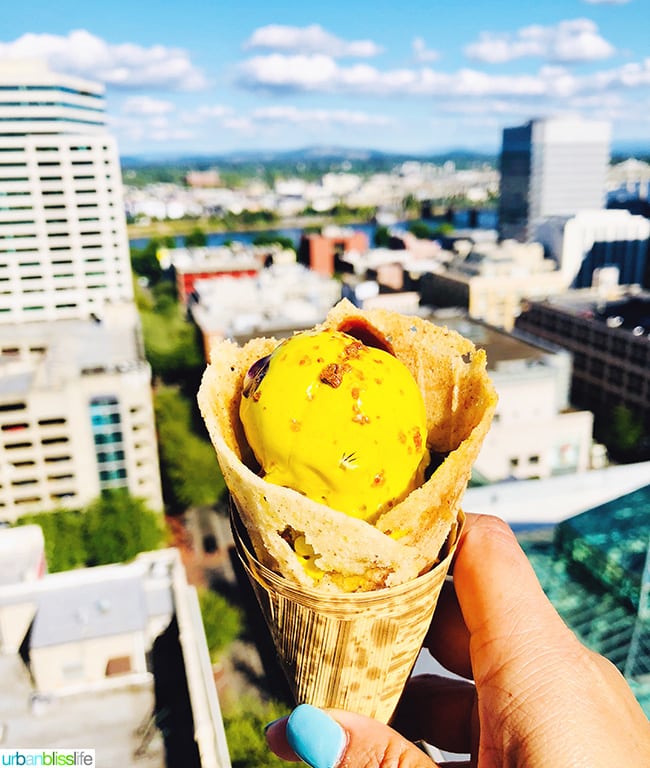 Golden Milk with Pineapple Crunch - golden milk with tamarind, pineapple, ginger, pepper, cinnamon, glove, and tamarind gel. I would never have thought to use tamarind in ice cream, but it creates a really unique and delicious dessert.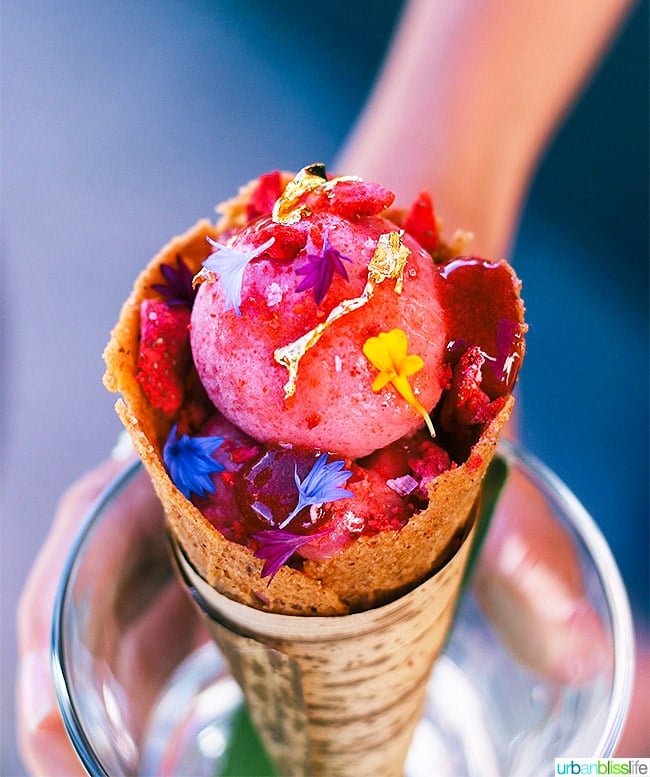 And there is always a vegan option as well, such as the gorgeous vegan rhubarb sorbet pictured above, topped with gold leaf, edible flowers, and freeze-dried berries.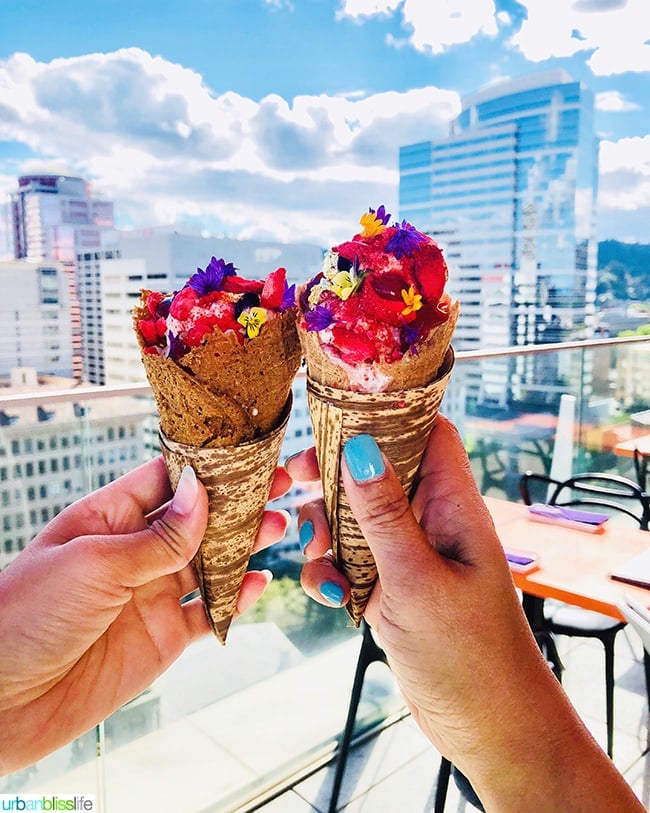 The new ice cream cones are vegan, dairy-free, and gluten-free. They're crunchy and so much more flavorful than your average everyday cone. If I could buy a pack of the cones to take home, I would!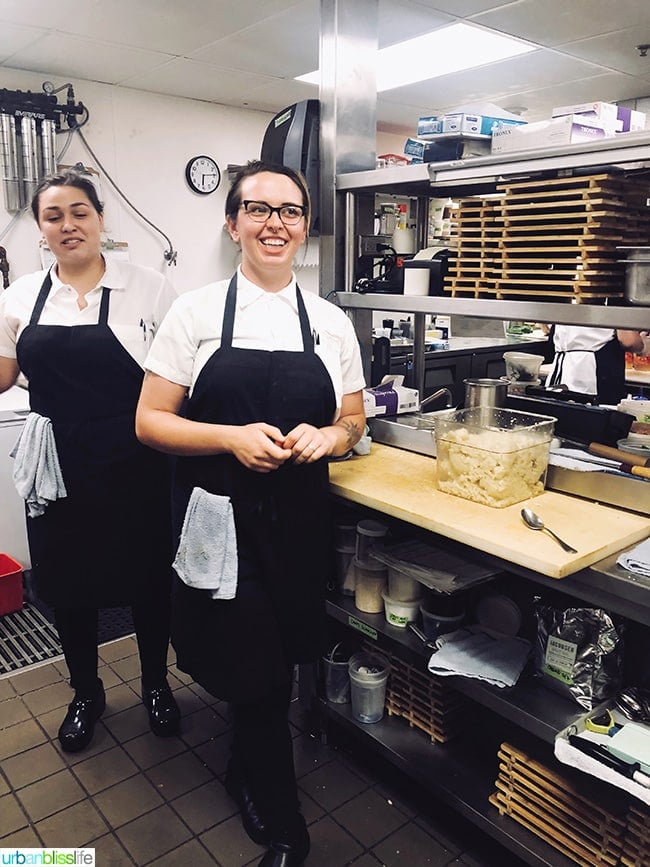 I have to give a shout out to Brea, the talented woman behind the delicious ice creams that we devoured on this night. Thanks to Chef Gourdet for introducing us to her in the kitchen, and thanks, Brea, for the amazing desserts!
Rooftop garden tour
Chef Gourdet also kindly took us on an impromptu tour of Departure's rooftop garden.
Not a bad view, eh? The garden is cared for by all, but managed mainly by Chef de Cuisine Jonathan Rendon, who grows a variety of fruits, vegetables, and edible flowers used in the dishes at Departure.
There's also a beehive on the rooftop garden. Hooray! I love this.
Departure Portland
Of course, while you're here, you should also enjoy Departure's full menu as well. The food is reliably creative, flavorful, and healthier on the whole than many other downtown restaurants. It's one of my favorite restaurants to visit with groups because there's something for every dietary need, whether you have friends that are vegetarian, vegan, dairy-free, or gluten-free. I just found out that they even have an entire vegan menu, too.
Our kids wanted to eat here after watching Chef Gourdet on Top Chef, and you can read all about our family dining experience at Departure here.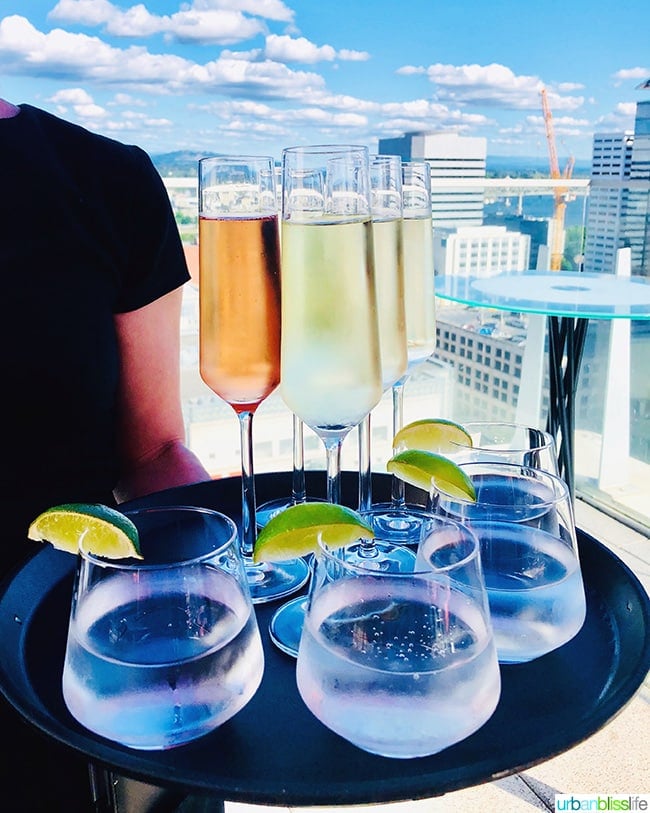 Howeverl, when I normally dine at Departure, it's with a group of friends - it's an amazing spot for a girls' night out! CHEERS to that!
Departure Portland
525 SW Morrison, 15th Floor
The Nines Hotel
Portland, Oregon 97204
HOURS:
Sunday - Thursday 4:00 - 11:00pm
Friday & Saturday 4:00pm - 12:00am
Visit the Departure website for more information.
Which ice cream flavor pictured here would YOU most like to try?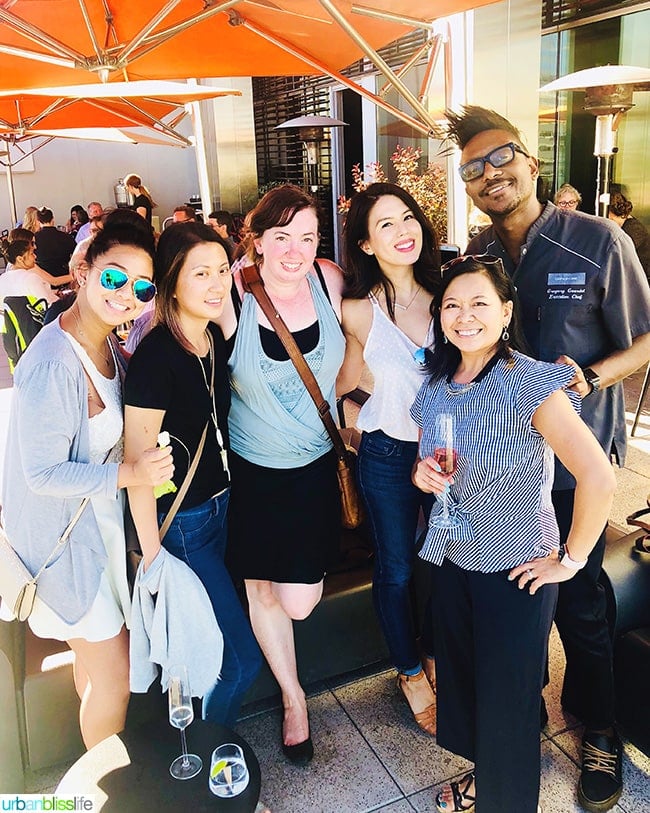 More Portland Oregon food, wine, travel