Looking for a fun river adventure in Portland, Oregon? Book a trip on the BrewBarge PDX, where adventure means beers, barges, and bridges!
Portland, Oregon is one of the craft beer capitals of the world and it's also an outdoor enthusiast's dream playground. So it's no surprise that visitors and locals have so many entertainment options that combine the two.
BrewBarge PDX is one of those awesome options. As their website says, "Drink, Pedal, Repeat. The Most Portland Thing you could possibly do."
Indeed. SO Portland-ish!
Recently, my husband and I had the opportunity to check it out - to spend a day on the Willamette River, sipping beers underneath the warm sunshine, while pedaling along and making new friends.
Who could say no to that?
BrewBarge PDX
BrewBarge PDX is the sister outfit of BrewCycle PDX, and part of the BrewGroup, owned by local badass lady boss Andrea Lins.
The idea is simple, and the name, self-explanatory: you are on a barge, drinking beer (or other libations of choice - more on that soon), while coasting along on the Willamette River, taking in gorgeous views of Portland.
You can book the whole boat, go with a few friends, make it a date, or just go on your own. As long as there are at least 8 people total per ride time (and 14 people max), the BrewBarge is on.
The true Portland feel comes with the pedaling.
We love our bikes in Portland. So why not pedal on a boat, too?
There are eight seats along the center bar area with pedals. You and your BrewBarge companions can pedal as much or as little as you want - the captain and his/her crew (there are always 2 staff on board) can adjust how hard or easy it is depending on the group.
There are also some lazy person seats - I mean, chill out and just watch the view seats - in the back.
Hubby and I kept our same pedal seats at the bar the whole time. It's way more fun up there, you get to know the captain and his crew, and I personally enjoyed this second mini-workout of my day.
Beer
Okay, I know you want to know about the beer.
Each guest can drink up to 36 ounces of alcohol total during the 1.5 hour ride.
Beer is not included in the price of the ride, but you are encouraged to bring your own beer or wine. The BrewBarge office also has an amazing selection of beers and ciders for sale, with some of the best local beers available.
To meet the 36-ounce limit, you might consider three 12-ounce cans of beer, cider, or wine, or a 32 ounce growler. You can also bring a 64 ounce growler and split that between two people.
BrewBarge offers plastic cups which you can transfer any liquids from glass containers. The center bar serves as a nice cooler to keep your drinks ice cold during the trip.
Bridges
Now that we've talked about the beer and the logistics, one main benefit of the BrewBarge that can't be underscored is the unparalleled, gorgeous view of the city along the ride.
One of Portland's many nicknames is Bridgetown - for good reason. Along the Willamette River, there are twelve (12!) bridges that connect the east side to the west side of the city.
Depending on your particular group - how much you are pedaling, the vibe - you may cross underneath three to five different bridges before circling back to the dock.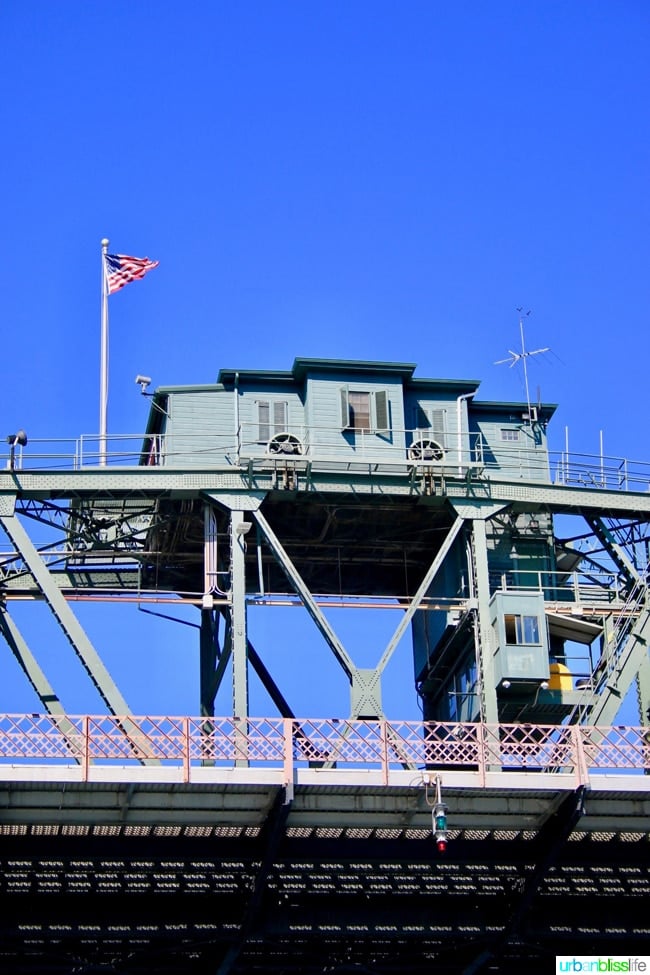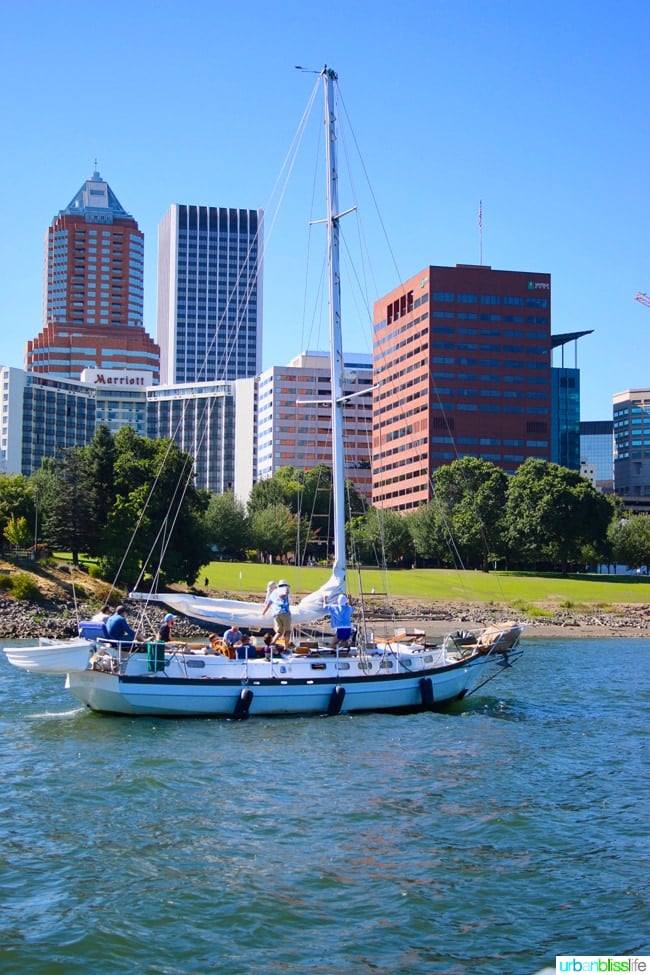 You'll wave to sailing enthusiasts, sun bathers, jet skiiers showing off, and jet boat excursion guests trying to smile at you while also squinting out the water from the waves out of their eyes.
You'll pedal along to your playlist from your phone or someone else's, kicking back once in a while (because remember: this is a FUN ride, not a cycling competition), and possibly learn too much information about your new BrewBarge friends.
It's SO much fun!
BrewBarge PDX is a nice way to experience Portland views from the river like you've never seen the city before. I definitely recommend it.
It's a great birthday, bridal shower, anniversary, and company team building experience.
The awesome BrewBarge crew is there to make sure you have a good, safe, happy time on board. Luckily for us, we were also on board with a birthday party group who was loads of fun and super friendly. We had a great time!
BrewBarge PDX
Are you ready to jump on board?
Some final notes:
-Riders must all be 21 years of age or older
-There is no bathroom on the boat, so be sure to go in the restrooms across from the BrewBarge office before you depart.
-Remember that this experience is all about fun, and not the place for you to get sloshed with your bachelor party bros and act like drunk idiots. You just keep your ridiculous selves home for that.
-Bring water, wear comfortable clothes and shoes, wear sunscreen if it's a hot sunny day, have FUN, and remember to tip the crew!
BrewBarge PDX office
1811 SW River Drive, Suite 400
Portland, OR 97201
For more information and to book your seats online, visit the BrewBargePDX.com website.
My husband and I enjoyed a complimentary ride on BrewBarge PDX. As always, all opinions and photos are my own. If you're up for a fun day out on the river, the BrewBarge is for you!