If you're in the market for a family car that has the traditional stylings and space of a smaller sport utility vehicle, but with more environmental-friendly features, check out the 2017 Toyota Highlander Hybrid.
Hybrids have certainly come a long way - both in design and in performance - in the 10 years I have been writing car reviews. The 2017 Toyota Highlander Hybrid is a nice looking vehicle with impressive power.
Jump to:
Space, storage, and tech
The 2017 Toyota Highlander Hybrid touts seating for up to 8 people, thanks to the additional third row. Compared to larger SUVs, the third row in this vehicle is quite compact: it's great for carpooling your kid's friends to soccer practice, but would be uncomfortable for long road trips.
There is, however, ample legroom in both the passenger seat and the middle row. During our test drive, we had the kids as well as some friends sit in the middle row and they all said it was very comfortable.
As far as storage space in the back, we were able to load up a full family set of lawn chairs and large sports umbrellas for games and still have plenty of room for groceries.
Where the design of the space is most impressive is in the smaller storage spaces. These may seem trivial to some, but to those of us who spend hours every single day in our cars for work and being the family shuttle, it's these little spaces that help make the commutes more palatable.
Yes, that's a large crossbody purse packed with my DSLR camera equipment that fits into the middle console. Toyota, you WIN in terms of designing an actual center console compartment that truly fits the busy lives of mom bosses.
Another favorite feature: the ledge beneath the radio and glove compartment. It's the perfect spot for things you and your passenger need to keep in reach: phones, tissues, snacks.
Meanwhile, above the ledge in the main dash, you've got a large, crystal clear rear view camera. Like many of the newer models, this vehicle features Perimeter Scan - a cam that gives you live, rotating 360 degree views of your surroundings when parked.
Another feature I appreciated was the whopping FIVE USB ports in the vehicle. Three USB ports are in the front and two are in the back. You don't have to fight the kids for valuable charging time ever again!
Performance
One thing I am still getting used to when driving hybrids is how quiet they are when they start up. Every time I got into the vehicle, I literally had to double check that I had, in fact, turned the engine on fully. And that's not a bad thing!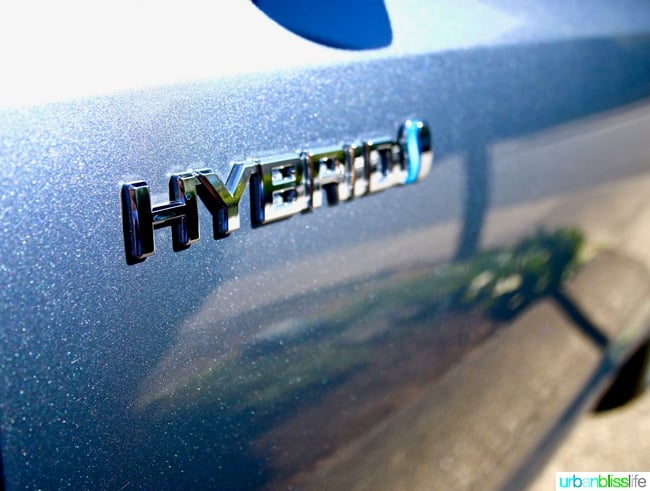 Being a hybrid, this vehicle 30 miles in the city and 28 on the highway, giving it a Super Ultra Low Emission Vehicle rating.
It drives smoothly, and has an efficient 3.5 liter V6 plus an electric motor to produce 280 hybrid system net horsepower. I never felt like the vehicle was lagging at all - it has quick pick-up and go when you need it.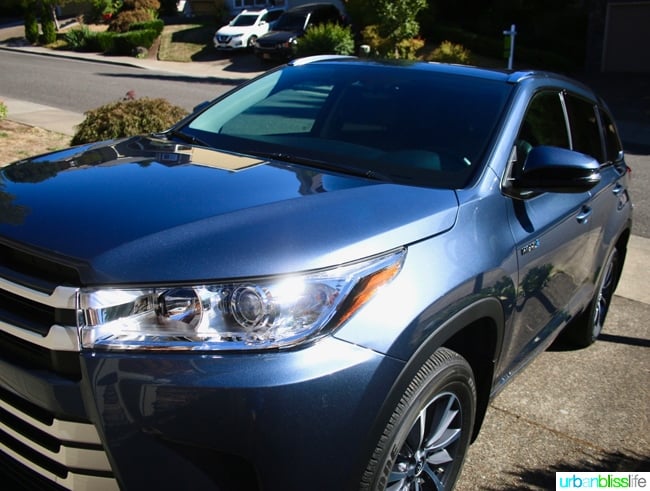 Safety
The 2017 Toyota Highlander Hybrid comes with all of the standard safety features you come to expect with Toyota vehicles. This includes their Star Safety System - features such as Anti-Lock Brakes and Traction Control - and their Advanced Airbag System with eight airbags.
Two features that I consider to be safety features that aren't typically listed as such are also found on this vehicle: Blind Spot Monitoring, and Rear Cross-Traffic Alert. There's also the option to turn OFF the Lane Departure Alert, which I appreciate because I find it's a little too sensitive and beeps even when I drift slightly to one side or the other, even if I am not actually drifting out of the lane.
Wrap up
Overall, I enjoyed driving the 2017 Toyota Highlander Hybrid. It's a smooth ride with lots of storage, technology, and safety features that modern busy families look for.
The 2017 Toyota Highlander Hybrid starts at around $36,000, and can cost upwards of $50,000 depending on the packages and features you include.
Would you consider a vehicle like this for you and/or your family? What features do you look for the most when looking for a new car?
I was given the vehicle pictured here to test drive for a week for the purpose of this review. As always, all opinions and photos are my own.